Initial Impressions, Collected -- Delugs Watch Strap, Asket Tee Shirt, Kent Wang Pocket Square
Initial impressions about three cool new things I got recently.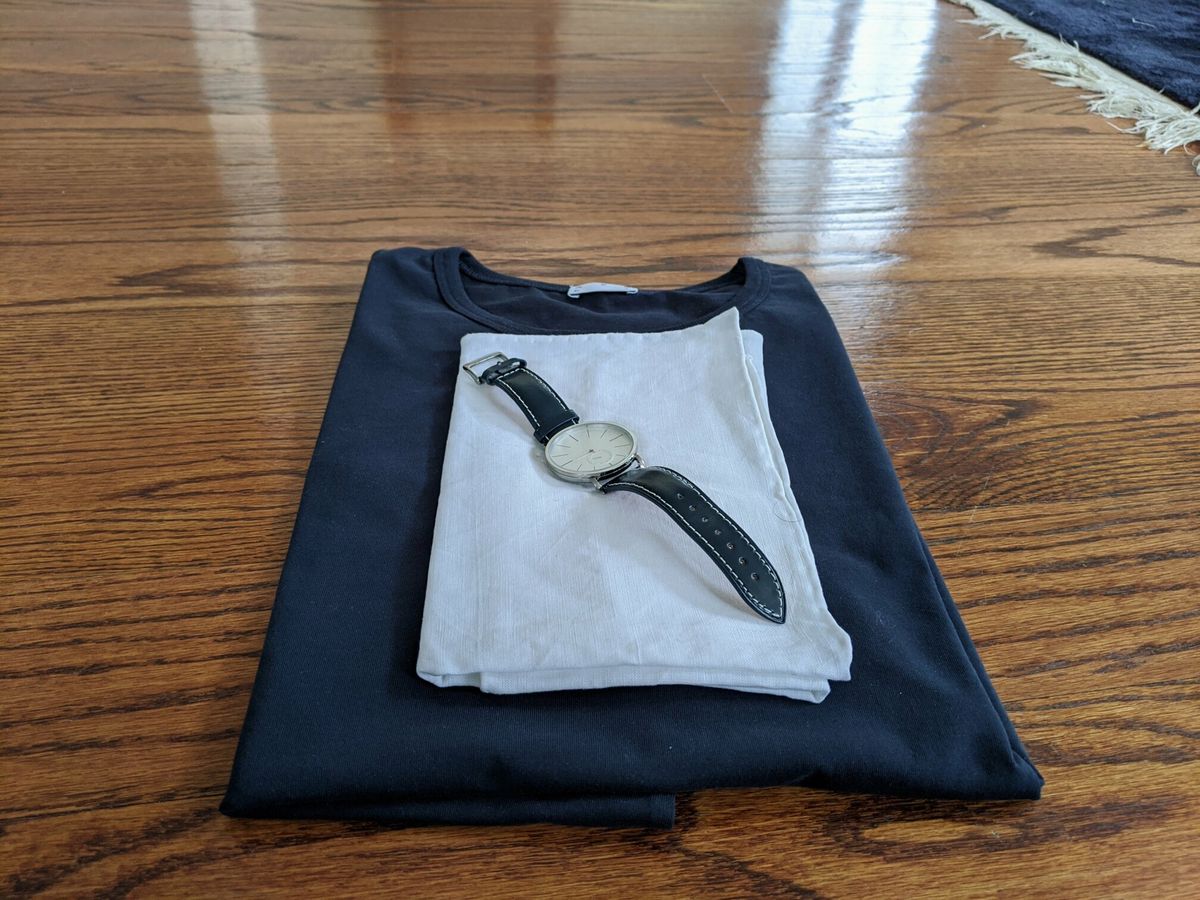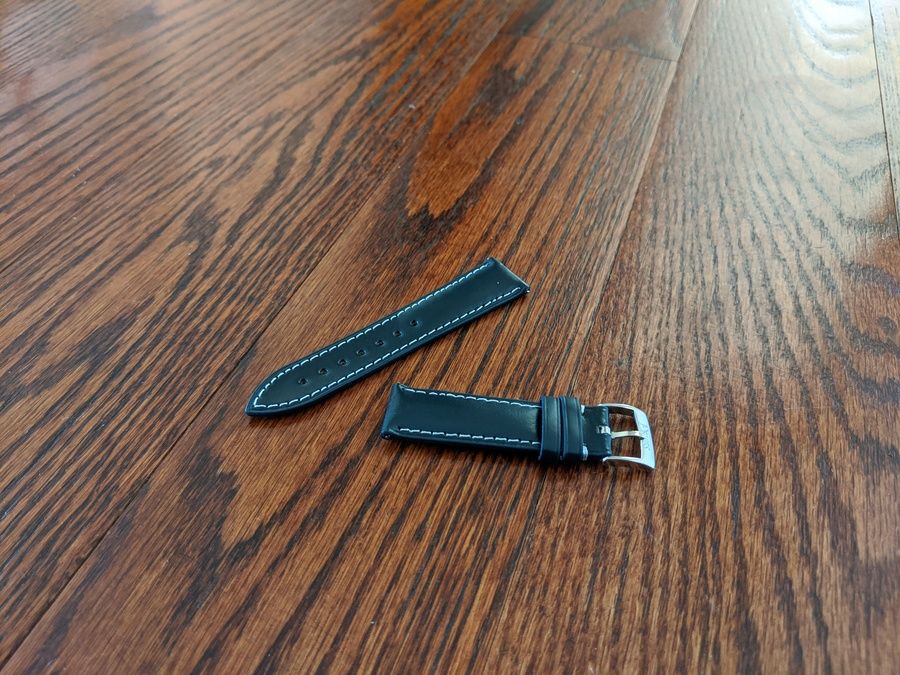 1. Delugs Watch Strap in Navy Shell Cordovan
Brand: Delugs
Material: Navy Shell Cordovan from Shinki Hikaku
Size: Small length, 20mm lug width
Customizations: White Contrast Stitching
Price Paid: $80 shipped (Black Friday sale)
So, I can get a good leather belt from Meermin for $50. So I told myself, I should be able to find a quality leather watch strap that isn't super casual for less than that, right?
Well, wrong. After a lot of searching, I came to a realization. The materials don't really cost anything. It's just the labor you're paying for, and stitching a watch strap well takes mroe labor than putting a belt together.
Delugs offers a ton of customization. By default, you can select length of both sides and lug width, but you can write your own sizes in, and request contrast stitching. They offer a lot of different kinds of leathers, including weird stuff like stingray. They also have those metal slidey things that make it easy to attach and detach the straps.
I like this one. I'm no expert on watch straps, and while I'm starting to suspect the white stitching makes it more casual than I was hoping, it still looks great to my eye.
It's worth noting that the man behind the brand is pretty great. He's super responsive on Instagram and actually let me make a modification there after ordering, but before he started work on it. It did take more than a month, but that was understandable -- he sold a lot during his black friday sale, and he works alone.
The strap was a little stiff when I got it, but it softened up nicely in just a few days.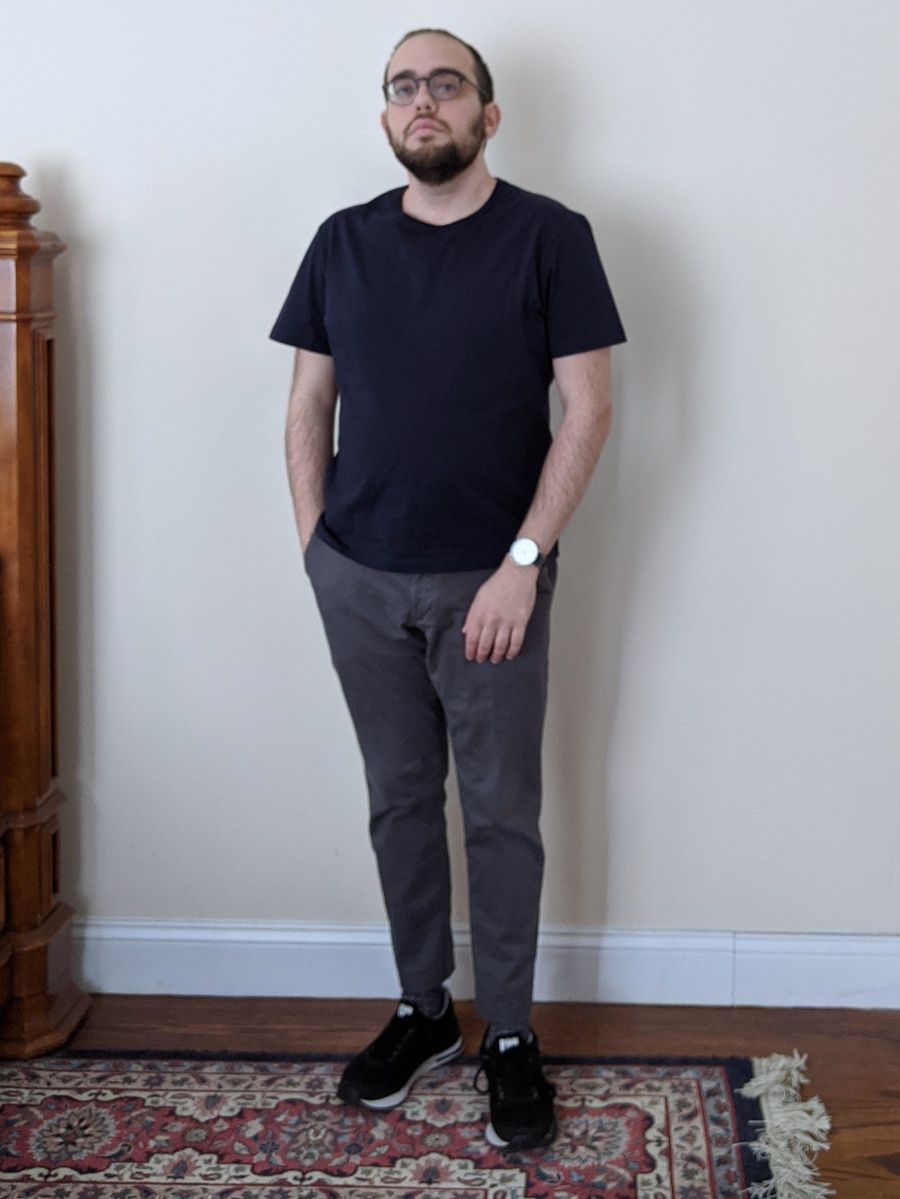 2. Asket T-Shirt in Navy
Brand: Asket (alt link)
Item: T-Shirt, Navy (alt link)
Size: Medium Short
Note that I received this T-shirt at no cost in consideration of my review.
Clothing is, basically, one gigantic environmental disaster. And they say sunlight is the best disinfectant.
So this tee is nice. I don't want to be a $45-tee kind of guy, but it is definitely a significant upgrade from my Uniqlo Supima Cotton tee. But I'll discuss that more specifically in the full review.
But for now, it's really worth noting the premise of this brand. Asket doesn't just make quality basics. Asket does it ethically. Now, I don't normally like to talk about ethics in menswear, because it's usually a flood of marketing jargon, greenwashing, and an occasional side of xenophobia. Asket isn't about that.
Asket provides as much traceability and price transparency as it can. For the T-Shirt, that's only 68% traceability -- still a far cry better than most brands -- but they aspire to 100%, and get closer with items like their Oxford Shirt (86% traceable). And they tell you where everything came from and where everything was made. Not just the shirt fabric, but the threads used to make the hem, neck, and armholes, and the polyester used to make the brand and materials tags. That's pretty hardcore. They also tell you what it cost them. Now, $45 for a tee shirt that cost $13 to make might not be too exciting (it's probably the kind of markup many brands charge on sale), but the transparency is. (I also think the "traditional retail" estimate is a little bit of a marketing shenanigan, but I'll indulge them that).
Why is this transparency so great? Because it allows you to make real, informed decisions about the environmental and human impact of your purchase. And it helps us make sure that they don't use slave labor, which, in 2020, is an unreasonably common and complex problem.
They also do a lot of other small things. Like small/minimal packaging (but not so tight as to make the tee shirt wrinkle, the lines smoothed out pretty easy for me). And their whole collection being full of basics means none of their stock ever has to sit dead in a warehouse -- nothing goes to waste.
On top of that, they put a stress on proper garment care (alt link). They offer garment brushes and delicate detergents. They want your clothing to last, even though that means fewer sales for them -- because the best thing for the environment is to buy less.
One last thing I want to restate -- they have short and long sizes! I don't like to review fit, since it's very specifically personal, but you can't complain about additional options. Very few brands offer tall and short sizes, and Bonobos' quality isn't anything to write home about, so if you're a tricky fit, get excited!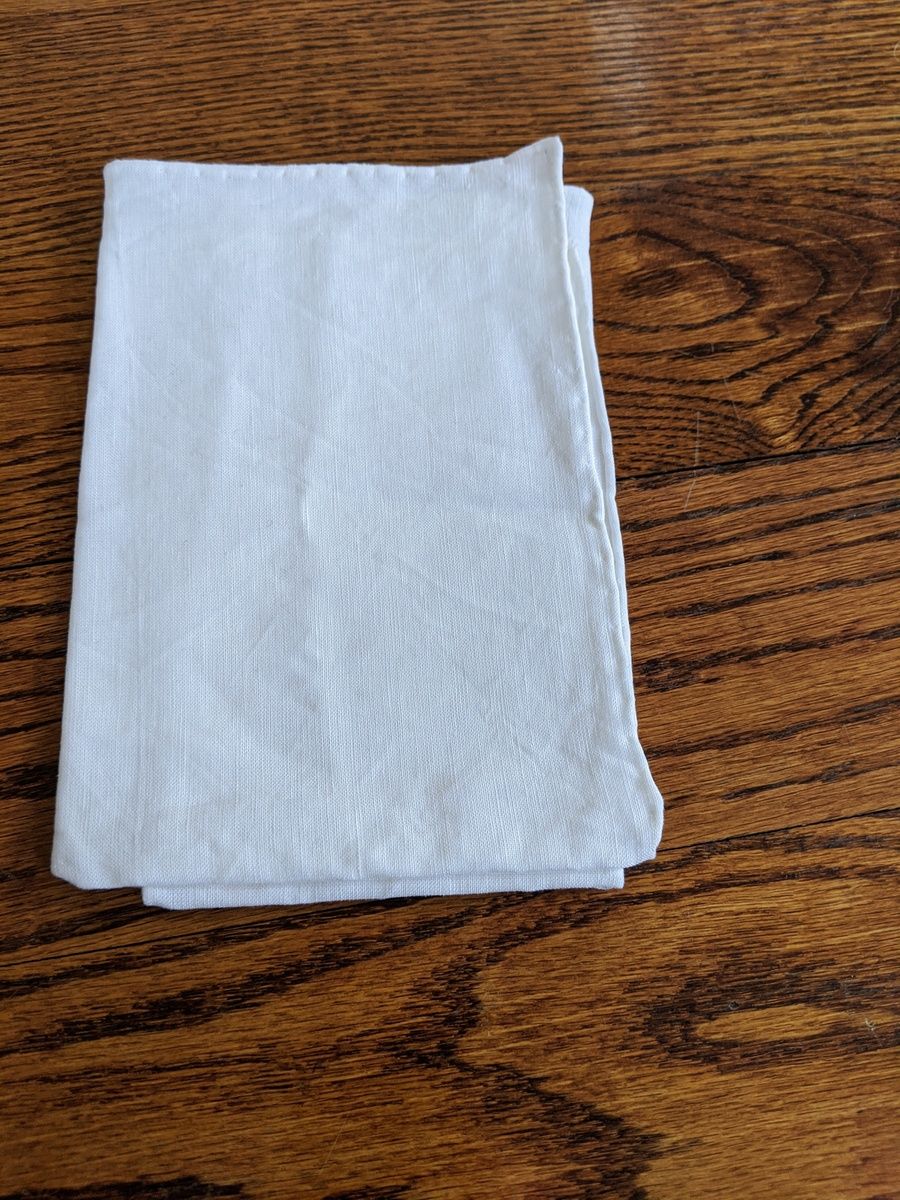 3. Kent Wang White Linen Pocket Square
Brand: Kent Wang
Material: Linen
Price: $20
Okay, it's not just a linen pocket square... It's a nice one. Soft. Pleasant. Bigger than I expected. I feel like I've read somewhere that the difference between a pocket square and handkercheif is size, but I feel like I'll hate myself a little bit more if I look that up, so... It's a big pocket square. There's got to be a limit to my fashion nerding.
Linen is a voluminous material, and given the size of this thing, even a TV fold (the boring one) takes up some space in your pocket. If your jacket is slim in the chest, this might actually affect fit, drape, and symmetry. So be careful.
For what it's worth, their other linen squares seemed smaller, and the silk ones are definitely safe.