TL;DR: buy the UnderTwills, particularly the boxers. The shirts are fine at bundle prices, but nothing to write home about.
Hey all. No clever intro this time -- Twillory (non-tracking link) just sent me a solid bunch of stuff to review. The shirts and underwear here were all given to me at no cost in consideration of my review. At the bottom, I'll throw in a few shots of my old wool tie from Twillory, which I (kind of) paid for -- more on that further down.
Also, I have some coupons: buy one and get one free shirts or $20 off your first purchase of shirts/pants. Unfortunately, these don't cover the good shit -- the undertwills -- but they're decent.
Note that They didn't ask for any special treatment here, and I ain't givin' it.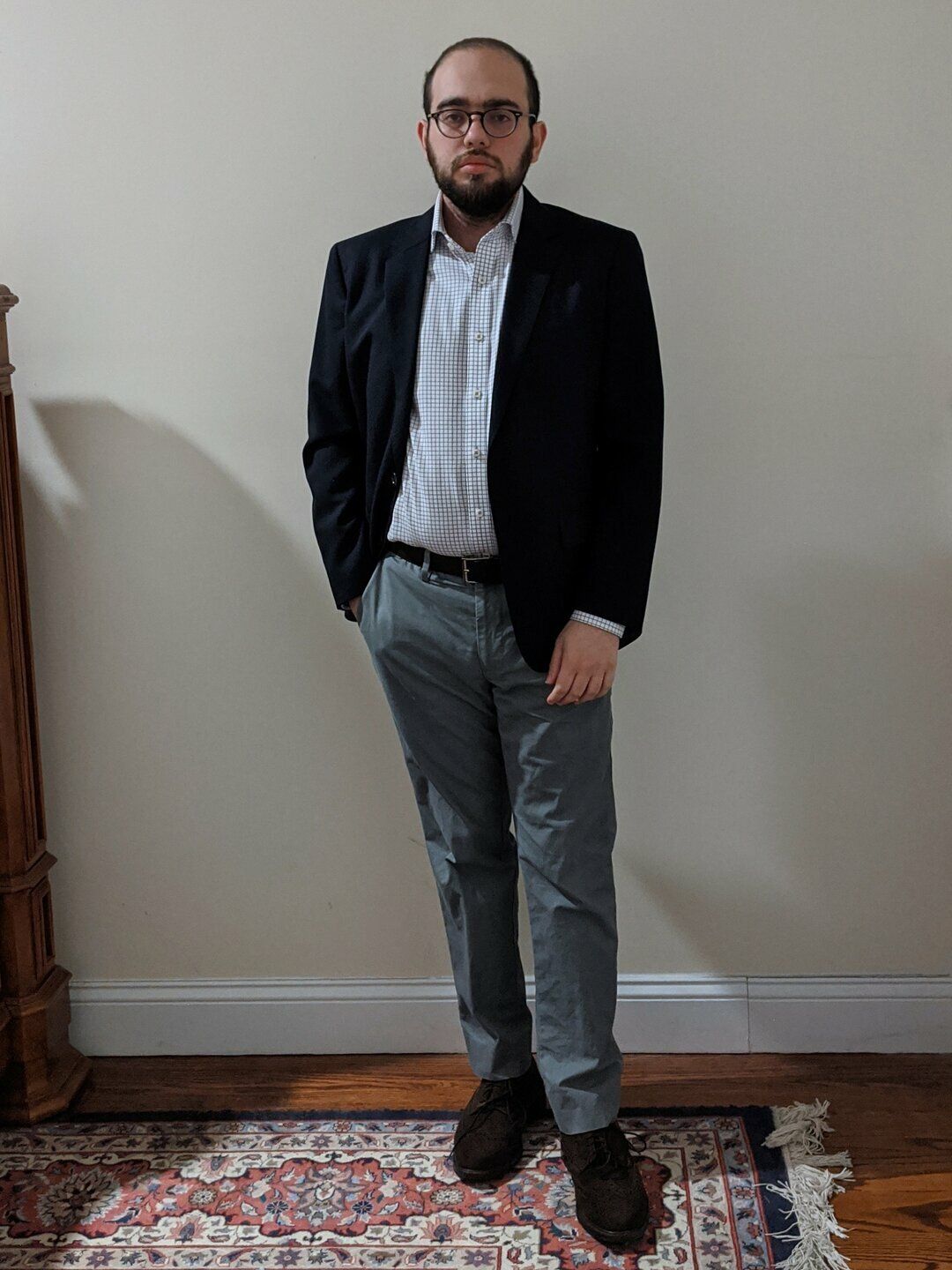 1. "Purple Hayes" Shirt in Non-Iron "SafeCotton" (100% Cotton)
Item: SafeCotton Dress Shirt in "Purple Hayes" Check (non-tracking link)
Material: 100% Cotton Twill
Size: 15.5/32-33 Tailored Fit
These shirts normally go for $99 each, but get much cheaper when you buy 2-4, down as low as $57 each for 4+. I also have a coupon that lets you buy one and get one free, and also there's some kind of free gift involved I don't know anything about.
This fabric is... Different. It's very soft, but sort of... coarse. It's overall nicer than the stiff poplins and twills I have from Charles Tyrwhitt and Bonobos, but I often notice it brush against my skin, and when I do, I'm just not sure how I feel. It reminds me of my wool-blend shirt from Hilditch & Key, except that one is pretty disappointing -- I only wear it with an undershirt -- whereas this fabric is... good, just strange. I'm curious to see how it feels after a few washes.
They use a different treatment from the typical formaldehyde-based treatment used to make non-iron shirts. They brag about the chemicals they don't use, but there shouldn't be anything particularly dangerous about typical non-iron treatments -- the amount of formaldehyde that might reach even the surface of your skin is pretty negligible -- so they just happen to be doing something a little different.
Other details are pretty nice. The collar is a respectable spread. The stitching seems good. The collar stays, while not especially important, are a really nice, thick, brushed nickel, with a pattern engraved on one side. The buttons are a thick plastic resin, which... At these prices, you could start looking for mother of pearl buttons, most notably from Brooks Brothers (who I'd describe as their closest price competitor -- you might have to buy clearance or wait for a sale, but it shouldn't be hard to get 4/$200 shirts from Brooks Brothers). But Mother of Pearl isn't a big deal -- it's more just a classic menswear standard than anything. With the bogo+gift coupon, that's a pretty good deal.
It's worth noting that they offer a lot of interesting patterns, but not a lot of simple ones. I actually couldn't find a solid pale pink shirt on their site, which I think of as a bit of a standard.
Notes on Sizing: overall fits similar to the equivalent Charles Tyrwhitt, but a little slimmer, as the size charts indicate. But the sleeves are long. I normally go for 32, so I thought 32-33 should be fine, but they're definitely long, probably by more than an inch, on both shirts. Oh well -- for now, I'm wearing sweaters over them anyway, and in spring/summer, I'll probably just roll my sleeves up. I might tailor them, but as for buying more -- sleeve sizing would be a big enough issue to stop me. But sizing is possible, and if you can find a size you like, go for it.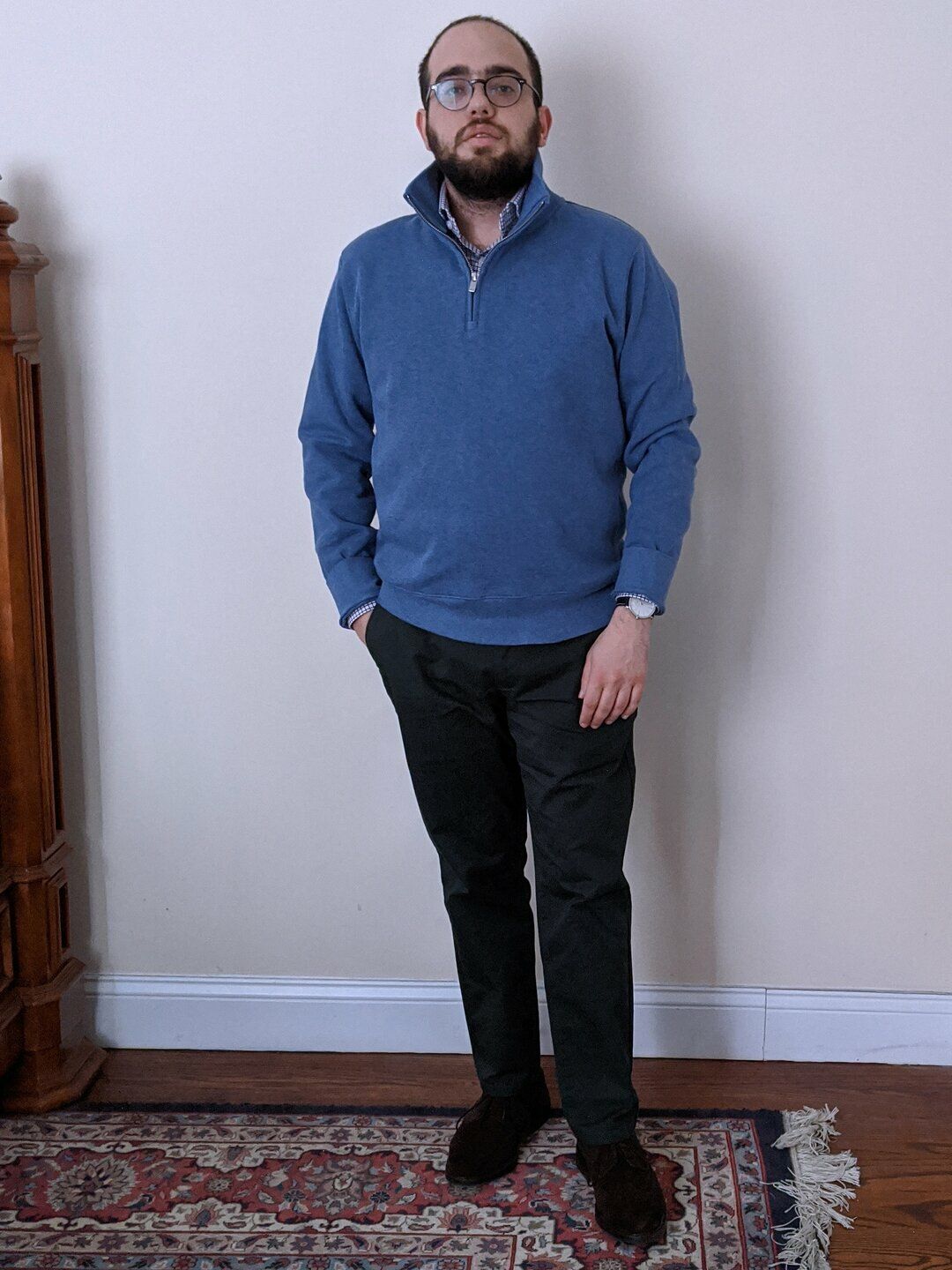 2. "Mixer" Performance Dress Shirt
Item: Performance Dress shirt in "Mixer" Windowpane (non-tracking link)
Material: Roughly 64% Cotton, 21% Spandex, 11% Coolmax (a particular type of Nylon), 4% spandex. Twill weave.
Size: 15.5/32-33 Tailored Fit
These shirts normally go for $99 each, but get much cheaper when you buy 2-4, down as low as $57 each for 4+. I also have a coupon that lets you buy one and get one free, and also there's some kind of free gift involved I don't know anything about.
Note: I don't have a lot of experience with performance dress shirts. I'm the type of guy who tends to prefer natural materials, but figured that would be a useful perspective. For more detail, the Kavalier has a review, and also mentions Twillory in his latest performance dress shirt roundup. He's a fan, but to be fair, he's a fan of most of the things he's ever been near.
So as for my perspective... I don't love it. The fabric is stretchy, but it's not soft in the way I expect pure cotton to be. I don't have a particular need for stretch. Maybe it'll prove its value after I throw it in the wash, or in the summer when I can put the breathability to the test.
It uses the same nice buttons and collar stays as the cotton shirt, and fits the same.
They also added some kind padding to the inside cuffs and part of the back... That actually feels quite nice on my skin, although I don't particularly want the gray contrast showing when I roll my sleeves up.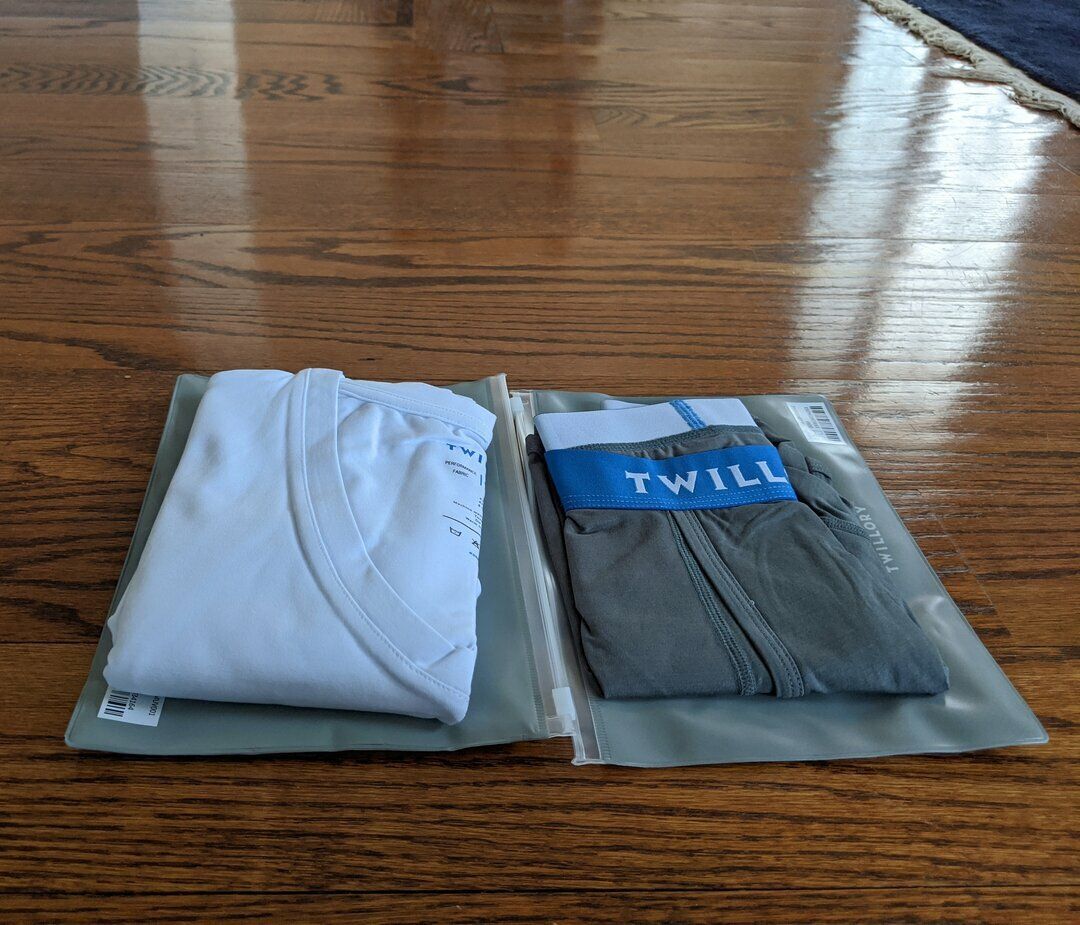 3. Performance Undershirt
Item: Performance Undershirt // V Neck (non-tracking link) in white.
Material: 47% Cotton / 47% Rayon / 6% Spandex
Size: Medium
$24 for one, $36 for 2, or $14.50/shirt at 4+. Can be combo'd with boxer briefs.
Okay, so this one, I get. Undershirts, since they're supposed to fit closer to the body, actually need some stretch. And they used rayon! Now rayon feels good on the skin. This undershirt is cool, breathable, and pleasant. It's cut long, so it can stay tucked in, and is just deep enough a v to stay hidden.
Two downsides: one, it only comes in white. Gray is generally the least visible color for an undershirt, so that's what I'd prefer. But I haven't actually had an issue with this one.
And the price. At $24 per, they're not quite impulse buys. But at the multi-buy price -- $14.50 for 4+ -- I really can't complain, especially for such a nice fabric blend. I'd say they are a better value than uniqlo airism at that price, but I haven't actually tested them in the heat yet.
4. Performance Boxer Briefs
Item: Performance Boxer Briefs // Grey (non-tracking link).
Material: 90% modal (which is a type of rayon), 10% spandex
Size: Medium
$24 for one, $36 for 2, or $14.50/pair at 4+. Can be combo'd with undershirts. These are also available in black.
Okay so here's the good shit. My first day in these was fine -- the fabric was nice, but they rode up a bit. But after that, they learned to stay put, and... Oh man, they might as well be silk. Soft and luxurious, but with more stretch and breathability than silk would offer. I mean, I like modal, and I haven't compared this to many of the top competitors in the $24 range, but... Even early on, I can tell, I'm probably going to buy 4 more of these at some point.
These don't have any weird gimmicks like a pouch or whatever, but they have the standard front opening, and that's all I really want.
I've tried my fair share of cotton options, and performance boxer briefs from Cory Vines (fine, except they don't breathe at all). In the interest of sharing information: reddit has a megathread, and this guy did a two part roundup. But these are relatively new, so it's no surprise they weren't included.
The look is nothing special, but let's be honest, nobody's looking at my underwear anyway. I'm not a fan of the electric blue branded waistband, but this is kind of a minimal concern.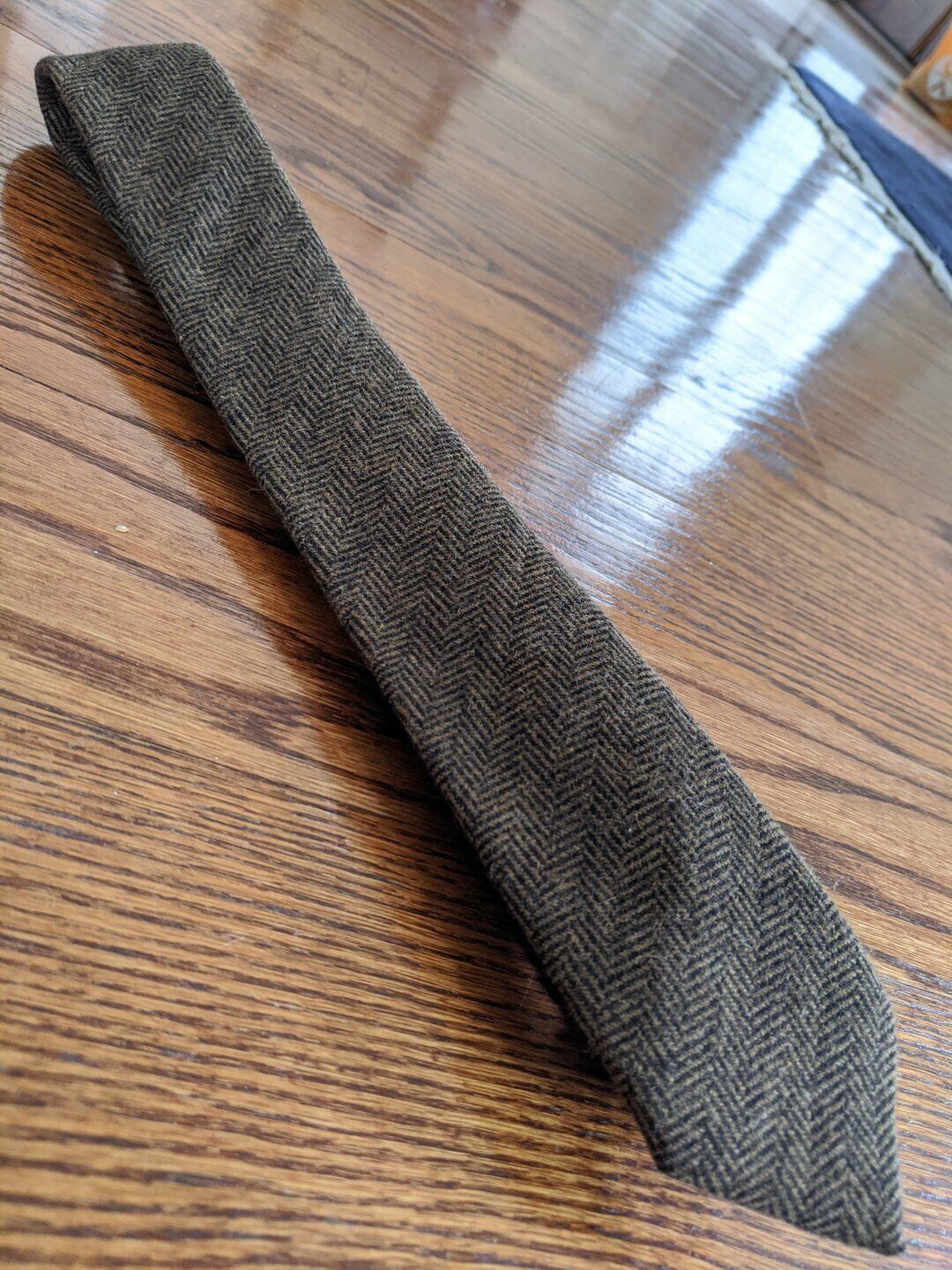 Bonus: Wool Herringbone Tie
So, I actually got this tie years back, from the only Sprezzabox I ever got, which I paid a half-fee of $10 for. I wore the socks, and while the tie is definitely a great value for $10 if you want it, I never really had a good reason to wear a wool tie. And that's why you shouldn't buy boxes! The tie is thick and pleasant to the hand, but I haven't even had the occasion to knot it yet...
I'll find the right fit for this one of these days, but in the meantime, here's a photo.
They don't seem to make this tie anymore, but I suppose it reflects something about the brand, and who doesn't like a few bonus photos!