Initial Impressions, Collected: Asket OCBD, Vintage Brooks Brothers Tie, Saks Pea Coat
This coat is... not especially good.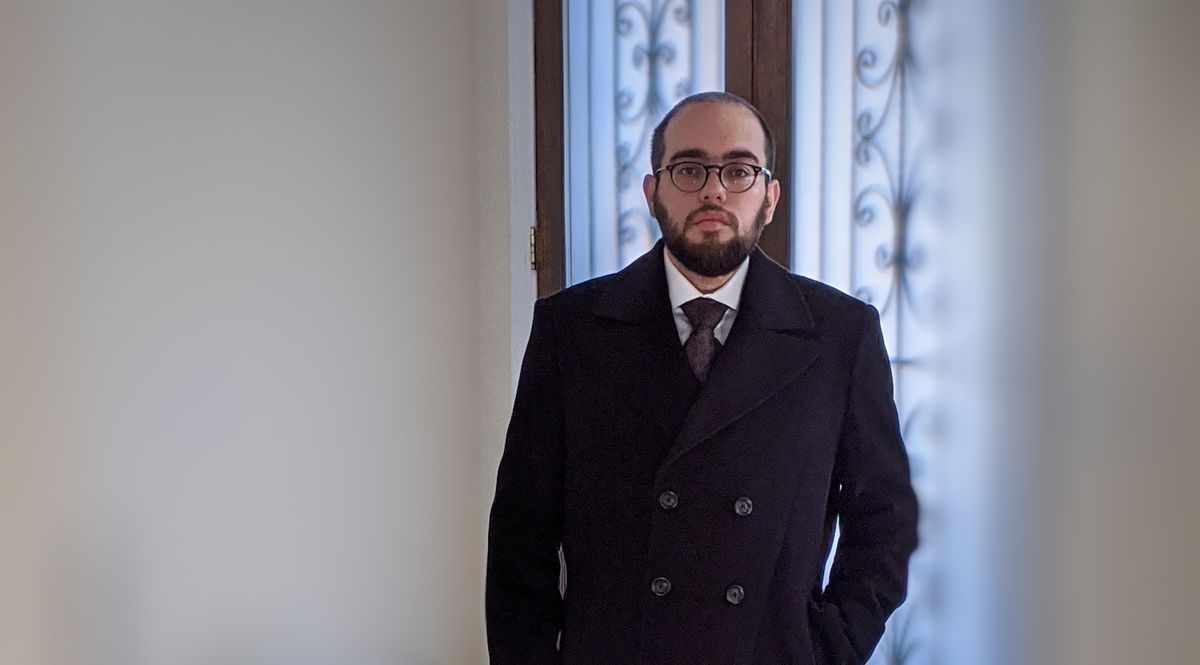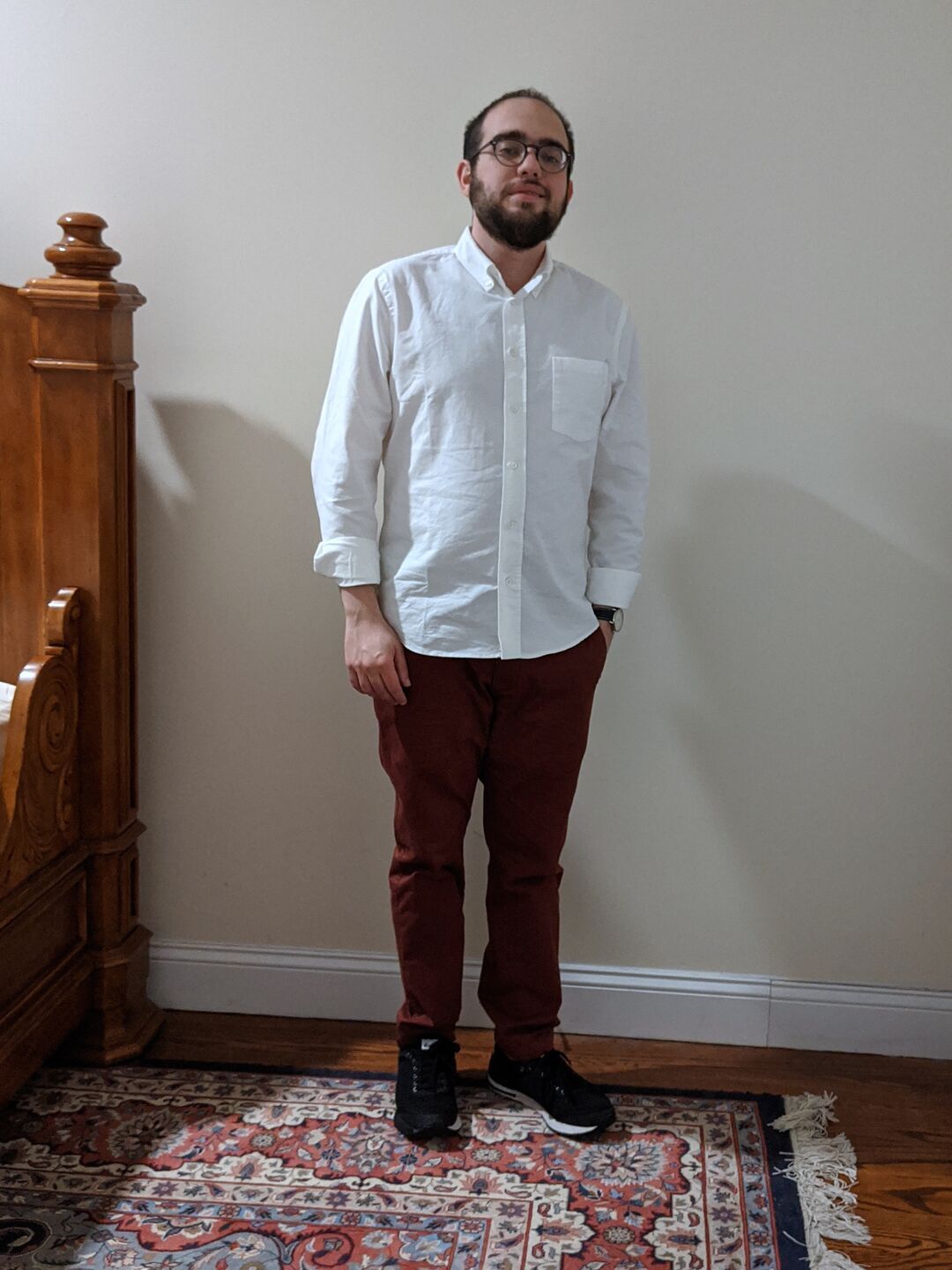 1. Oxford Shirt from Asket
Brand: Asket (alt link)
Item: Oxford Shirt, White (alt link)
Size: Medium Short
Note that I received this shirt at no cost in consideration of my review. Regular price for this shirt is $105.
I like it! It's a nice oxford -- a little stiff for now. but it'll soften up over time. It weighs in at 175gsm, which, as I understand it, is substantial but not heavy for an oxford. The collar roll is not especially intense, but that's just fine.
In terms of details, we have a back center pleat and a button on the back of the collar. The buttons are Mother of Pearl,
The hem is good for wearing untucked, which is good, because it comes in a short length!
Speaking of the length -- the sleeves aren't quite short enough for me, and while fit is personal, this brings up one issue with these shirts... At $105 US, they're competing with Made to Measure shirting. I'm really excited to have a shirt that fits me relatively well off the rack, and it's definitely a nice shirt, but if I factor in tailoring, it's more expensive than made to measure options, and that's a tough pill to swallow.
I'd like to mention, again -- although I imagine many of you have heard me talk about it by now -- that Asket is a super ethical brand. They offer traceability and transparency into their processes, so you can understand, better than with most companies, just how they treat their workers and how sustainable their practices are. They promote proper garment care, and use minimal packaging, and do a lot of other little things that really signal their intent to be good corporate citizens. That's worth a few points.
Full review to come after I've had it tailored and actually worn it well.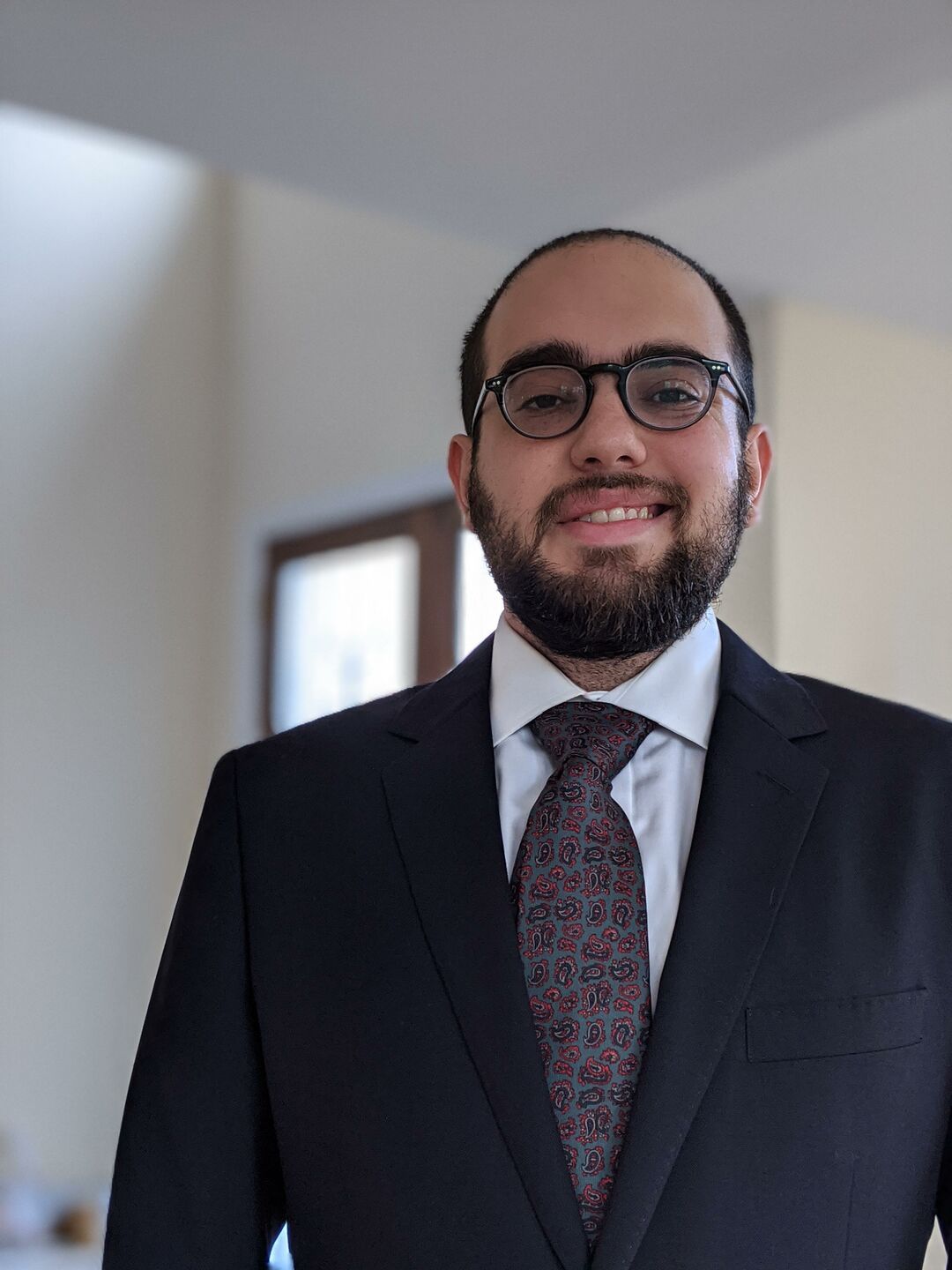 2. Vintage Brooks Brothers Ancient Madder Paisley Tie from LuxeSwap
Brand: Brooks Brothers
Purchased on auction from Luxeswap on eBay (non-tracking link)
I love this tie. The colors are beautiful and hard to capture on camera. There's not too much to review, but there's plenty to talk about...
It's untipped. In case you don't know what that means... A tie has two kinds of lining. The first is the interlining, which is the thickish stuff in the middle of the tie that isn't just a thin layer of silk, which allows you to tie it without crushing it and get a decent knot. The second is regular lining -- "untipped" means it does not have that lining, so if you look at the back tip of the tie, you just see the same layer of fabric on the front, and it's super light.
And it's an ancient madder. And again, in case you don't know what that means: madder is a type of dye that creates really cool colors, but silk doesn't normally take very nicely to it... Unless you strip the natural coating from the silk, dye it in that raw form, and coat it again with gum arabic, creating a unique look and feel. Not a lot of brands still do this, so the effect is pretty unique and special. You might have to see one of these in person to really appreciate the depth of the colors.
Buying vintage accessories is cool. Aside from being super sustainable, good vintage clothing can be very well-made. And with accessories, there's relatively little risk that you get something that This one is a little short, but it's well made.
And finally... Luxeswap! You should buy things from Luxeswap. They auction off high-end menswear, and while many well-dressed men know about them, their auction prices still often end up being better than the prices you'd find on Grailed or TheRealReal. Just remember: patience is a virtue.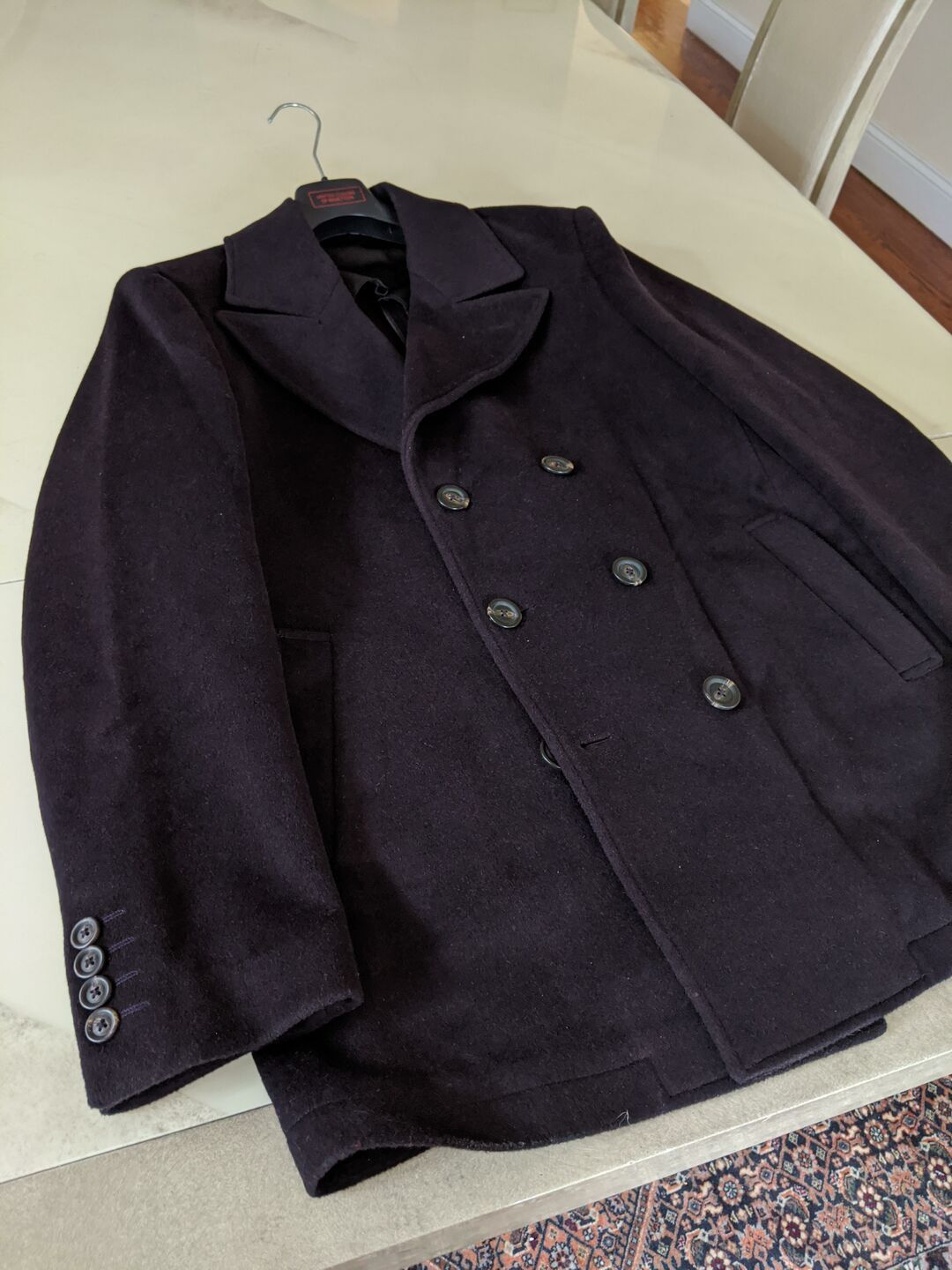 3. Saks Fifth Avenue Pea Coat
Brand: Saks Fifth Avenue
Purchased for $95 from a Prive / Brunello Cucinelli sample sale. No materials tag or size tag or anything.
Color: Idk, purpleish? Burgunplum? Red Wine Sangria? It changes colors in different lighting, come up with your own names for it and @ me.
This coat is... not especially good. Barely any lining, which means it's not very warm. And the fabric... isn't bad, but I suspect there's some polyamide or something else other than wool in here. Machined buttonholes, including a sealed lapel buttonhole. Non-functional buttonholes on the arm. The buttons are thick and colorful, but they might be acetate or something.
On top of that... It doesn't fit especially well. It's a size big in every dimension I can fit a blazer under it, which, for a pea coat, is kind of incorrect -- pea coats are relatively casual. I can wear a thick cardigan under it too, or just accept that it's a loose fit, but there's nothing fantastic about the drape either.
But I love the color. And I wanted something double breasted to play with. And for $95... this thing is fine. I'll wear it through a good chunk of spring, and probably keep wearing it over superior outerwear just because of the color. Which kinda goes to show you... if it looks good, it looks good, and the abstract ideal of quality doesn't always need to override that.
For reference, I think it's this, but in a different color. Don't buy it at that price. The fact that they don't state material percentages worries me a bit... But I'll survive.
---
By the way -- sneak preview! -- I have four items from Twillory sitting in my closet, so they're going to get their own post soon.