Black and Blue: Mid-Light Denim with Black Slip-Ons
A love letter to Shuhei Nishiguchi.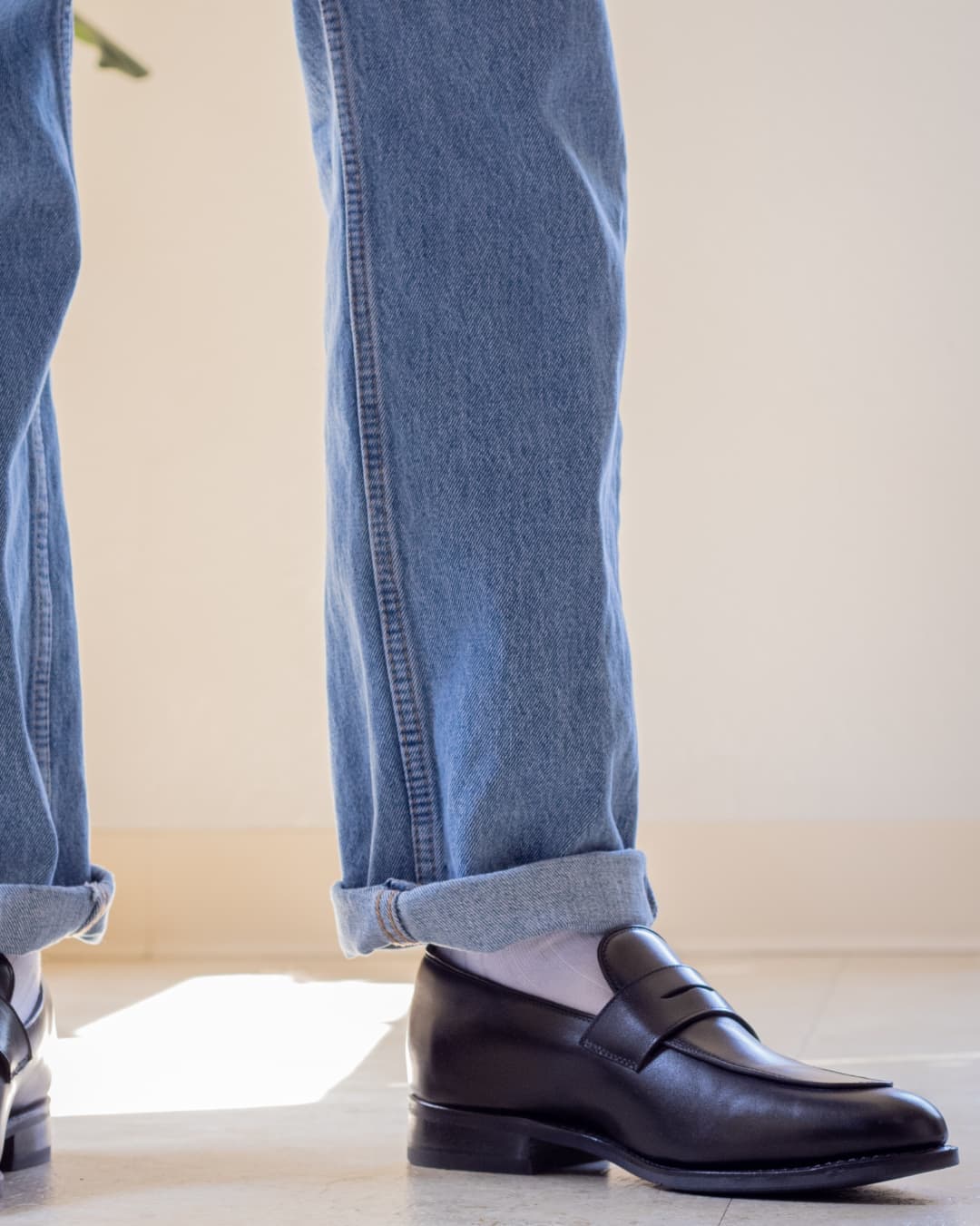 Black shoes are funny. Supposedly, where brown is casual, black dress shoes are severe. They're either for business formal events in london, or for eveningwear.
But there always were exceptions. Old Ivy penny loafers, 1950s bit loafers and tassel loafers, and 1970s chelsea boots all put black calfskin in a casual light. Classifying chelsea boots as slip-ons, we see a pattern.
This pattern comes out in the style of Ralph Lauren and Tom Ford, and more consistently—as you will see plenty of here—in the style of Shuhei Nishiguchi. Each of them pairs a black slip-on with mid-to-light wash denim, combining fundamentally American influences into something new. I think this simple combination is consistently beautiful. So I pulled together a series of examples I thought you might all enjoy.
There are plenty of great men represented here, but make no mistake—this album is about Shuhei Nishiguchi, more than anybody else. He inspired the album, and to me, simple though it may seem, the style is his signature. The rest of us are lucky to borrow it from him.
As a side note: while pairing black with blue, in general, has been frowned upon, that rule is fairly specific to odd jacket-trouser combinations. I don't think there's ever been much stigma on black shoes with navy trousers, and stark contrast is the only oddity when it comes to black and light blue. I don't think of the color interaction alone as being too groundbreaking. I do think shiny leather does something nice against flat and drab denim—maybe that's a part of why it works. But let's focus on the how, not the why.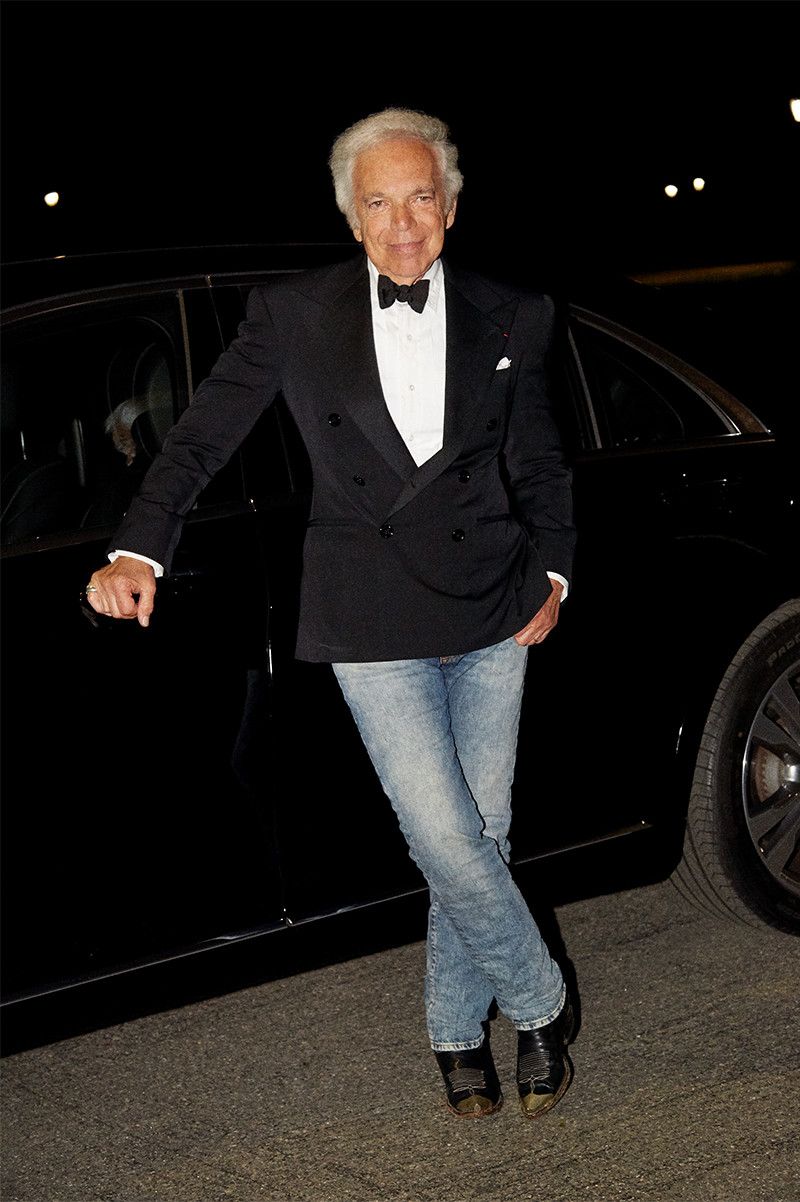 The signature style of Ralph Lauren – denim with a tuxedo. What else could he wear on his feet but black slip-on boots? Here the boots are heavily worn, but still shined and still shaped like sleek dress shoes. Rugged Elegance. Is it Ralph reflecting America, or does America reflect Ralph? Is this Fashion's Euthypro Dilemma?
Would this have workes with black velvet slippers? With black patent leather pumps? All I know is, I need to see people try it.
Tom Ford famously loves to copy this style. Just think how significant the original needs to be for the copycat to be considered brilliant.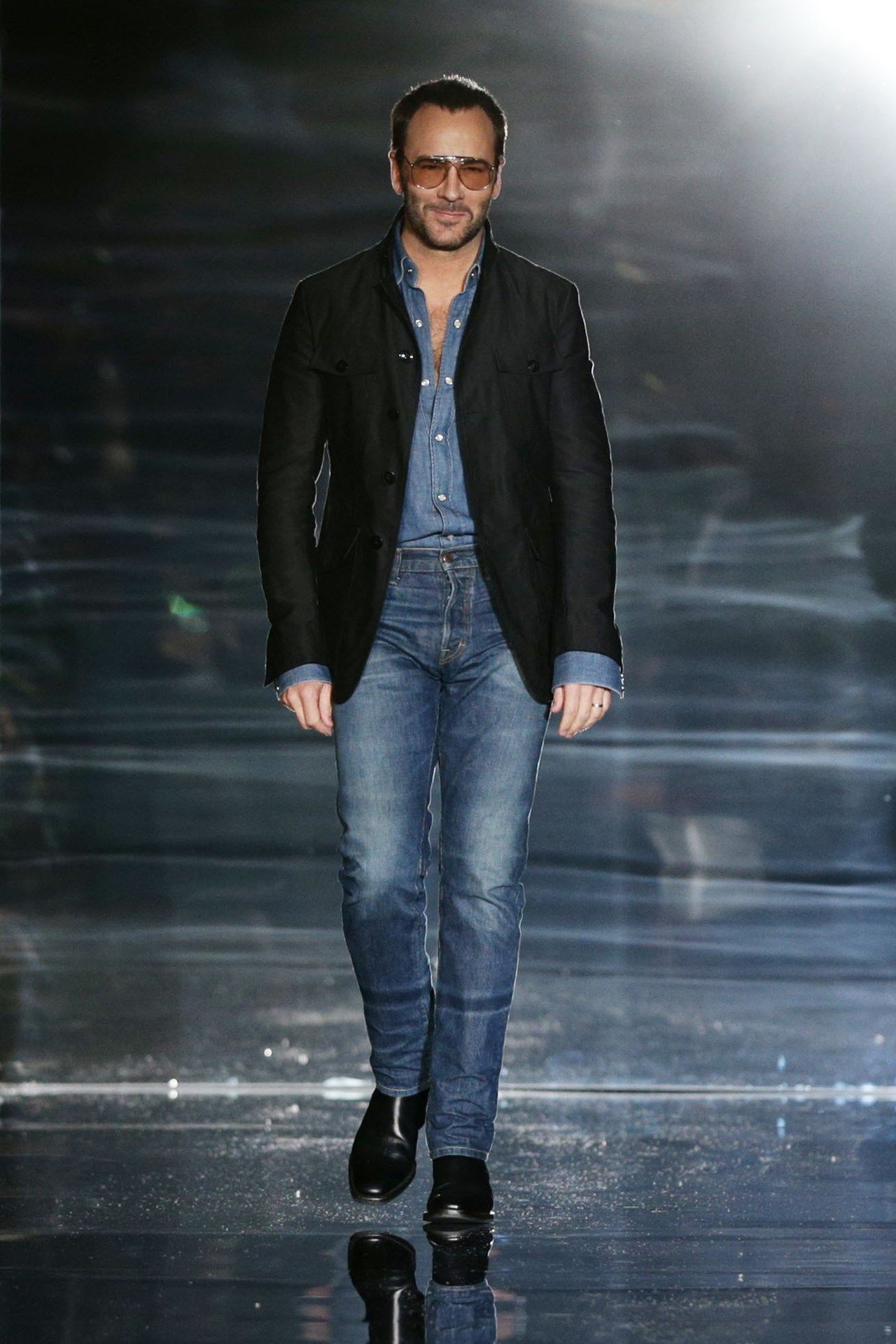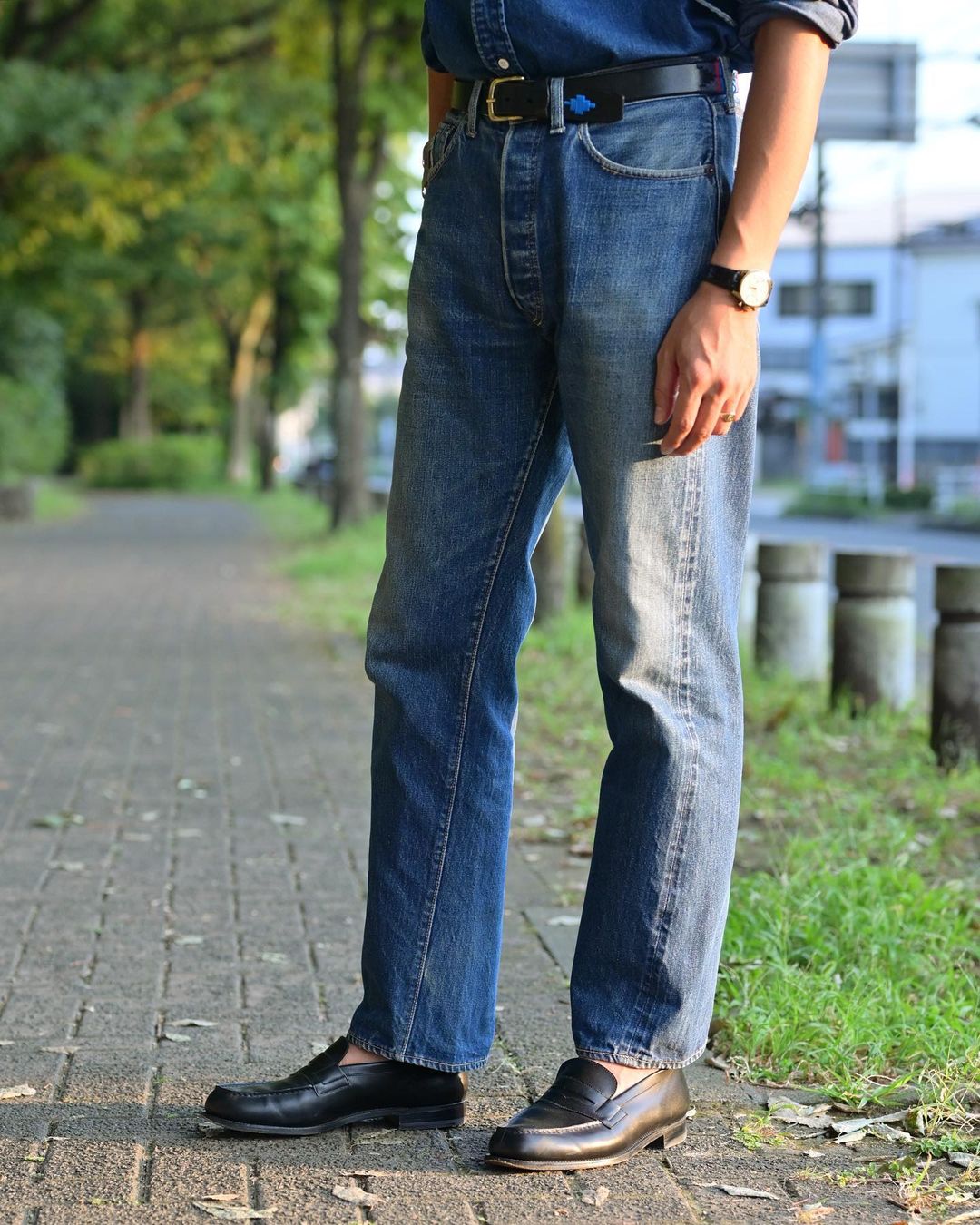 Penny Loafers
What is more ubiquitous than a penny loafer? What is ivy style if not the penny loafer?
You'll notice a pattern among socks here. Some men go with no show socks, and others go with the Ivy choice of white socks. I prefer the no shows, myself, but white socks in Ivy style do have their proponents. Clément Breton provides a french twist on that Ivy style. Jason Sandagon takes Ralph Lauren's bravado a step further and goes with a unique, bold dinner jacket that pairs beautifully against the denim.
The top half of each fit here—well, of the six you can see—is completely different, and yet, the nigh-homogenous bottom halves all work. This shows the combination is versatile; it can be used in a canadian tuxedo, in a simple casual outfit, in preppy style. Vintage or modern, cool dude or corny dad. Whatever your vibe, you can try this out.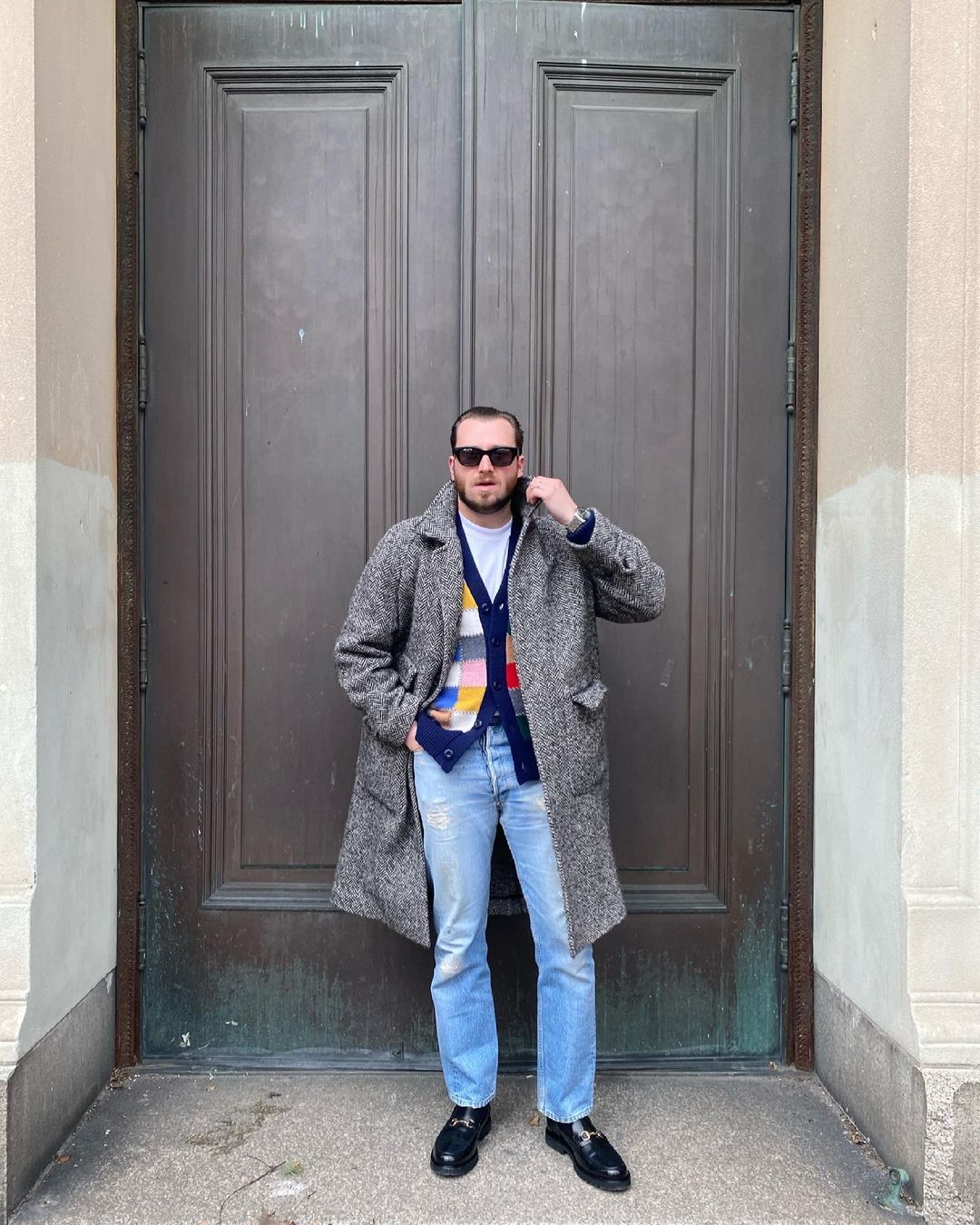 Horsebit Loafers
Horsebit loafers are a little more exciting. Younger and flashier than penny loafers, they bring equestrian and Italian influence to loafers—which I think of as generally American—to evolve in New York fashion circles. Now, they're a shoe for people who love shoes, and aren't afraid to let them stand out.
The result is a shoe that has a unique versatility about it. You can wear them with shorts, you can wear them with suits, and you can certainly wear them with jeans. Again, this fits a variety of vibes, from sartorial to street.
Here, we notice the shine—beyond that of plain black leather—transforming the contrast just a touch into something a little distinct from the other styles here.
Shuhei Nishiguchi has a few different pairs of black horsebit loafers. Here, he dresses them down—denim, tee shirts or knits... Even when he's wearing a blazer, he looks distinctly relaxed.
The first two pairs are from Enzo Bonafe; the last three are from Gucci, the brand that invented the style. Note that the bottom left pair is suede—black suede with a gold bit!—and the bottom right pair is kilted. I would not normally abide a kilted loafer, but I'll be damned if it doesn't look good here.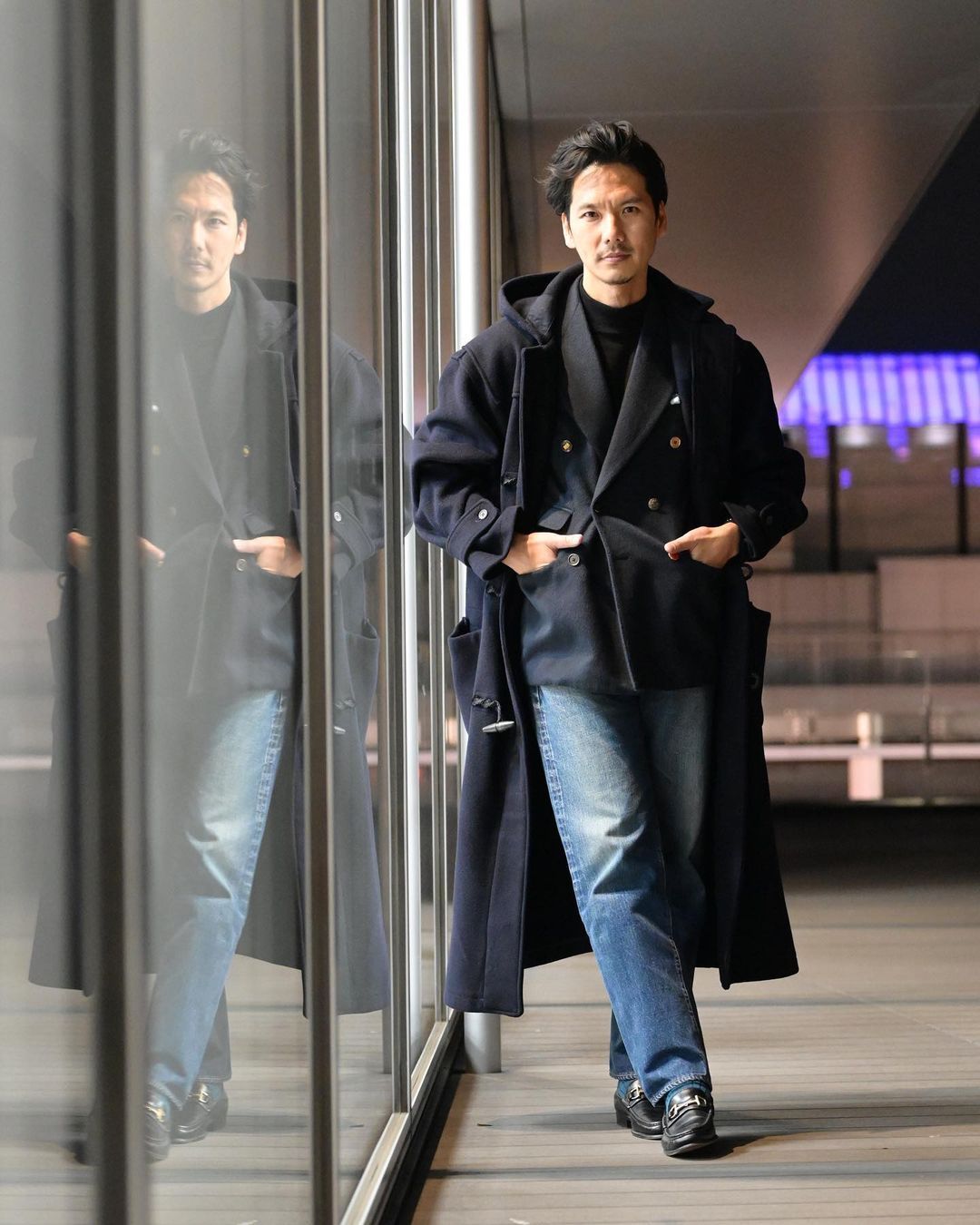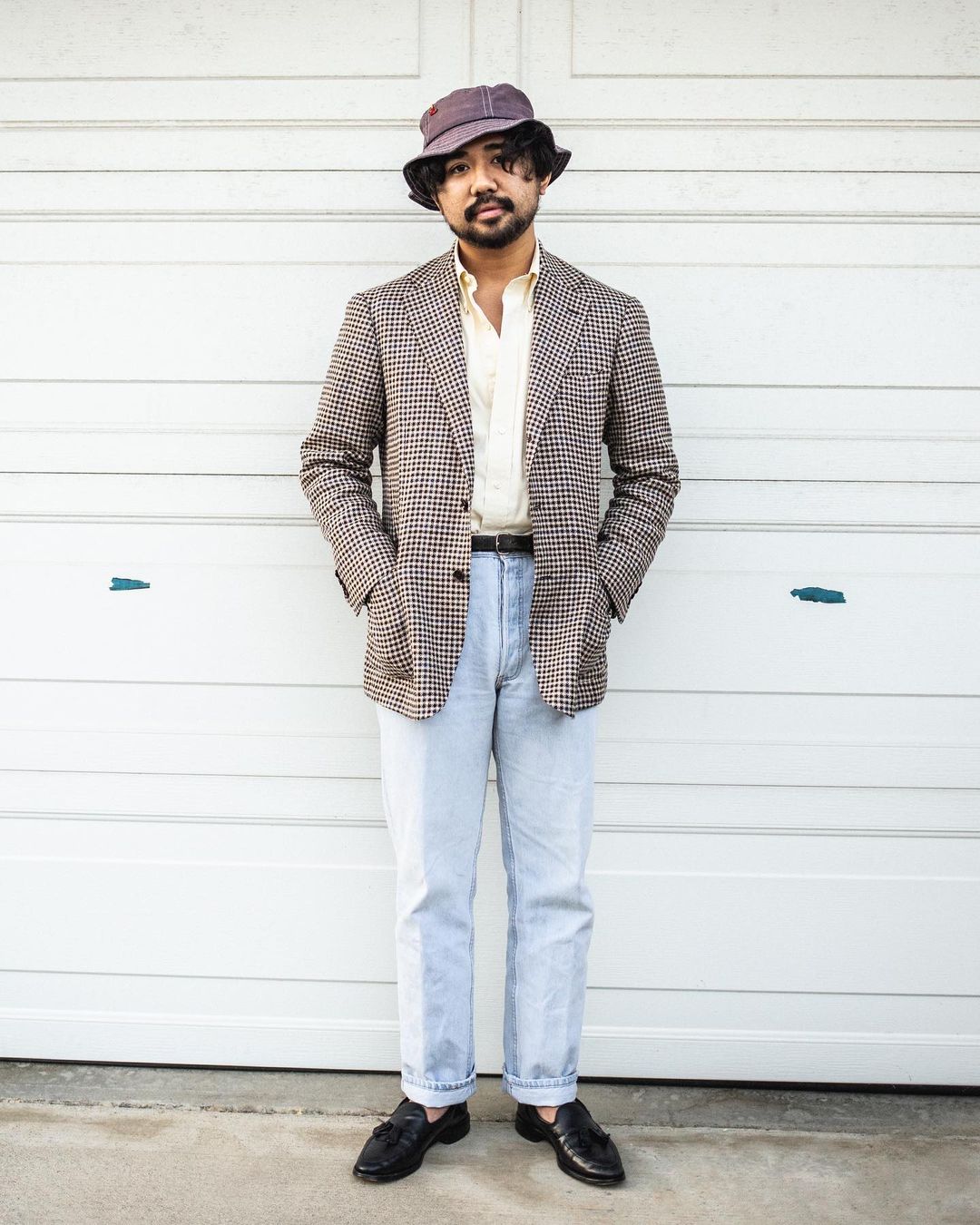 Tassel Loafers
The tassel loafer, four years younger than the bit loafer, is the most distinctly American of the lot. Alden and Brooks Brothers came together to deliver a style that's sometimes cool, sometimes goofy, and sometimes professional.
Rather than develop a reputation as the less-flashy younger brother to the bit and penny loafer, tassels fell into a niche with lawyers and their ilk. It feels more mature; it escapes the penny loafer's collegiate connotations and the horsebit's flash. These might be most at home with a suit, but they dress down just as nicely.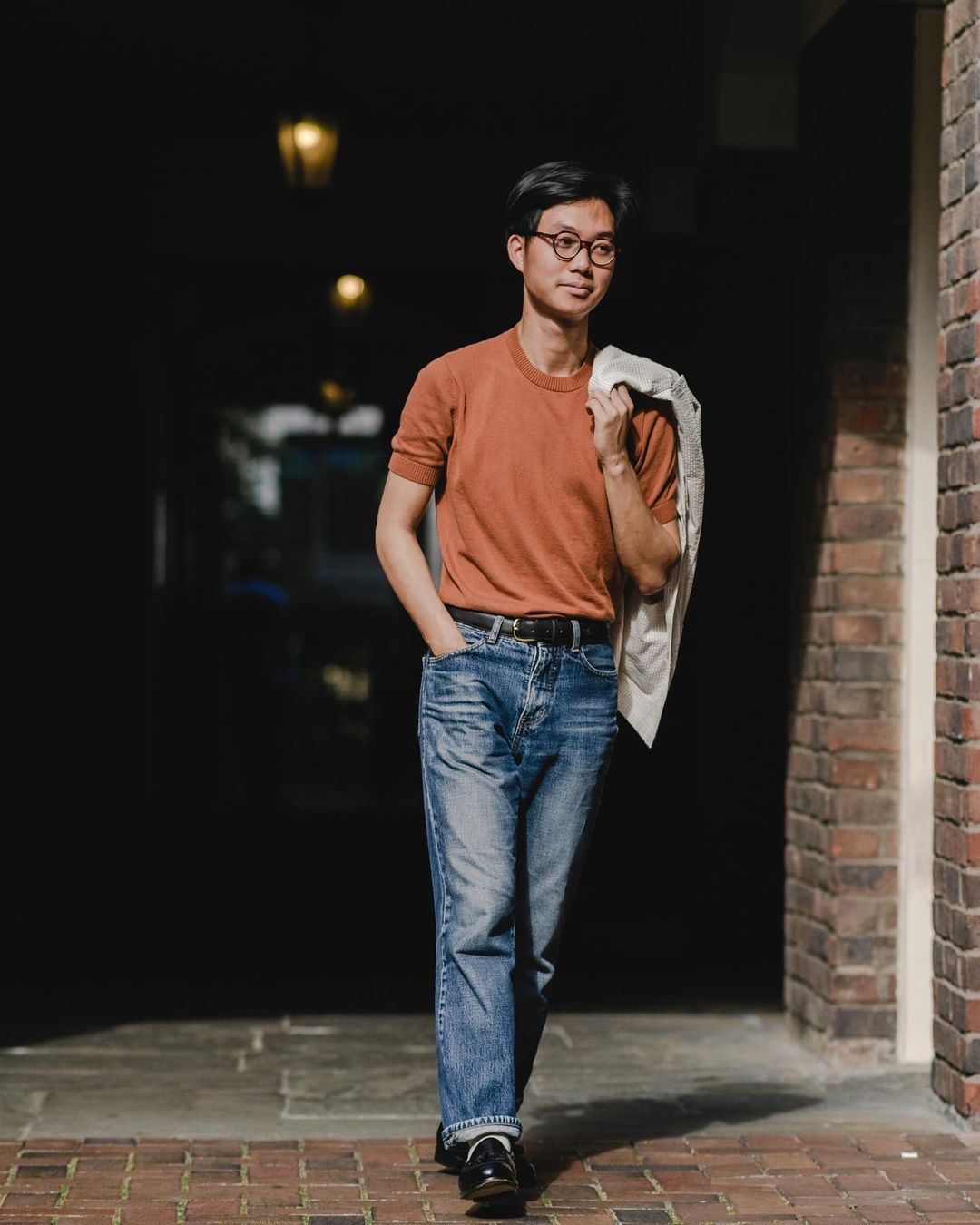 I noticed, after collecting these images, that the men here all have an appreciation for classic menswear. Unlike the horsebit loafers and chelsea boots—there are plenty of frat boys in either of those sets—the men here do, in fact, all wear suits. You might not know it to look at these photos—Buzz Tang looks like he could be any ordinary guy, which he is not—but if you're trying to pick a loafer, the tassel loafer comes with its own tribe.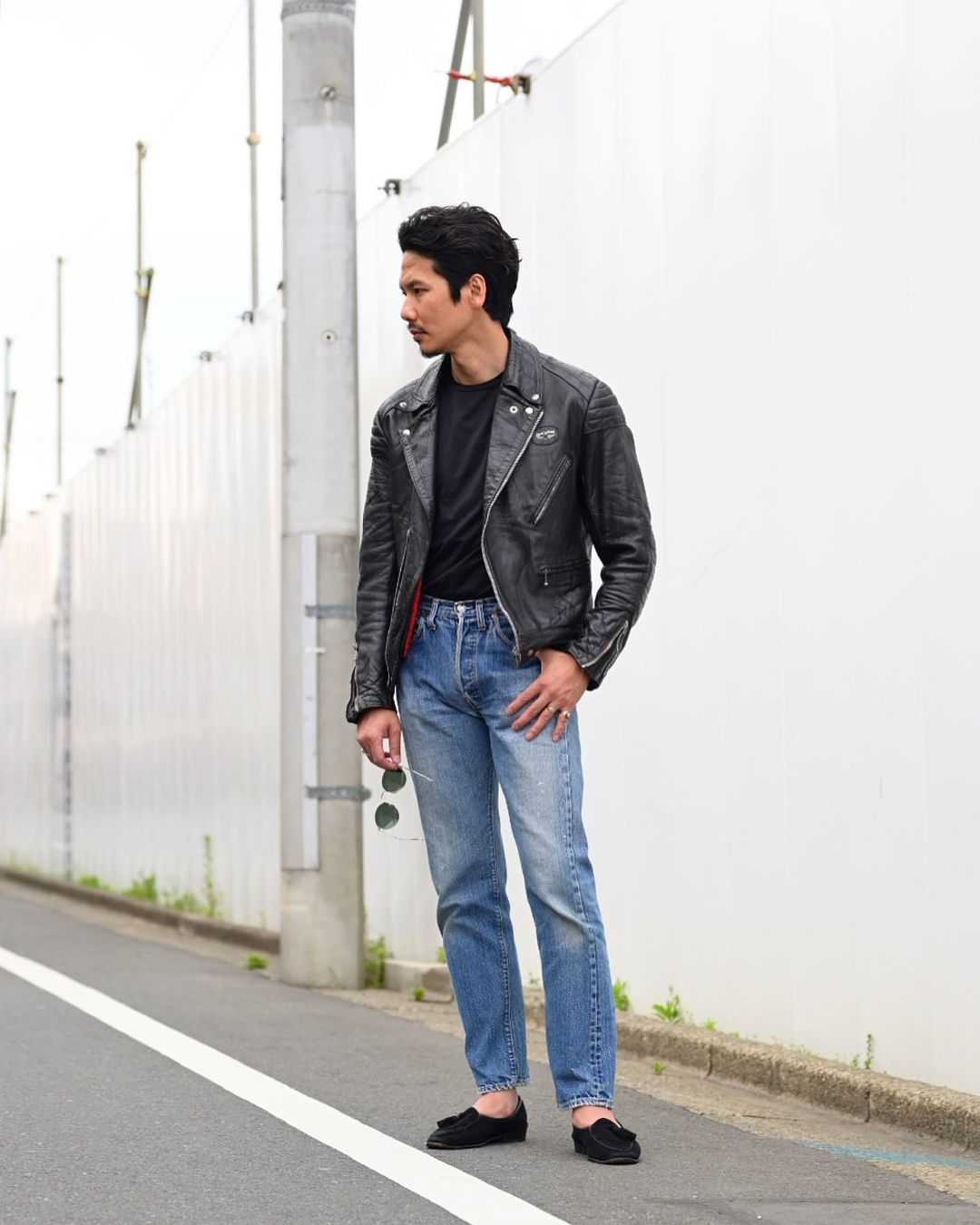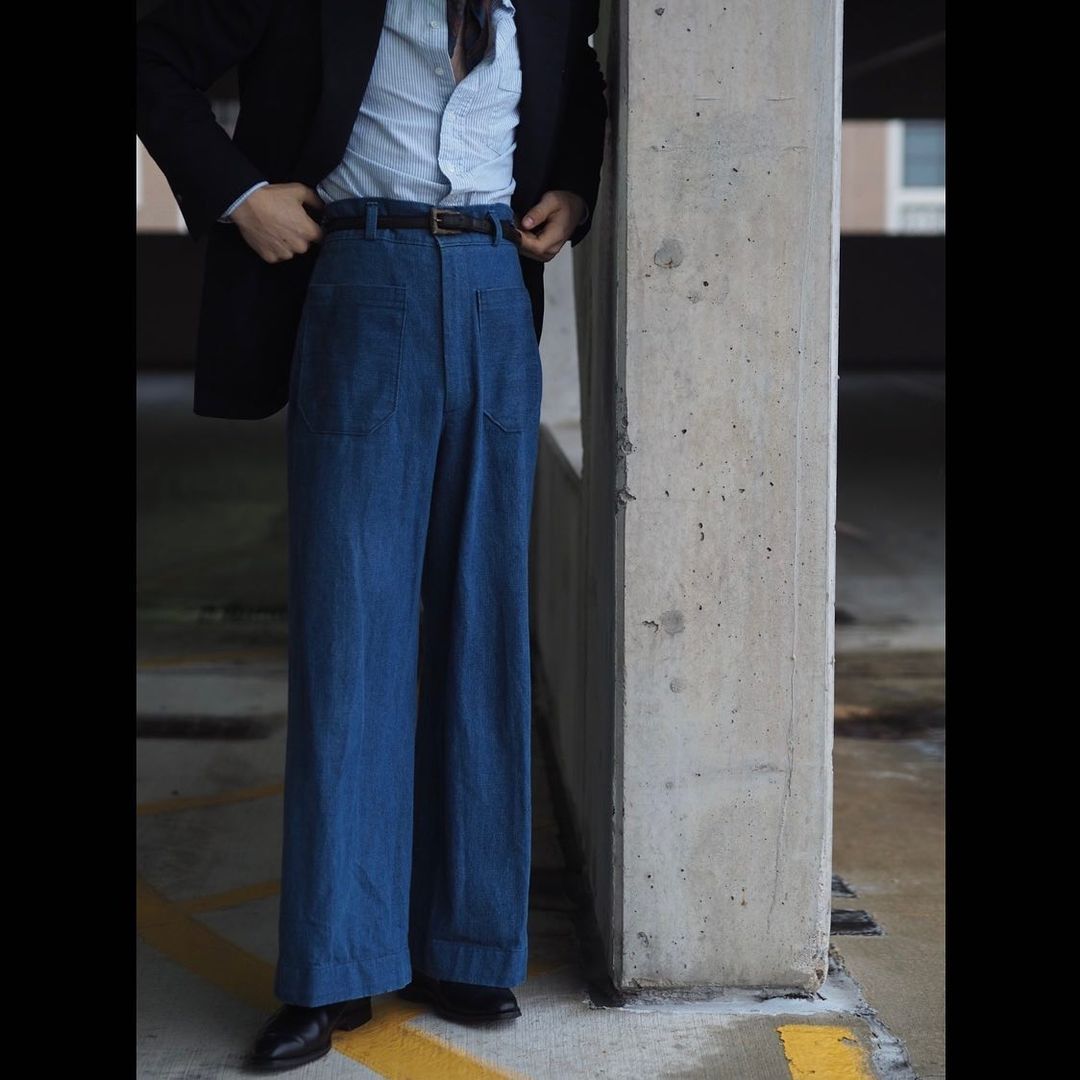 Chelsea Boots
Are chelsea boots slip-ons? Yes, at least for the purposes of this album, they are. The elastic doesn't change the sleek, laceless front. That big uninterupted wholecut piece of black leather just shines againt the drab of the denim. That contrast is key, maybe even more than the color contrast.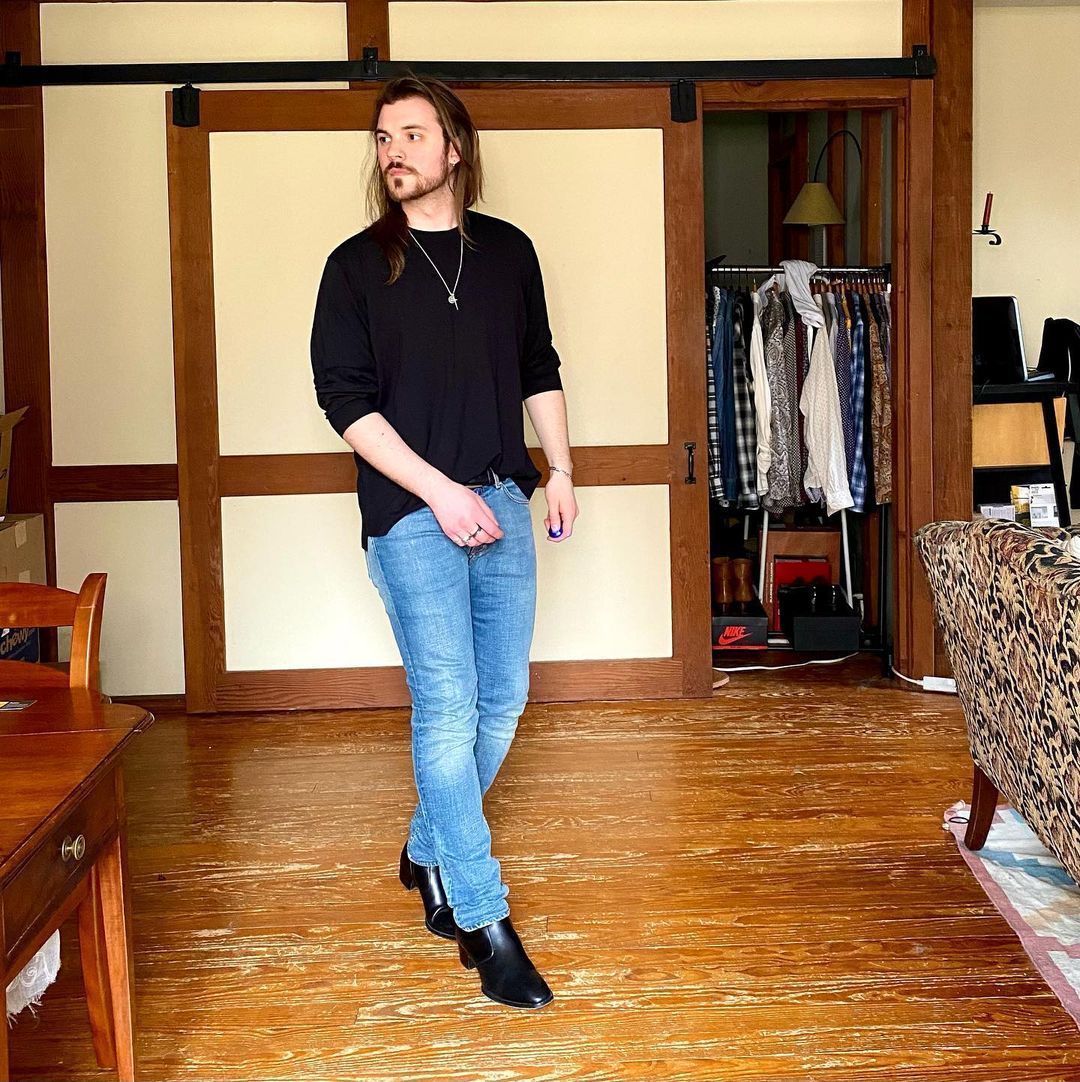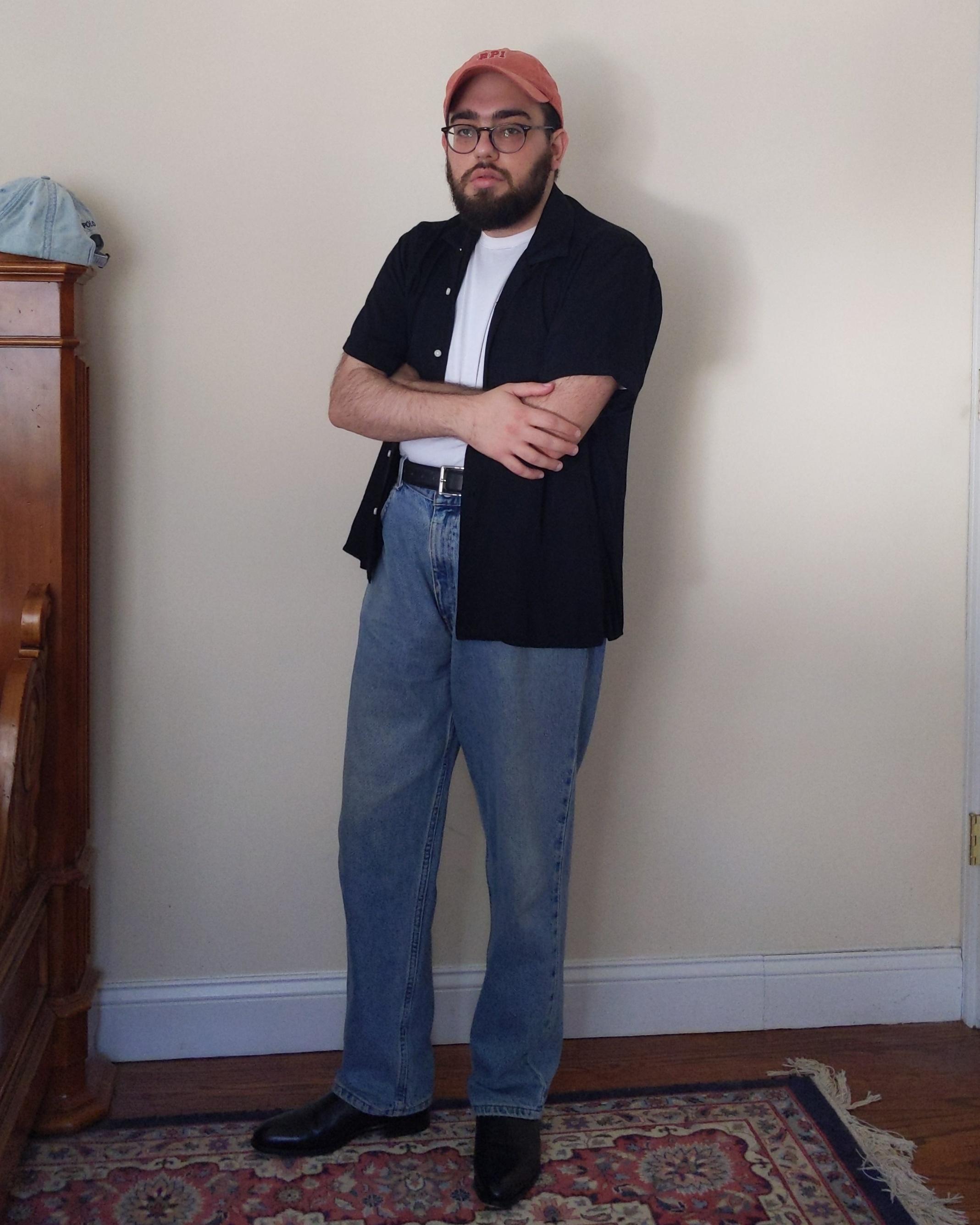 By now, you've probably noticed that, in addition to the chambray and denim tops, there's a decent amount of black here. I think these are the most straightforward pairings—either match the denim or the boots. White is obviously an easy answer. But you've seen other blues, oranges, browns, pinks, even yellows above. You certainly have options.
Notice Shuhei's black turtleneck below. He's not afraid to add colorful layers on the right, or gray on the left.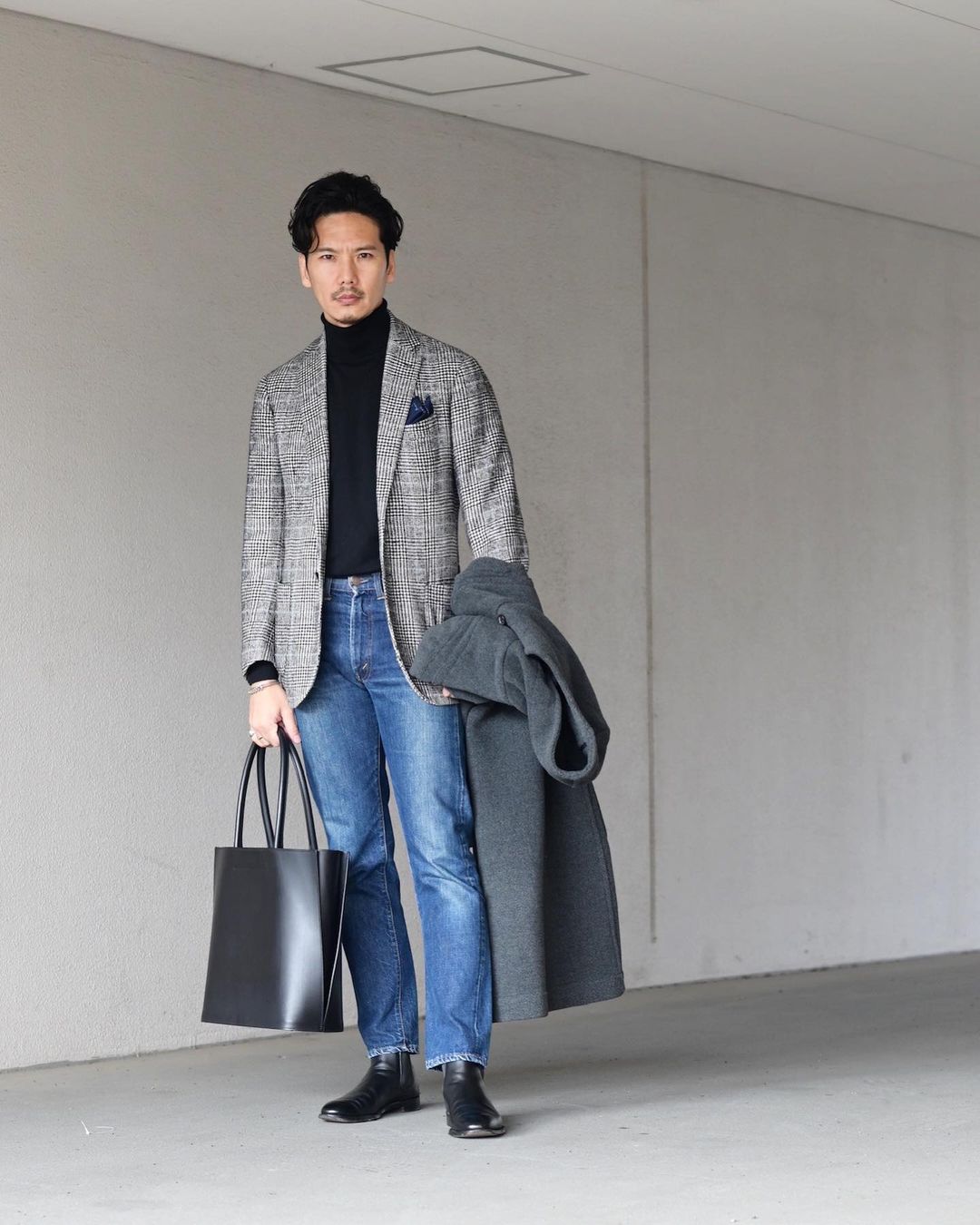 Conclusion
I know I've shown the versatility of each of these styles. But lately, I've been hearing versatility as something of a dirty word in menswear. Yes, a white tee shirt is versatile, but how often do you see a man in one and think "wow, he knocked it out of the park!"
I would like to think that I've gone beyond breadth, and shown you the depth of this combination. The contrast in both colors and textures.
And I help I've shown you the differences between each shoe style. Between light- and mid-wash denim. Between calfskin and suede. Maybe you prefer dark washes, brown or tan shoes, or bluchers. I hope I've helped you get closer to the answer.
I hope I've given you not just inspiration, but actionable guidance in executing a simple style at a higher level. Let me know if I have!