Setting Things Straight: Slim Pants, Wide Pants, and You
One simple and fundamental question has been keeping these groups divided for a long time: how should pants fit?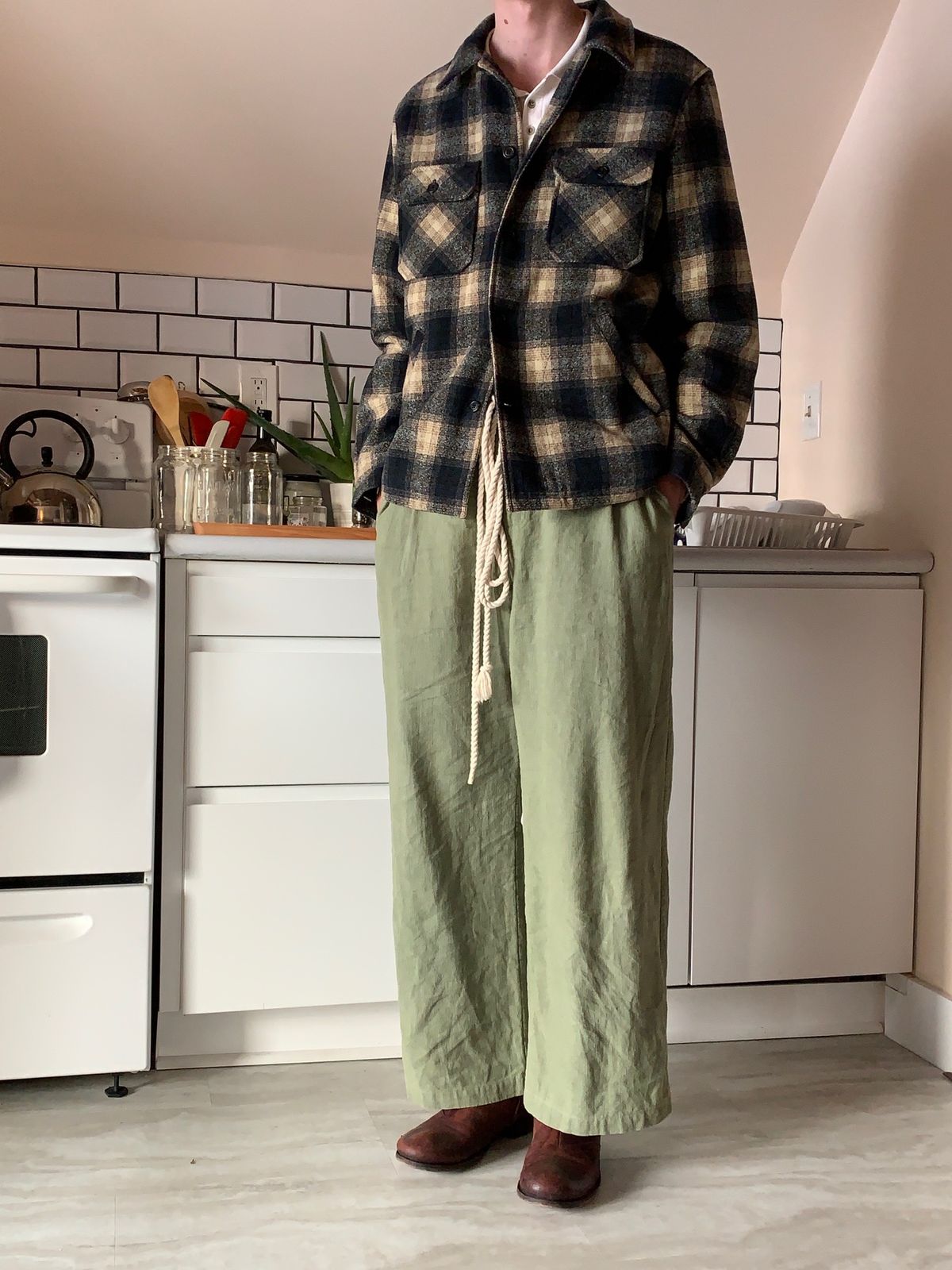 Menswear is a broad space. It's full of plenty of amateurs, enthusiasts, designers, profiteers, and advertisers. Part of my goal is to bridge the gap between newbies, amateurs... Muggles, for lack of a better term, and menswear enthusiasts. Sometimes, the difference between these mindsets is simple knowledge, or a willingness to spend money to get something great. But one simple and fundamental question has been keeping these groups divided for a long time: how should pants fit?
Some time, really over a decade ago, skinny pants were all the rage. They moved from Brooklyn hipsters to pop stars to the masses. James Bond's suits were at least a size too tight, and a bunch of Instagram bodybuilders built followings off god-awful suits four sizes tighter than that.
That trend has dissipated—faster among some groups, and slower among others. Slim and "regular" fits gained some ground, particularly among men researching the "correct" fit on the internet. But now, the dominant trend is unclear. Some muggles certainly still like slim fits, but an increasing number of menswear enthusiasts are embracing more relaxed fits. Some never stopped wearing skinny fits. So who is right?
In this article, I'll adress the cases for both slimmer and more relaxed pants from a variety of perspectives. I reach the conclusion—which I hope you can appreciate—that different men prefer different styles—slim, wide, wide taper, flared, even skinny—for different reasons, and that there's room to appreciate all of them. At the same time, I will encourage you to consider fits that you may have previously dismissed.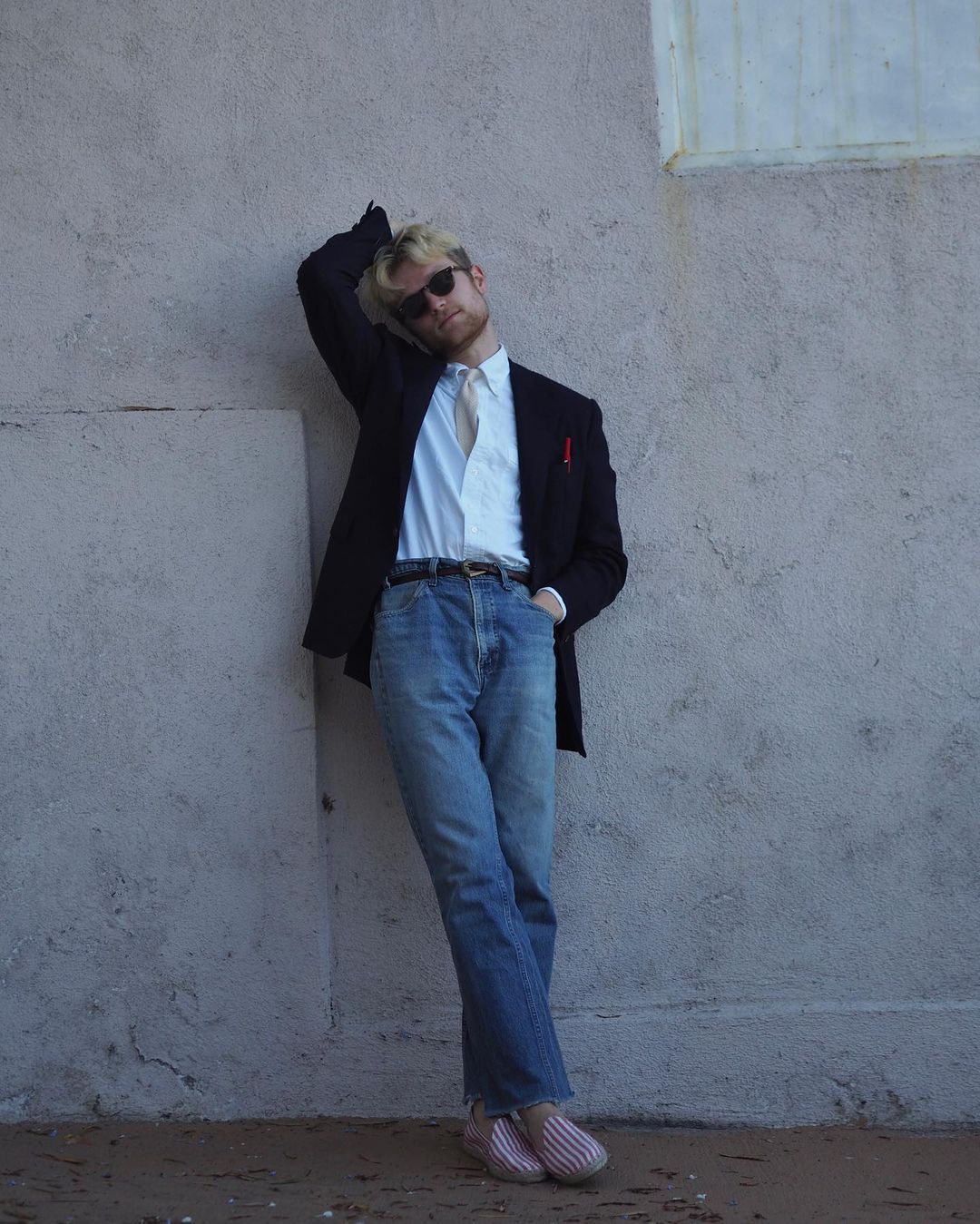 But first: what are Straight, Relaxed, and Wide fits?
So in order to talk about straight, wide, and relaxed fits, we need to put each of those terms into perspective.
Unfortunately, almost every word used to describe fit—straight, relaxed, wide, baggy, slim, skinny, bootcut, flared... They're all at least a little bit ambiguous. However, that doesn't make them meaningless.
To get a better idea of how to talk about these fits, think in terms of the shape (or "silhouette") of a cut, and in terms of measurements.
Common pant measurements obviously include waist and inseam. Your waist measurement is not necessarily something you want to play with (although it may vary depending on rise and other factors, and it may be helpful to get a larger waist size and taper it to achieve the fit you want elsewhere). However, you might want to consider the size of your pants' leg opening (which might be measured around or flat; the measurement around will be about double the flat measurement), or—if you're really trying to get the fit just right, but can't try the pants on—width around the hips, knees, or at any other point. You also definitely want to consider rise. High rise and relaxed fits could create grandpa vibes,
More interestingly, we can talk about cut. Different cuts come with different names and connotations. Here are some cuts worth thinking about:
Relaxed might refer to any cut that isn't slim or straight.
Regular or Classic might refer to any cut that isn't skinny or especially wide. No, "classic fit" is not a clear or specific term.
Slim pants sit vaguely close to the body. Some people call slim fits "fitted" or "tailored," which is a little ridiculous.
Skinny pants are slimmer than slim. They might be skin-tight. Leggings are skin-tight pants like yoga pants. "Jeggings" are some bastardized hybrid of jeans and yoga pants. You might say they're "painted on."
Wide might refer to any cut that is wider than people expect. Since many people still expect slim fits, "wide" can be a very wide umbrella. Very wide fits might flair out from the waist and never taper down.
Straight can either mean straight from the knee or thighs, or might just imply pants that are not-too-slim.
Straight from the knee. Pants that hang straight from the knee can still be relatively slim or wide, but paired with a hem opening measurement, you might start to get an idea of how wide the pants are.
Straight from the thighs. Pants that hang straight from the thighs are generally going to be more relaxed than pants that hang straight from the knee.
Tapered fits are ones that are slimmer at the bottom than the top. This is common. Athletic Tapers or "Carrot fits" might start out a little wider in the thighs. I think the term "carrot fit" sounds a bit silly.
Flared hem, bootcut, and bell-bottom. Slimmish through the knee, but widens back out around the ankle. Bootcuts might be more subtle; bell-bottoms might have an aggressive flair, and the term strongly evokes a very particular 70s vibe that is hard to pull off nowadays.
Baggy generally implies a wider fit with poor drape. It may just be used as a derogatory term for pants that are percieved as being too wide. Then again, some men might intentionally try to evoke "baggy" fits for particular reasons.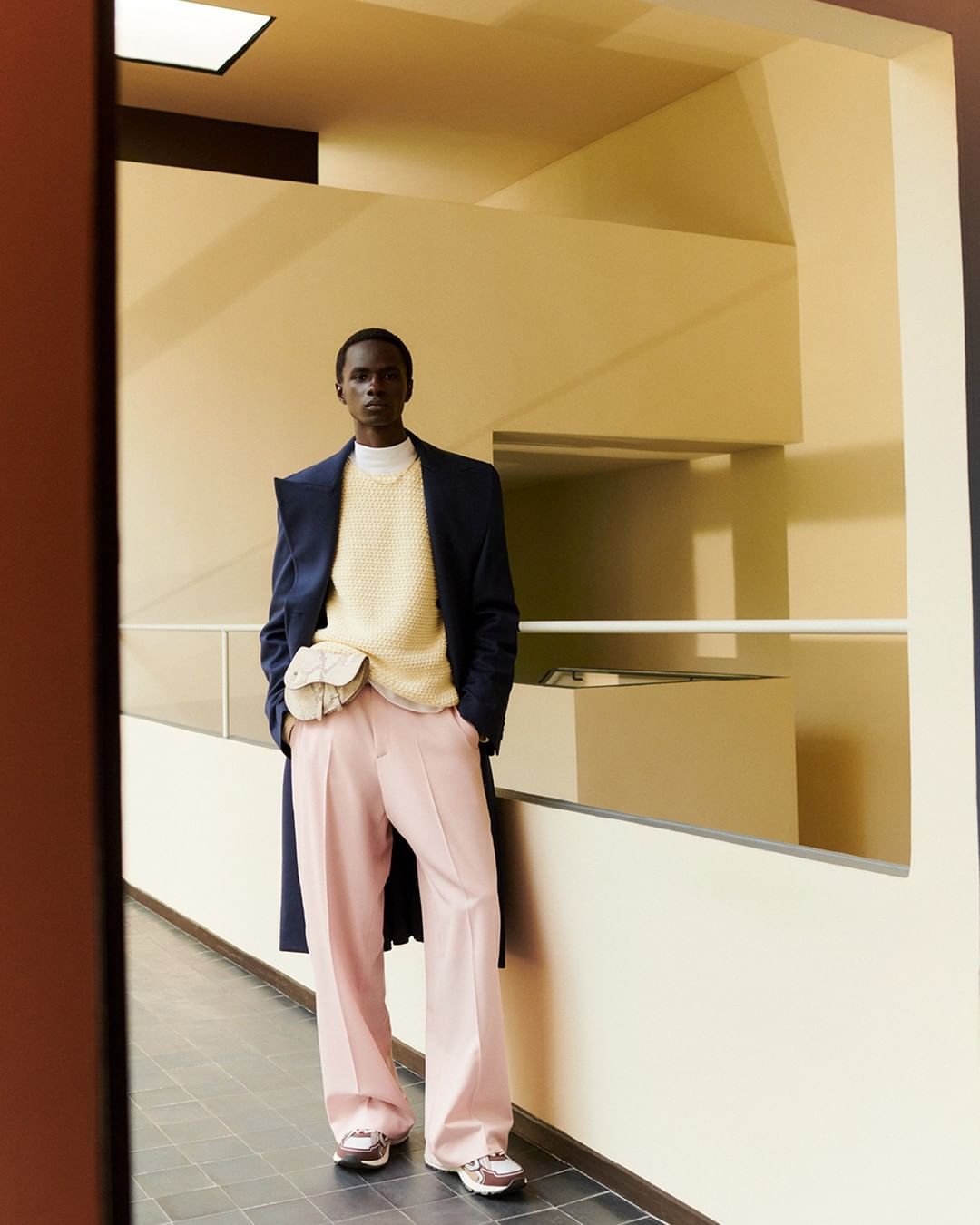 How Fashion Trends Move These Days
There are different types of trends. GQ makes up ten new trends a week—those are safe to ignore. Some trends last a season, some trends last a decade. Some trends wax and wane slowly, some trends appear and disappear, almost overnight.
Fit trends are usually the slower kind. Unlike Cheetah prints, a pair of wide pleated trousers that you like today is likely to stay fresh and interesting a year or two from now. You don't spend thousands of dollars at Gucci because you need to get the same pair of pants again—you want something new and fresh. So trends are born.
Traditionally, these trends originated with high-end fashion designers, as this scene from The Devil Wears Prada describes. The designers are artists, showing you something new and fresh, and those styles trickle through the Zeitgeist and mall brands slowly over time. With fast fashion, one could argue, trends "trickle down" faster, so the designers at the "top" have a greater impact.
But fashion is a business, driven by more than just designers. So while Gucci wants to give you something new, we live in an era where Zara and Shein drive business. If Zara and Shein still sell slim pants, then they're likely to focus on copying slim styles, or copying wider styles and slimming them down, fitting the tastes muggles already have rather than trying to push an aesthetic change to excite enthusiasts. Even J. Crew feels no urge to change its customer base.
Therein lies our first disconnect. While runway shows and lookbooks have trended towards wider pants for some time now, slim pants are a very resillient business, especially among older customers, and mass market brands have enough clout in the industry these days to resist this change.
On the other hand, younger generations are very open to wider fits. It could be that the change in trends is slowed, but will speed up as younger generations begin to spend more.
If you go South of Houston street, you can see apparently-trendy people wearing all of the above. If you want to follow the trend, who do you follow?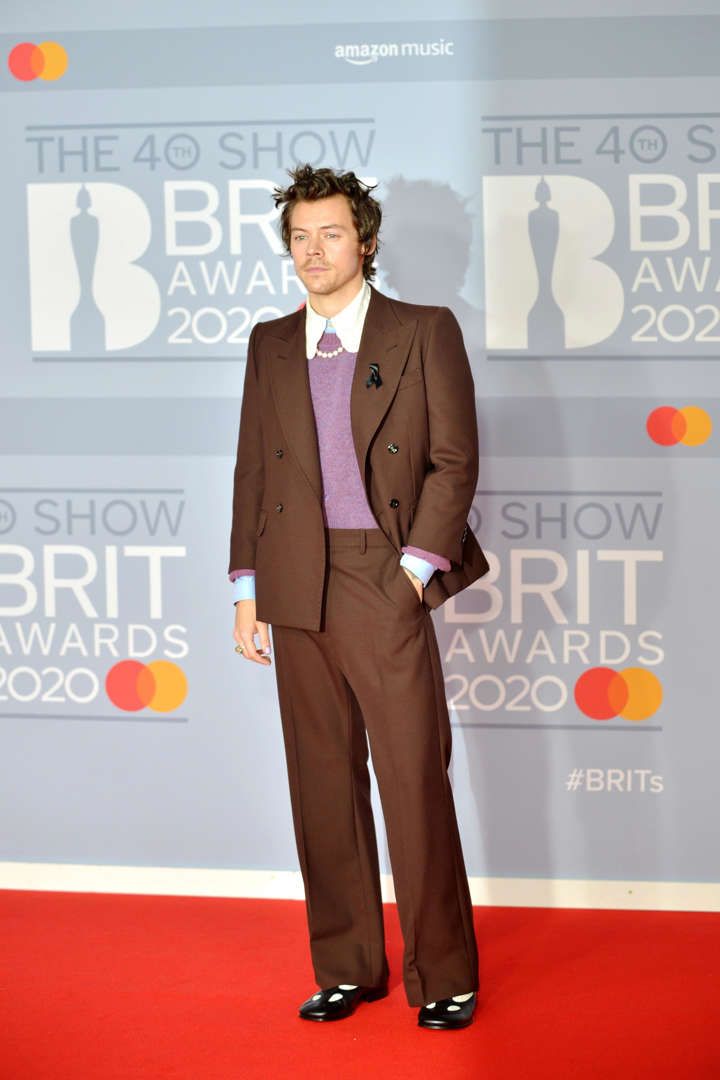 What Enthusiasts Appreciate
As I mentioned above, enthusiasts often want something new, or different.
Muggles are trying to get clothes that just work. They want pants that fit "correctly," as opposed to pants that fit in an interesting way. For many, the "correct" fit is still a slim or "regular" fit.
But to guys like Ezra and Derek, that never felt right.
When I first started getting into fashion (like 10 years ago at this point), I got sucked into the slim fit movement like every other guy. I never really felt like myself in skinny jeans and fitted shirts, and I didn't realize until later that it was mostly because it didn't work well with my body type, and I didn't understand how to play with proportions at that point.
But as time went on, Derek found an aesthetic that worked for him. "Wide pants and relaxed fits fit my style mostly because I take a lot of cues from Japanese city boy looks," he says, "and I like the the carefree, casual feeling it projects."
Derek also wears cropped trousers on occasion: "taking breaks out of the equation just makes wearing wide pants easier." A youtuber might tell you that cropped wide trousers on a short frame make you look shorter, but most of the menswear community believes that, at least in person, such optical illusions have little relevance to height. Instead of fighting his proportions, Derek engages with them. Some friends refer to his style as "block ass lego fits," but that's something Derek embraces. That's ultimately the charm.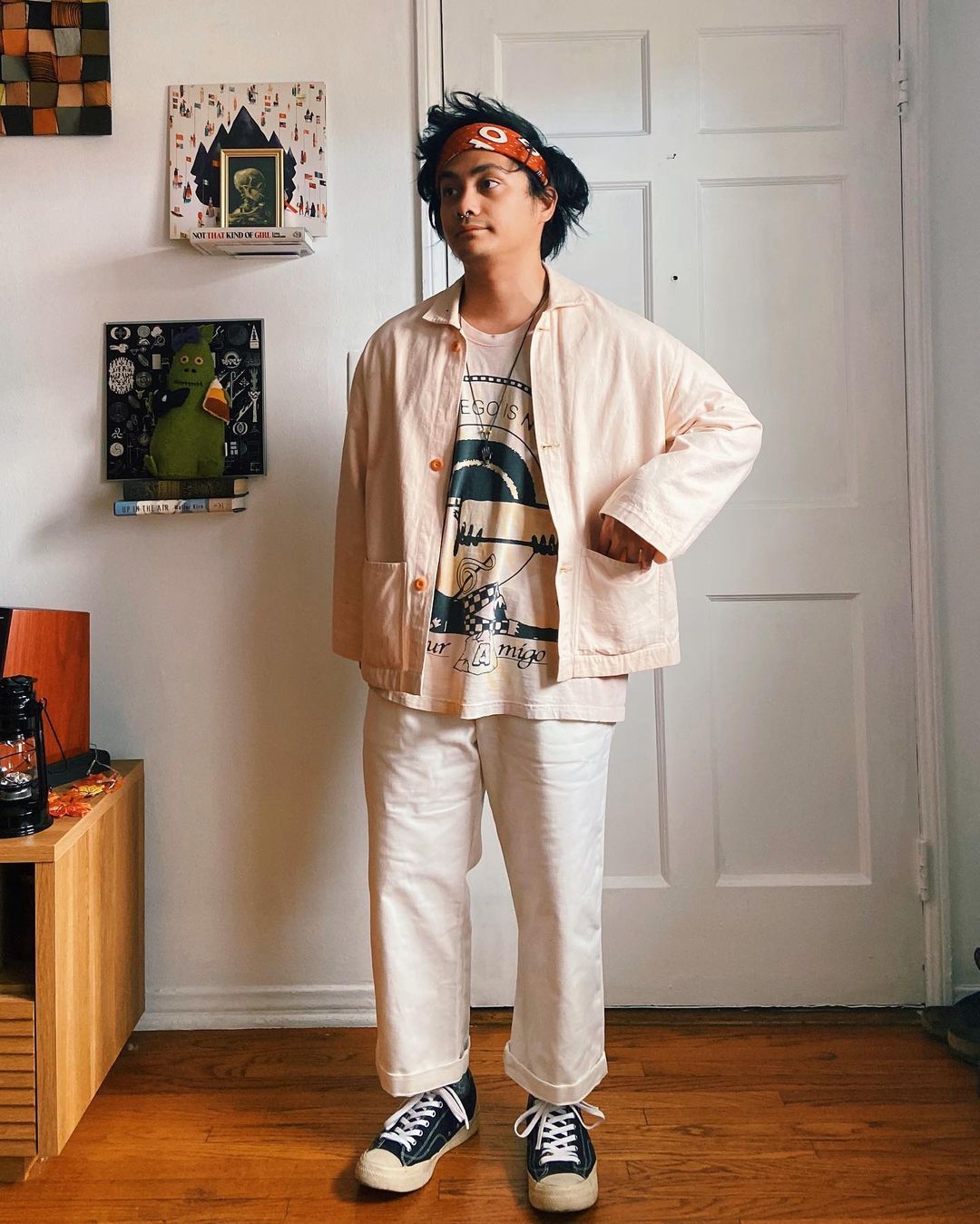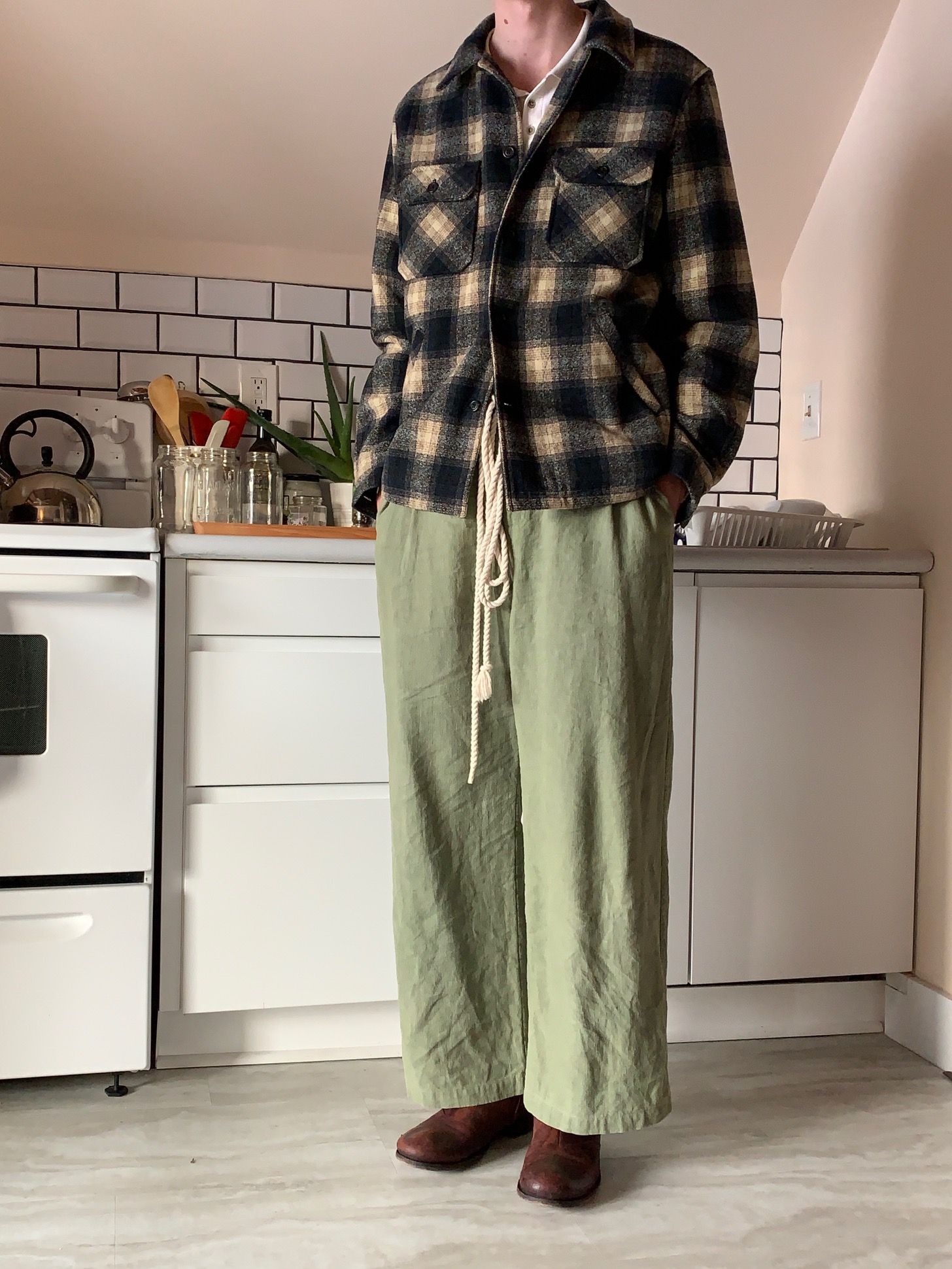 Ezra has no less precise a conception of his style. While still rooted in wide fits, the vibes he looks for are visibly different. He describes it as "avant garde / alternative Korean street style." He mixes street and upscale pieces to channel nomadic / wanderer vibes. You can see his clothing drape differently from Derek's. You can see long drawstrings and ties . But Ezra, too, progressed to this point after experimenting with slimmer fits.
I had gone through a full hero's journey when it comes to style. That means before I came to wide pants I was first wearing skin tight denim from Fear of God and Topman. I was a fan of the style at the time but as my taste and style progressed, it felt more restrictive to wear than appealing. I think that just naturally professed me into wider pants. The next step for me was chinos, then skater pants, then straight cut trousers. The wider I went the more I enjoyed it. There's something about the comfort, flow, and aesthetic of oversized pants that really grabs my attention. Whenever I'm putting together a fit, I try it on with a few different pants, and it always looks better with the wider option.
He's not categorically opposed to slim fits, but only in very specific cases: Ezra likes waxed denim from Rick Owens, but wouldn't be interested in waxed denim from Saint Laurent or other similar brands.
The point here is that both men have very specific conceptions of their style. They have a point of view on the aesthetic they want, refined through years of experimentation and discovery. That's what great outfits are made of.
But the aesthetic is not the only reason Ezra and Derek appreciate relaxed fits. For both of them, relaxed fits provide not only the appearance of comfort, but the real thing.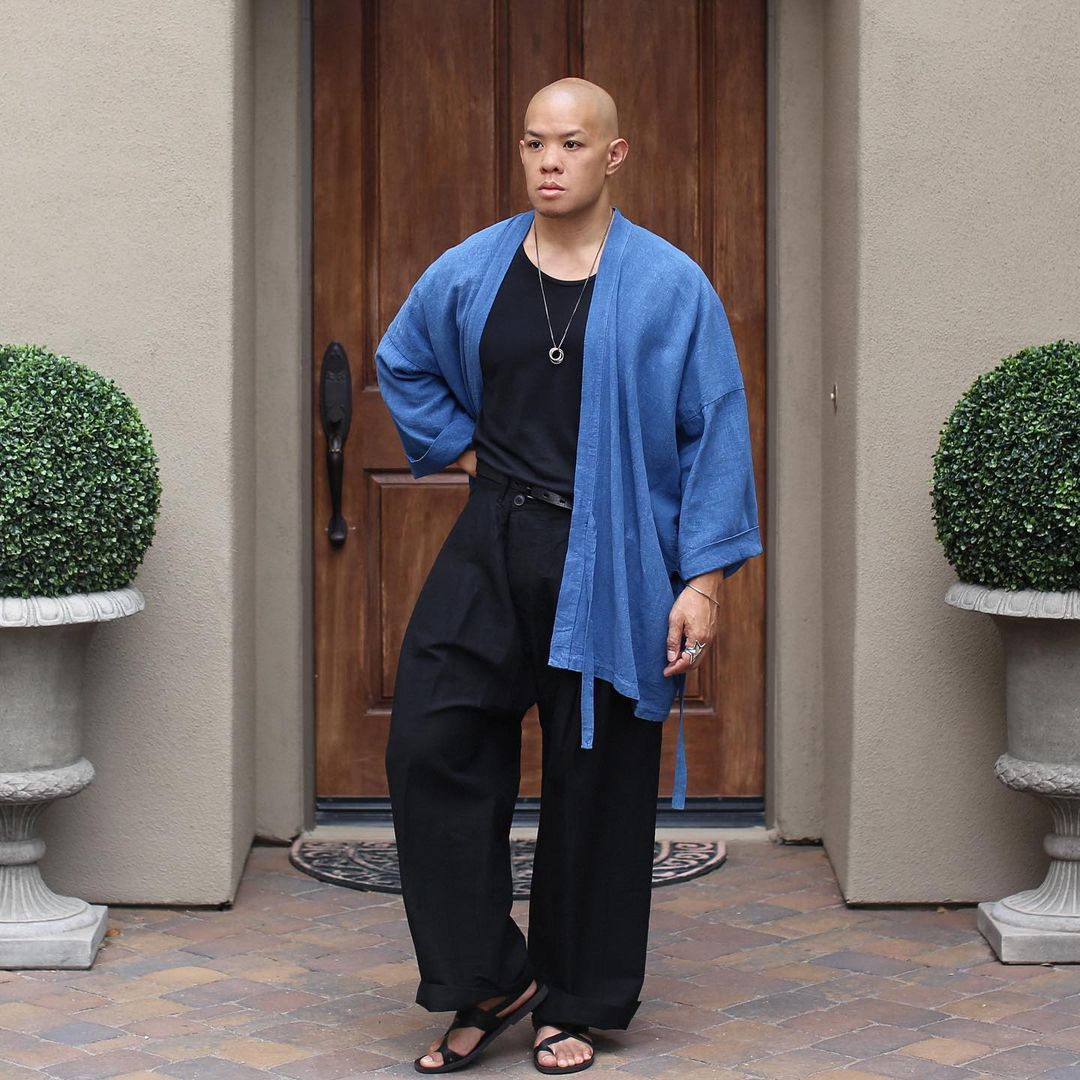 Stretch, Drape, and Comfort
Athleisure is yet another wrench in the works. Lululemon and Yoga clothing inspired a whole wave of elastene in everything—not just athletic clothes, but jeans, chinos, suits. And if you are wearking skinny-fit jeans, that makes sense. Skinny fits of stiff fabrics are unlikely to be comfortable, especially off the rack, but designers can mitigate that by having the pants stretch to move with you. At least, that's the idea.
But there's another solution to that problem: stop wearing skinny fits. Stop wearing clothing that's too tight anywhere, and start wearing relaxed fits. Derek likes fits so relaxed that they never even touch his skin: "I don't like when fabric clings to my body. It feels restrictive and uncomfortable."
Good relaxed pants don't just provide range of motion and breathability—they drape differently. Whether you prefer something flowy like silk or stiff like heavyweight denim, wide fits put a fabric's drape on display. Furthermore, they might help show off a particular cut. Wide in the thighs with a heavy taper. Narrow in the thighs with a flare at the ankle. All that intention can fall apart if a fabric ages poorly—and that can turn a once treasured piece into waste.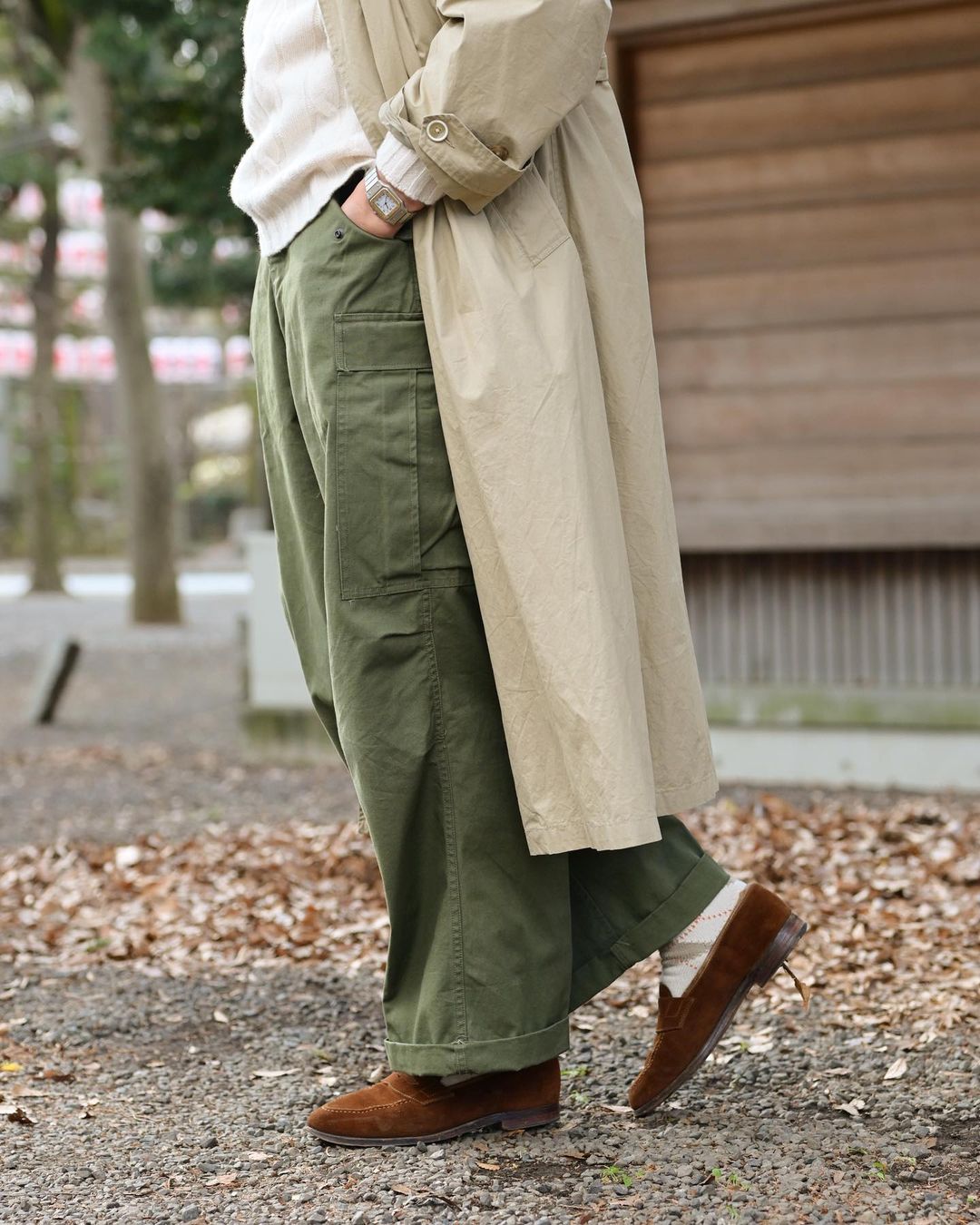 Elastene isn't just useless in the context of a relaxed fit—it can ruin drape. Maybe not off the rack, but over time—elastene degrades over a couple of years, losing its elasticity. Garments with too much elastene sag. So you can't just take the same pair of pants in three or four different fits, as J. Crew and Levi's might want to do. You often need to design different garments in each style, made from different fabrics. Brands like Lululemon, which specialize in stretchy fabrics, will lose business as wide fits proliferate. They want to keep the status quo.
Using natural materials isn't necessarily a solution—especially not for fast fashion brands. Cheap cotton usually doesn't drape especially well, and cheap linen and wool blends come with their own problems. It's possible to put together good blends involving polyester, nylon, or rayon—many designer brands use them to achieve very specific effects—but fabric that drapes well often costs money that Shein and Zara would prefer not to pay. So the ability to cheap out on fabric might be yet another incentive for fast fashion brands to err on the side of slim trousers. Perhaps this is another reason for luxury brands to prefer wide fits: they may feel wide fits are harder to imitate.
Yet another force throwing off the traditional trend cycle. But is it a bad thing? Some men like their slim, stretchy pants as is. Wide fits might never trickle down the way some other trends do.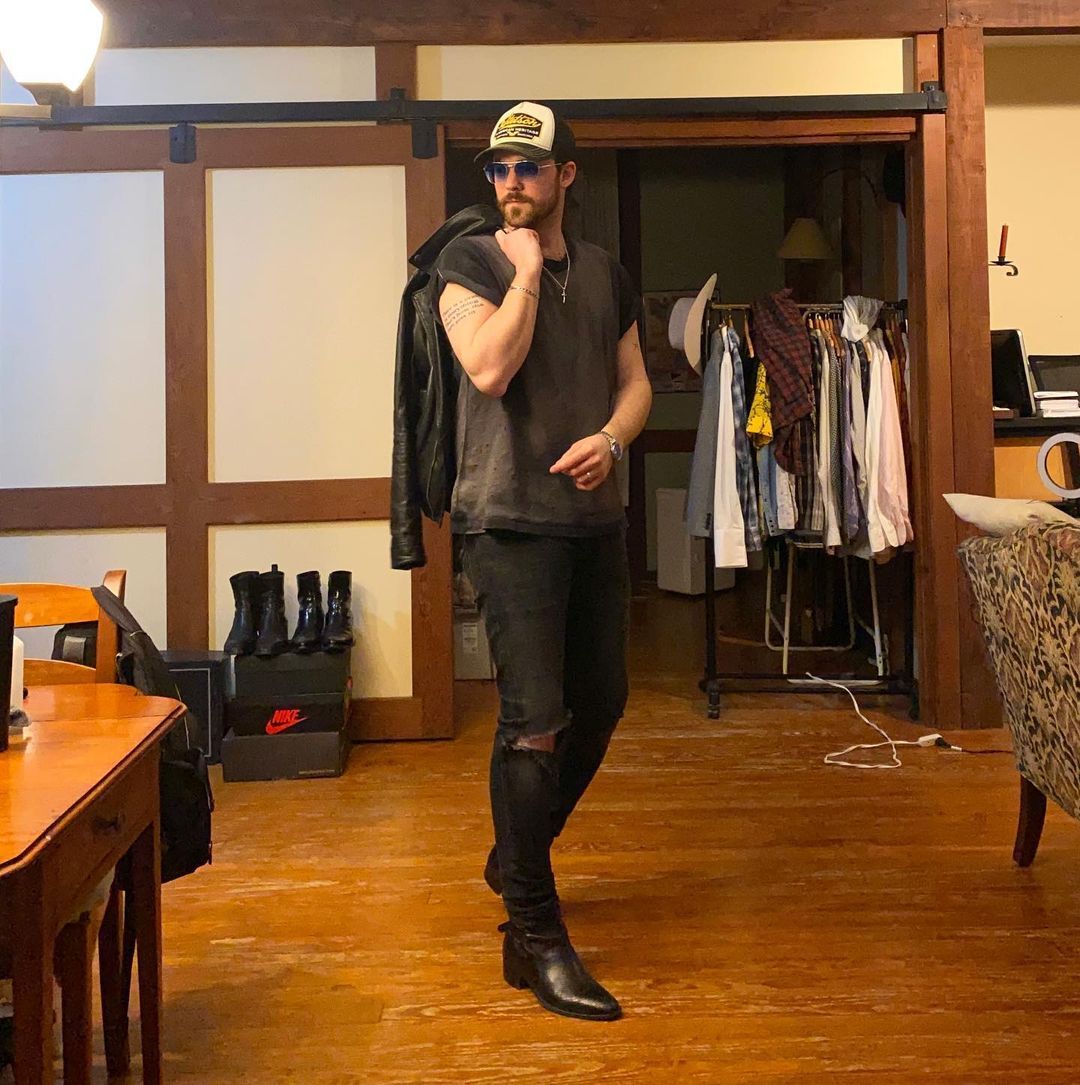 Different Fits for Different Vibes
Ultimately, different men want to try different aesthetics. Slim and "regular" cuts can still work for basic and minimal styles. Wider fits tend to work better for louche or relaxed vibes, but also for basic styles, dadcore, and sometimes streetwear, particularly skater styles. Some men like pants that are wide in the thigh that then taper aggressively (but I'm not one of them). Some are very actively seeking the 70s bell buttom vibes. Skinny jeans are still useful for SLP vibes... or for corny muscle-fits, if you like that look for some reason. Everything from slim to relaxed tailoring can work nicely—are you into vintage style, neo-ivy like ALD and Noah, or just looking to fit in in a job interview?
And some men want to drive new aesthetics forward, experiment with different fits in different contexts, and blaze a new trail.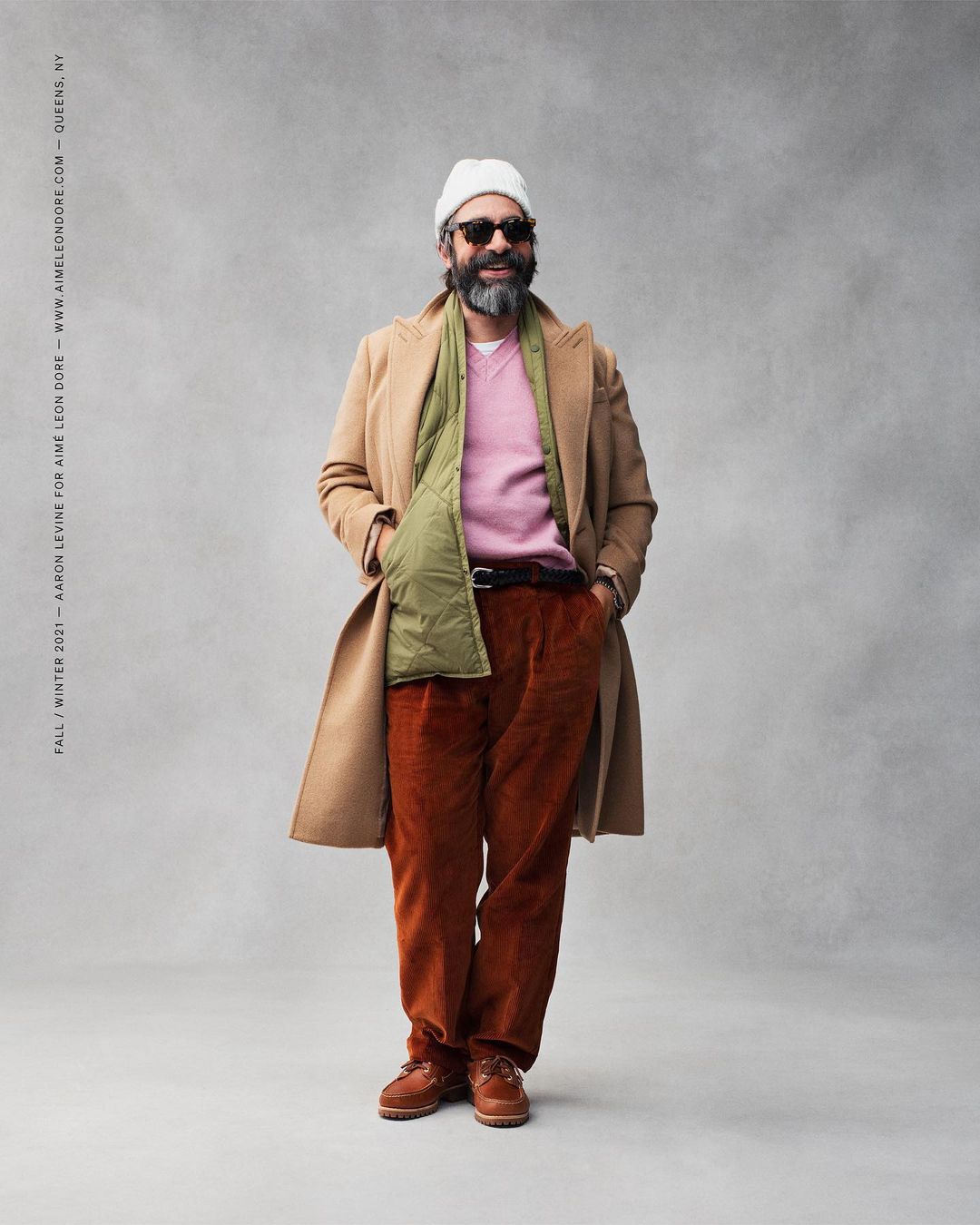 The point is to consider different fits seriously. Don't just succumb to the slim default; consider the image you want to project. Consider the effects of different proportions. How do you think of your style, and how could you enhance it with a straight cut, a flare, or a taper? Do you want slim jeans, but straight wool for a better drape? Do you want slim sweatpants, but relaxed jeans for comfort? Do you want relaxed pants in the summer, and slim in the winter, because they're more breathable?
For that matter, consider rise and break! Maybe you want your high rise trousers to be more relaxed for balance, but your low rise performance jeans should be slim because they wouldn't drape well if they were relaxed.
Whatever you wear now—get out there, and try something new! Experimentation is the spice of life!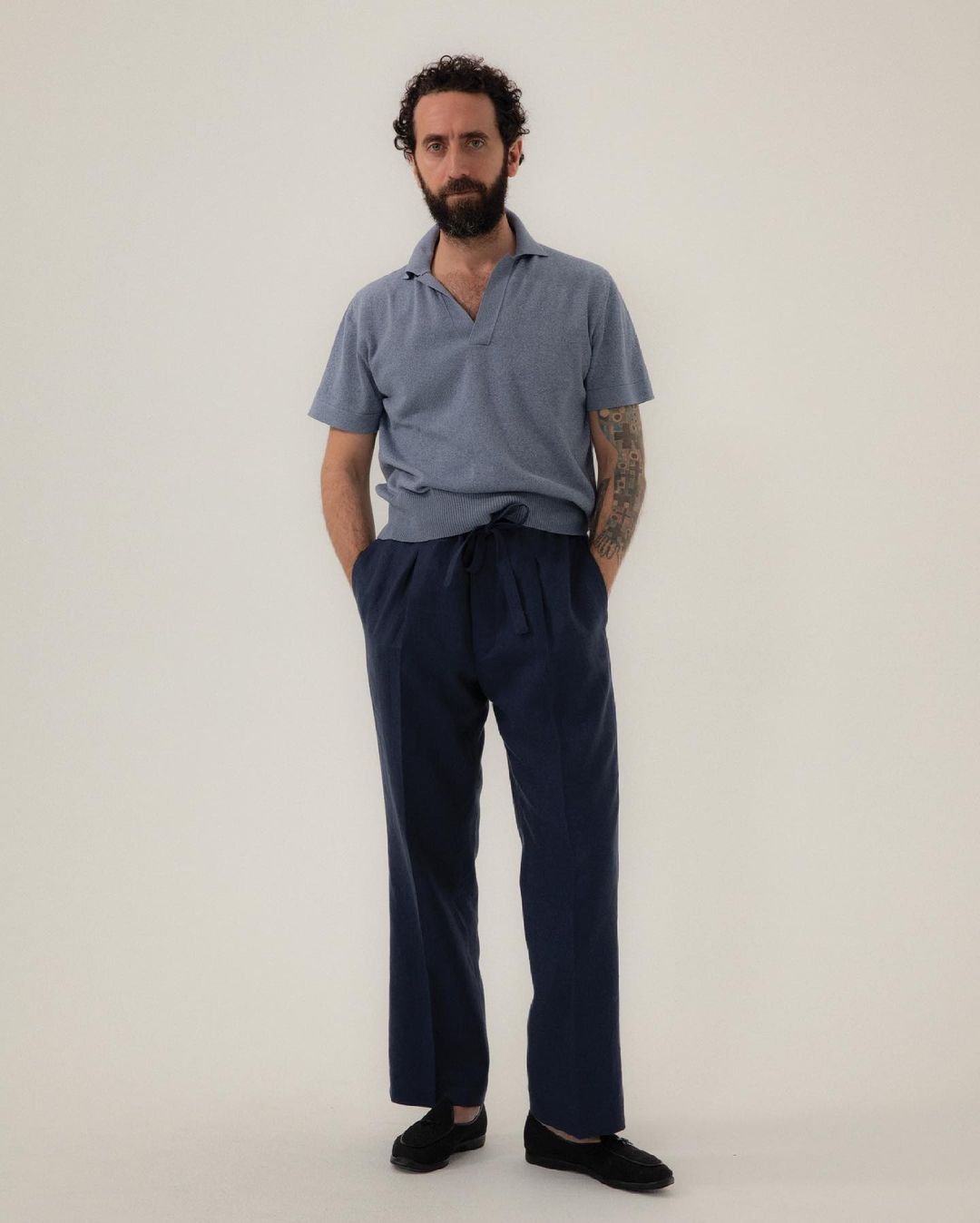 Brand Recommendations.
Derek's recommendations:
On the expensive end, Casey Casey embodies everything I love. It's like an artisanal, crumply, relaxed take on french workwear. I have a few pieces that I really love and wear a whole lot, and I would build my whole wardrobe from them if I could. In the mid-range, I've been very happy with Gramicci and Lady White Co.. Both brands come from a sportswear/active-lifestyle perspective, and that translates into their relaxed garment cuts. Aand then on the lower end, I like Uniqlo (alt link), because they offer great items at affordable prices, especially with their designer collabs. I don't know any other mall-tier store with better collabs than Uniqlo.
Ezra's recommendations
I think it's hard for a lot of people to jump straight from standard fitting pants all the way to wide silhouettes. The pants that helped me walk the bridge to wide pants were "skater" pants like the standard work pants from dickies, or vans. Once I finally got to "wide" pants I gravitated towards cheaper pants from Yohji Yamamoto as well as Chinese lounge pants from sites like eBay. Nowadays I'd say I have a very good grasp on the kind of wide silhouettes I like to wear. These pants usually come from Needles with their BDU, Craig Green (alt link) with his Hakama and pyjama pants as well as Japanese micro brands like Kaiki and Edwina Hörl.
(my) Additional Recommendations:
Thrifting is always a good way to find relaxed pants in dad vibes and grandpa vibes for cheap, and test them out. Even cheaper: Raid your dad's and grandpa's closets. You might come out looking like Kramer, and if you're lucky, it'll be in a good way.
Generally, you can size up your pants and tailor them at the waist. This will also result in a higher rise. Try pants on whenever possible.
See Also