Eveningwear Part Three: Getting Weird With It
You're about to see men experiment. They're going to break rules. Some of them are trying to get right to the brink of disaster, without going over. That brinksmanship is how great outfits happen. Courage in the face of "rules."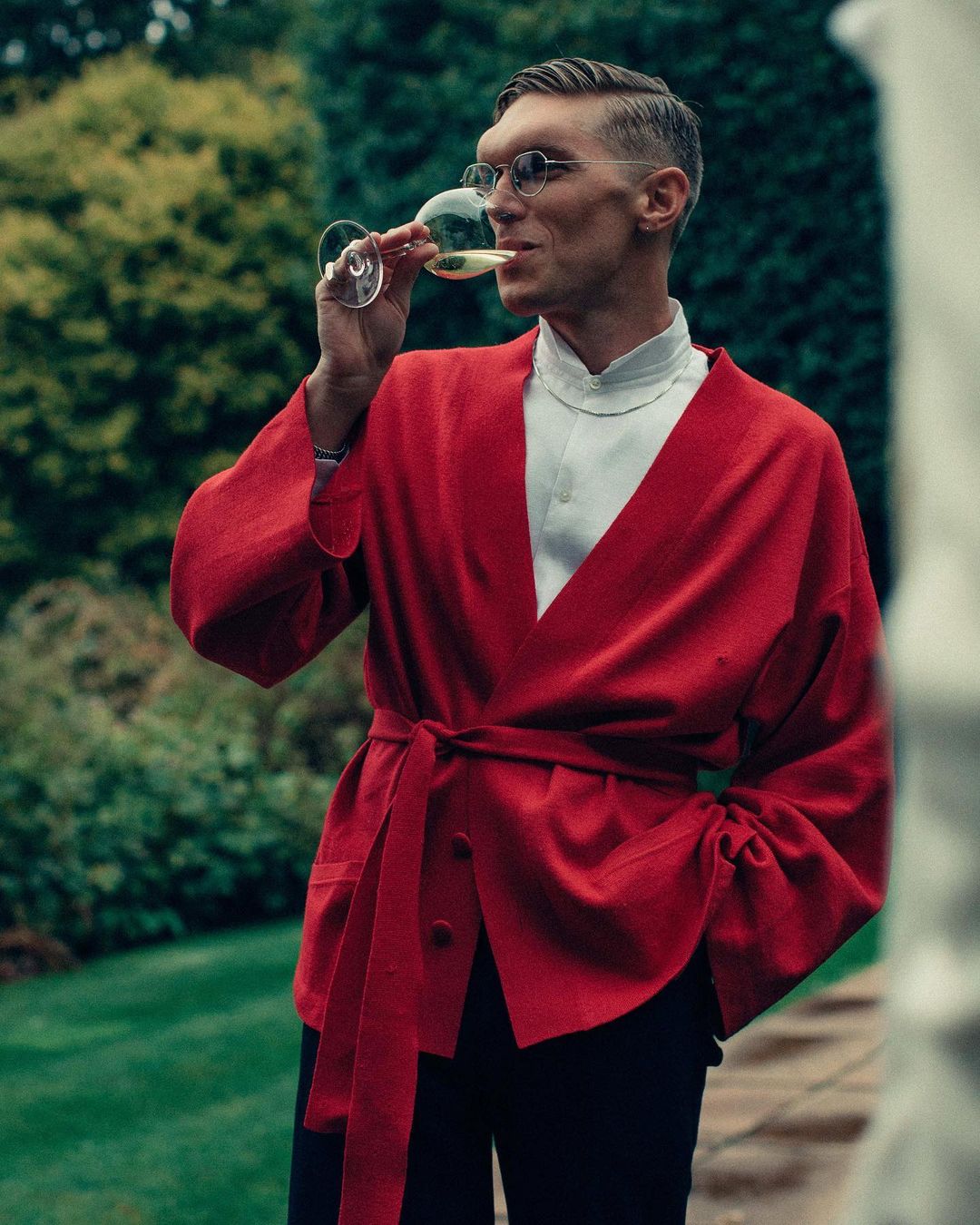 Alright, here's what we came here for. Unique eveningwear. "Creative black tie." No rules, except to look fly as hell.
You're about to see men experiment. They're going to break rules. Some of them are trying to get right to the brink of disaster, without going over. That brinksmanship is how great outfits happen. Courage in the face of "rules."
Get ready for some deep dives into specific outfits. I've certainly crossed the line from "inspo album" to "article" here, and I fully intend to explain what exactly most of these men did right in thorough detail.
I intend to go through a list of great outfits, all building up to Scott Fraser Simpson's masterpiece above. That outfit is half the reason I bothered to make these three albums. It's just so damn good.
But we're going to work our way there. Let's get weird with it.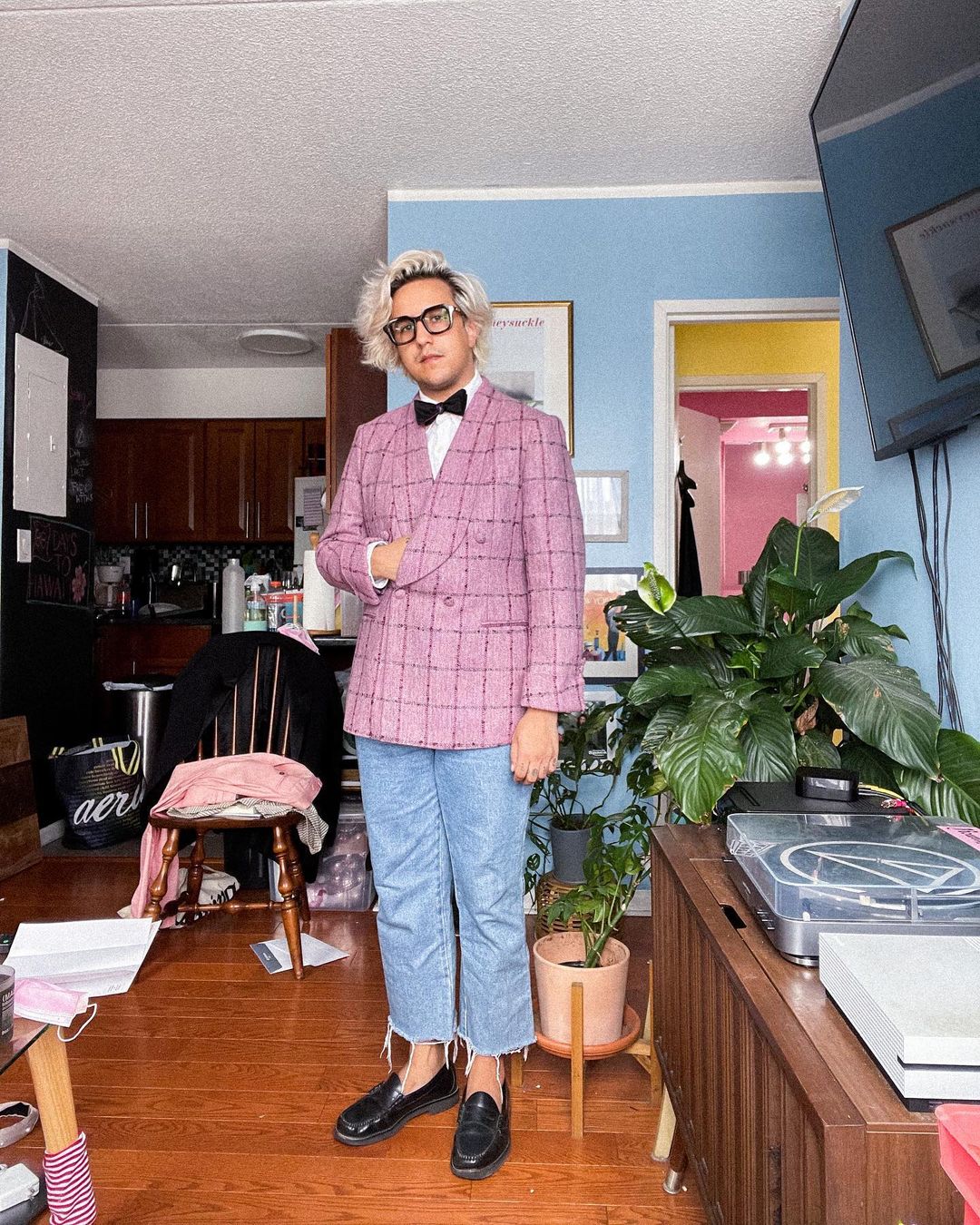 Let's start off strong and weird. Jason Sandagon wearing his own Mad King George dinner jacket in this pink tweed is just... excellent. The bellied lapel. The turn up cuff. The pattern matching. And just that shade of pink....
He pairs it with cropped, raw hem light wash jeans—Ralph Lauren would have called that eveningwear, and Jason's color pairing is excellent, so why not?—and black calf penny loafers—maybe a stretch, but hey, the dude's already wearing jeans. This is statement eveningwear, and it hits the mark.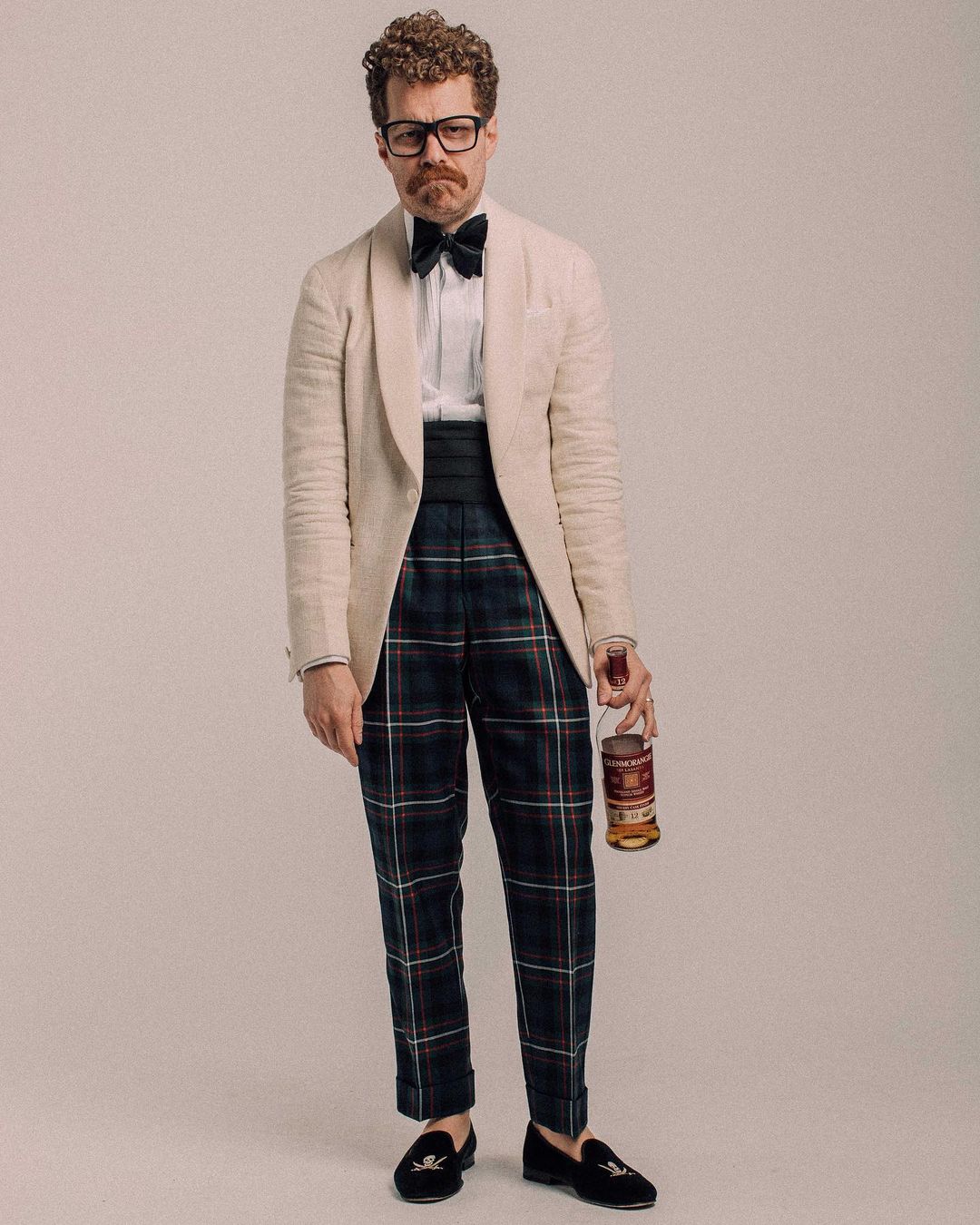 Last article, we covered ivory dinner jackets, plaid elements, and crested velvet slippers. Each felt like a viable part two spin to me, but all together, with the ridiculous poses Jamie is known for, this feels like a part three outfit to me. The slippers and trousers both give me elements of sleep, and the bottle and poses tell a story. To me: Jamie threw a New Years eve party, and nobody came. At least he has liquor...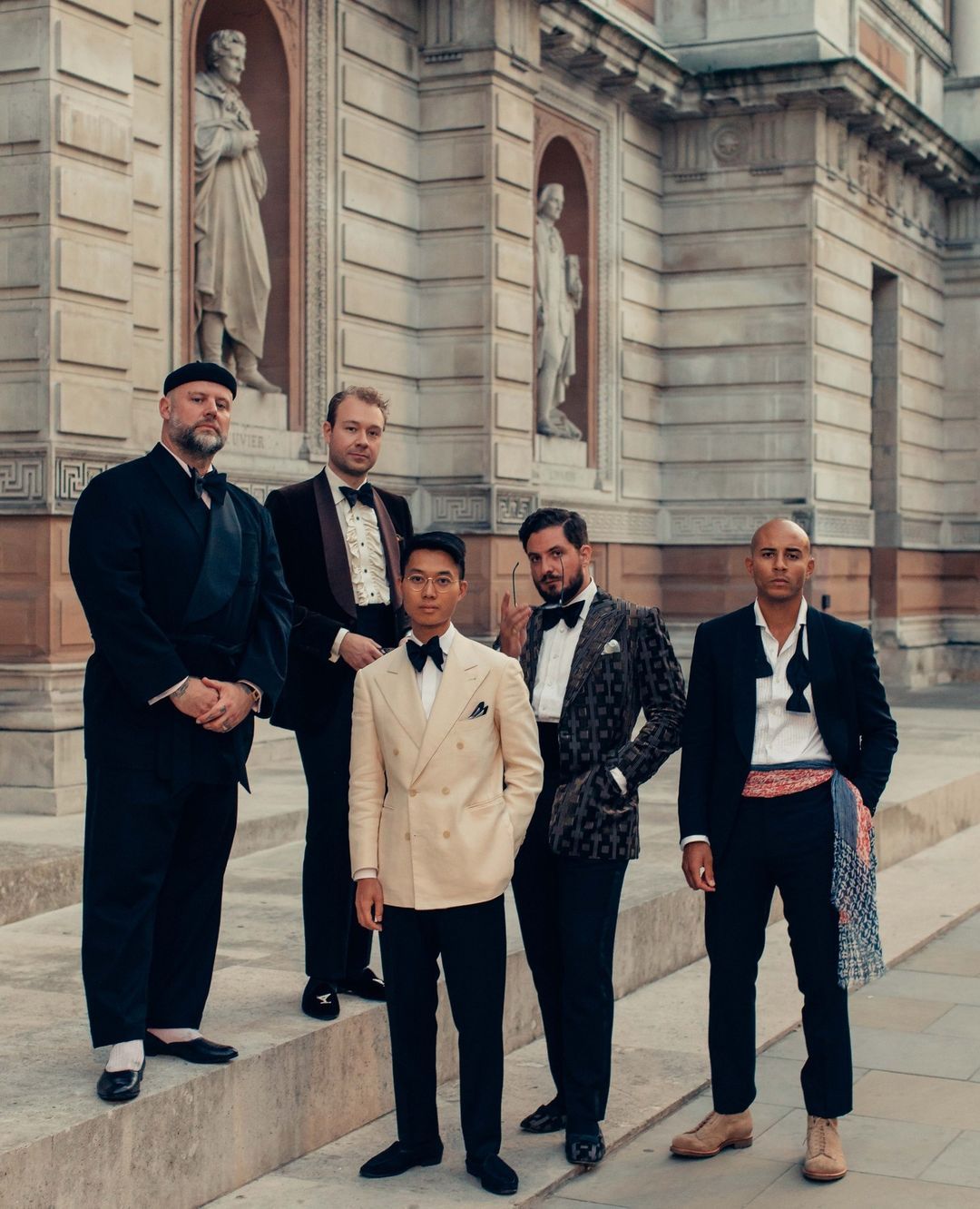 You saw this Buzz Tang outfit in part two. And I may have accidentally included that Tony Sylvester outfit in part one, even though that's clearly a smoking jacket. Here, I want to draw attention to Nicholas Walter. His scarf replaces a cummerbund, providing color and an interesting silhouette. And his boots, while a very unusual choice, work extremely well here. Great fits all around, but that one stands out to me.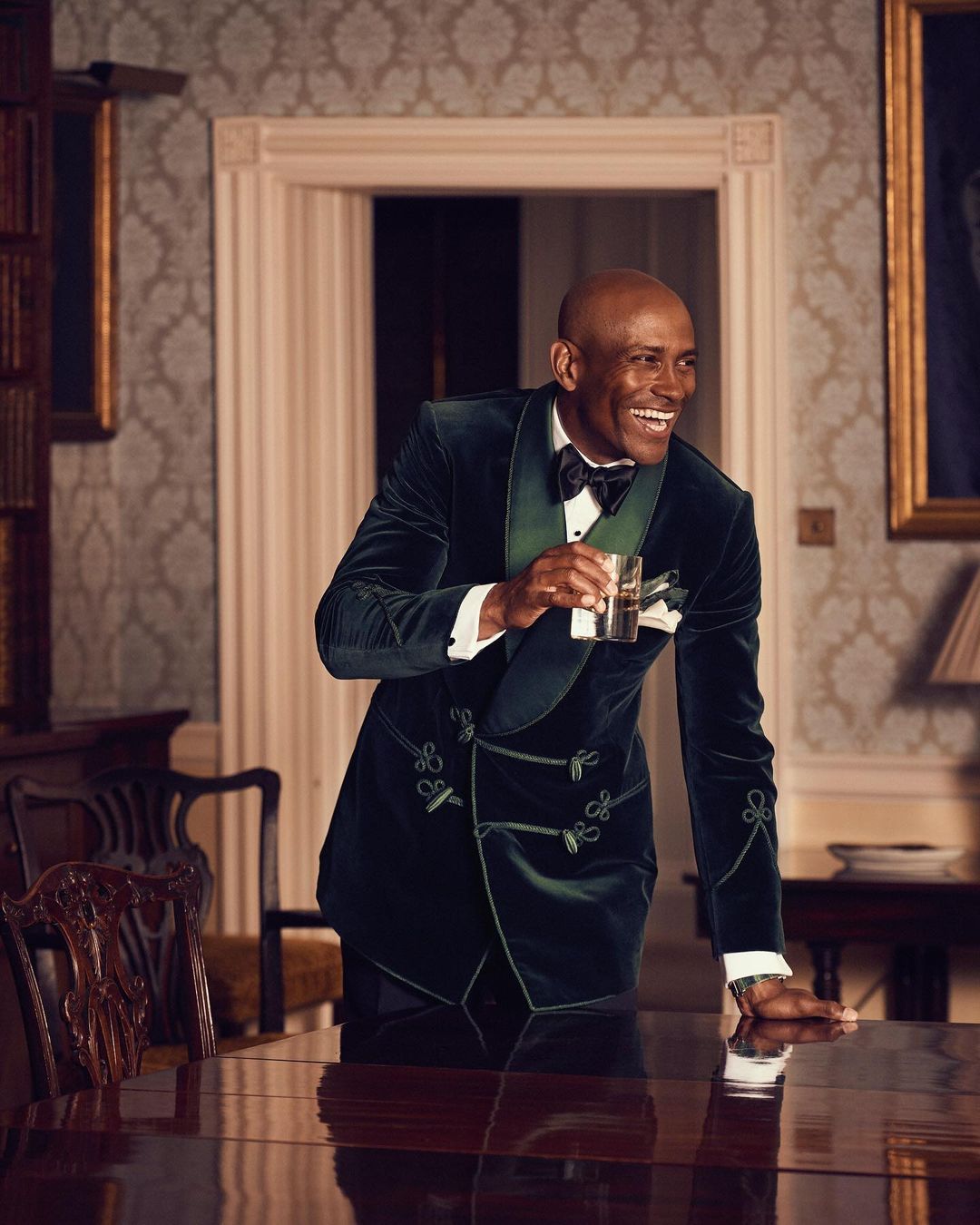 A green velvet double breasted smoking jacket by Henry Poole & Co with toggles and embroidery. Smoking jackets are frequently belted, but the toggles here just give it the edge of a dinner jacket, of something that you might reasonably wear outside your own home. He certainly looks ready to go out in this look. Louche but put together.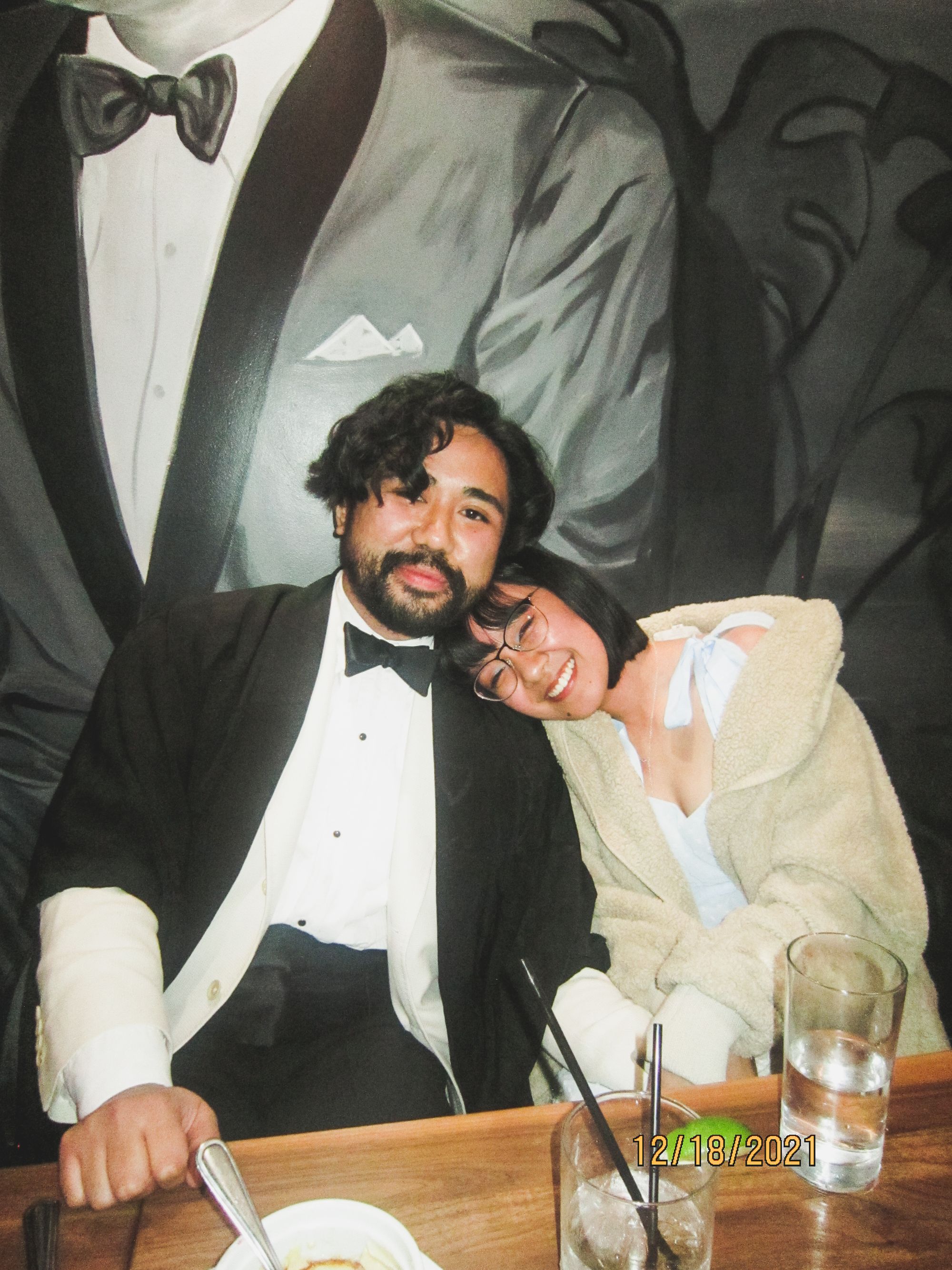 Ethan takes a simple cream jacket fit to part three levels with one additional piece. He writes about his decision in this article on "A Fancy Dinner,", crediting the choice of his extra kimono layer to Lyutsifer Safin and Scott Fraser Simpson—we'll get there, I promise!—but you gotta give him credit for this implementation. For what it's worth, I actually discussed an early iteration of this fit with him on his Discord server (which you can totally join via Patreon!), before he added the white jacket midlayer, and I have to say, that jacket really mitigates the suboptimal sleeve length on the kimono wonderfully.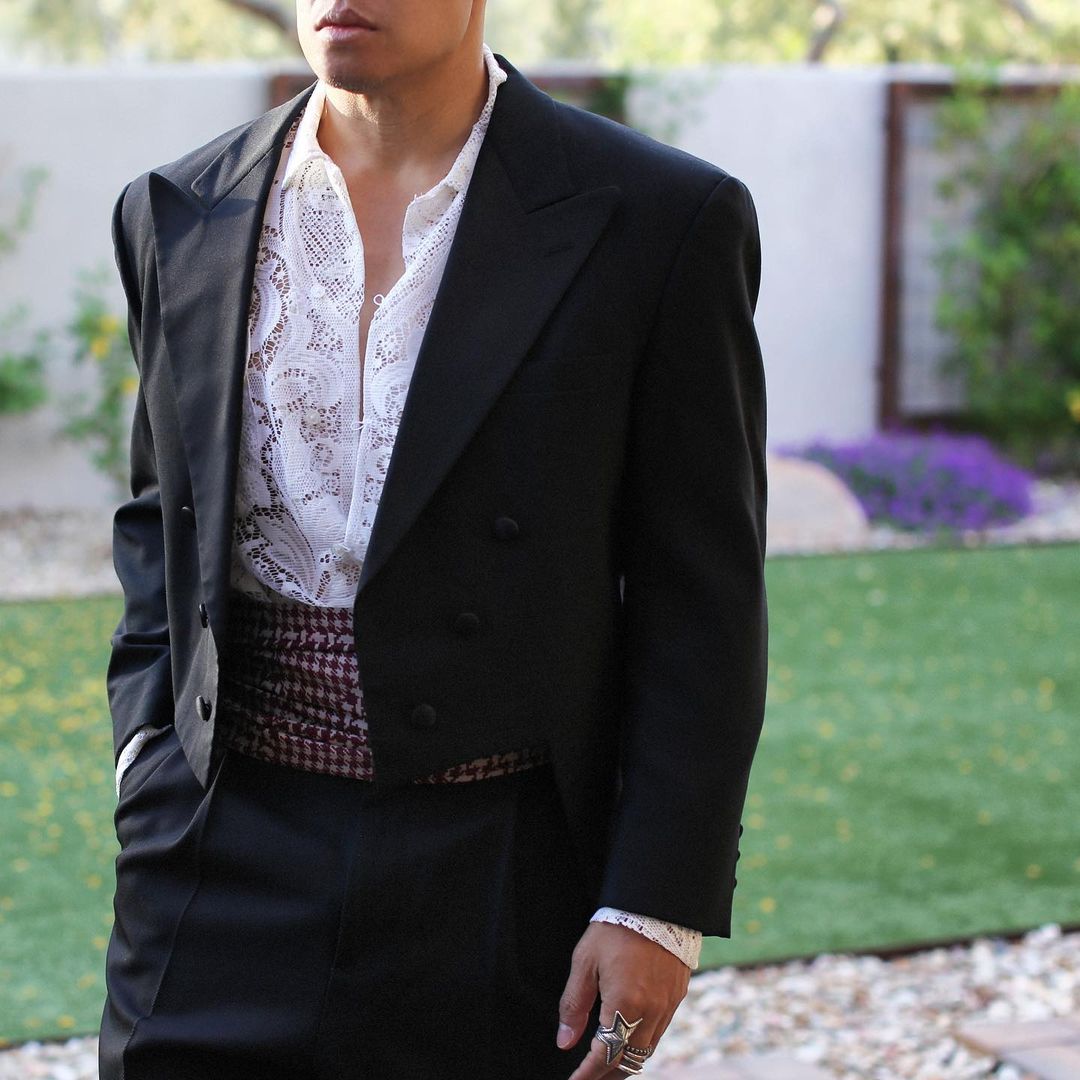 Balance. That's what I see here. A lacy shirt, contrasting cummerbund, rings, Grecian slippers, no socks... and the tail on that jacket! I'd go so far as to say I usually hate a jacket with tails, but here, it provides so much... balance. The slippers and lacy shirt connote a subtle femininity that is nonetheless managed by the suit itself (and Eric's masculine frame).
Don't worry. This won't be the last you see of Eric in this article.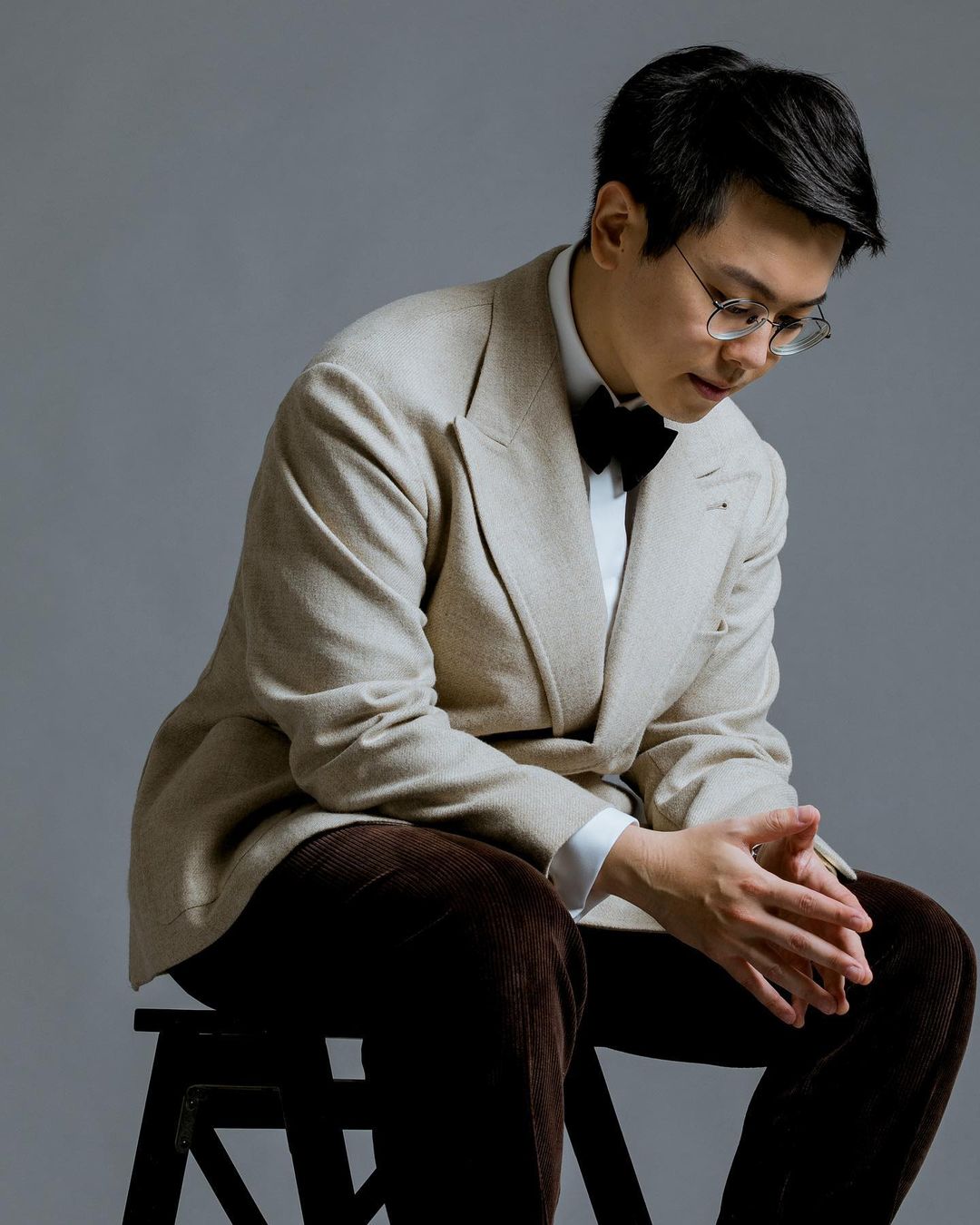 We saw Sacha Baron Cohen wear brown and ivory before, but Charles not only flipped the colors, but added texture. Sacha stayed relatively safe with sleek worsted wool textures, whereas here, we have brown corduroy, and an Abraham Moon flannel jacket from The Anthology. Those are unusual choices, but they work. Corduroy, in particular, is very similar in structure and substance to velvet, so using it in the eveningwear context makes plenty of sense. The only reason to avoid corduroy is tradition—velvet is common and corduroy is rare.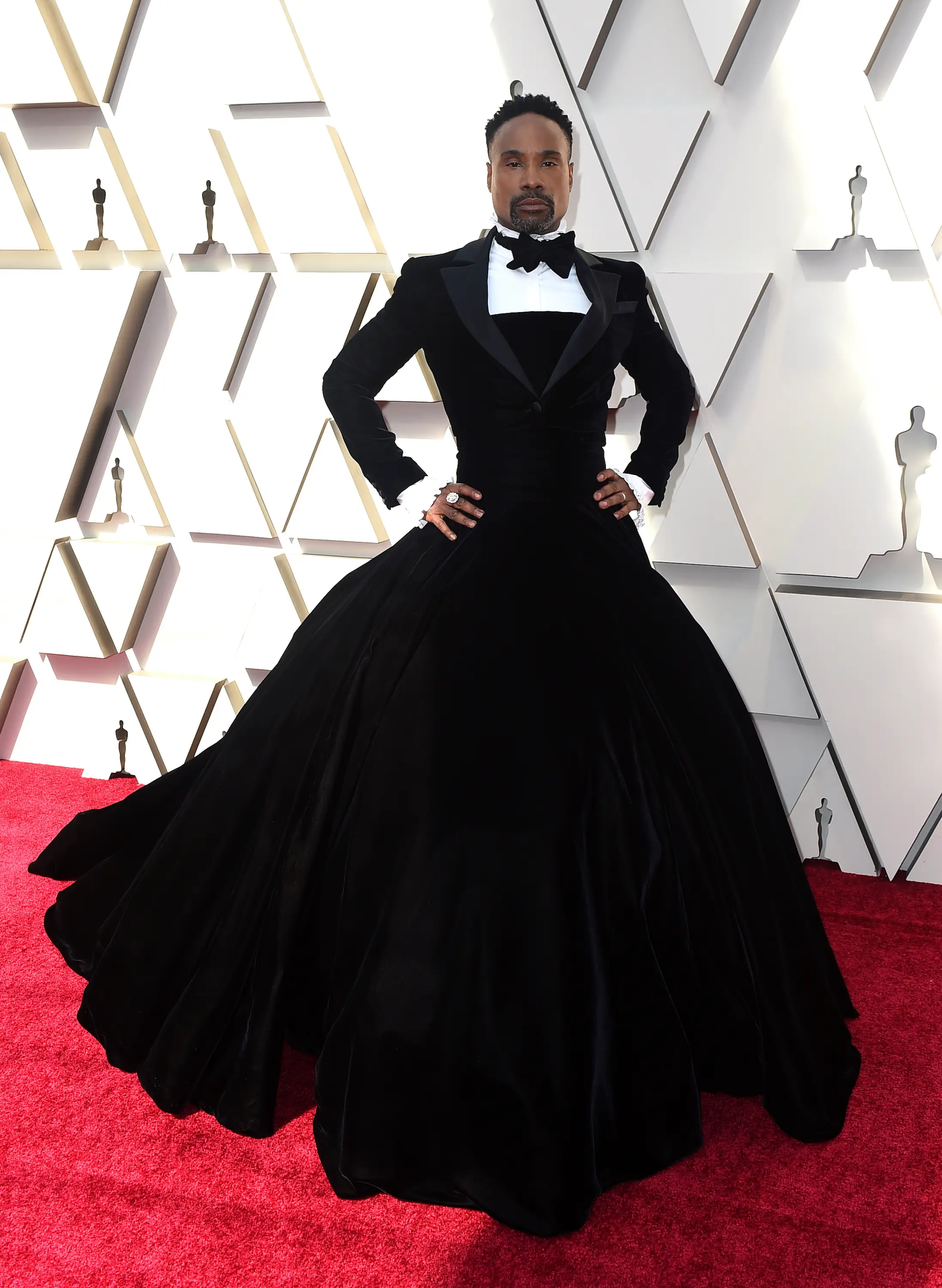 You should have known it was coming. Billy Porter's tuxedo gown from the 91st Academy Awards was a daring political statement. A statement that he was free to be who he was, and that masculinity can take any shape.
I'll let the Pose star explain his own perspective, as I wouldn't do it justice. This AP Article explains the context in toxic masculinity:
"It goes all the way back to the earliest of emasculations, which is slavery, so the only way to sort of overcome that is to be the strongest and the most masculine and the most powerful and now, what has become toxic," Porter said. "And I don't think it's just black people. I think it's men in general. Every ethnicity has their version of it."
This Vogue piece goes even further into depth on his personal motivations. I tried to keep my quote relatively short, but it really is all worth reading.
I grew up loving fashion, but there was a limit to the ways in which I could express myself. When you're black and you're gay, one's masculinity is in question. I dealt with a lot of homophobia in relation to my clothing choices. [Even] when I had my first working contract at A&M Records, I was silent for a long time. I was trying to fit in to what other people felt I should look like. When I landed a role in Kinky Boots, the experience really grounded me in a way that was so unexpected. Putting on those heels made me feel the most masculine I've ever felt in my life. It was empowering to let that part of myself free.
... What is masculinity? What does that mean? Women show up every day in pants, but the minute a man wears a dress, the seas part. It happened to me at the Golden Globes [when I wore a pink cape], and I was like, really? Y'all trippin'? I stopped traffic! That Globes outfit changed everything for me. I had the courage to push the status quo....
Below, you'll see a very different outfit from Eric Cotecson that also incorporates a dress and a dinner jacket.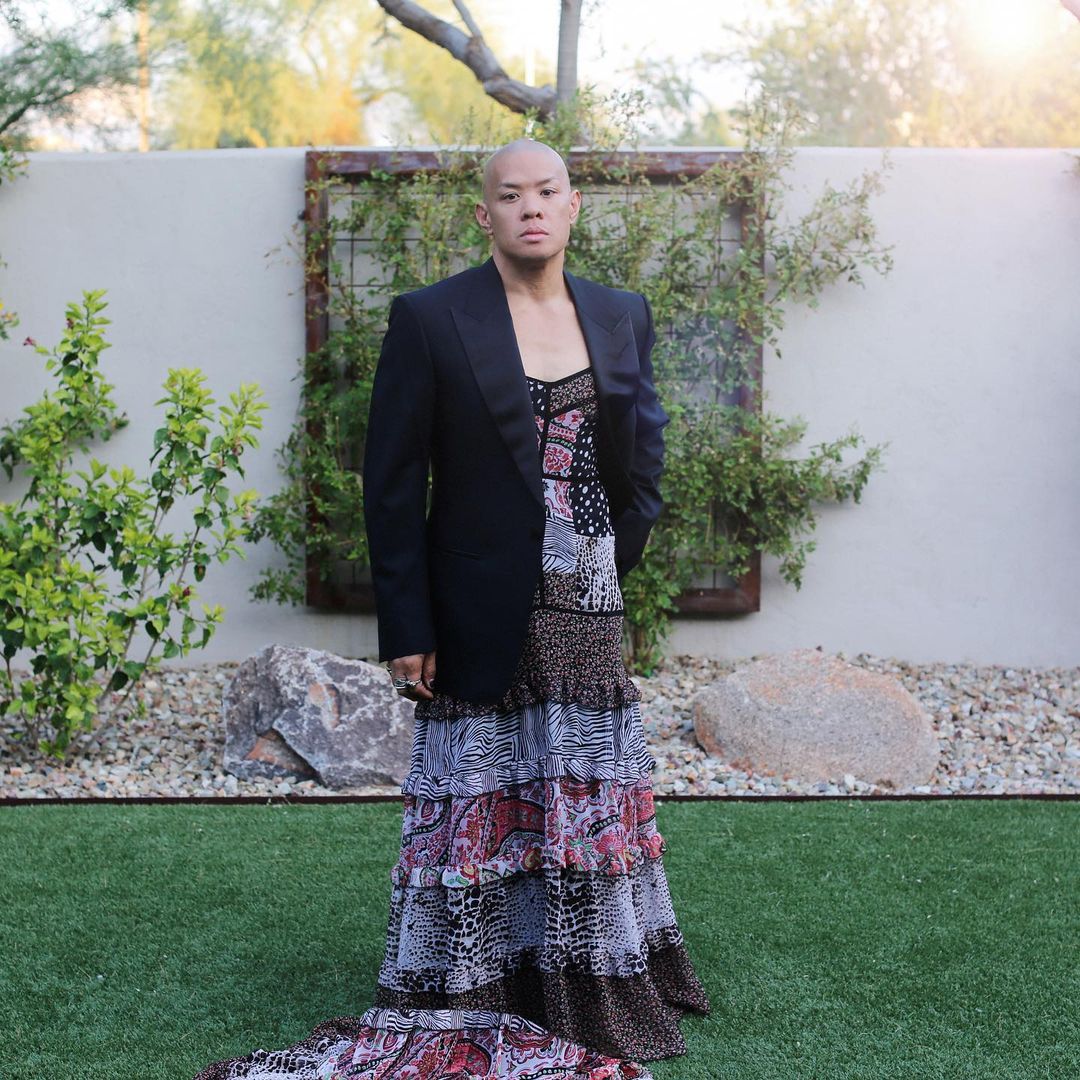 Eric is no celebrity, but when presented with a theme challenge to "Raid the GF's Closet," he still made waves. A simple challenge that could be met with a hat instead resulted in this fabulous combination of a gown that fits him impossibly well, and a jacket that functions as the perfect layer above it.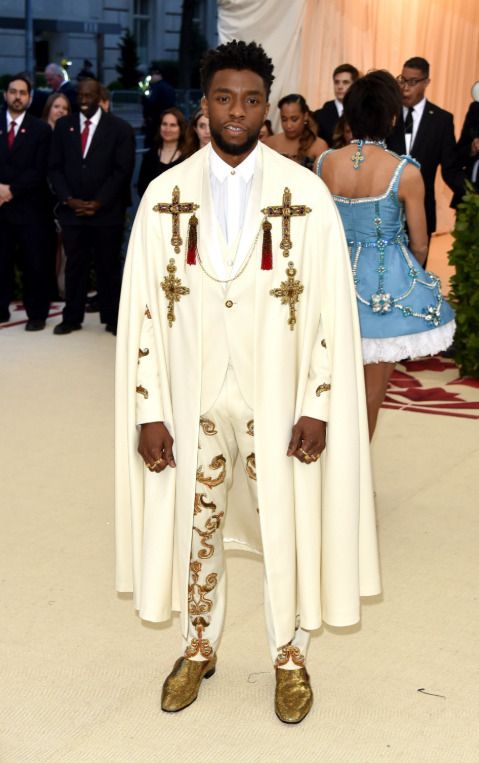 The Met Gala is an annual Creative Black Tie event with a theme. In 2018, that theme was "Heavenly Bodies: Fashion and the Catholic Imagination". Above, Chadwick Boseman made waves with a great Versace suit right on that theme.
Below, the ever-controversial Luka Sabbat in a fit that I have to say... I like. I wouldn't normally condone a black dress shirt, but it works here, especially against that loud, luxe robe. Also note the necklace functioning in place of a bowtie!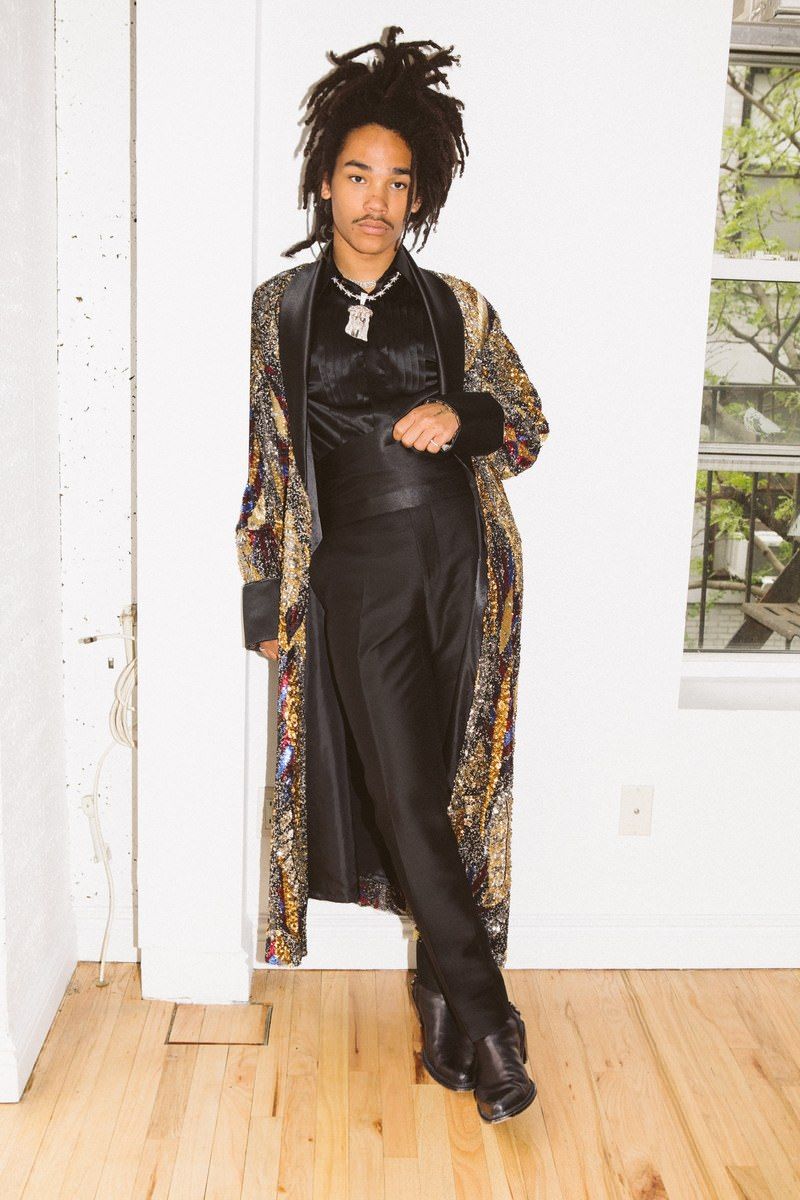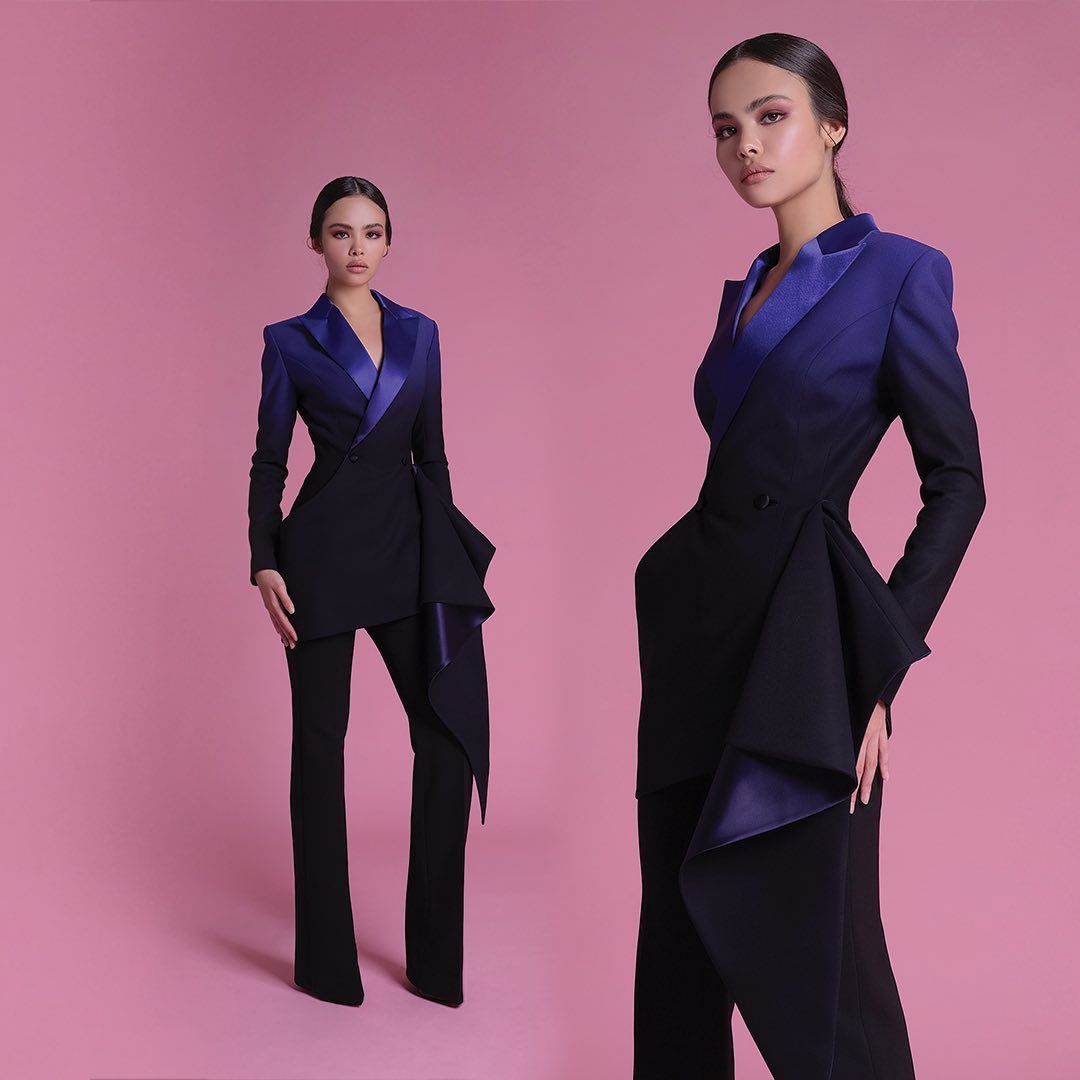 The above tuxedo from Poem Bangkok comes in a really funky purple-to-black ombré gradient. I also like... Whatever that is at the side there, it adds that little bit to the silhouette so it's not just a sharply cinched tuxedo on a woman, but really unique.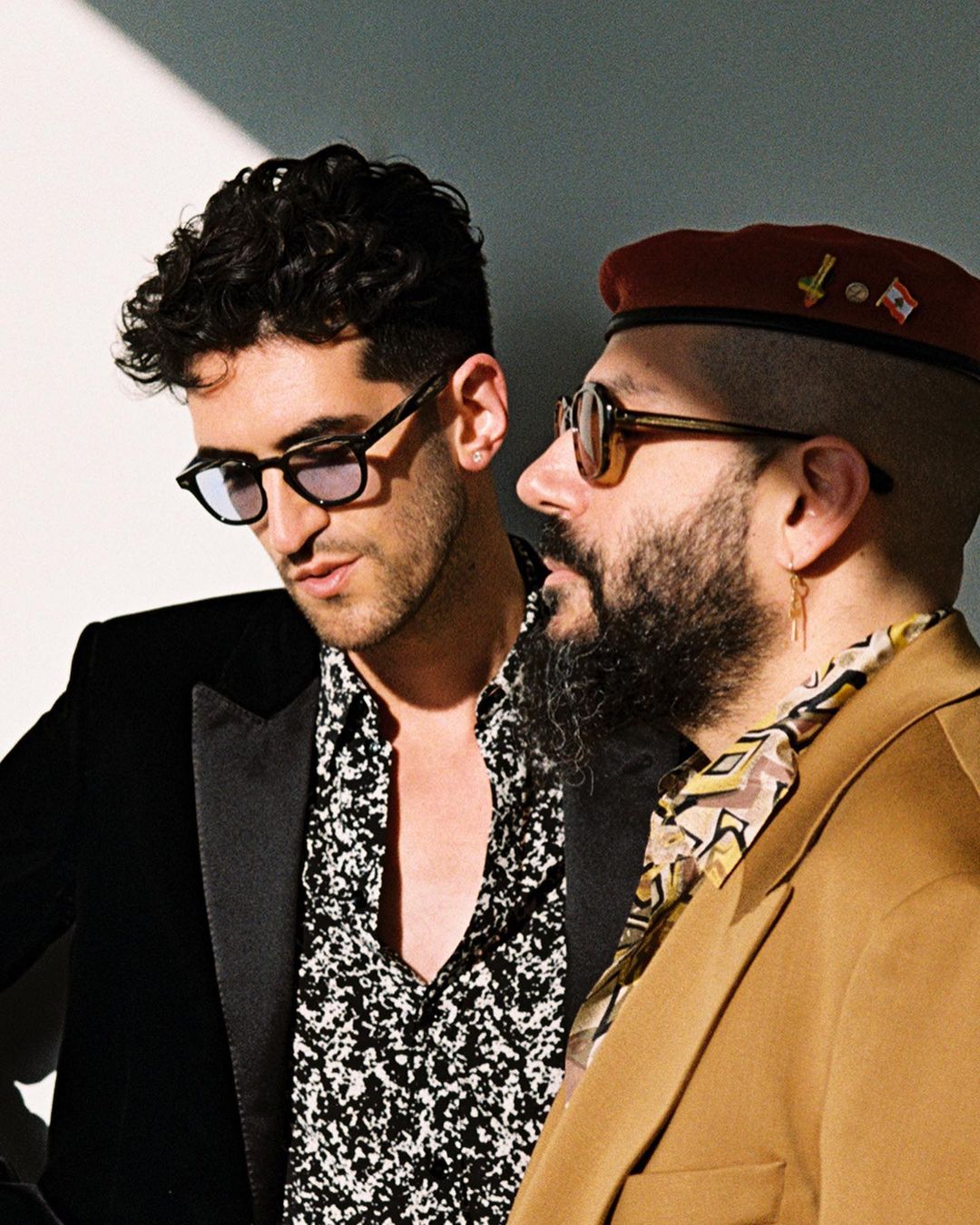 It's Chrome-o-o-o-o-o. This is a shoot for sunglasses they designed for Moscot. I really like the Saffron Don's runaway collar and beret.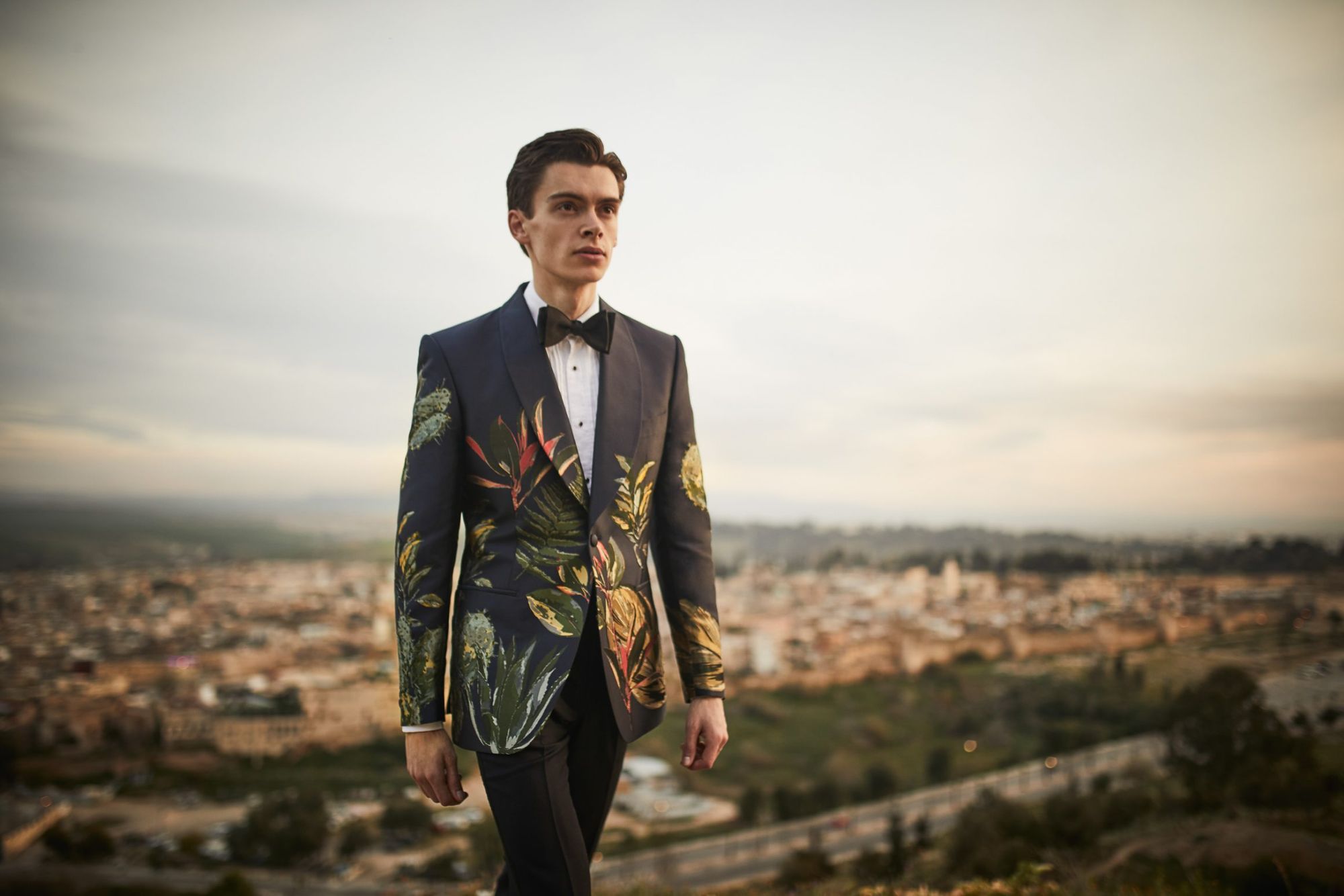 Mathias le Fèvre is a pretty man who likes to experiment with eveningwear. I appreciate that. I particularly appreciate the second outfit here, the smoking jacket plus runaway collar printed shirt.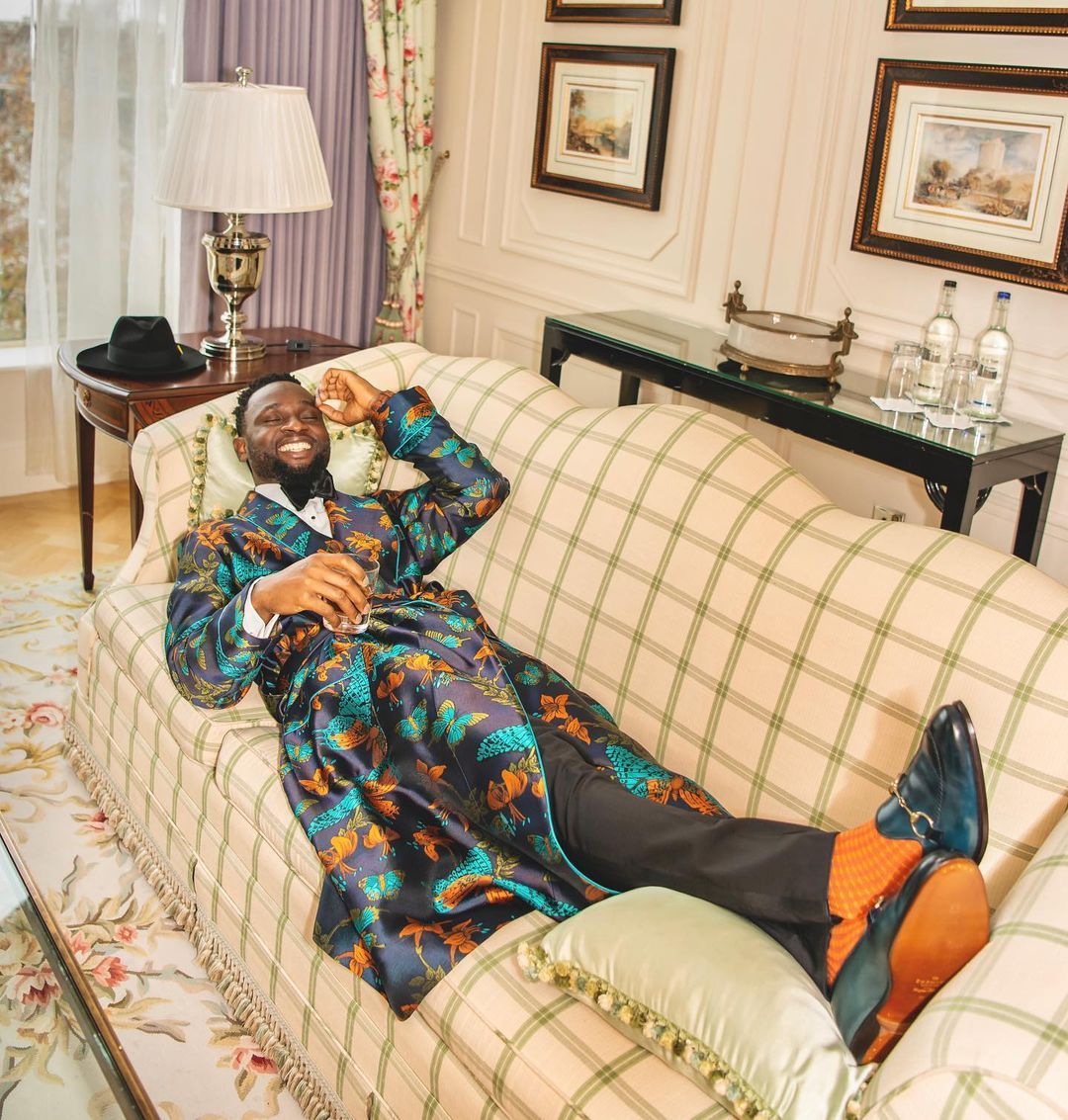 A little silly? sure. Bright blues and oranges make a statement. But to me, in the context of this photo, the statement imports all the luxurious relaxation I want to see, without sacrificing the party mindset. Dressing gown from New & Lingwood.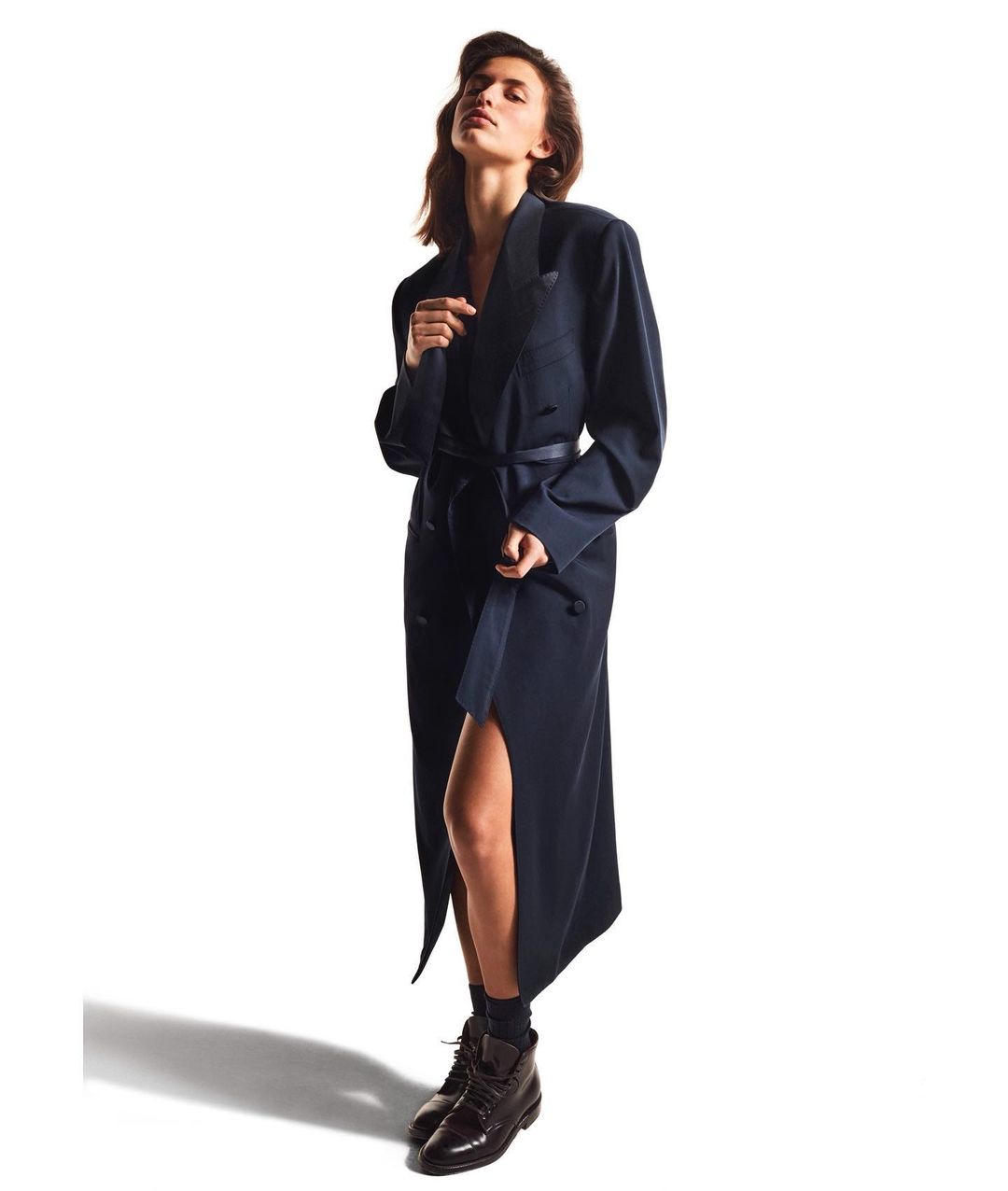 Umit Benan is really one of my favorite designers, for both his plays on androgynous tailoring and the influence of sleep on his style. Belted eveningwear is instantly going to be interesting to me, but this "tuxedo trench dress" always stood out to me—it hits all the marks, serving as a great example of his style as a designer.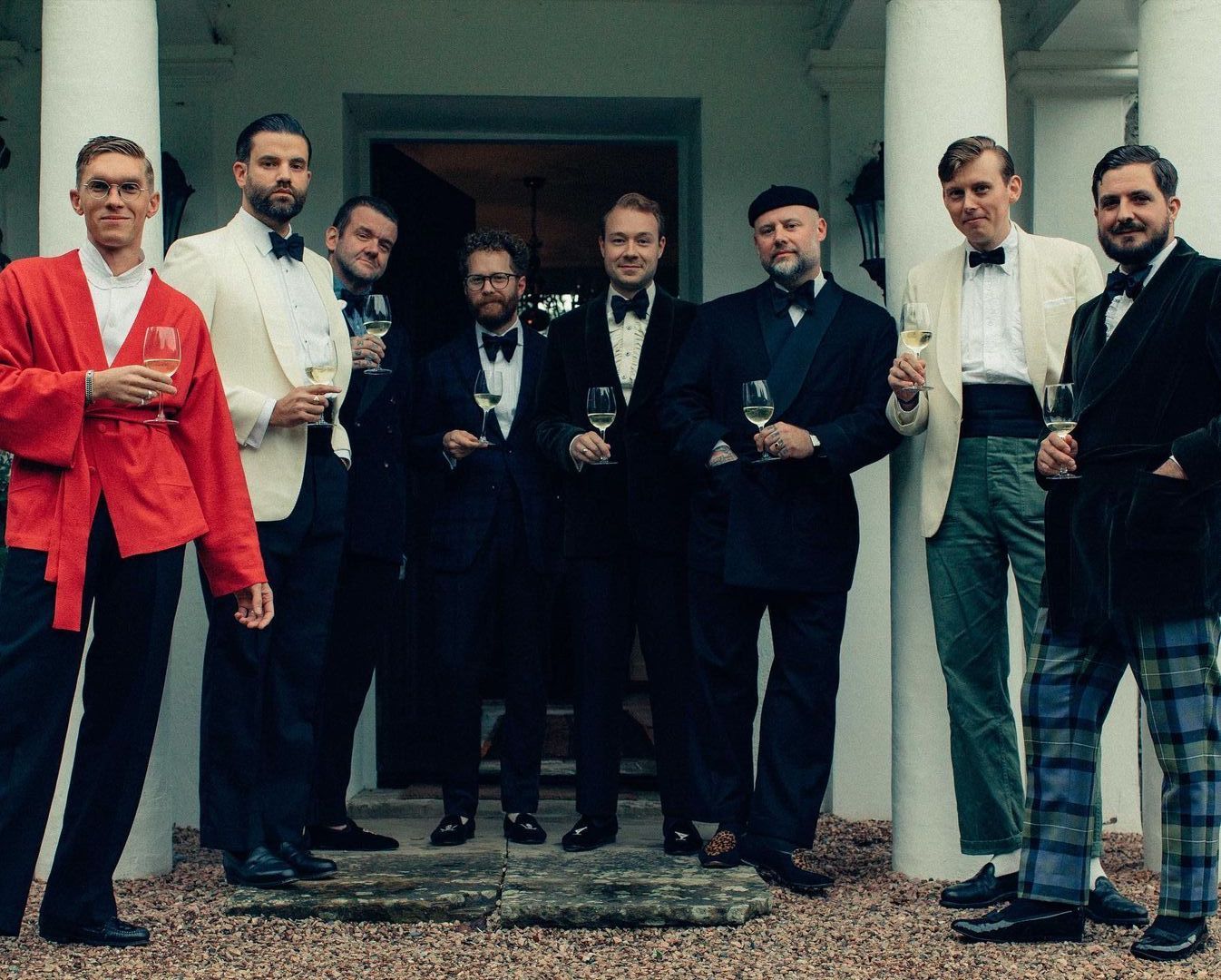 Above: a bunch of friends get together for a funky weekend. Below: Menswear antics ensue.
Seriously, this get-together, which Tony wrote about on Permanent Style, was just fantastic. So many menswear greats all in one place trying to outdo each other.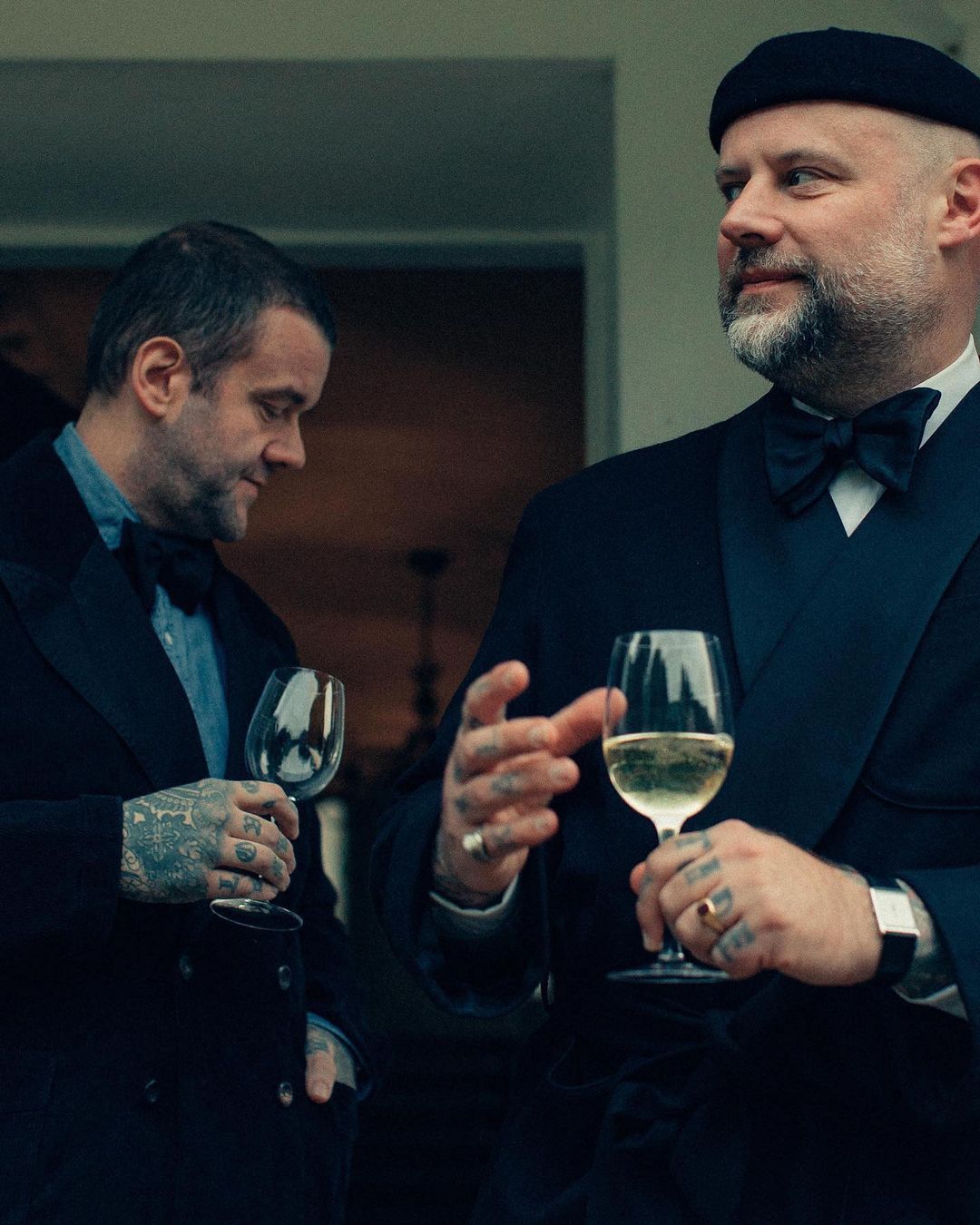 Ben wore what looks like a denim shirt! Tony wore a cozy-looking smoking jacket, barely showing any shirt! You see crested slippers, but also Tony's funky cheetah prints. So many experiments...
So many menswear greats all in one place trying to outdo each other. And while they all did something right, while there's no shortage of greatness.... Let's be honest, it's clear who won.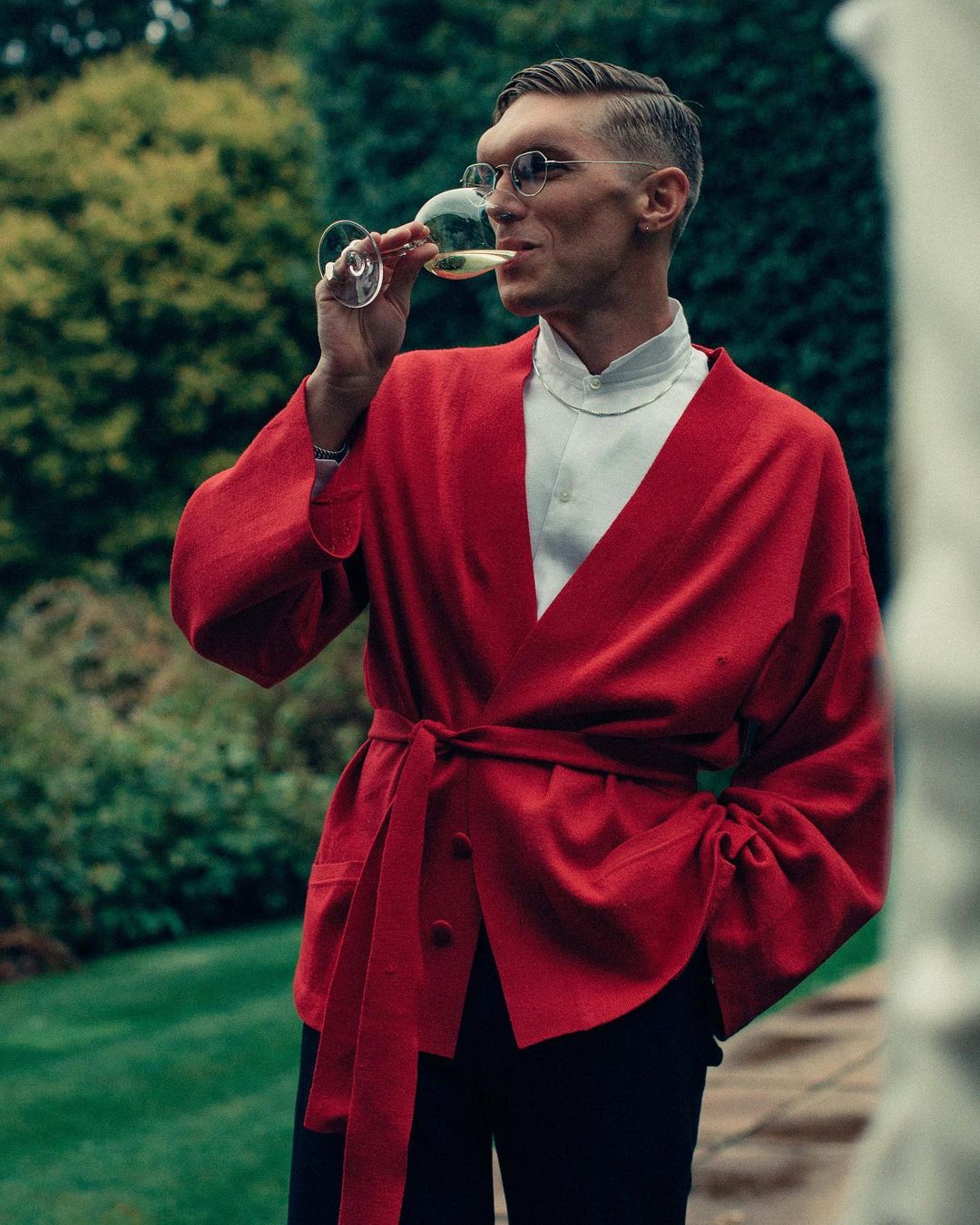 This is it. The Permanent Style comments section knows it. Ethan knows, too. No shade to the rest of the group, to the rest of the album, but this is it.
The first bold choice you'll notice is the bright ruby red vintage wool kimono jacket. Belted, with covered buttons and what look like welt pockets, it's certainly reminiscent of a smoking jacket... except without lapels. The fabric has a certain sheen to it, too. This color is hard to wear, epsecially against black, but Scott managed to balance the white, black, and red just... perfectly. The belt and relaxed sleeves help show off the beautiful drape of the fabric. God, it just hits on so many levels.
Not even to get to that light linen shirt. It's Bryceland's Farmer's Smock in White Linen. It has a wing collar and a bib front, but I doubt it was intended to be used quite like this. Could it accomodate a bowtie? Maybe. But Scott wasn't going to go that easy.
Buttoned up to the top, and then, in place of a bowtie, a thin chain. Just the slightest touch of neckwear. It's intentional. He's not skipping a bowtie because he doesn't feel like it, he's replacing that silk with a faint whiff of something else luxurious. The colors are balanced, and the real star—the kimono—is left to take center stage.
That's it. I'm not even writing a conclusion, that was the conclusion. Thank you, Scott, for this glorious fit.
Further Reading