What in the Sweet Hell is a Dress Boot?
The word "boot" has often times been oversimplified to refer particularly to casual boots. This oversimplification in turn feeds the misunderstanding that all boots are casual. I'm here to remind you that they aren't.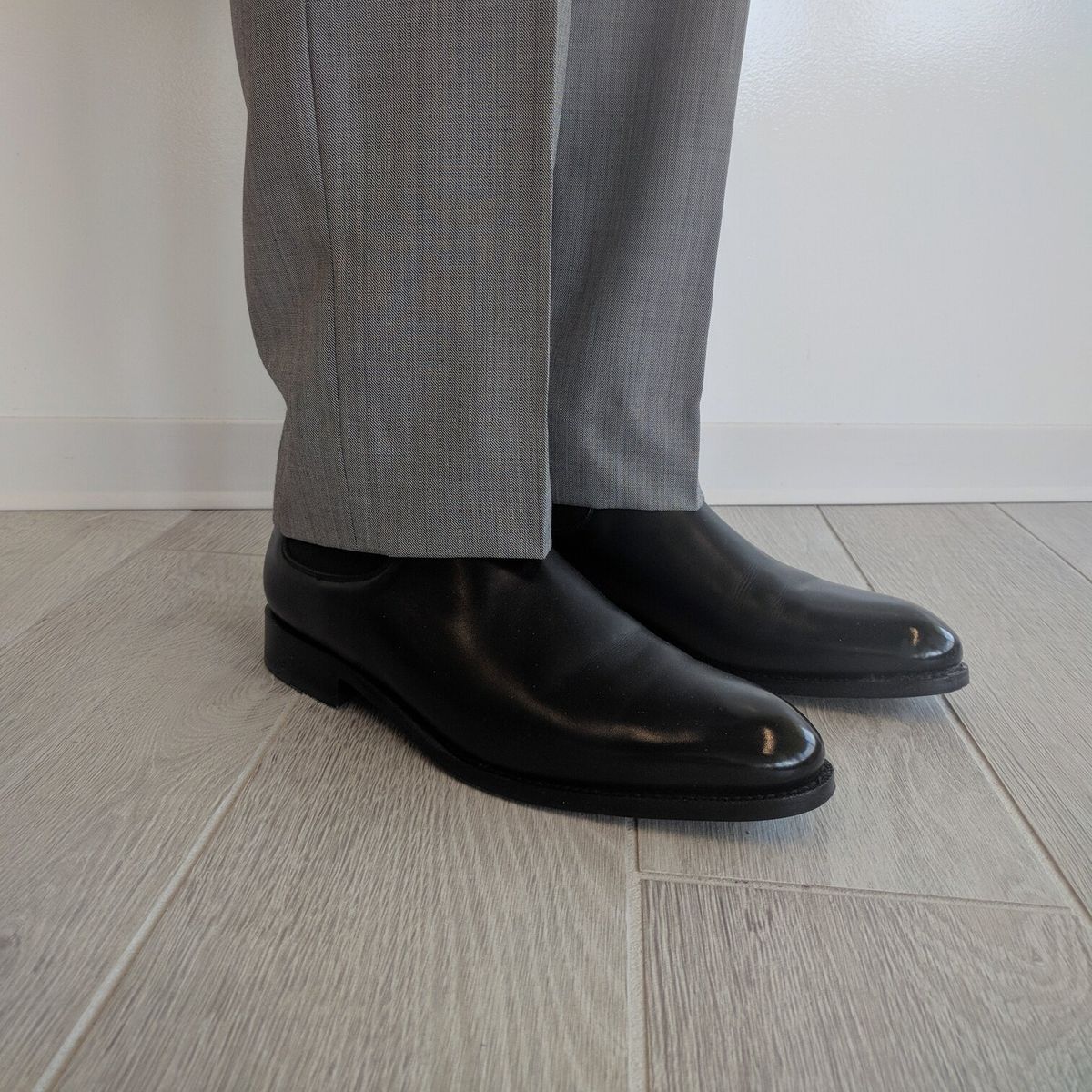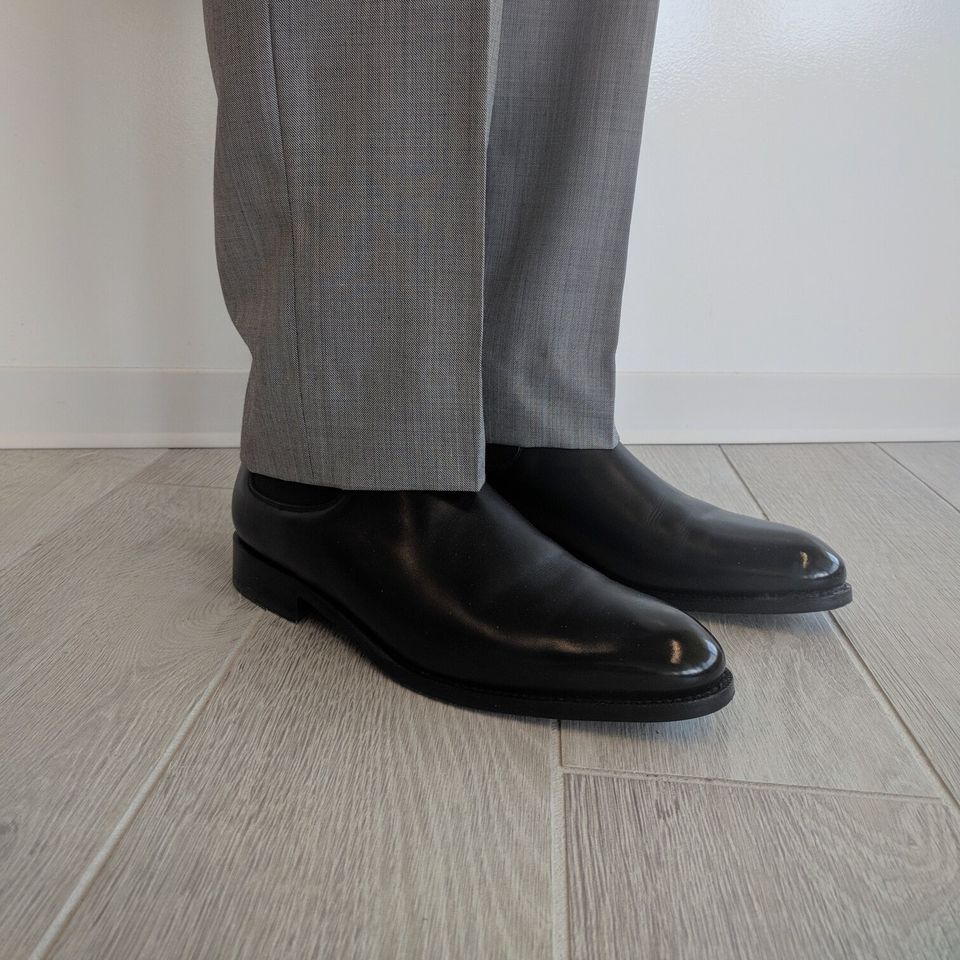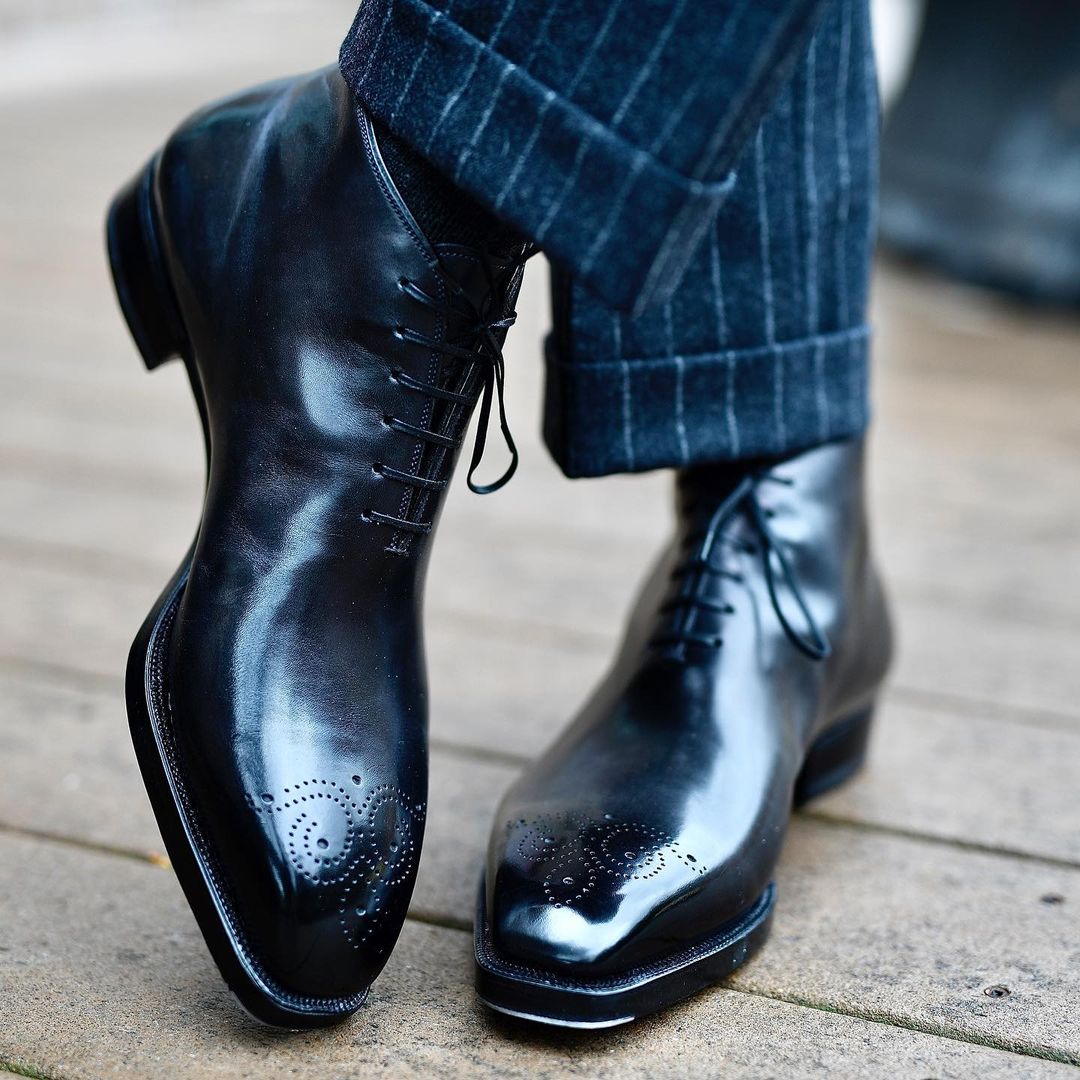 What type of boot is the Red Wing Iron Ranger? Now, I'm sure a few of you have ideas. You might call it a "derby boot" or a "work boot" or a dozen other things, but I bet a few of you are thinking "it's just a boot."
The word "boot" has often times been oversimplified to refer particularly to casual boots. This oversimplification in turn feeds the misunderstanding that all boots are casual. I'm here to remind you that they aren't. A boot is pretty much any shoe that reaches up the ankle. Why would those inherently be any more casual than a lower-cut shoe?
There are plenty of boots out there that qualify as dress boots. Many are office-appropriate, some are suit-and-tie appropriate, and a few are even rooted in eveningwear—at least historically. And dress boots can be very versatile too—many of the options below work just fine with jeans. So let's get into details! What is a dress boot?
What makes a dress boot dressy?
A casual boot is an often clunky thing rooted in its function. The extreme example is the bean boot—ugly, thick, and impervious. Blundstones are more moderately chunky Chelsea boots, whereas Red Wing Iron Rangers manage to look pretty good while still being casual. Clark's Desert Boots aren't too rugged, but they're still quite casual for reasons I'll get into below.
By comparison, dress boots have generally been designed through impractical history. Many were developed based on the whims of royalty or the needs of wealthy men who spent their afternoons riding horseback. They're not made, today, for snow, or for the trenches, but for the man on the town. That's not to say that they won't last—a well-made and well-maintained pair can last you a decade, same as any shoe you hear about on /r/goodyearwelt.
I'll expand in the individual sections, but let's just explore the general distinction between dressy and casual boot styles:
| Dressy | Casual |
| --- | --- |
| Sleek | Chunky |
| Simple, sometimes brogued | Simple or Complex—moc toes, apron toes, norweigan split toes and more are all fair game. |
| Leather or discreet Rubber sole. | Any kind of sole, including thick rubber and crepe soles. |
| Minimal Contrast. Blind eyelets. | Contrasting stitching, metal eyelets, and contrast welts are all fair game. |
| Well-polished. Usually Calf Skin. Sometimes Suede, Shell Cordovan, Pebbled Grain, Patent Leather (black tie), Wool (ankle) | Can pretty much be made of anything. Suede and Shell Cordovan are much easier to accept. Roughout, reptiles, kudu. Waxed canvas might be a good bet. Rubber galoshes are fine. A shine isn't really necessary. |
I will expand on these distinctions further in the category on Dressy Derby Boots, and then further in each of the other categories where the direct clash will be quite evident.
What are the best materials for a dress boot?
The best material for a dress boot is smooth calfskin leather. The leather should be clean, but doesn't need a high-gloss polish by any stretch. A leather sole or rubber sole with a minimal profile is ideal. Some pure traditionalists refuse to accept rubber soles, but they're mostly assholes. Black and dark brown are the best colors, but mid and sometimes even lighter browns can work just fine.
For two-tone boots like button boots and some laced boots, an ankle segment made of tweed, linen or suede is also very appropriate. And colors get a little more interesting there too—I've even seen purple work.
Pebbled leathers, suede, and shell cordovan are all valid options as well, in about that order. Suede and shell are traditionally considered casual, and are sometimes too eye-catching for subdued business wear, but they can be worn with a suit by the brave, as long as the boot comes in a conservative style. That said, don't try to dress up, say, a chukka boot in these materials. Steer clear of green and blue and bright red shell, but dark brown suede chelseas or color 8 shell tassel loafers in good condition can absolutely work with a suit. Tread carefully.
Waxy leathers, roughout, and—this should go without saying—rubber—are not appropriate materials for dressy boots.
Patent Leather Boots existed at some point, but I can't really find any modern sources on them. These days, boots are not appropriate with eveningwear.
What styles qualify as "Dress Boots?"
I generally think of Balmoral boots, Chelsea boots, Jodhpur boots and Button boots as dressy.
In some cases, Derby boots and Chukka boots can also be dressy.
Side Zip boots are... ambiguous, but I don't think they're important enough to dig into here.
Since formality is rooted partly in tradition, "other" boots are usually not dressy.
I will include examples, with purchase links where available, below, sorted roughly by price. I'm listing an absurdly large number of models for you people to explore, but I'm open to more recommendations for this list.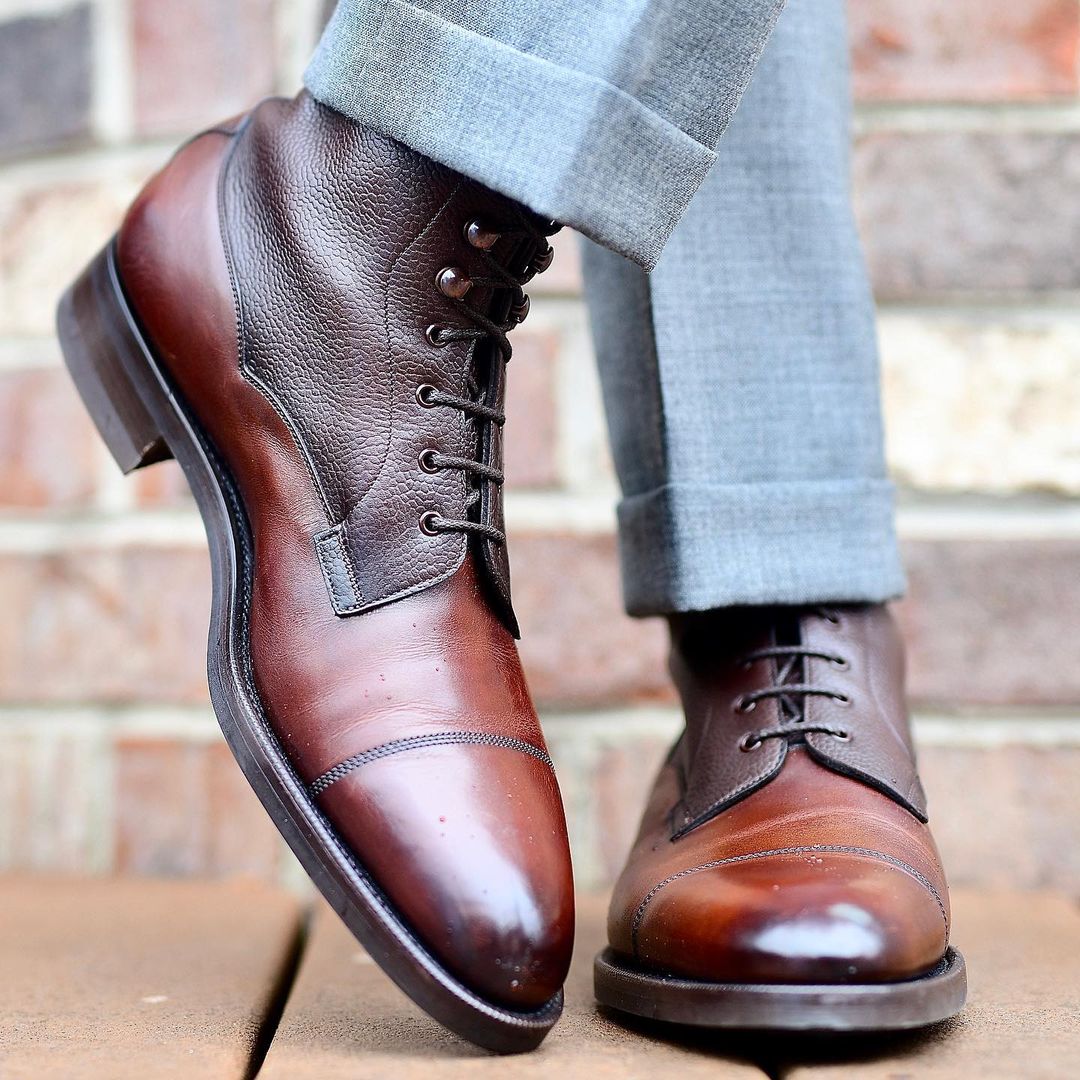 What Are Dressy Derby Boots?
Again, we'll use the Red Wing Iron Rangers as the benchmark for casual boots. The last is round and somewhat chunky. The leather has a waxy appearance. The sole is a commando sole. They use high-contrast metal eyelets and thick laces. The welt contrasts slightly with the upper; this is more pronounced on darker models. You see white contrast stitching and other details that give the shoe a more complex feel. We don't want complex. We want simple.
For contrast, look at these Meermins with minimal contrast. Blind eyelets. Subtle stitching. A subtle welt. The speed hooks might not look simple, but they're far enough up the ankle that, with proper trousers on, they'll never be seen. They use a studded rubber sole, but looking at it from the side, you wouldn't be sure. And these Meermins, while sleeker and more subtle than the iron rangers, will still look great with jeans. They're incredibly versatile.
As a middle ground, consider Edward Green's Galway—one of the most iconic boots ever made. You can probably swing it with anything from jeans to dress pants, but I wouldn't try it with a suit—they're probably the "best" shoes in this article, but not the dressiest most versatile.
One note—while I am having trouble finding examples, "spectator" boots are very casual. Spectator shoes were originally designed so that your shoes didn't get too dirty while playing... cricket or some other British nonsense.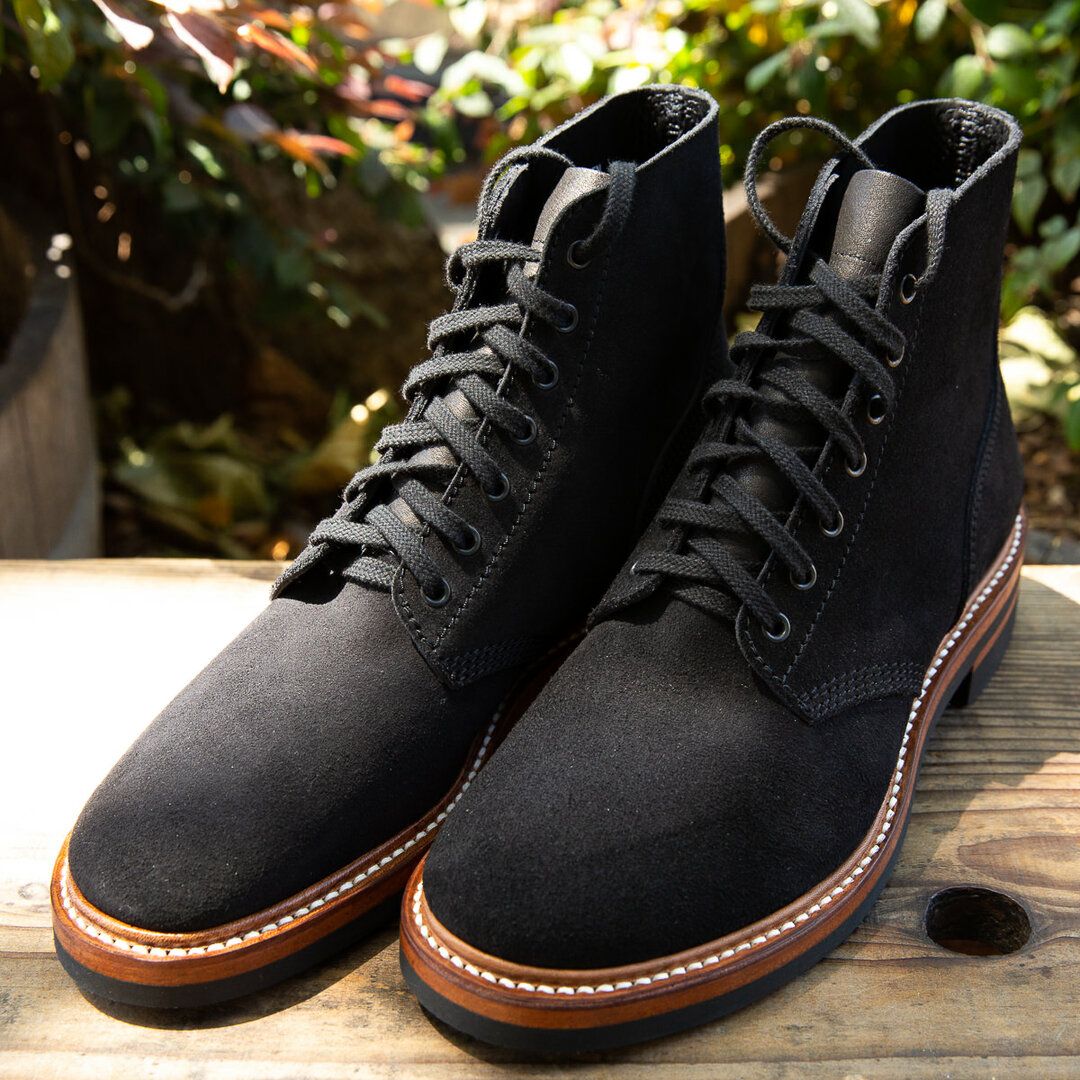 Dressy Brands:
In Between:
Casual Brands: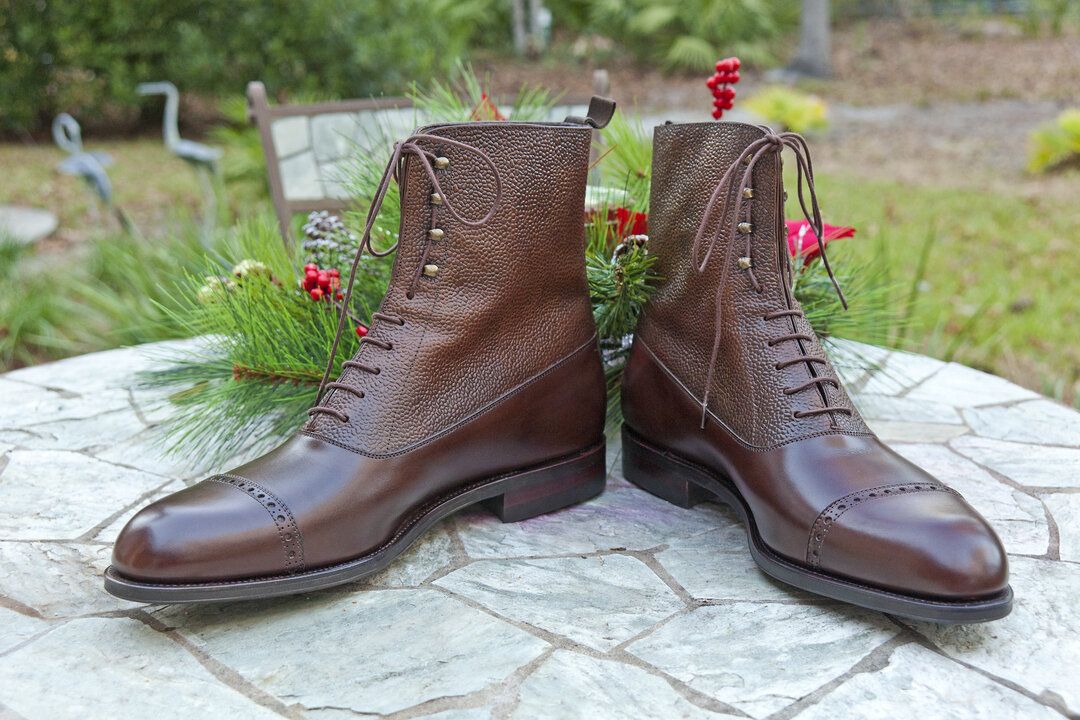 What Are Balmoral Boots?
So, technically, Balmoral boots are boots with a certain horizontal line along them, which... You don't want to know. Trust me, there's no reason to know that.
In common usage, "Balmoral" is pretty much just another word for "Oxford." Like an Oxford/Balmoral shoe, the "bal boot" usually refers to a boot with closed lacing. That is to say, at the bottom of the laces, where the "flaps" meet the front of the shoe, the leather is all connected—it's all one piece. This is as opposed to a Derby or Blucher, where the flaps connect. This sounds about as useless as the technical definition above, but is actually crazy important in distinguishing between more casual and more dressy shoes—and boots.
While derby boots are usually casual, balmoral boots are almost always dressy. It would take a rather strange design to make a balmoral boot casual. I imagine that Feit has done something like that, but I'm not seeing it on their website right now, so I'll leave your imagination running.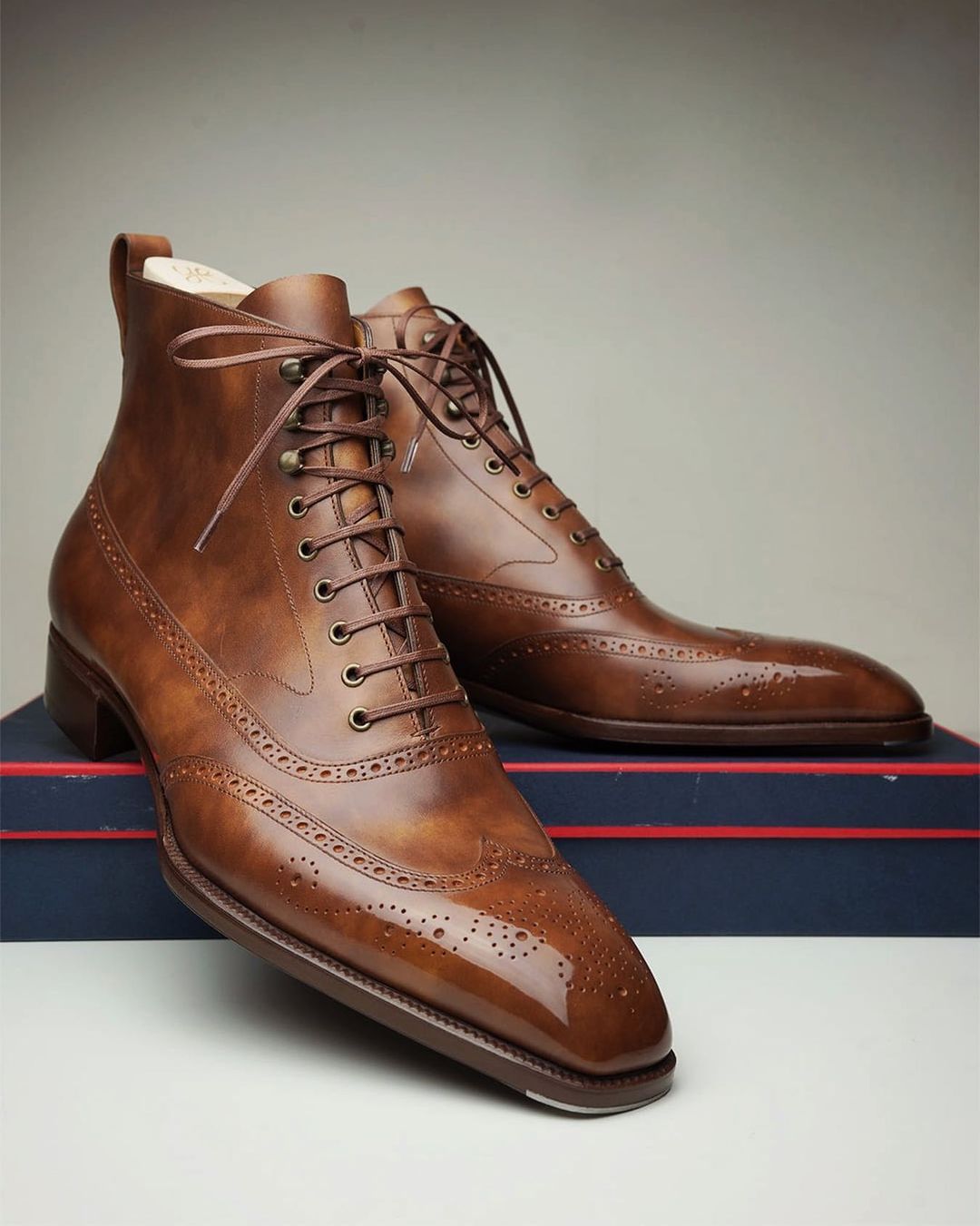 Brands to Consider: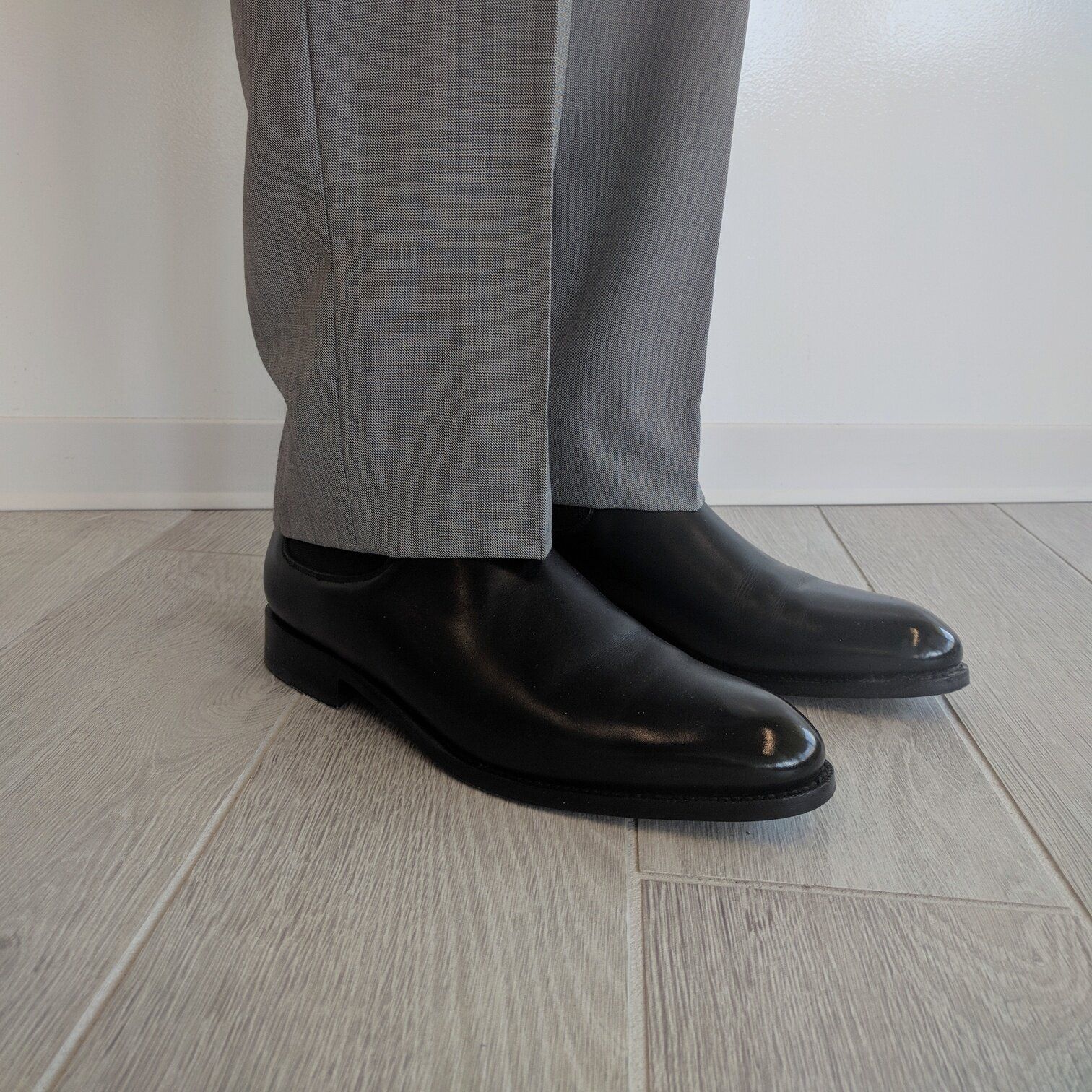 What Are Chelsea boots?
A chelsea boot is a laceless shoe with a whole lot of elastic keeping it together. You'll usually see a tab near the opening that makes it easier to put on. It's a little silly to think of these as one of the dressiest boot styles, but they really are. Chelsea boots are fair game with suits—in my book, at least.
Your chelsea boots should have no broguing. Really, there should be no markings on them anywhere—they should either be wholecut, or have a very small seam at the bottom of the elastic. That's probably why they're considered dressy—because they are one big, simple piece of leather. Any marking not only risks making the boot inappropriate with your suit, but generally ugly.
Note that Chelsea Boots can also definitely be worn casually. They're heavily associated with glam rock and SLP styles, and work well with slim jeans. But the Beatles wore theirs with suits. And so will you.
As your examples for each style, consider Carmina (dressy, versatile), Blundstone (strictly casual, rugged), Saint Laurent 40mm Wyatt (dressy, feminine, SLP style). I tend to think of these extreme casual Chelsea boots—Doc Martens, Blundstones, and Redwings—as very ugly, and sneaker-style chelseas to be even worse. Since the dressy Chelseas are all much more versatile, and can be worn with jeans just fine, my recommendation, even for those looking for boots to wear with jeans, is to err on the dressy side.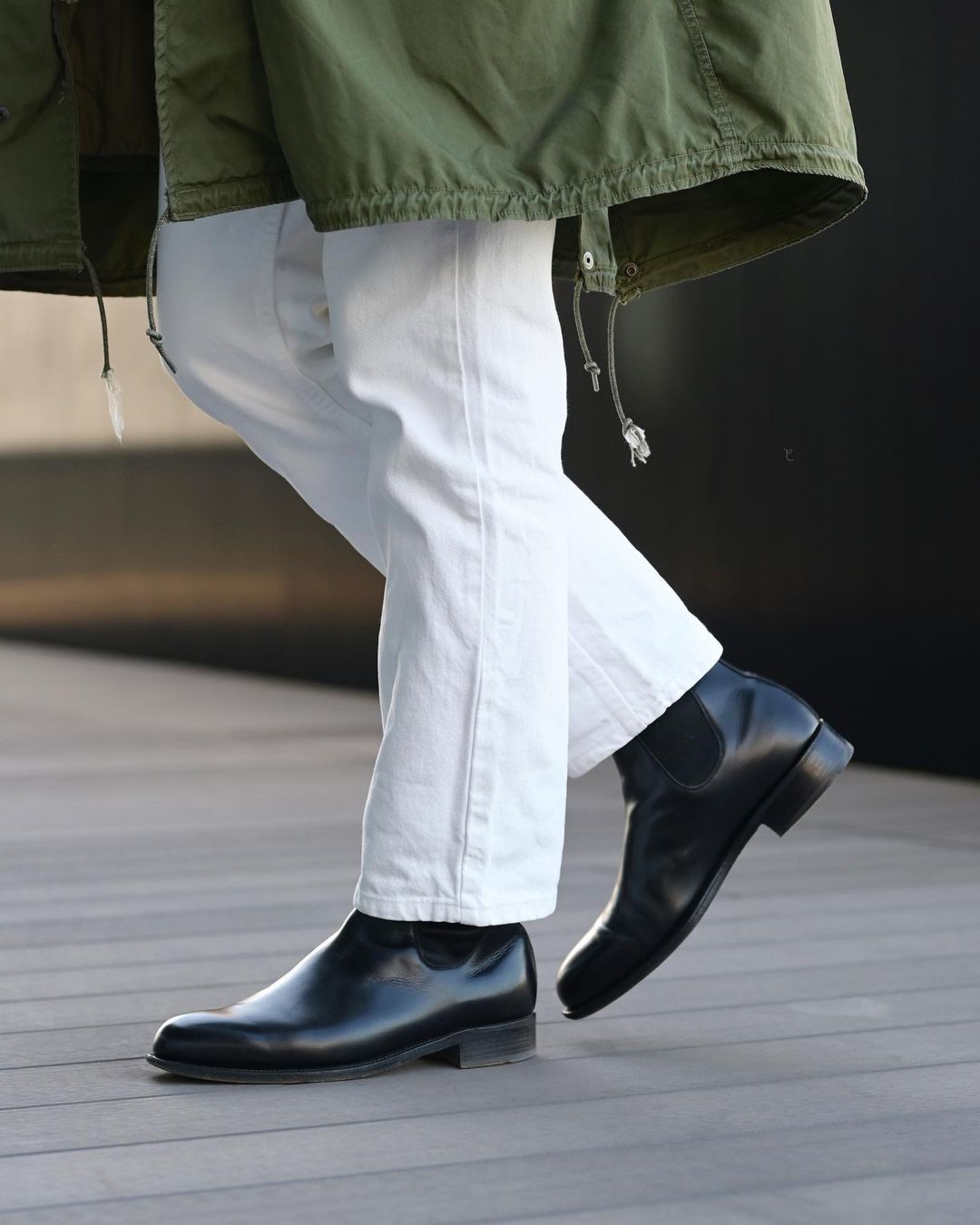 Dressy Brands:
SLP:
Note that you want to be careful wearing heels that large, and might be better off wearing them in a traditional SLP fit than with a suit... but I consider them dressy because they can be dressed up.
Casual Brands: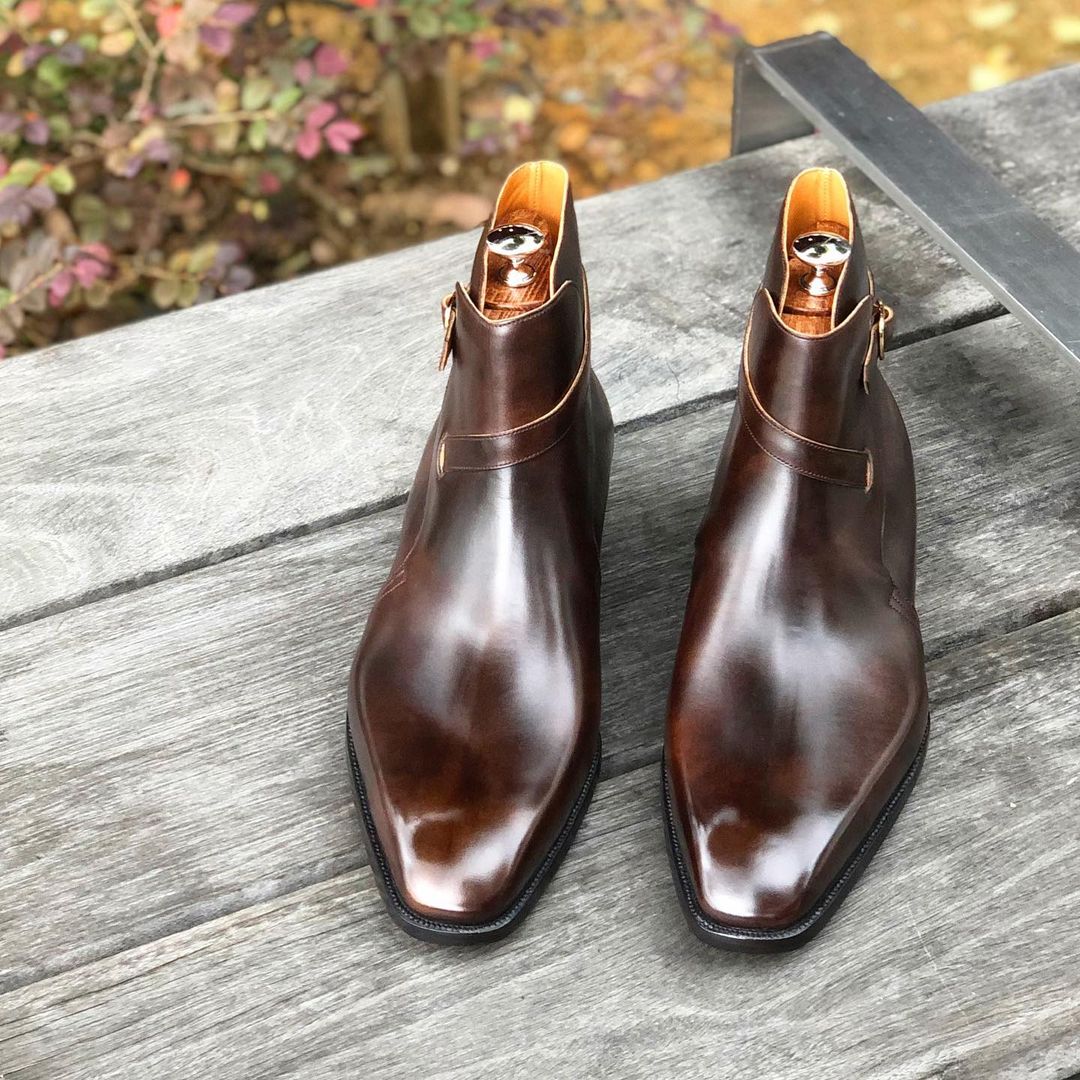 What Are Jodhpur Boots?
Jodhpur boots are boots with a strap and buckle around the top. Rooted in riding heritage, they are pretty consistently dressy. They practically look a lot like Chelseas—especially from the front—but obviously swap the elastic setup for something more subtle. The near-wholecut appearance is, again, a staple—broguing and cap toes are just going to ruin that.
Somebody in the short-lived MFA discord (which never existed) half-joked that Jodhpurs are the new Chelseas. Well, it's not like Chelseas are actually going anywhere, but Jodhpurs may well be on the come-up.
Brands to Consider: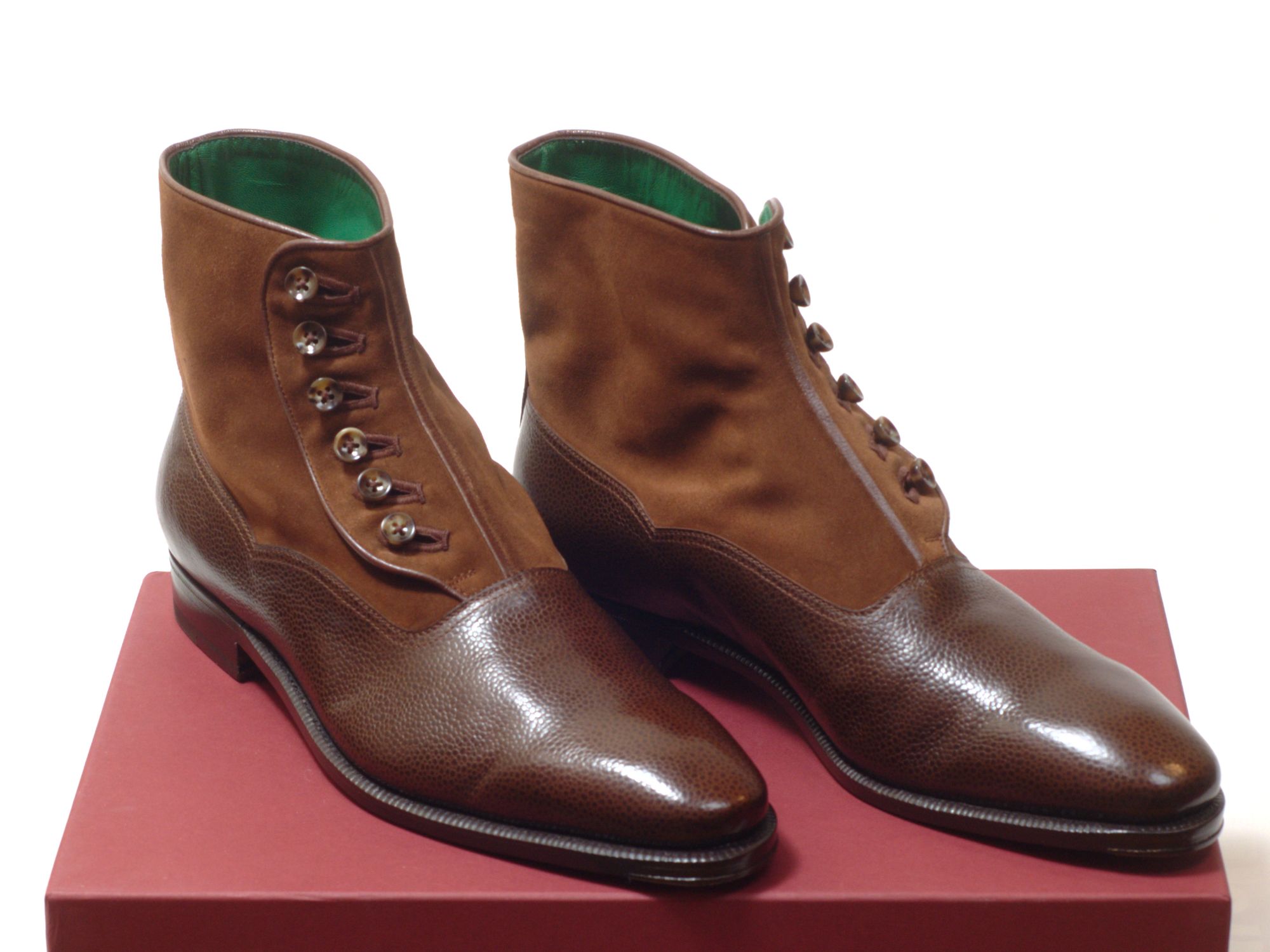 What Are Button Boots?
Button boots have a strange, Victorian history that I'd rather not get into. Just know that, when royalty decides they like a boot, no matter how weird it is, it becomes acceptable for the well-to-do to put it on. I've been told that button boots are traditionally related to tuxedo boots, but I can't seem to find a real source on that, or... really on what tuxedo boots actually are.
Note that the contrasting shaft from above is back now, and consistently present on essentially all button boots. If you see a tweed or wool or even suede shaft, you're in for a relatively comfortable boot with a flexible ankle.
Button boots are quite rare. Only a handful of brands will even make a pair. Keep in mind that the abnormal nature makes them a little better for Pitti Uomo than your conservative law firm, but wearing button boots in reasonable colors for business isn't wrong, it's just not the most conservative option.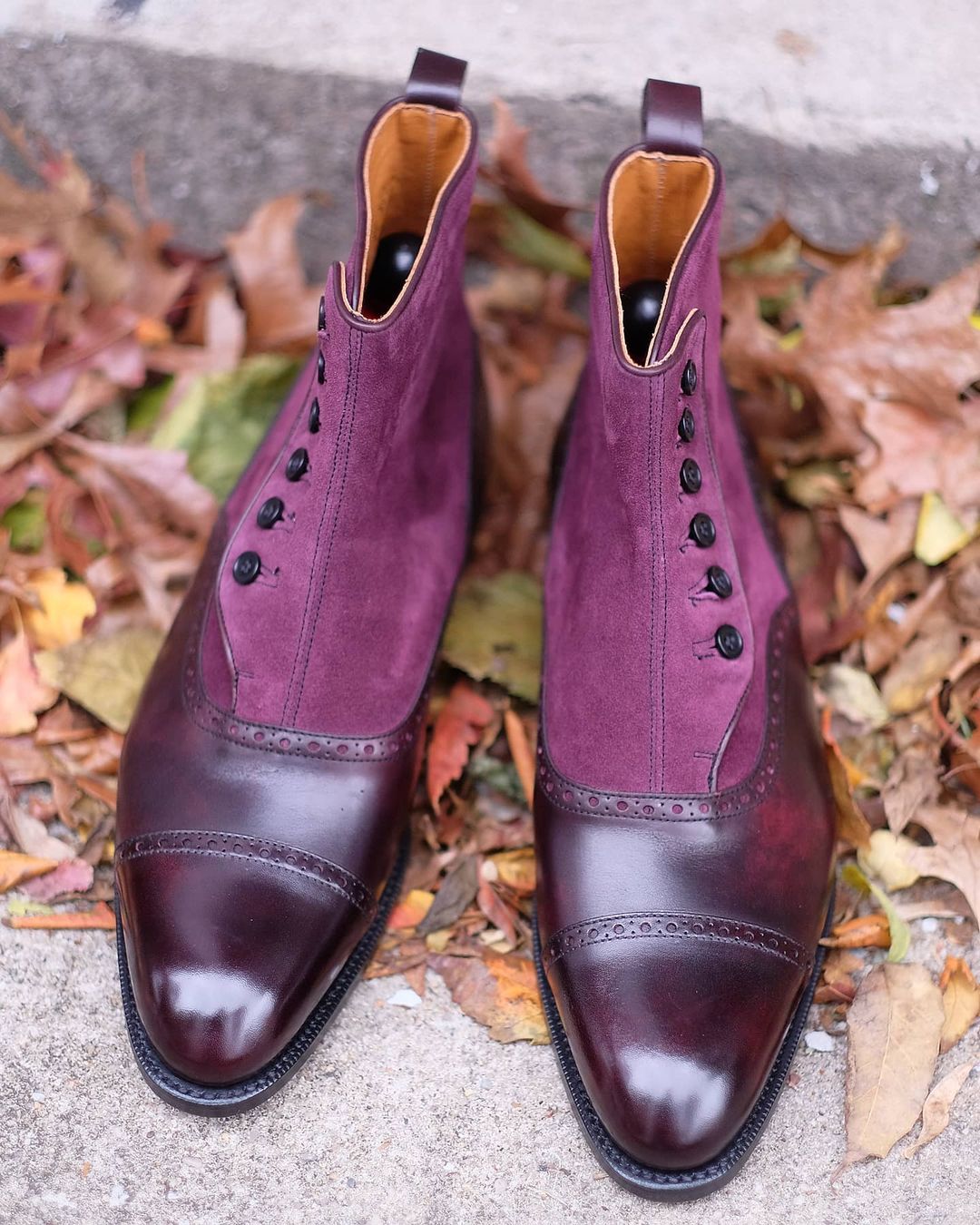 Brands to Consider: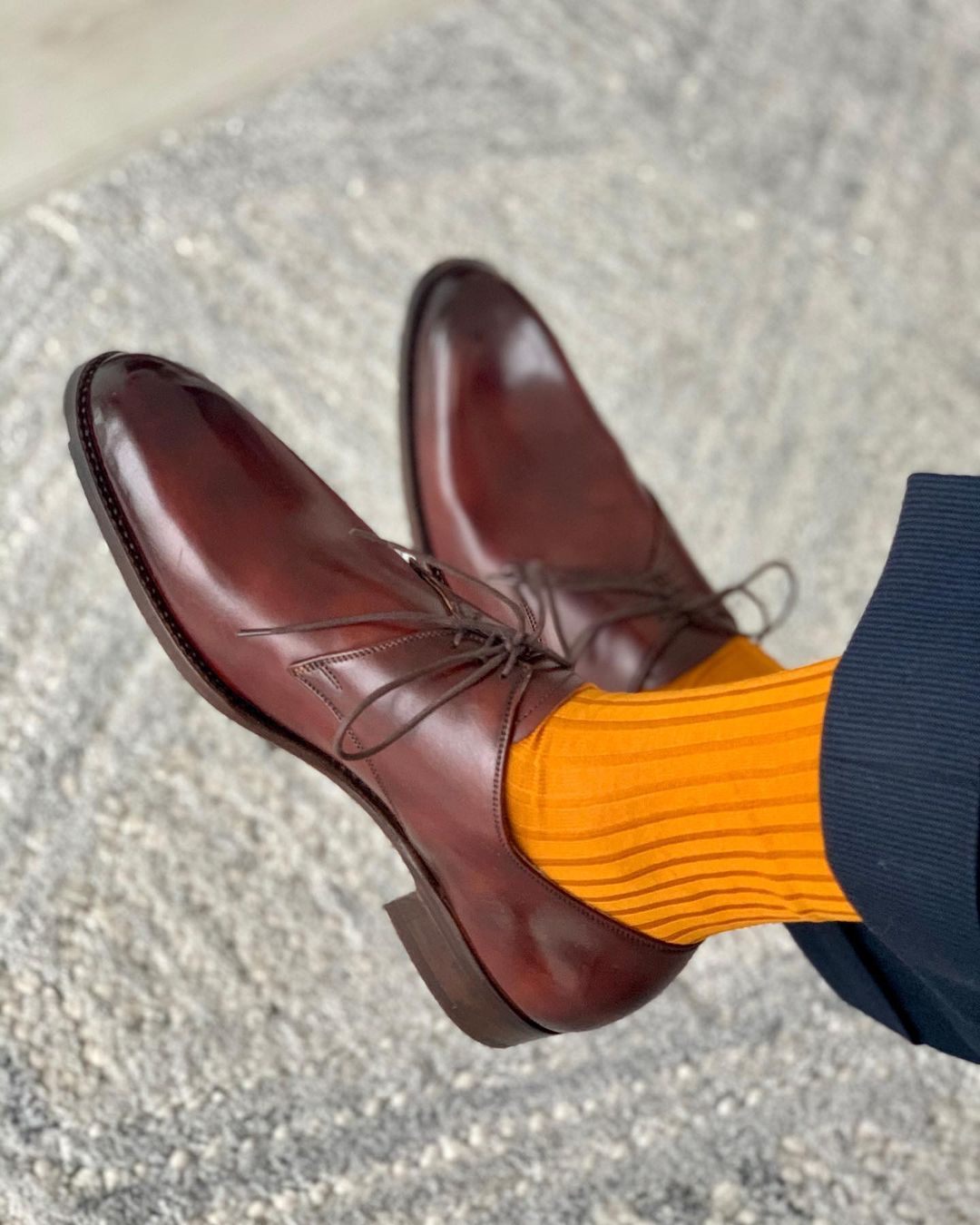 What Are Dressy Chukka Boots?
Chukka boots are a relatively new and casual boot. They first started to pop up in the 40s and 50s, and were soon put to use by Clark's as "desert boots" for military use. As you might guess, a crepe soled suede boot meant for military use in the desert is not a formal thing.
However, people experiment with dressier styles, quite a few of which I've listed here. I still am not a huge fan of dressy chukkas (or sneaker-style chukkas, or really any chukkas for that matter), so focus on the casual styles.
Dressy Brands:
In Between:
Casual Brands: