Black Lapel Made to Measure Suit Review
TL;DR -- this suit has only grown on me over time. If you don't need your suit immediately, and have had a hard time finding a good fit off the rack, Black Lapel provides an excellent value.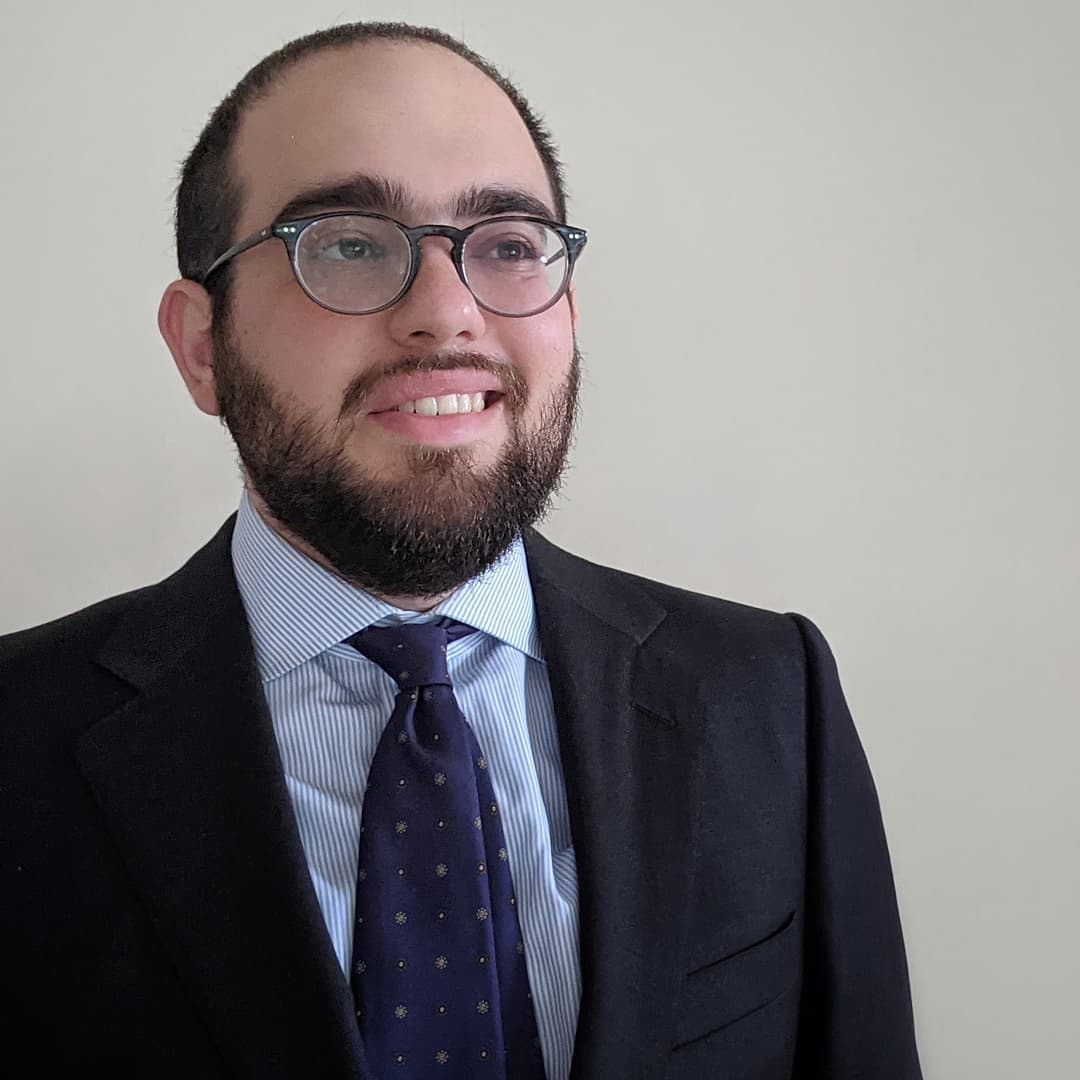 I wanted this suit for a few general reasons, but primarily for interviews. I'm an attorney, so I wanted a classic business suit that still looked good in a modern context. Black Lapel in NYC makes MTM suits starting at $500, at better quality than any cheaper MTM options. So, after a ton of research, I thought they'd be a good option. Note that I live in a suburb of NYC and got measured in person; I would generally not recommend online-only MTM.
Note that this is a relatively early review, after only three wears -- there will be some interesting things to say about how it holds up over the next decade, but I think this review is pretty useful now, so here it is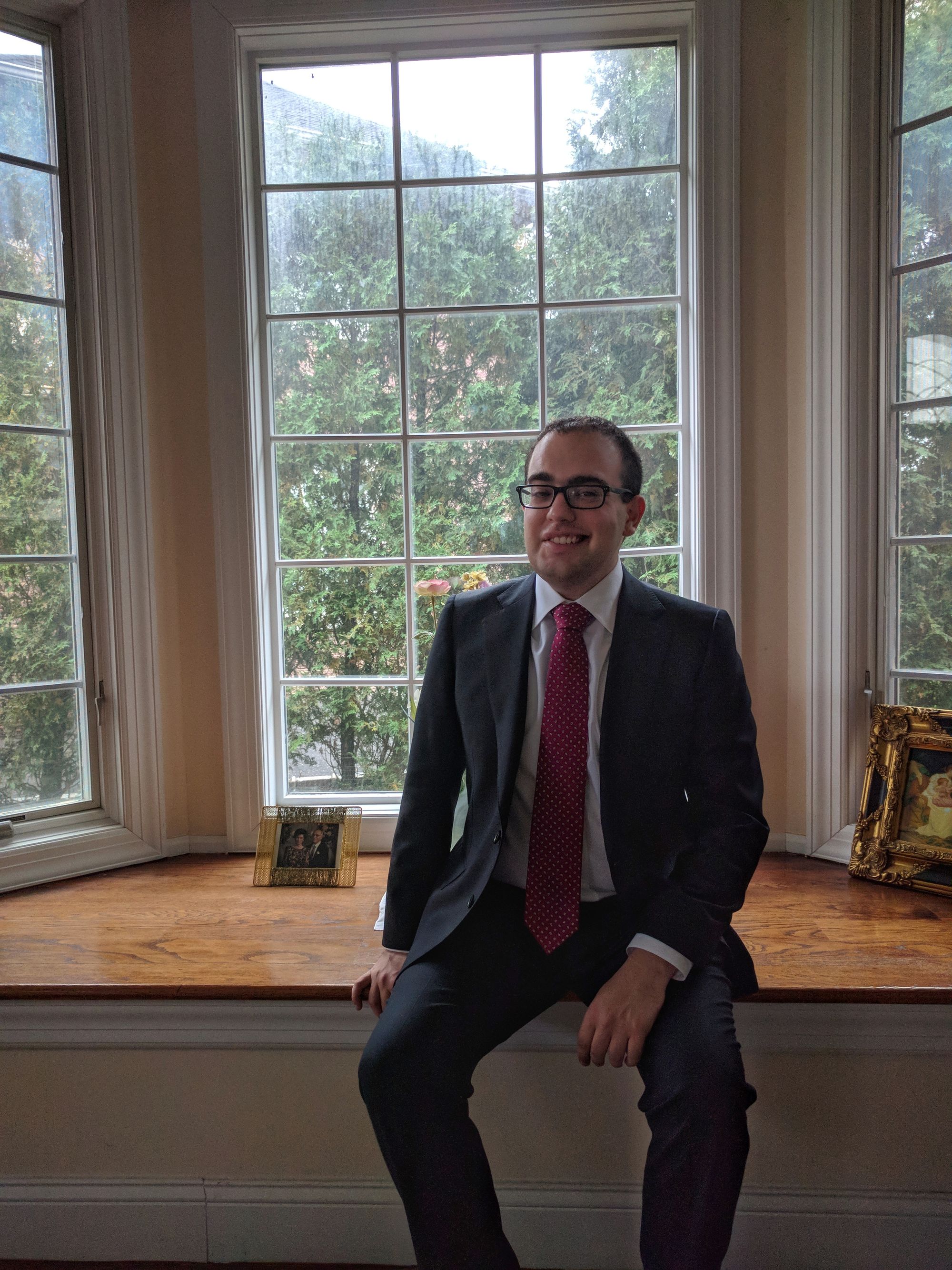 Quick Facts
Material: Super 110s wool. The Black Lapel Website does not specify a mill. Edit: The wool is from a Filarte mill near Black Lapel's Chinese manufacturing location.
Lining: Bemberg
Buttons: Bull Horn
Color: Solid Charcoal
Trousers: Belt Loops, suspender buttons (because why not), no cuff.
Other Suit Features: Notch lapel, single breasted, half canvassed, pick stitching, functional buttonholes. Generally pretty similar to SuitSupply, Spier and Mackay.
Price: $500. ($25 off with referral -- referral link. Also -- referrals seem to work on all of their items, not just suits.)
Suits come with a garment bag.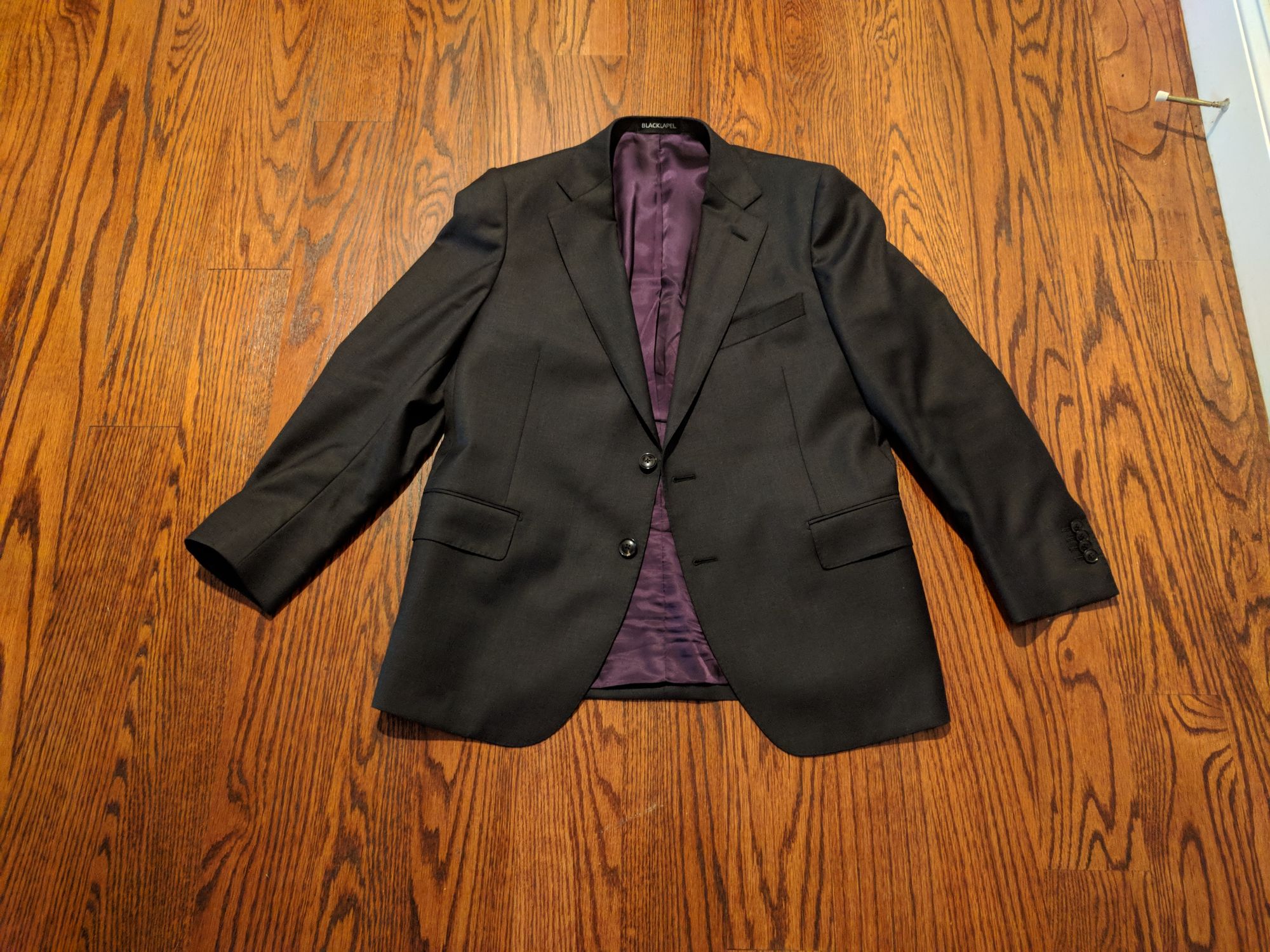 Customization Options
Suits come in two lines: mainline black lapel (features as described in this review) and the Savoy line, with nicer fabrics (E. Thomas, Guabello & Vitale Barberis), full canvassing (or some unstructured options), milanese buttonholes, and split back trousers.
For each suit, you can customize the following:x
Buttons. You can choose a one, two, or three button suit. I believe they have three-roll-two available as well, but you might need to ask in person / email support. I chose two. It appears that tuxedos only come in one button -- that's a good thing, you don't want a two button tux.
Single or Double Breasted. I chose single.
Lapel Type. Notch, Peak, Slim Notch, Slim Peak on this model. Tuxedos come in peak, slim peak, or shawl. Again, these are appropriate options -- you don't want a lounge suit with a shawl lapel or a tuxedo with a notch lapel.
Vents. Lounge suits come in single or double; tuxedos come in no vent or double. I like double, as I use my pants pockets.
Jacket Pockets. All jackets come with straight or slanted piped as an option; lounge suits add patch pockets and straight or slanted flap pockets. Since I wanted a classic business suit, I went with straight flaps. Lounge suits can come with ticket pockets; I went without, as I'm shorter, and didn't want to interrupt the vertical space on my right breast.
Lining Color and Pattern. Most of their lining options are solid, although they have four paisley patterns available. I went with their Royal Purple. I'd recommend looking yourself if interested.
Pleats. They offer no pleats, single, and double. I went with none.
Cuffs. Option on business suits; I chose to go without.
Extra Trousers. You get a slight discount here -- they come in at $140. You can get different types -- if you want to experiment with high waisted trousers but keep a low-waisted pair for most cases, that's an option. However, for some reason, I don't see this option for the tuxedo I'm looking at.
Waistcoat. They offer an optional waistcoat for $100 (or 20% of the suit price, it seems, for more expensive suits). I did not get one.
Pick Stitching. They've considered getting rid of this option -- you want pick stitching. Not an option on tuxedos.
Accent Stitching on the bouttonneire and/or last sleeve buttonhole. Matches inner lining. I didn't go for this; it's kind of just there to "prove" that you have a custom suit, but I'd rather let the suit speak for itself.
Rear Pockets. Two, zero, left, or right.
Belt Loops. Yes, no, or no with side tabs. Suspender buttons or no. Side tabs on regular suits are buttoned; on the savoy line, they have a metal slidey deal that I prefer. I went with belt loops and suspender buttons, although it would be kind of silly to wear suspenders if your pants have belt loops -- side tabs + suspender buttons are probably a better option, but I wanted to play it safe and go with something standard/boring here.
Rise. This is really a measurement, so it's not listed with the customizations on the website, but it ties into the above customization, so I just wanted to point out that it was an option.
Monogramming. Again, I'd rather let the suit speak for itself; I find monogramming to be in somewhat poor taste.
Overall, these are some great options.
Note that button stance is not a customizable thing; it is tied to jacket length.
Their measurements account for shoulder angles. Their armholes are a little higher and narrower than most off-the-rack suits, which is good.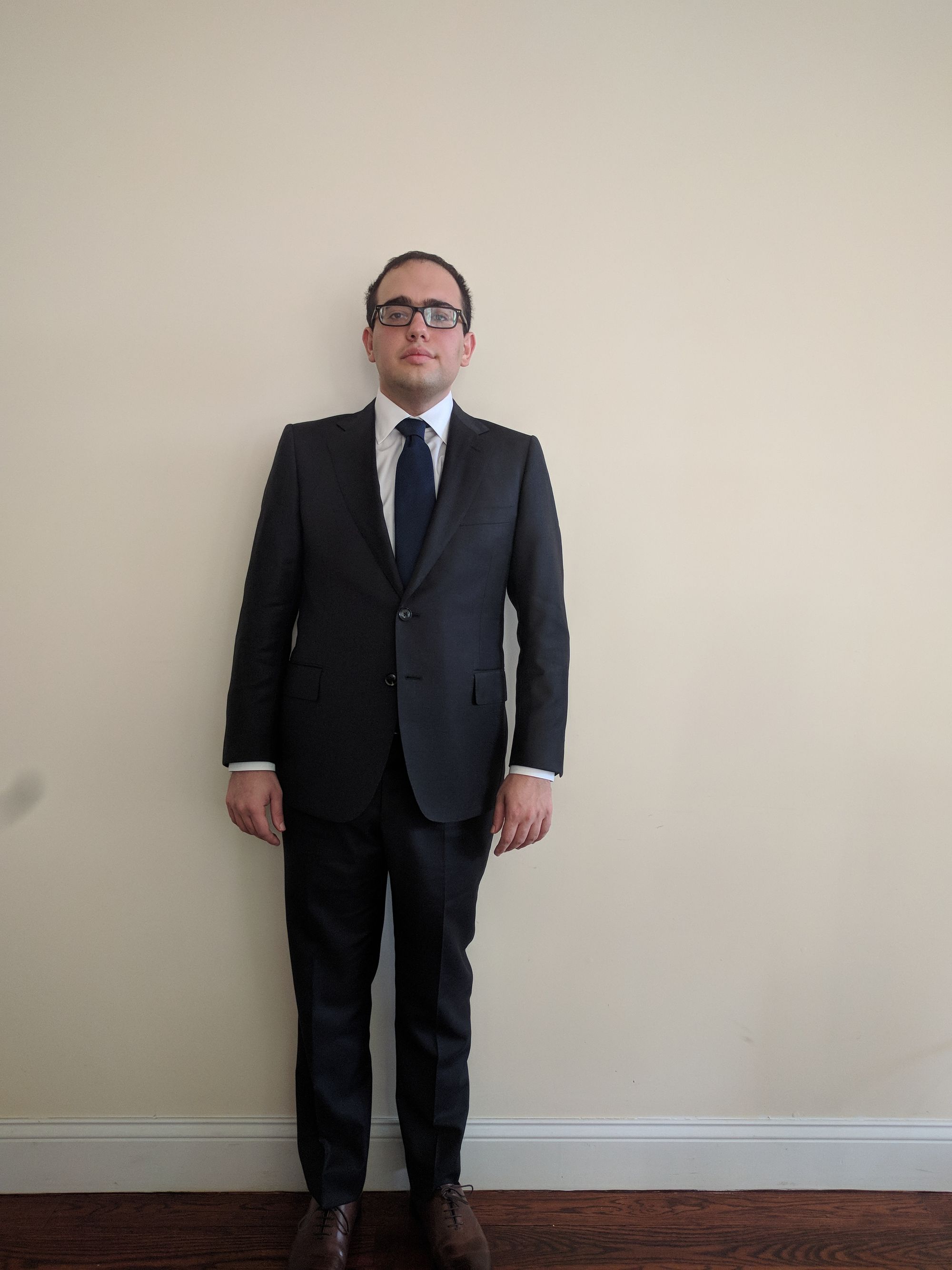 Fit Experience
This is a separate category because it reflects the reasons I went with Black Lapel over SuitSupply or Spier and Mackay. I couldn't try a Spier and Mackay suit on, and SuitSupply fit... Okay, but it needed a bit of tailoring, at least the sleeves and hem, so the full MTM experience at Black Lapel didn't really cost much more. The only other downside is, apparently, the material, but Black Lapel's material feels good enough to me, so I wasn't too concerned about the unnamed mill. Note that they offer free remakes and refunds, as well as a $75 tailoring credit for smaller changes (although we never discussed tailoring costs, so I don't think the $75 number is a big deal -- especially because they don't want you to return the suit).
The showroom is nice, but the salesmen are a little more salesmanny and a little less tailorish than I'd like. They took all the measurements they'd need for suits, shirts, and whatever else at the first fitting.
The first suit arrived at my house in a very small box. I hung it up, and the wrinkling wasn't a problem -- wool tends to bounce back pretty well. It came with a garment bag, but no hanger.
The fit on that suit was... way off. Well, the trousers were pretty good -- they only needed minor tweaks -- but the jacket button stance (which is apparently tied to the length) was too high; this apparently threw off the entire fit, but there was no way to test it, so the jacket kinda just needed a full remake. It took me a while to make it in for my refitting, but I emailed them to let them know it would take me a while, and they took it no problem.
The second suit was pretty bad too, at first. They had to lower the right button (it was misaligned with the buttonholes, but the buttonholes were well-placed). The lapels were off, but all they really had to do was press them a little higher. And they took in the seat a bit. They sent it to the tailor and had it back for me within a few days. They actually re-pressed the lapels on the spot when I went in for the last fitting. (Note that I had the second suit shipped to black lapel before and after tailoring -- there wasn't really any point in getting it at home. When I left with the suit at the end, they provided a contoured plastic hanger -- not substantial, but also not wire-thin, I'd recommend getting a better hanger once you get home).
At the last fitting, I still wasn't thrilled; the suit was a little tight in the front/back and a little loose at the sides, which, they said, was going to be a problem unless they remade the jacket in a slimmer fit... But it was close, and, I had an interview shortly after, so I took it.
So, how do I feel? Would I recommend Black Lapel?
I feel pretty good. The fit has grown on me -- either because the canvas is doing work, molding to my body already, or because I'm used to the suit. I still see the side-to-side/front-to-back issue as imperfect, but I'm happier with this fit than I would be with anything off the rack, even with tailoring.
Quality-wise, the suit is definitely there. The materials and stitching all leave me happy. And I get compliments. So I'm generally pretty happy.
Was it a good value at $500? Yeah. I might go to them for a tux one of these days, as their cheapest tux -- $600 -- is actually neck and neck with SuitSupply's cheapest off-the-rack option. Or I might go more expensive for my next suit -- NYC has a lot of great options between sample sales (I've seen full canvas for about $450, but didn't love the fit) and MTM (SS, Black Lapel's Savoy line, Imparali, Mr. Ned, Martin Greenfield... I'm too tired to list them all). I think I'll probably try them for an OCBD at some point -- again, I'm shorter, and it's harder for me to find a great fit off the rack. I'm not quite sure what I want to do next, but I'm not opposed to another Black Lapel suit. (If that doesn't sound like a glowing reveiw: I tend to be a bit of a paranoid freak about value, so if I say the value is good enough, it's going to be pretty damn hard to do better).
Again, the salesmen are salesmannish, but they do their jobs and don't stop until you're happy (at least, in my experience).
Would I recommend it? Yeah, if you're in NYC and you want relatively cheap MTM this is probably a better option than Indochino (edit: this is given horror stories I've heard about Indochino, but if you want to take a the relative risk, go ahead). Generally, it's a pretty close competitor to SuitSupply, as long as you're not in a rush. Then again, if SuitSupply or Spier and Mackay fits you very well off the rack, they're just as good on paper, and a little cheaper, so go with them. Likewise, if you are really concerned with value, thrifting, NYC sample sales, and eBay might be better options. But Black Lapel is definitely right for some people.