Playing Around with my SLOU Seersucker Popover
I put together four distinct outfits with my Slou seersucker popover to see what I could learn from the different applications.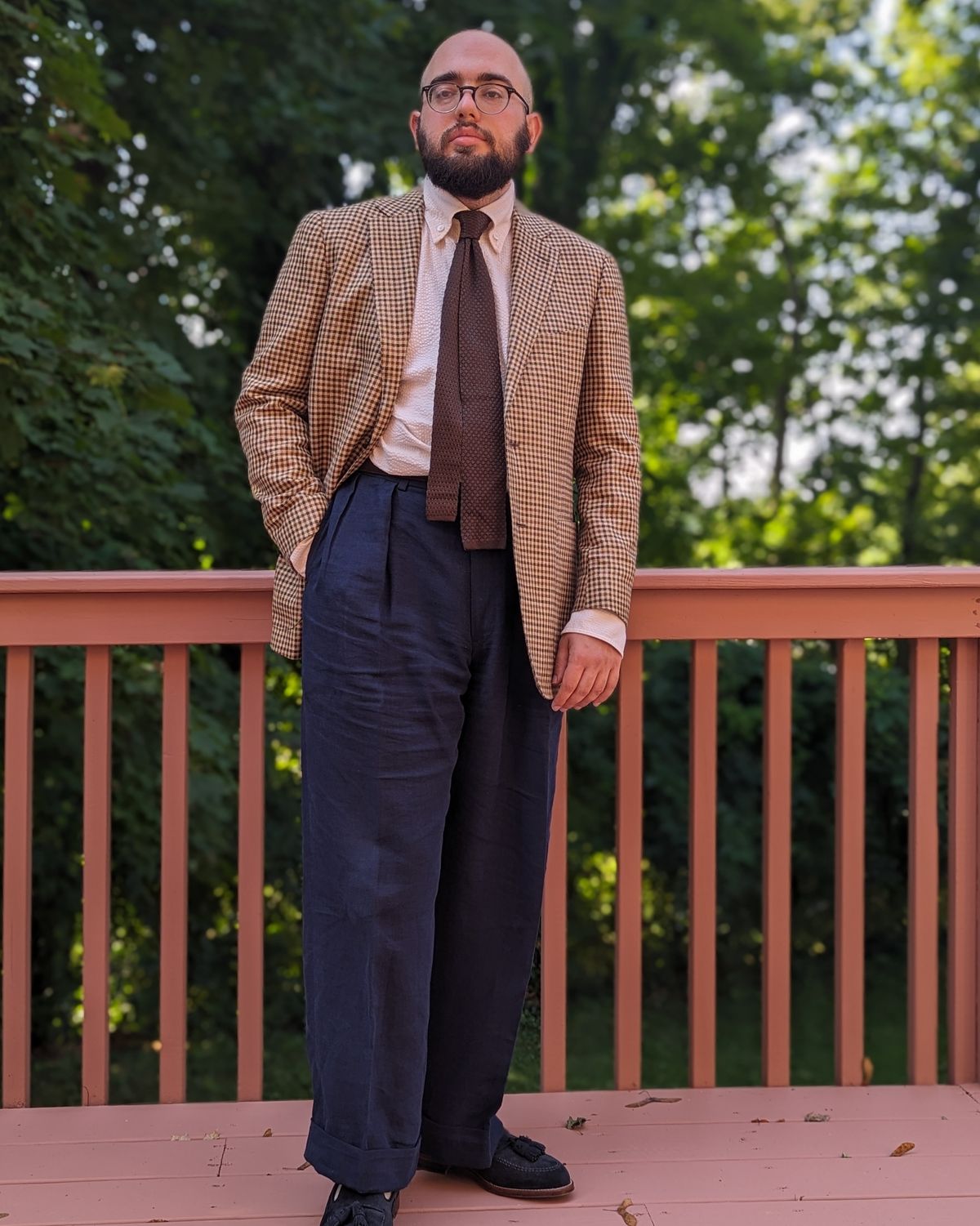 I got a lot of great shirts this summer. Just when I had told myself I had gotten enough, Will at SLOU offered to send me a seersucker popover... you should know by now that my thirst for good summer shirts is insatiable. I saw the collar and thought it would be worth playing with.
I've since put together two casual-casual outfits, and two less-than-casual outfits. A popover is usually not meant to be tucked in, but I felt it was worth exploring. I've gotten a feel for the shirt, and I have an idea of how I'm going to wear it going forward... But let's go through them one by one.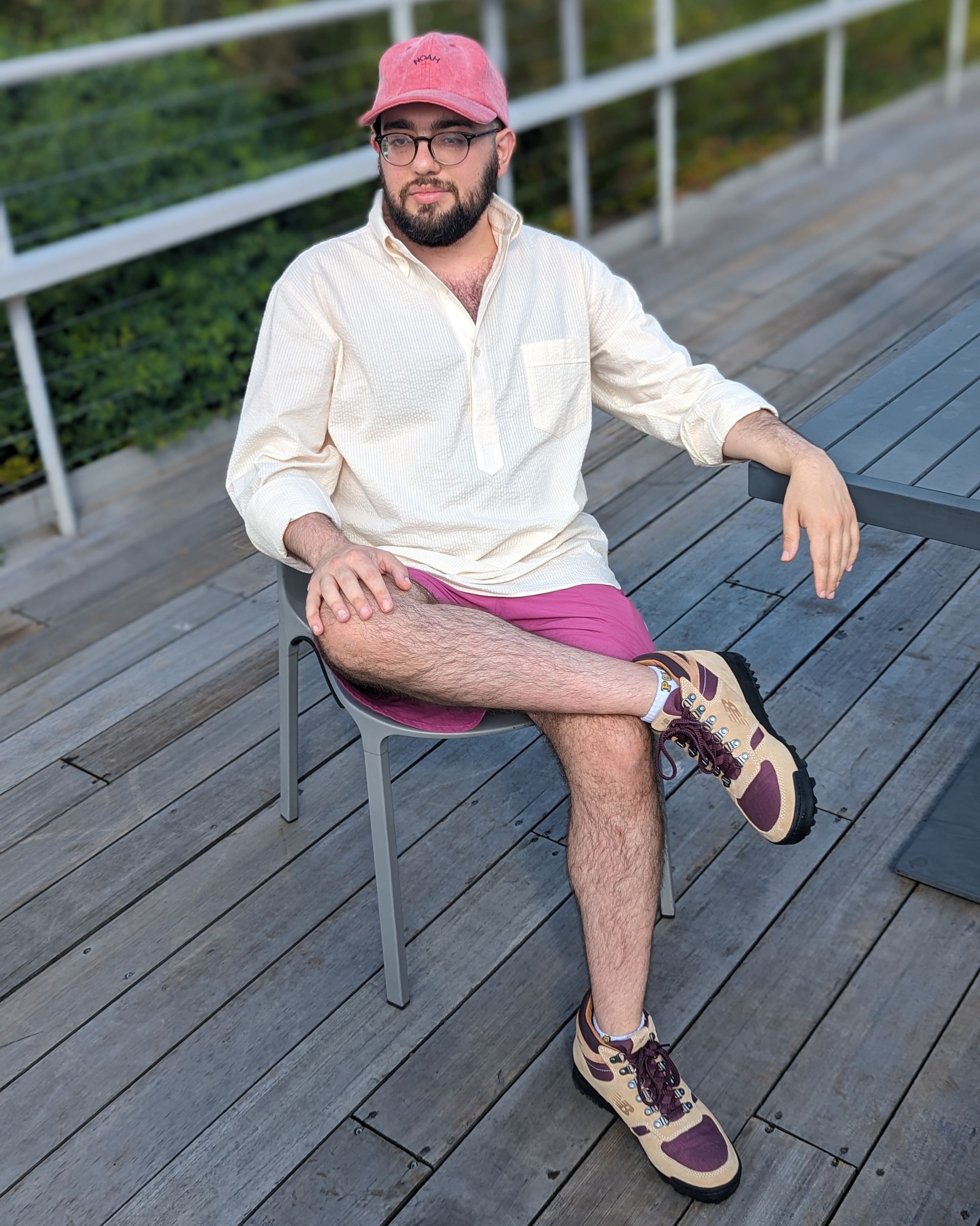 The first outfit, which I wore to visit a friend at the Instagram office in NYC, is also my first outfit with these ALD Rainers. I was actually kind of excited to wear them with shorts, inspired by the ad ALD originally used. Obviously, my outfit is less gorpy, missing the layers and the socks... but it was hot out, I'm happy with my execution. I like the color scheme I put together and everything.
And this might be my favorite use case for the shirt. Toss it on over shorts for a carefree summer vibe. The sleeves roll up nicely. The one-button-done state is simultaneously loose and breezy while rolling nicely.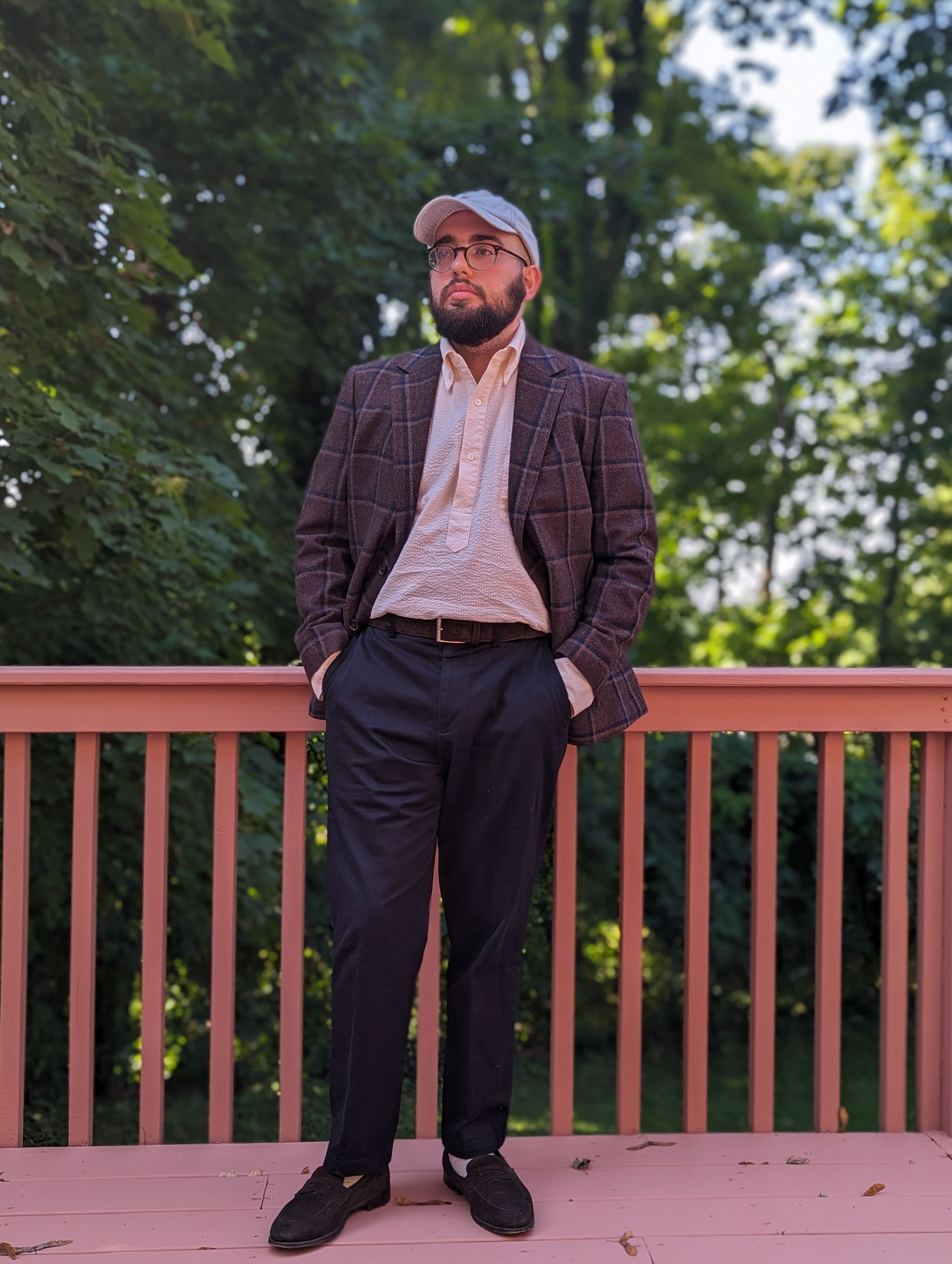 Then, I wanted to try some casual tailoring. The outfit is simple, I even went with slim chinos just to keep things... straightforward? Idk, I just felt like busting out these chinos.
It definitely works. The highlight is the glorious collar roll, at its best with two buttons done.
But I prefer the shirt in the first context for two reasons. One, the sleeves are long on me. I'm a short dude, and I decided to size up on this shirt because a popover needs to be relaxed, and because Will told me it would shrink a bit if I tumble dried it. I thought—I'm going to wear this shirt to the pool, I'm going to wear it in the heat and sweat in it, I don't want to baby it every time I wash it, I like relaxed fits anyway, I might as well size up. After tumble drying: the fabric is still great, the fit is still nice and relaxed (but perfect in the neck), but the sleeves are still just long for me.
More importantly... I don't like the way seersucker tucks. Seersucker is crisp, and has a certain... stiffness. It's great if you know how to play with it, but I just don't like the way it looks around the waistband, it doesn't drape softly over the waistband. This stiffness also prevents the sleeves from bunching up higher on the sleeve... which I actually wanted when I put the jacket on, since the jacket sleeve would hide that and nobody would ever have known the sleeves were too long. Oh well.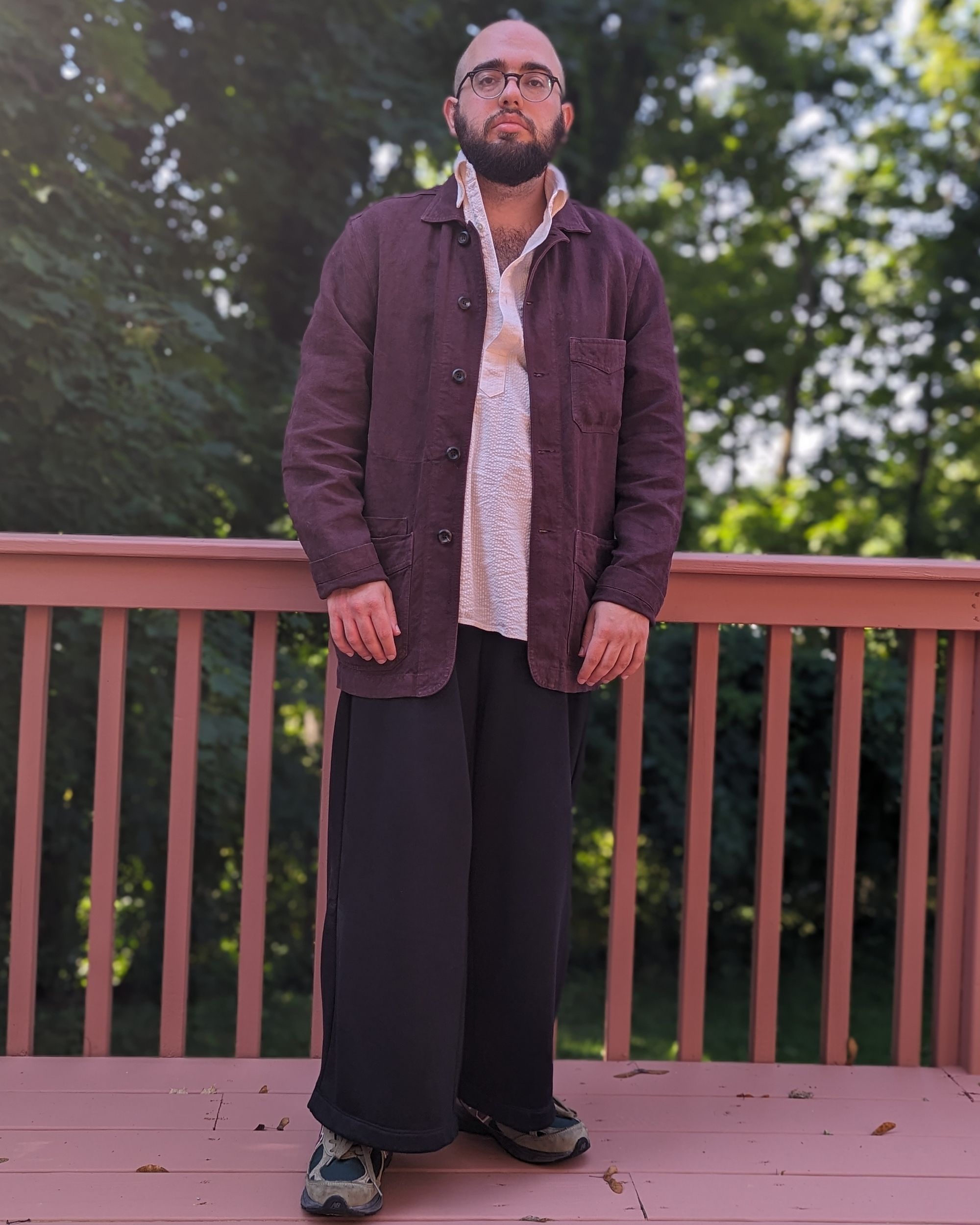 Back to casual outfits. The zero-button state is the shirt at its slouchiest, so I pit it against my slouchiest pants and slouchiest jacket. The collar still looks great. The shirt is still long on me, and I think this would work a little better if the shirt was a little shorter, so. the shrit and jacket hems had more distance between them, but without the jacket, the length only adds to the slouchiness, so I'm not too upset.
Side note: don't wear tee shirts on hot days, wear this. This will breathe a hundred times better.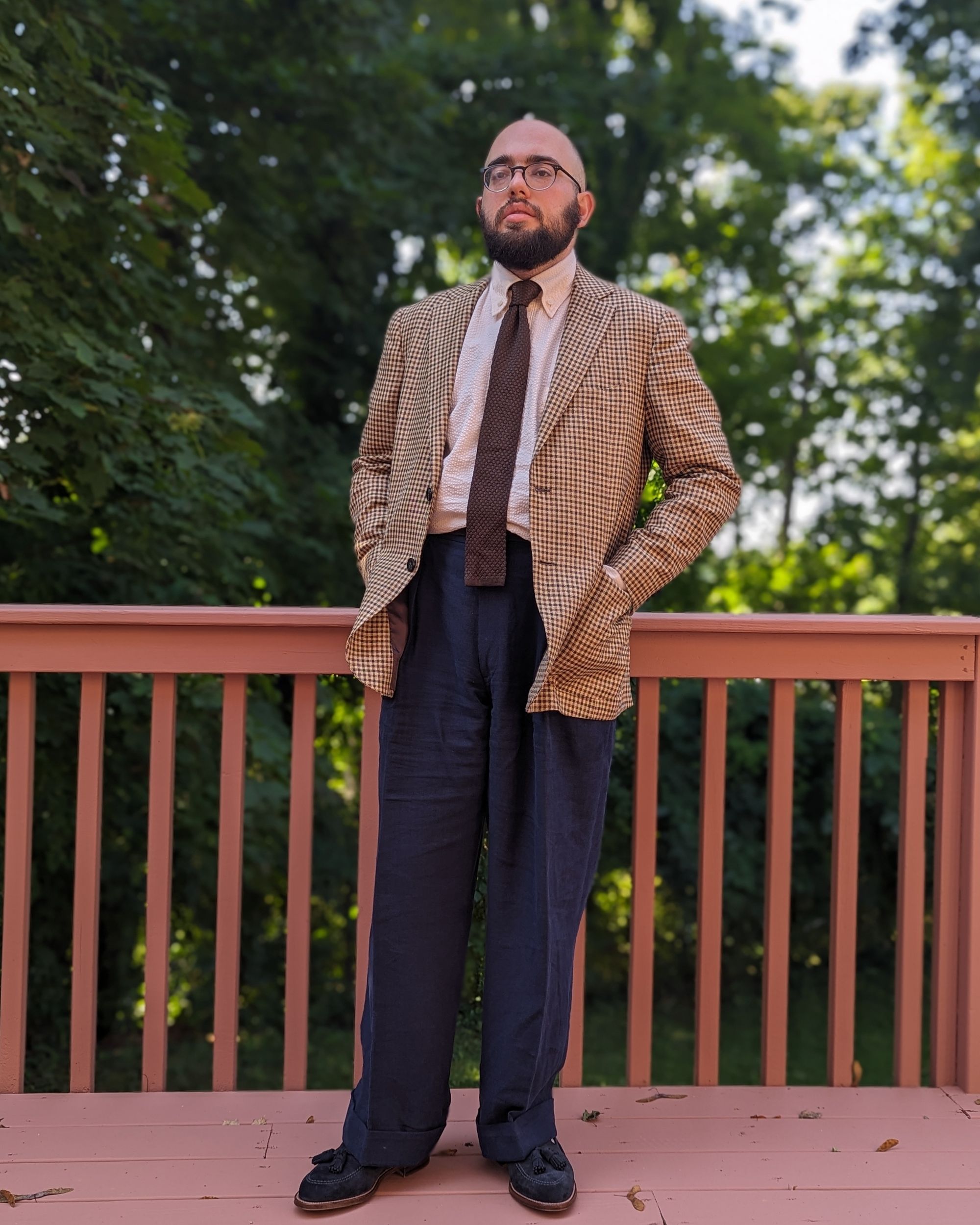 I had to try it with a tie. And while I still don't like the tuck or the sleeve length, the collar frames the tie super nicely. (I also like the way the seersucker sits when the collar is open, but I didn't have a good fit for showing that off).
I'm looking forward to SLOU's next button down, because if it comes in a material I do like tucking in, you're gonna see me in ties more often. (Note: Will says their next shirt might be shorter, too... I'm excited).
Except for the tuck and the sleeve length, I do love this fit. Slouchy but classic summer tailoring. Also the innagural fit for my blue suede Alden tassels!
All in all.. yes, I sitll love this shirt, but I love it more untucked. It's breathable and slouchy and light and crisp... Everything a seersucker popover can be. If you want a simple, casual summer shirt, this is a great option.