Some Pants I Want
Some of these will be more generic, like off-white jeans. Some will be more interesting, like the pants I want from Bode or South2West8. If you're reading for the former, don't worry, the latter won't hurt you.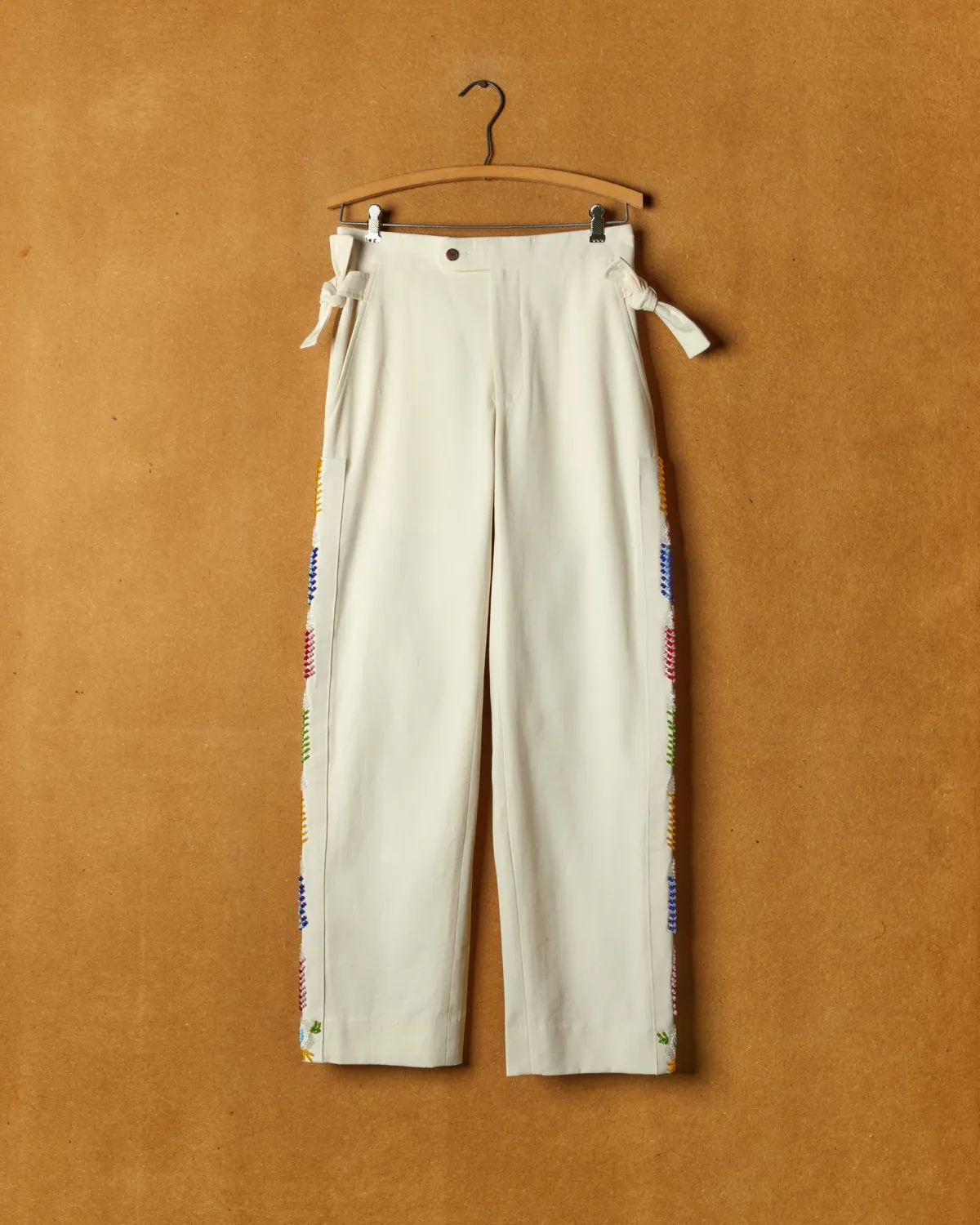 I've had a few different pairs of casual pants on mind for a while now. Some of them, like the off-white jeans, are a little more generic, but pair with my wardrobe very well, or fill a space in my closet that feels too empty. Others, like the pants I want from Bode or South2West8, are more interesting, and will help me expand my perspective, and step up my casual style in totally unique ways.
If you're reading for the former, don't worry, the latter won't hurt you. Not only are you welcome to disagree about whether a given pair is cool, I strongly encourage it. The more critically you think about the pair of pants that's right for you, the more progress you will make in developing your own style.
Update: I have since purchased off-white jeans, linen Andrew trousers from Ralph Lauren, a funky South2 West8 suit, and very wide track pants. Nothing from bode though, and it's proven surprisingly tricky to find flares that fit my leg length. I can't really hem flares without ruining the flare, so... still working on that.
But this article was helpful for me, planning my wardrobe. I'd encourage you to do something similar; write out what types of clothing you want and why. Connecting in this way might help you too.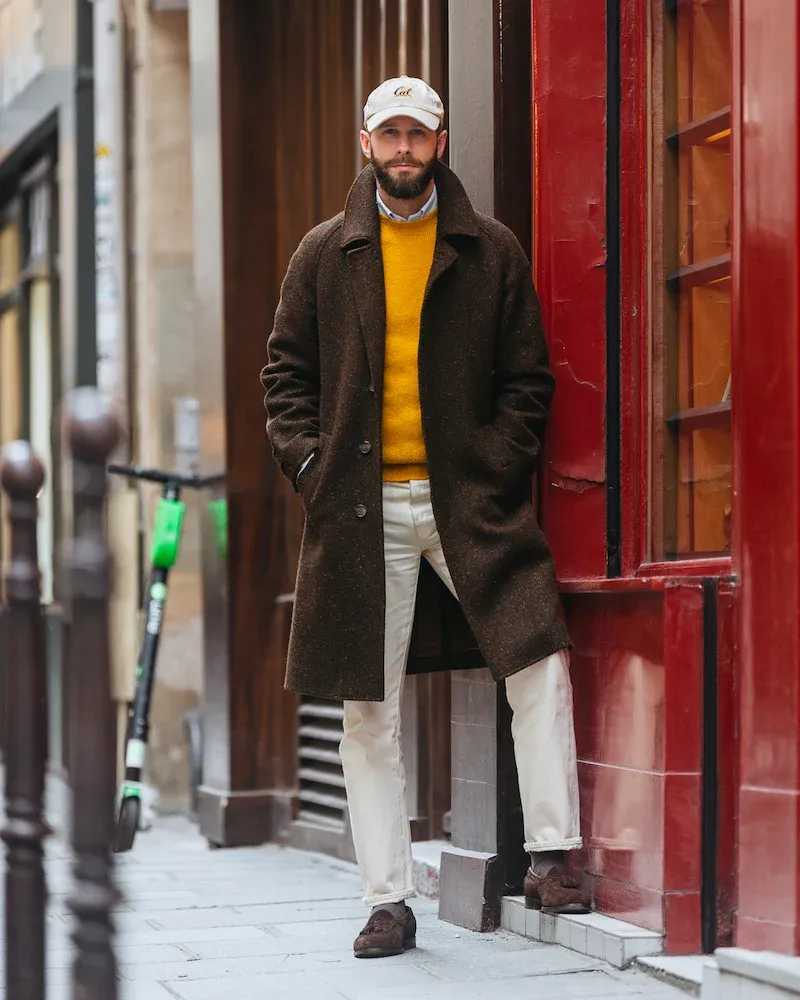 Off-white Jeans
I've been wanting off-white jeans since Simon Crompton wrote about them in Permanent Style. I see them working great with navy blazers, light blue shirts, black knits... Just about all of my basics, sure. But also with pink, orange... my burgundy chore coat, my mustard hoodie... just about any interesting color top I could find. They're one of those pieces that will enable wackier purchases in the future, while still working with the wardrobe I actually have now.
I've tried on Levi's before, but couldn't find a good fit in store at the time. If I can find a pretty good fit, there's no real need for me to get anything more expensive. But that's not to say the other options aren't appealing...
Drake's makes some cool jeans, although they're still pretty basic.. Their five-pocket layout is a little different. Instead of the stupid curved front pocket most five-pocket jeans come with, these have slant pockets, but they're slanted far enough forward that they still feel like jeans. They won't necessarily be as practical as real slant pockets (seriously, why would I want my pockets with top-down front access? My arms are on the sides of my body!), but it's an interesting detail, and I like it.
But we can get a little more interesting. This pair from Studio Nicholson scratches a very similar itch, for me, while also satisfying my urge for wider pants. I don't normally like single pleats, especially not on cotton chino... and unfortunately, I haven't actually handled these, but from everything I've seen, the fabric drapes perfectly for the cut and that single, deep pleat. There's no taper, which I love, and it's a beautiful color, too. Studio Nicholson has a few options for wide white pants, but the Sorte checks all the right boxes.
The last pair fits this category, but really warrants a new one. Bode is damn cool.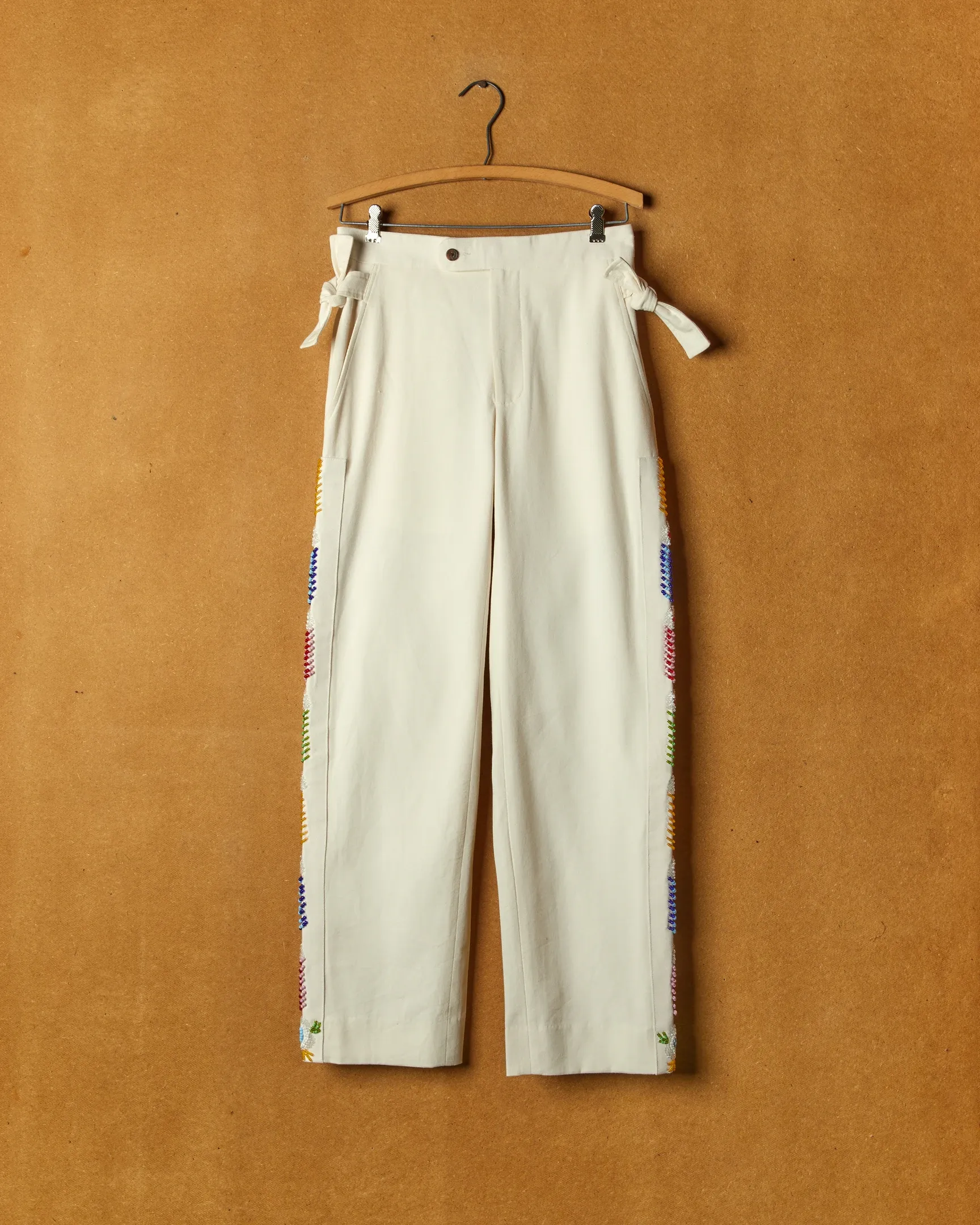 Bode Pants
For those unfamiliar with... culture, Emily Bode is kind of a big deal. This small, independent menswear designer also happens to design Gala gowns for the likes of Lorde and others. Her eponymous brand is awesome, known for fun things like custom senior cords, cool shirts, and funky jackets, often made with unique vintage textiles or old-school construction methods. I love a lot of it, but I'm going to focus on two pairs of ready to wear pants that stand out to me.
Bode's Beaded Side-Tie Trousers are probably my favorite pants here. The off-white color is great, the side-ties are wonderful, the cut's great, and... of course, the beads. A unique colorful element that really doesn't do anything to limit how I can see myself wearing the pants. Just like Simon's bespoke Levi's, I can see myself wearing these with just about any color, with pieces I have and pieces I want and more. But these are a statement piece, a conversation starter.
And not just that, they're details I love. The side ties really appeal to me -- it's good that Bode uses them on more than one pair of pants. They remind me of belted coats -- they show off a little extra fabric, allow for a more variable silhouette, and subtly nod to the same sleep/lounge style I appreciate in robes and drawstrings. The clear casualness of the side tie and beads also mean they don't need a five-pocket layout to fill the casual niche. And again, slant pockets are better.
I don't know if they're perfect for me. I don't use back pockets, so big pocket flaps always feel odd to me. And I'm not sure how, in practice, you would hem pants with beadwork like that. Oh, and they're sold out. That's a con, the perfect pants, in my mind, are actually available.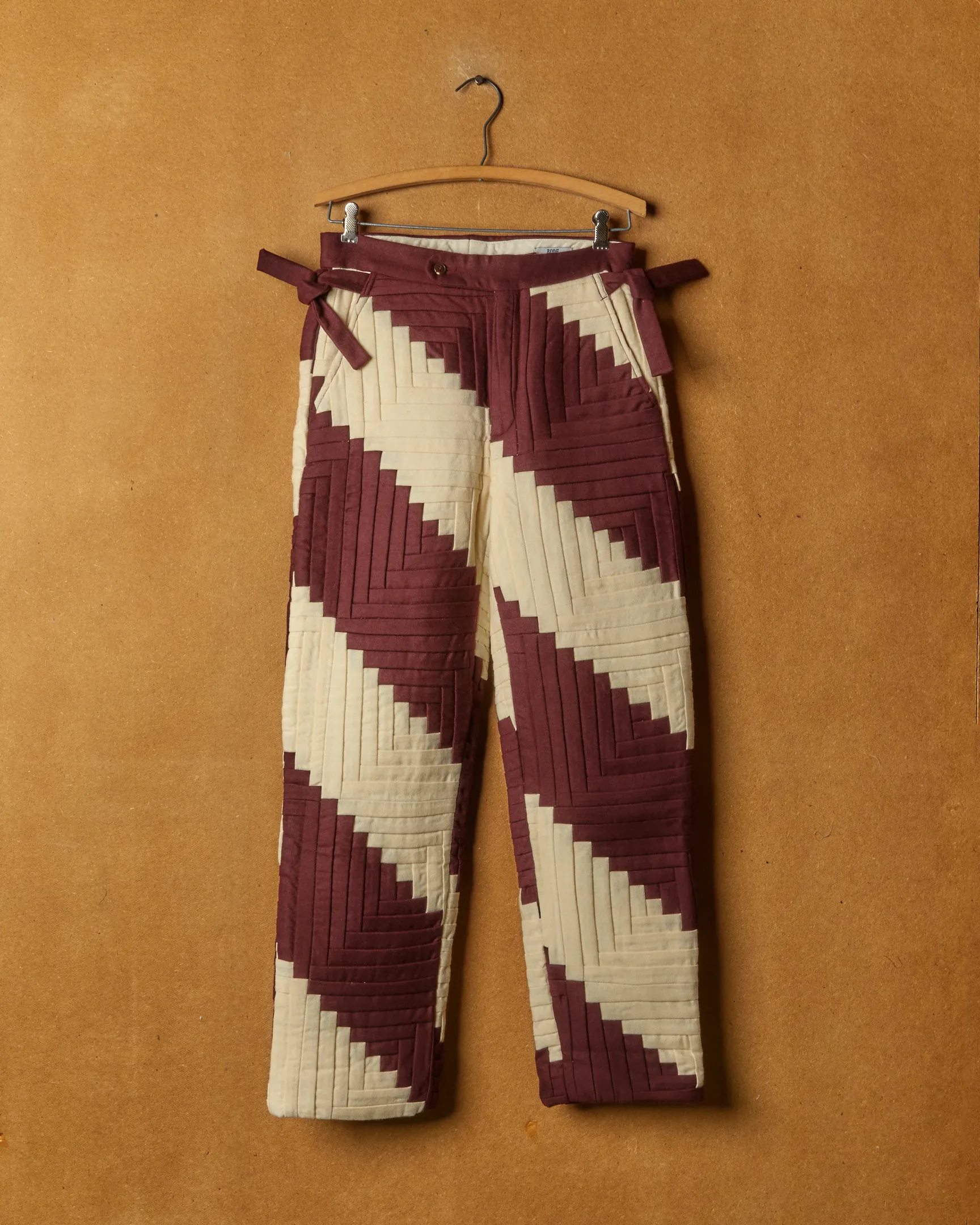 We could also talk about Bode's Log Cabin Suiting Trousers. They're made with strips (or "logs") of brugundy and cream suiting fabric "quilted" together. They still have the side ties, and an obviously unique pattern. And it's suited to this cool coat.
Speaking of the quiltedness, Bode makes a few different "quilted garments." Ethan Wong is a fan of their Blanket Stitch Quilt Trousers, and I certainly can't fault him. Sleep is cool. But I feel like I need a different color combination -- red and black feels like a trap to me.
And I wouldn't mind a highly personalized pair of senior cords. I think I'm more interested in the idea of a highly customized pair than the actual visual effect, so I won't be spending on these any time soon.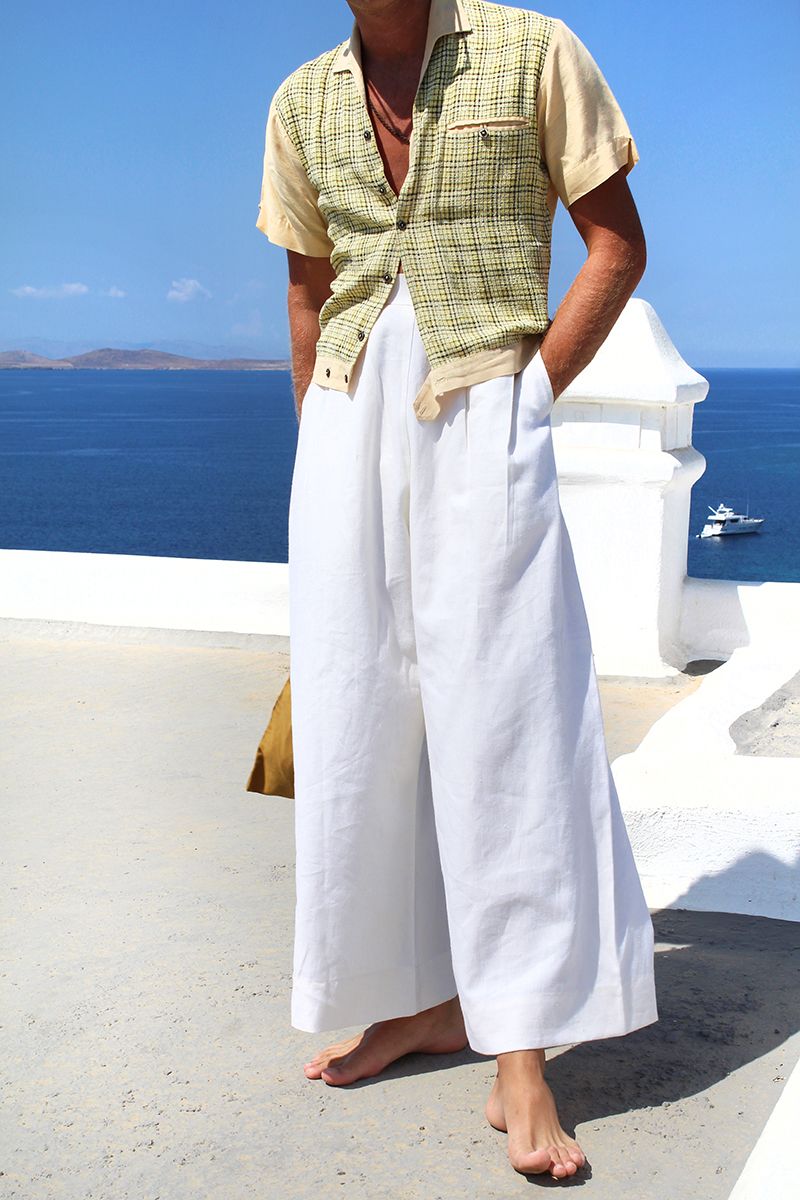 Big Linen
I love linen. If you follow me, you know I love it by now. I love the way it wrinkles, I love the way it drapes, I love the way it feels, I love the way it breathes.
But I still haven't found a pair of linen pants that really works for me. I have one pair with about 10% linen blended in, but I'm talking real linen pants. I've tried a few pairs here and there, but there's always something wrong. Maybe the seat is bad, or the flat front bores me... I've gotten light gray linen, which does nothing for me... I'm pretty particular about what I want in linen pants.
I want something distinctly casual—a visible drawstring will do. I don't see the charm of a hidden drawstring; I wear casual pants to look casual, not to pretend I'm dressed up. Some other interesting waistbands will do, as long as they're not trying to be dressy. The more relaxed they fit me, the better. And I generally either want a very dar color (navy and chocolate brown in particular) or an off-white (yes, that shit again). And I like pleats, because they can help me show off what I like in linen.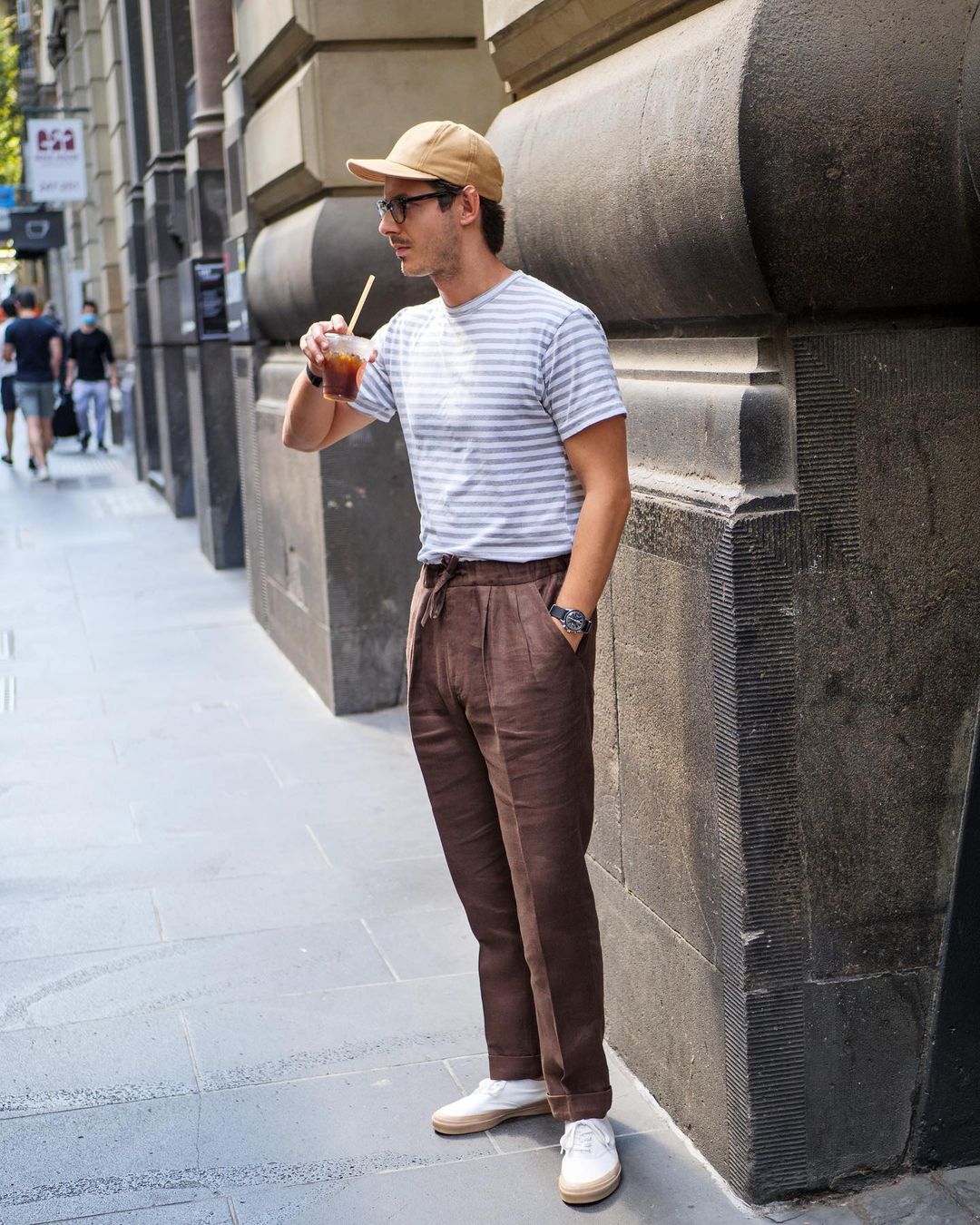 Luckily, there are quite a few brands that get it. I listed four above: Monitaly, Informale, Chadprom, Yeossal. They make pleated drawstring linen trousers. It's funny to think of #menswear brands like Chadprom and Yeossal doing something so similar to Monitaly, which I think of as a real fashion house, but it's reassuring -- they come from different perspectives, and they all seem to see what I see. Still, some of these options are a little more tapered than I would like.
But you know what really gets me going? The Scott Fraser Collection Gaucho Trousers. That extreme cut is just awesome. Flare out the whole way from the waist (with a high rise) to the hem. Breathe like crazy. Flow like water. I want to make a dozen different outfit silhouettes around this cut. I wante to wear these on a boat, on the mediterranian. I want to wear them with espadrilles, or without shoes. I want to wear them while napping in the sun, or wandering through some new city I've never been in before. I want to play with them. Buuut I want to try them on first...
Something Else Funky
I've wanted some other pair of interesting, casual pants for a long time. I wasn't sure what. I was looking for something with a cool print, a machine washable and comfortable fabric... Maybe a visible drawstring. But I never found exactly what I had in my mind... at least not within my budget. I think the Pantamolle knew what was happening in my head, but I'm not sure that's still what I want, now that I see it.
The idea of funky pants came back to me as I was browsing through Nepenthes New York. I liked the India Dobby suit you see above, and... I mean, damn, it was comfortbale, casual, cool... it fit nicely on me... I was close to spending on it, but ther were two major issues: one, I couldn't see what I might pair with it (shoes, particularly: I couldn't think of a pair in my closet that I thought would look right); and two, the pocket layout was... completely useless. The pants have two loose vertical patch pockets in front, loose enough that your cell phone would hang out and inevitably fall as you moved, and chest pockets are just not where I want to put my things. I could have layered my suit with a jacket, or kept things in a tote bag... But ultimately, I just talked myself out of it. And now it's gone. I'll be sure to go back to Nepenthes and keep looking, but I haven't seen anything that looks quite as right as this. Needles has some cool options I might try. Crazy wide options, polyester options.
Needles is also known for its track pants. And I've been wanting some track pants. I used to wear track pants a lot in high school and college, and I got made fun of for it. Now that they're fucking cool, I want to... reappropriate the style, look cool doing what made me a nerd before.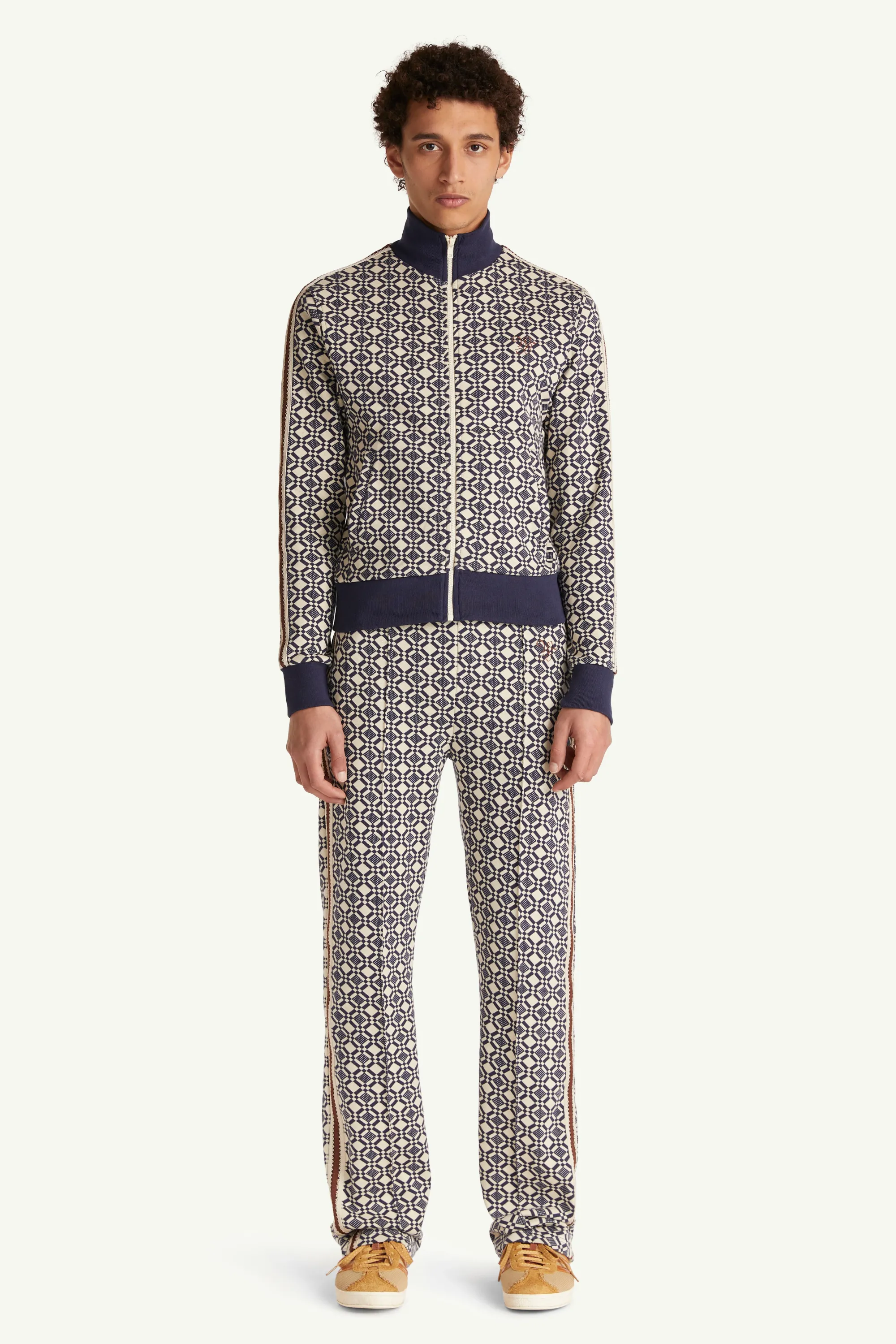 Needles (and South2West8) track pants come in cool colors and cuts, but they don't do the job for me. Their pockets are zippered, which pretty much ruins the comfort aspect. I don't want my hands in zippered pockets, I don't want to slide my phone through zippered pockets, I just want pure softness.
I've seen better pockets on Adidas track pants, but their colors and cuts aren't interesting to me; Casablanca track pants, which are generally a little too intense for me; and Wales Bonner track pants, which also have a cool 70s vibe to them. But their sizing is tricky, and I haven't found my size in store yet. And—I'm sure you've noticed the pattern by now— they're very expensive.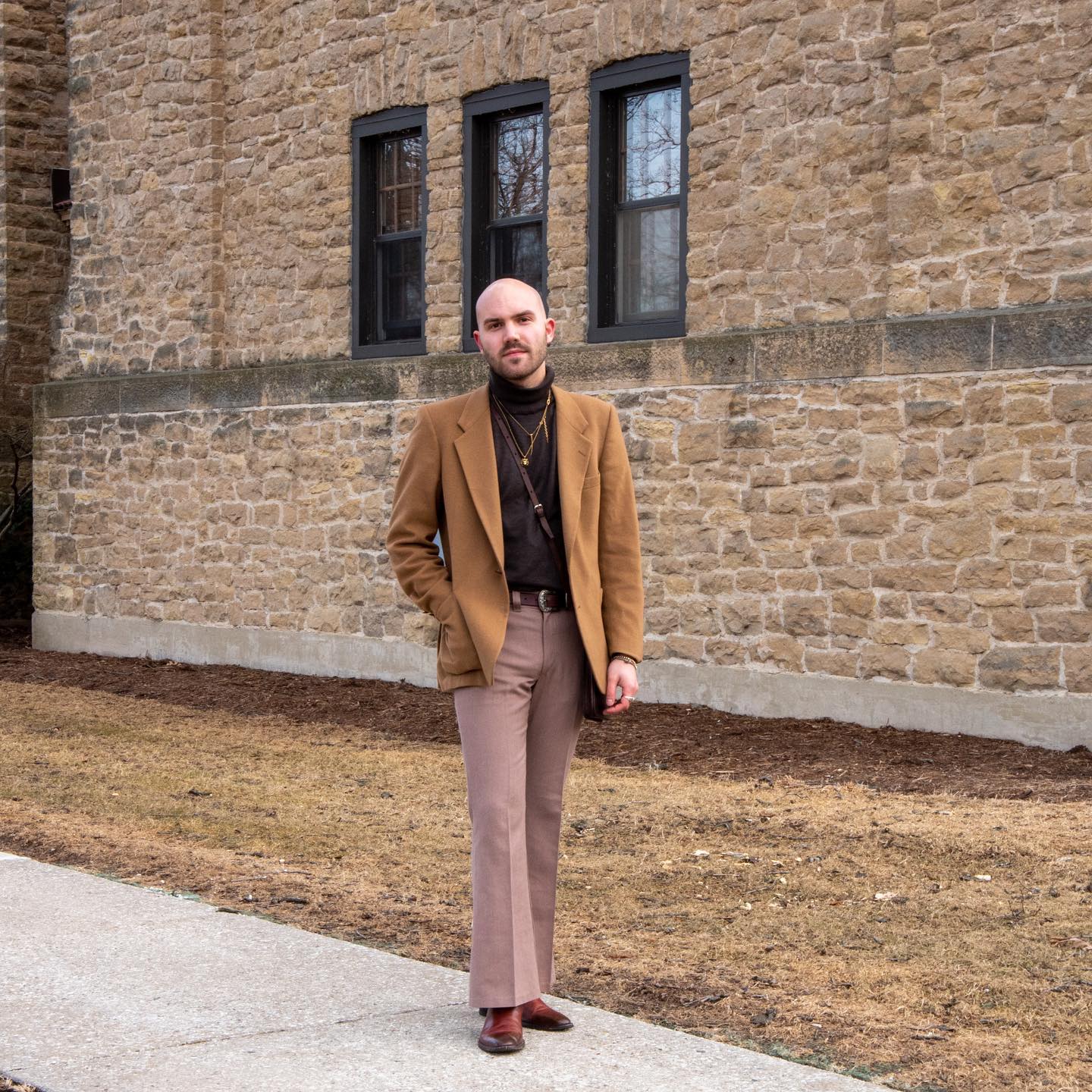 The right pair of flared pants
I don't know, maybe vintage Levi's Sta Prests? Or some kind of flared cords? Or maybe track pants?
This is a tough category. It's the youngest desire on my list. It came up slowly as I started to try more relaxed fits, and my Oxxford flannel trousers, which do taper slightly the whole way through, but look a little flared depending on how they're draping. I want to explore 70s vibes, and I still want to do it in a subtle way. No ugly-patterned, ugly-colored leisure suits, and no bell bottoms, but a tasteful flare. I think I can make that work.
But it's still pretty hypothetical. Maybe I'm looking for Sta Prests, or maybe I'm looking for track pants. Most brands aren't doing anything flared but denim, so it's hard for me to find good options to try on. Maybe I'll go thrifting and find a pair to play with. Maybe I'll get bored of this idea soon. But as of now, I'd like a good pair of flared pants, just to play with.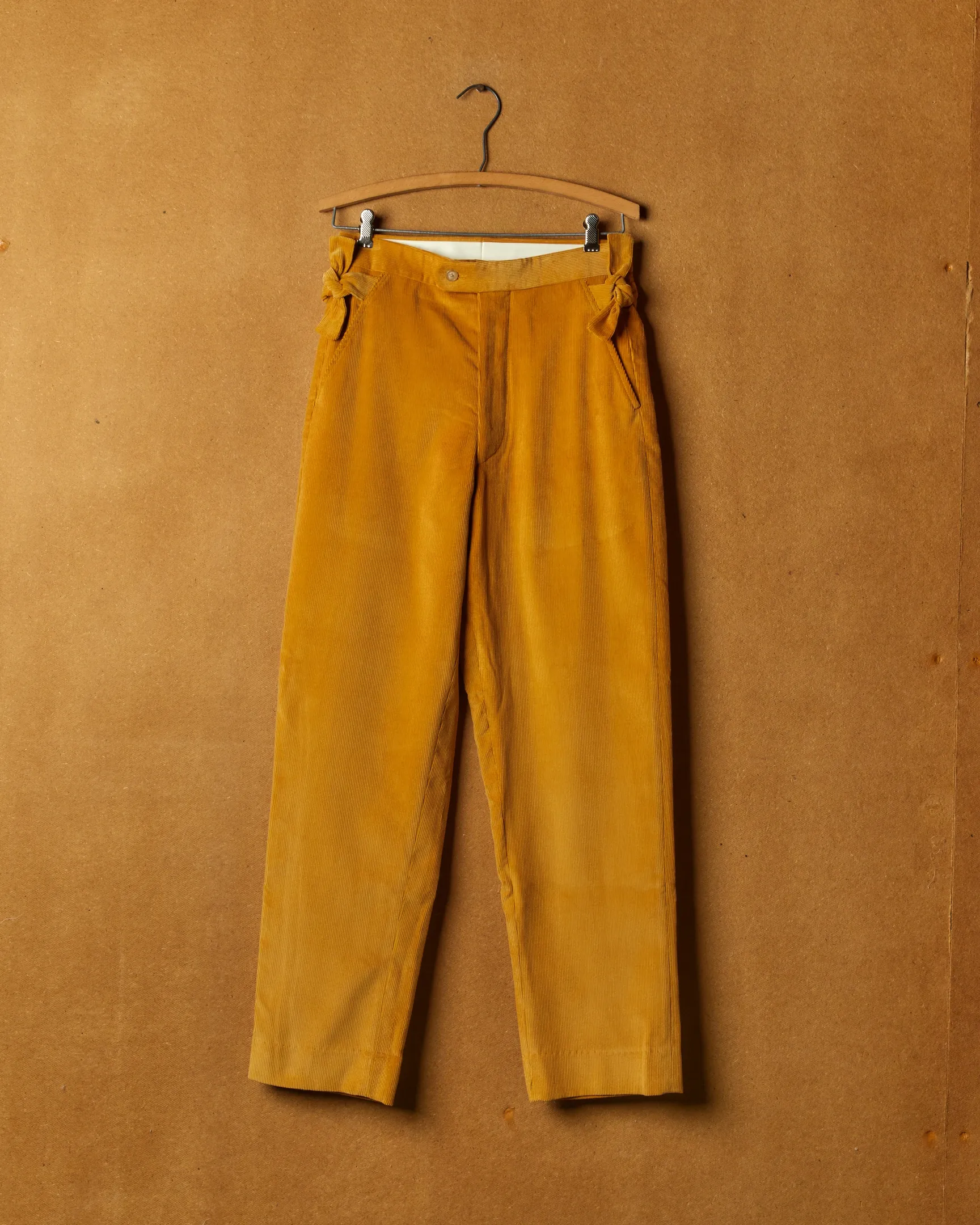 The Plan
The plan right now is to go try on a bunch of what I described above. I have a lot of specific ideas, but the next move is fairly open ended. I can safely impulse buy vintage flares and off-white Levis if I like the fit, they're cheap enough. But I'll have to be picky with everything else. I could end up visiting Bode and buying something really expensive, but that's not necessarily a better idea than two less expensive (but still pretty expensive) pairs from, say, Scott Fraser Collection and Needles. Or a full funky suit from Needles or Wales Bonner, or a relaxed safari suit from Yeossal or Craftsman Clothing (alt link). I have a lot of options to explore.
This article has helped me gauge which of those options I want to focus on and try next. It's also helped me decide what I'm looking for in pants, in case I find something different—I'm better prepared to either avoid a bad impulse buy, or recognize a deal when I see it. I hope I helped give you similar perspective in what you like about clothes.
Knowing myself, I'll continue to move slowly and carefully, and possibly even pass up good options while I look for the one. But I'll find it. And I'll slowly loosen the purse strings too. I'm going to have fun exploring... But I'm not going to go ham, and I'm not going to get ahead of myself. I can be patient.