How to Wear that Tie You Just Got for the Holidays
Is the tie truly dead? What if you want to wear one?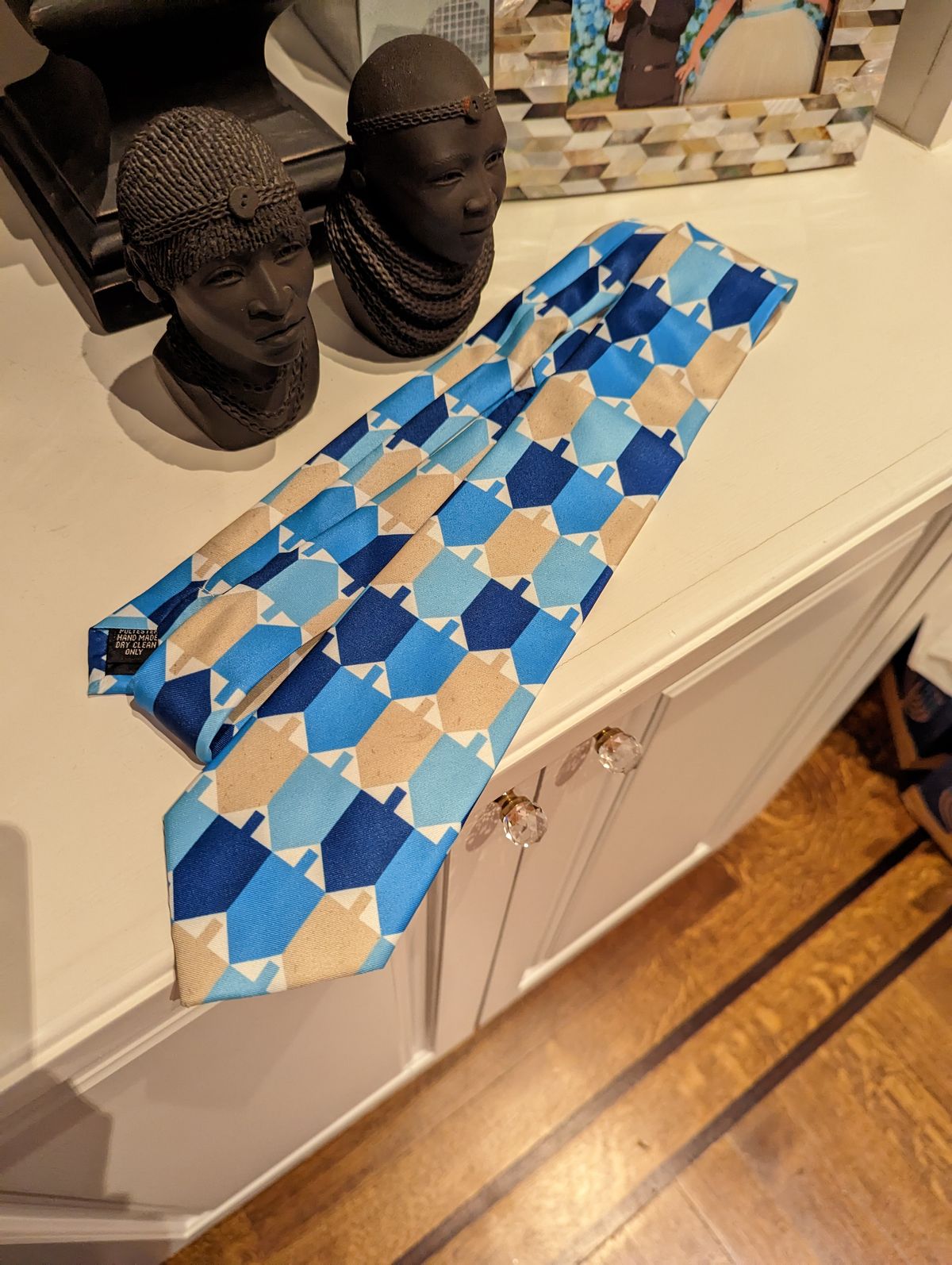 My family did a gift exchange this Chanukah. When we got to my cousin's turn, he opened up his gift to find... a novelty dreidel tie. "What the hell is this?" he asked, as the family started laughing. He was smiling too. "Who wears a tie? I haven't worn a tie in four years." He kept looking through the bag to see if there was something else. As his frustration and our laughter grew, his sister brought out the real gift, a chromecast. He gave the tie to his daughter, who stained it immediately.
Is the tie truly dead? What if you have one you think is special? What if you just want to wear one?
Now, I wouldn't recommend you wear a novelty dreidel tie made of polyester, especially not if you... just don't want to. But if you got a tie you want to try wearing, or you just want to try wearing ties more in general, I've got some tips.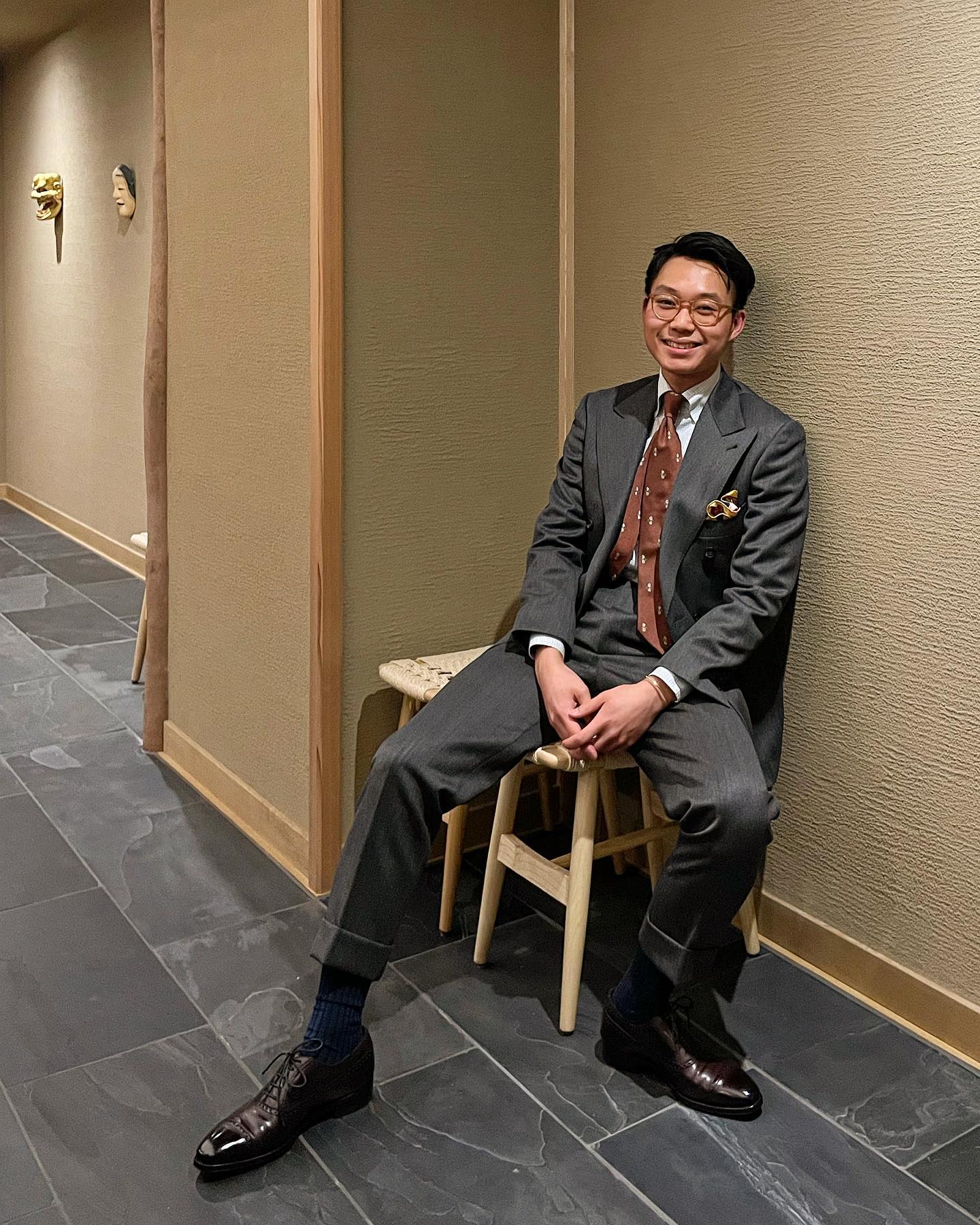 Step one: Want to Wear a Tie.
There's no way to force it or fake it. If you don't want to wear a tie, you're always going to look uncomfortable in one. Now, maybe you only want to wear it because you're going to a fancy event or an interview and you think it might help you look more professional or appropriate. Or maybe your style is totally irreverent, and, if you do want to wear it, you want to do something a little different. Maybe you just want to try it out and learn. Maybe you just want to show off for your grandma. But wanting to wear one, and knowing why you want to wear one, are non-negotiable.
Try to think about the tie, and what you like about it. Is it a beautiful pattern in ancient madder silk? Is it a crunchy silk knit? Or do you just love the kitschy pattern? Life is too short to wear accessories that don't excite you.
Think about where you want to wear the outfit. To an interview? To work? Just to play around hanging out with friends?
If anybody asks you why you're wearing the tie, you have the answer right here. Because you want to.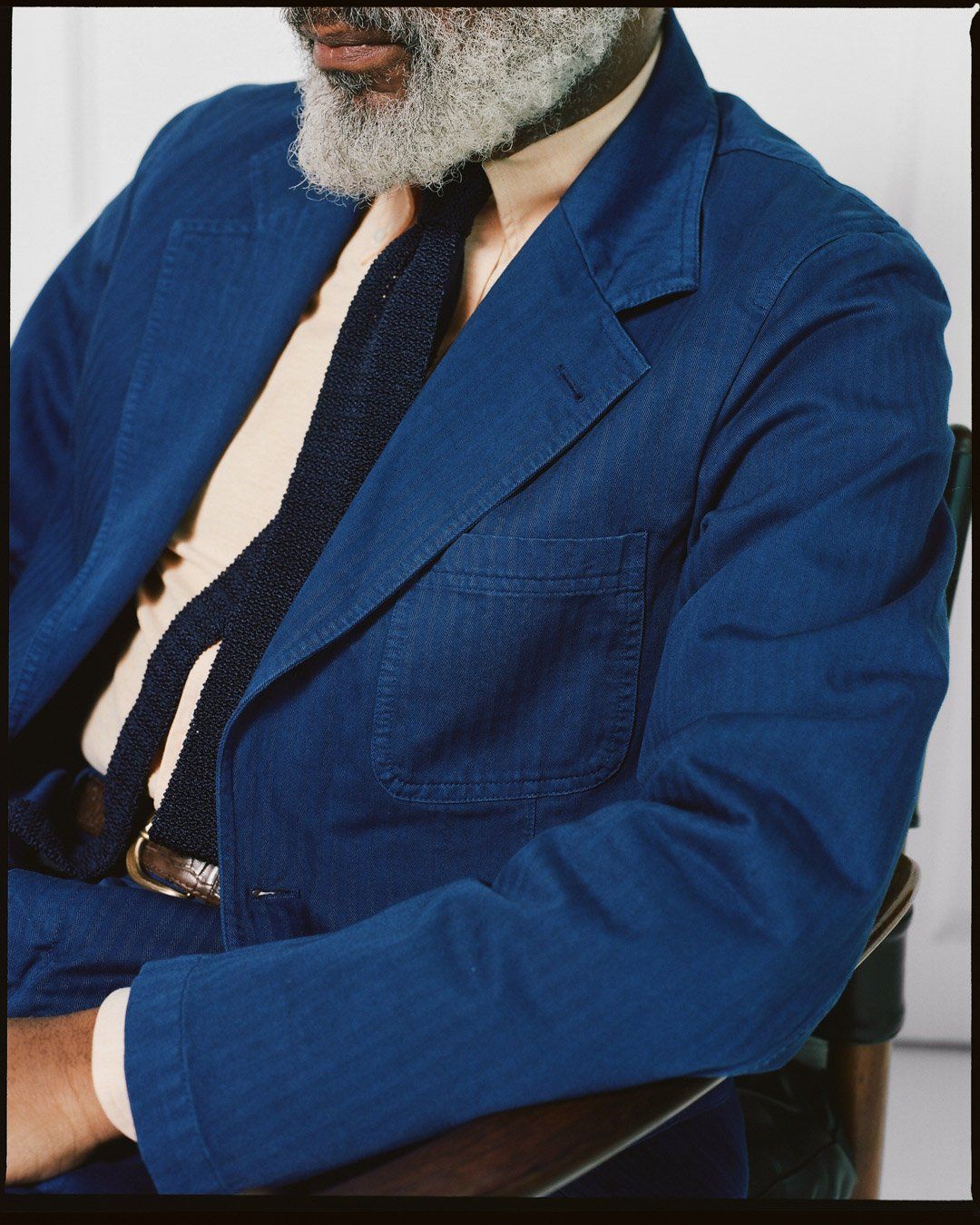 Decide Your Approach
Do you want to dress up? Put together a proper suit-and-tie outfit? Do you have a good suit, a good dress shirt, and a good tie? You might think this is an easy option, but the devil is in the details.
Do you want to go a little more casual, and find a way to wear it in a casual tailoring context—with a blazer, a sweater, or something else? If so, you now need to think about combining interesting textures and layering in a cool way.
Do you want to go for a more irreverent style? Wear the tie loosely, or... Well, I've got some inspiration here, but you'll need some vision to make this look great.
By the way, I always recommend a four-in-hand knot. A half windsor is wide and sort of stuffy. "Fancy" tie knots like the trinity not are kinda dumb gimmicks. The four-in-hand knot is favored by James Bond for a reason. It's the most carefree, nonchalant tie knot, while still doing every classic thing a tie should do. Try to get a good dimple in there, too.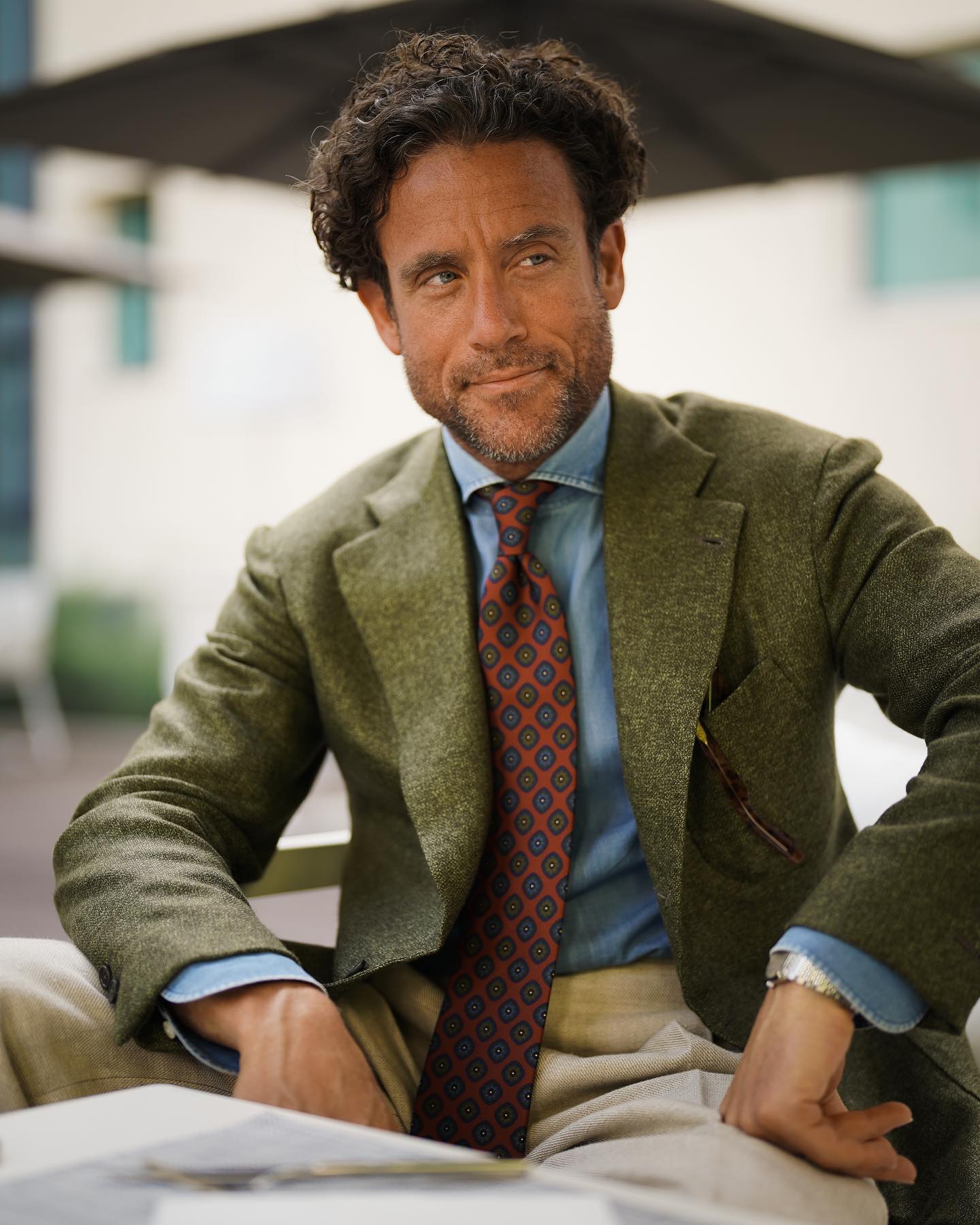 Dress Up
If you want to dress your tie up, and you have all the pieces, and the pieces are all good on their own, your main challenge is to put together a good combination of colors, patterns, and textures—in that order. And the only sure-fire way to find a good combination of colors is to try it on. But I can tell you where to start trying.
Color combinations are a major reason why gray suits and white shirts are popular. Almost any bright, colorful, exciting tie will work with a white shirt and gray suit. But life is more fun in color.
Stripe shirts are just... an easy avenue forward for these purposes. Ethan M. Wong called striped shirts and patterned ties a shortcut to 1930s and 40s vintage classic menswear. This works particularly well with large medallions and other complex patterns. I have a blue bengal stripe shirt myself, and I'm not sure it's ever failed me in combnation with any tie. Blue stripes are obvious, but red stripes are also quite versatile, and most other stripes work better than their solid counterparts.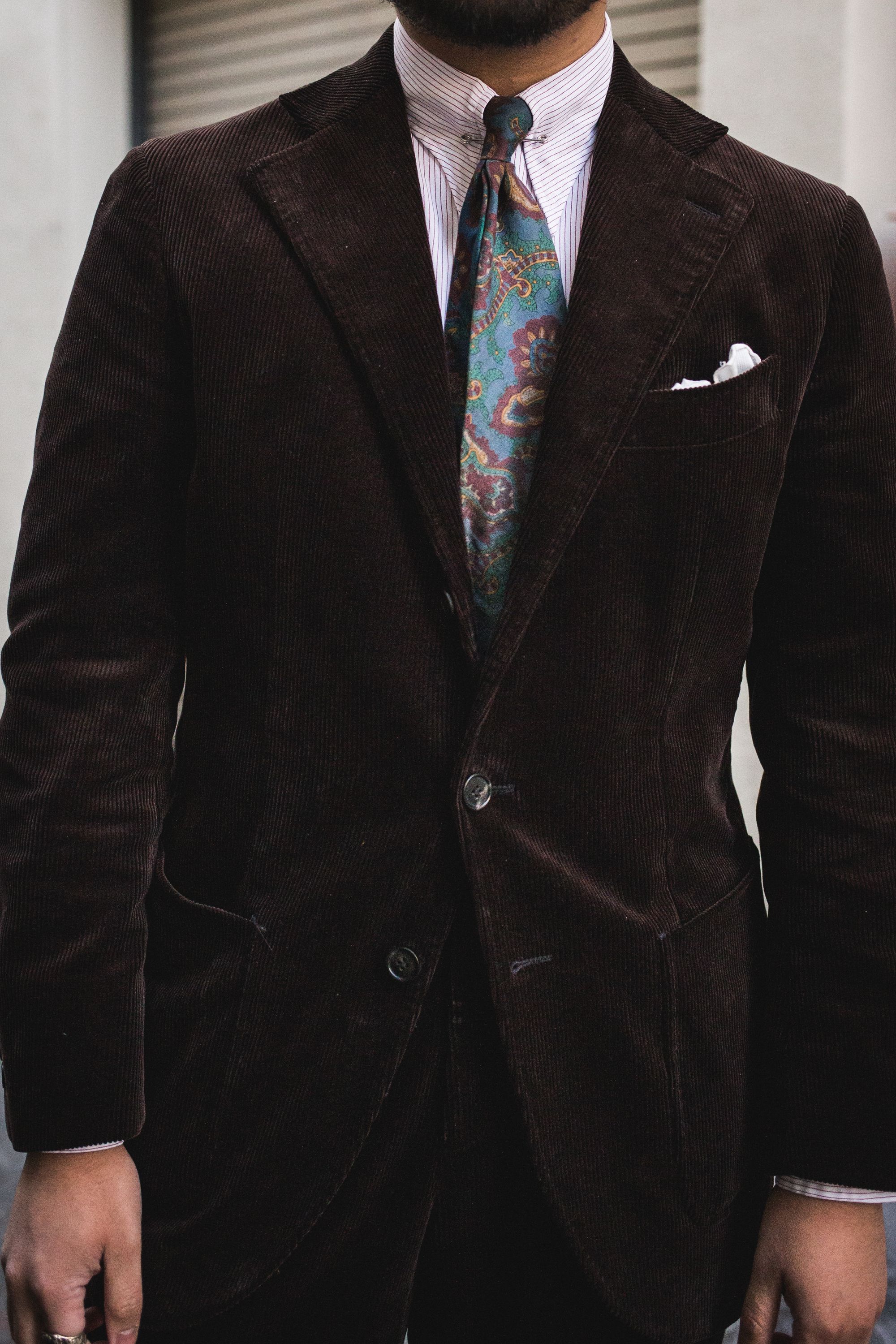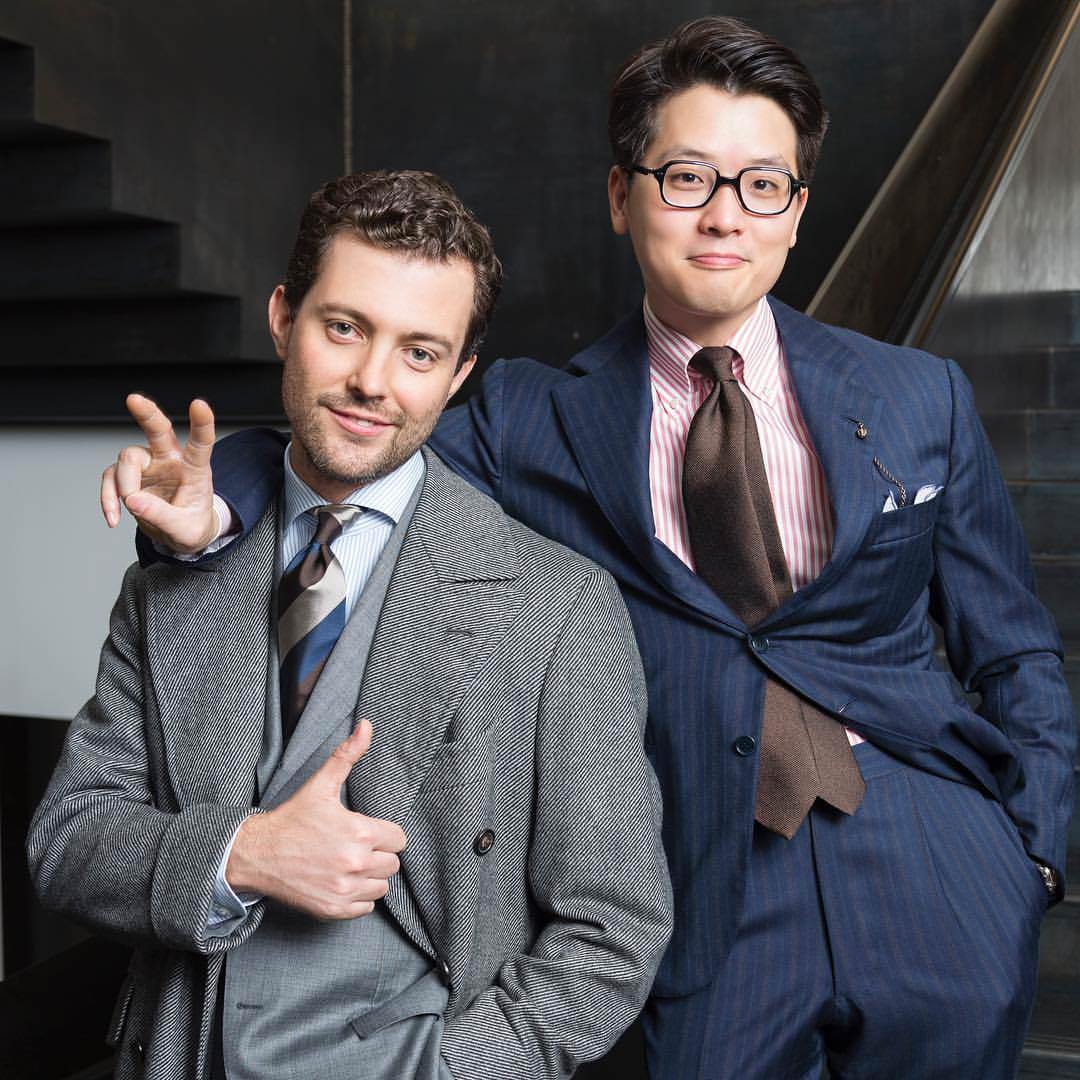 Pastel shirts are also pretty easy to pair. Light, pale shades of blue, pink, and purple are classic colors for dress shirts. Subtly textured weaves, like pinpoint oxford, chambray, or end-on-end can add a little something to the mix, but smooth broadcloth is a classic for a reason. Checked shirts can be good too, but might be harder to wear with a tie, or might take you more into the casual tailoring space.
The jacket is the easiest thing to pop on and off while you're playing with colors, so sure, start with your gray and navy, but try on everything. A navy blazer with gray trousers is easy, but a brown tweed jacket with a burgundy overcheck and green flannel trousers might be the combination that really makes you happy.
Inspiration: Peter Zottolo (@urbancomposition), Mark Cho, Stephon Carson, Buzz Tang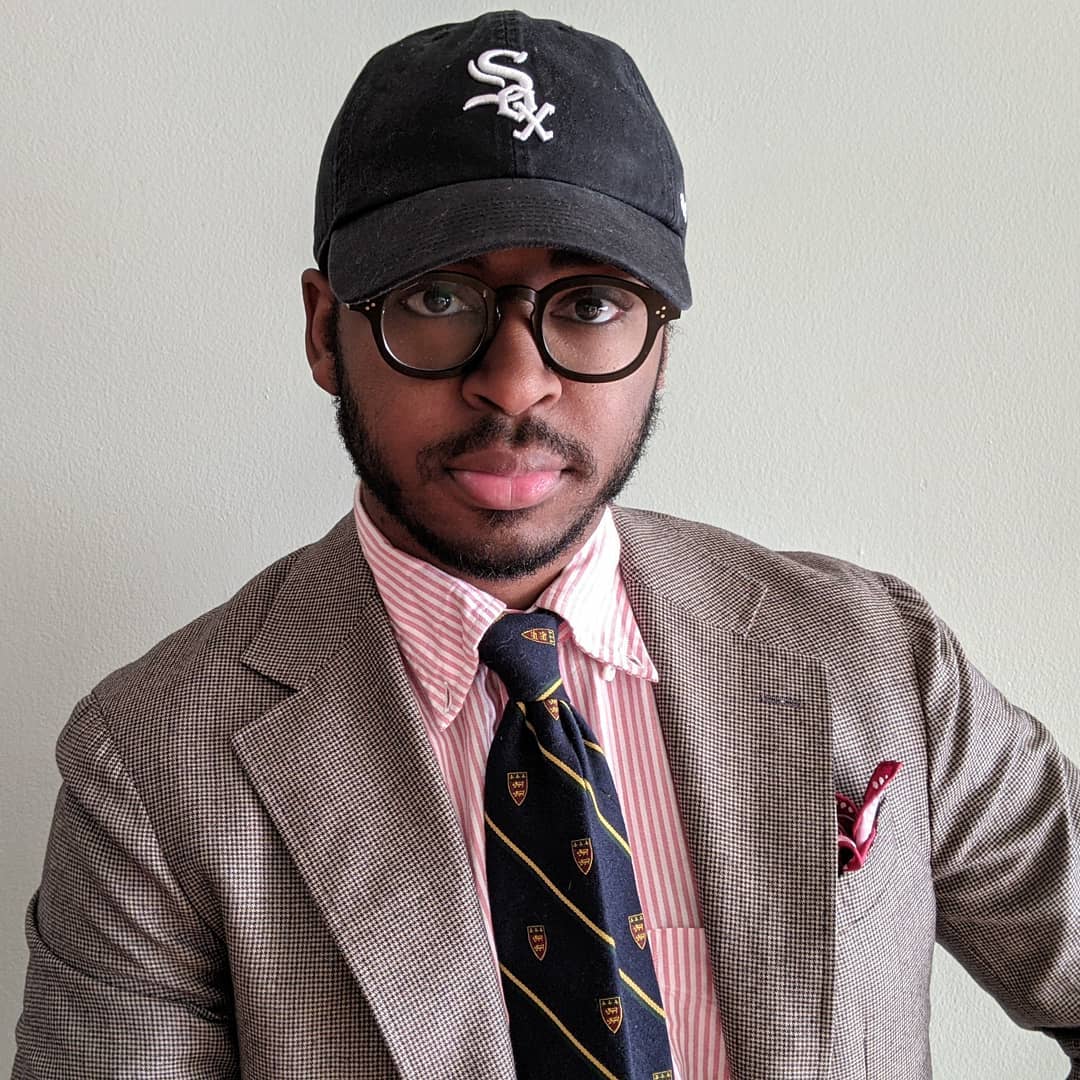 Casual Tailoring
Here, you can and should get a little more creative, and show off a little more personality. You can play with ivy or preppy style vibes, workwear, British country wear, Sprezzatura... You can integrate sportswear, westernwear, designer fashion... You can wear a blazer with shorts, a suit with sneakers. You're wearing a tie, so balancing the outfit towards the casual end takes something special. But above all...
The key word here is layering. A lot of guys try to dress down a suit, a dress shirt, and a tie by... just taking off the jacket. This doesn't work. I think you should almost never step out of the house with a tie at the top layer of your outfit.
Your safest bet is a casual sport coat. An interesting fabric—linen, tweed, a silk blend—a complex checked pattern, a relaxed silhouette, even something funky like a rowing blazer. You could also layer a sweater between the tie and the jacket,
You can go a little more casual with just a sweater. A shawl collar cardigan is a common blazer replacement, and cricket sweaters are on trend. A sweatshirt might be cool, insofar as it brings a sportswear angle to your shirt-and-tie. And if you really want to get weird with it, layer a rugby or knit polo ofer your shirt. The collar-on-collar thing isn't for me, but I've seen guys make it work suspiciously well.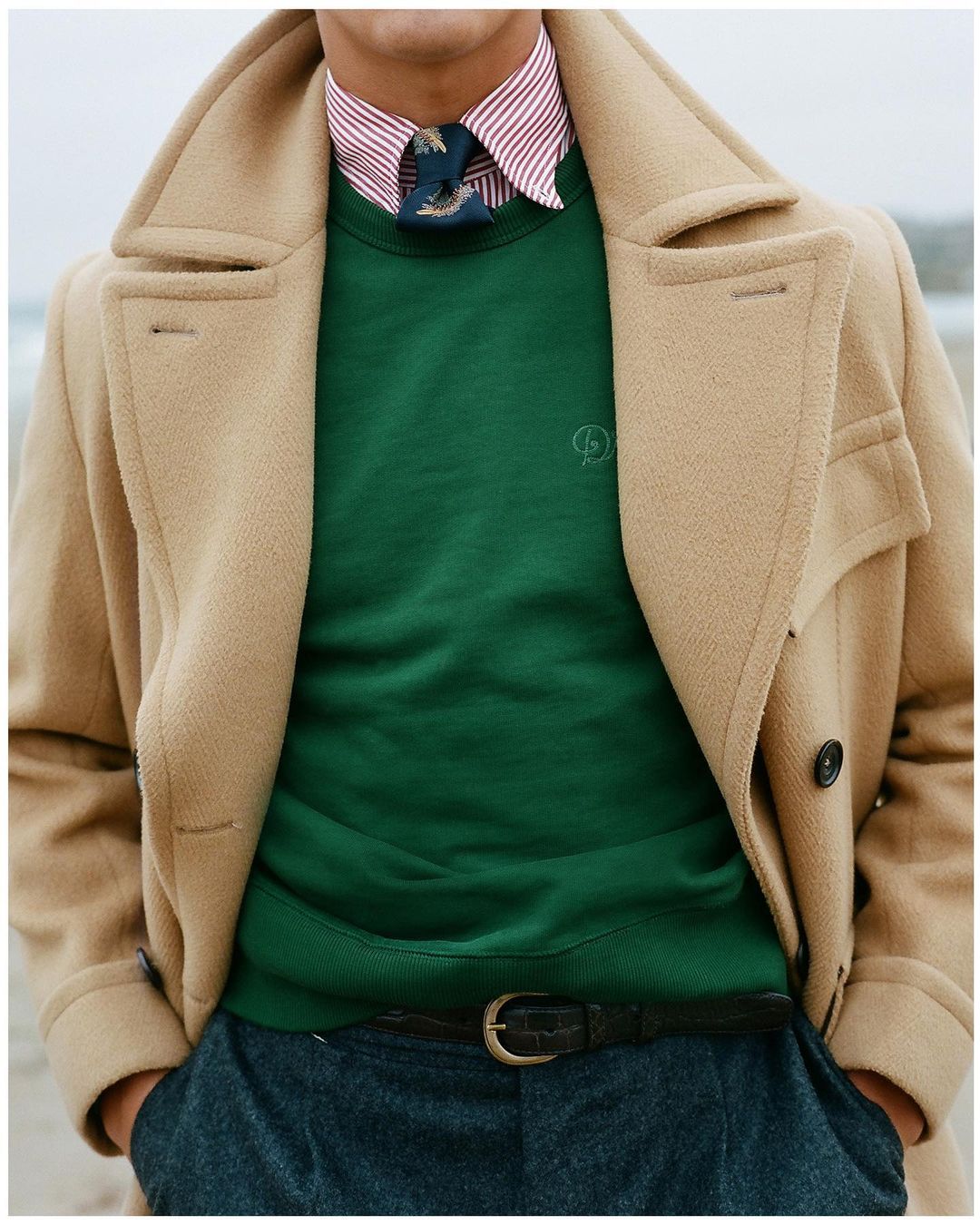 Some outerwear might fill the role of a blazer in an interesting way. A safari jacket, teba jacket, or peacoat might be a good option, still within the space of jackets liked by people in tailoring.
For pants: A nice, worn pair of chinos is the easy option, and the ivy option (at home with a striped tie). Colorful cords are interesting and soft. Denim always helps to dress a look down, towards the workwear end of the spectrum.
And you can mix in other accessories. Think a cap for sportswear and ivy perspectives, cowboy boots and denim for Western perspectives, or pearls over the tie for a bit of a femme slant.
Or wear it a little differently. Tie it a little shorter or longer than the rules suggest. A little looser. Or let the back blade loose. If you're wearing a button down collar, leave one button undone. Or maybe a cuff button. Play around until you find something that looks less generic, more like you.
Inspiration: Drake's lookbooks, Ethan M. Wong, Black Ivy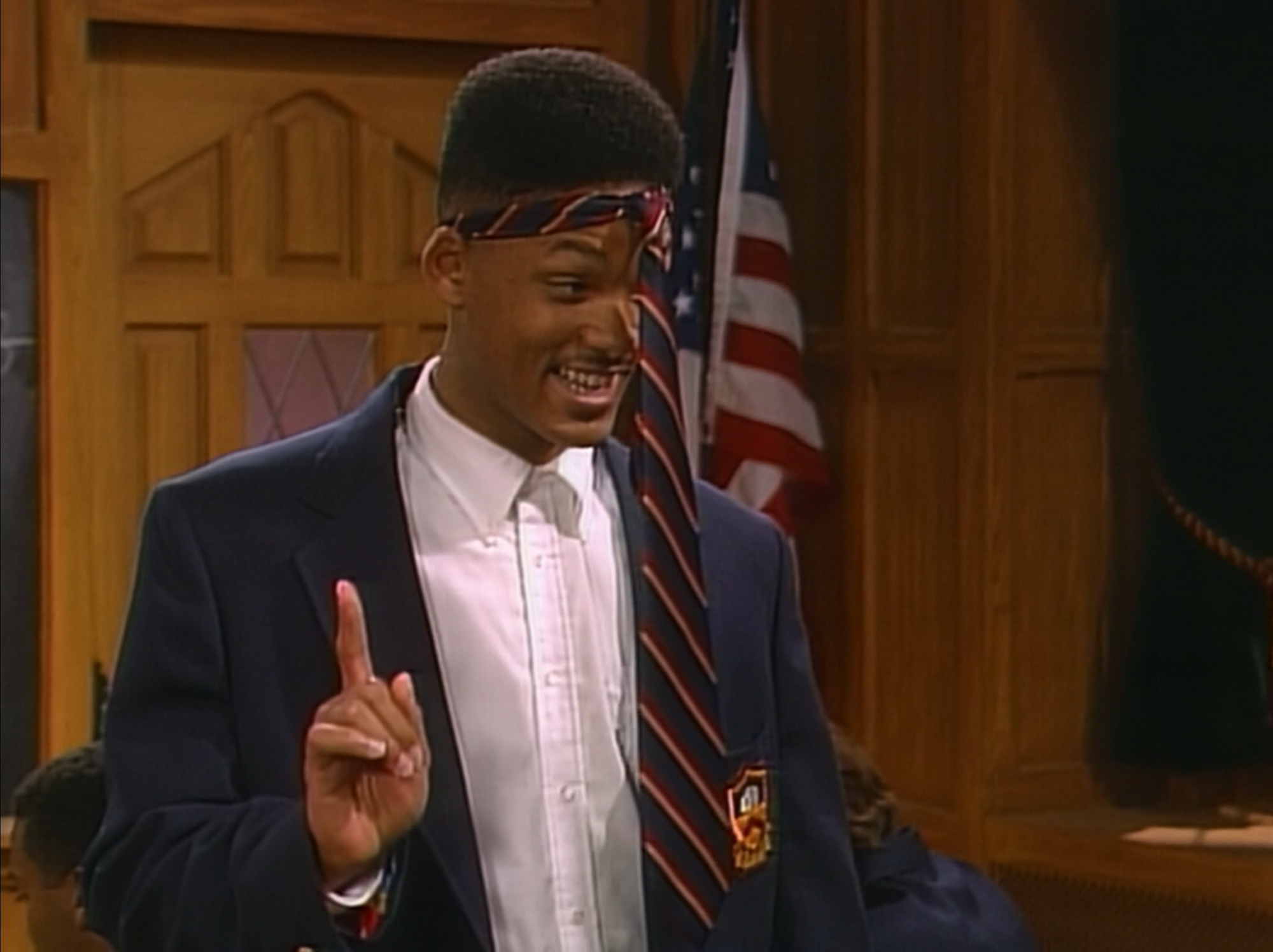 Unique and Irreverent Takes
Okay, so say you never want to go near a blazer. Say you want to wear it—it's pretty and pleasant—you just can't bring yourself to wear it your neck. Moreover, say you think ties are ridiculous, and you want to wear them in a way that pokes fun at them, or at dressing up, or at getting dressed in general. Or maybe your tie is just a dumb novelty tie and you want to use it in an equally silly outfit. Well, far be it from me to tell you how to do something unique... But I can certainly give you some inspiration.
Inspiration: Mordechai Shlomo Rubinstein (@mistermort), Dries Van Noten.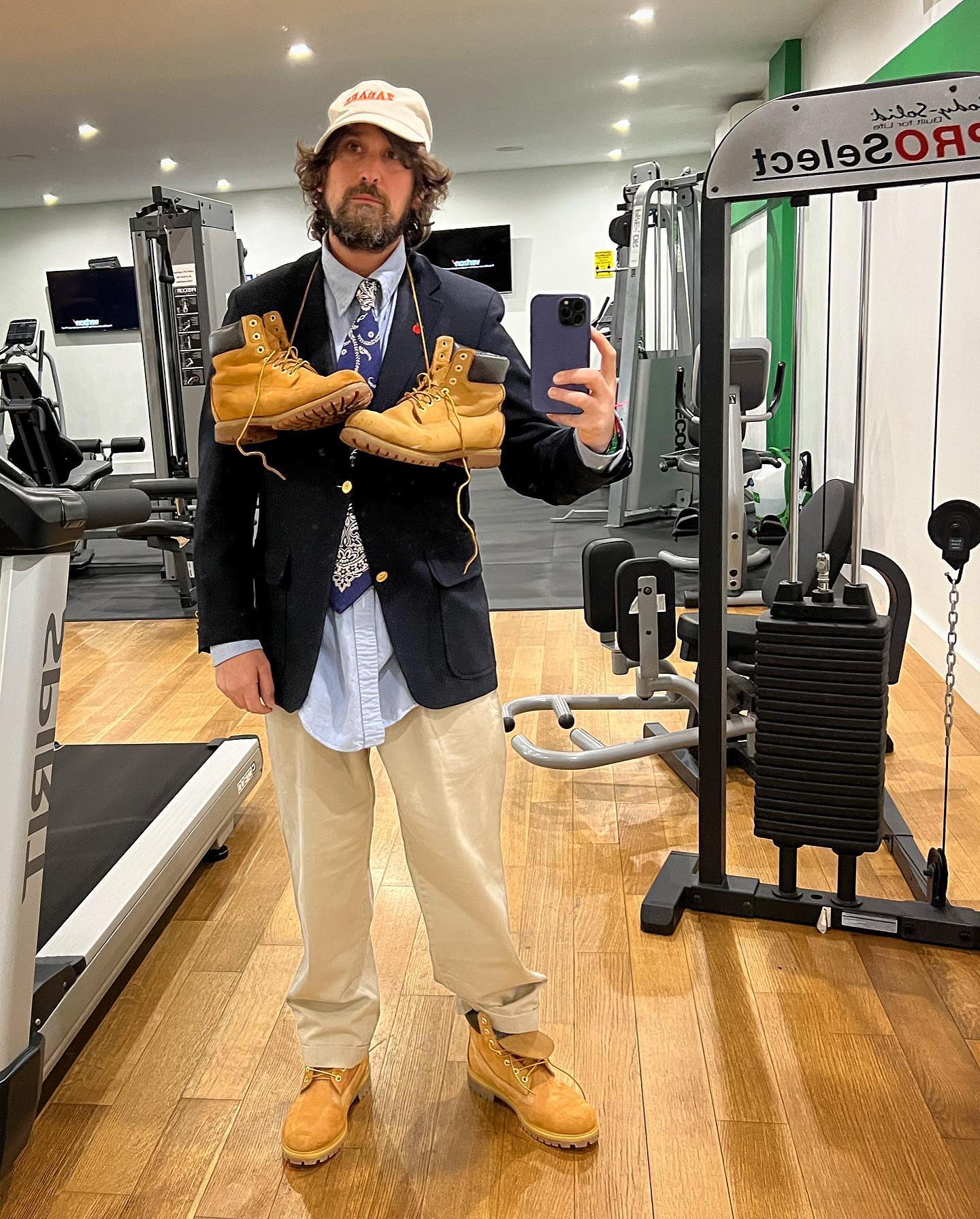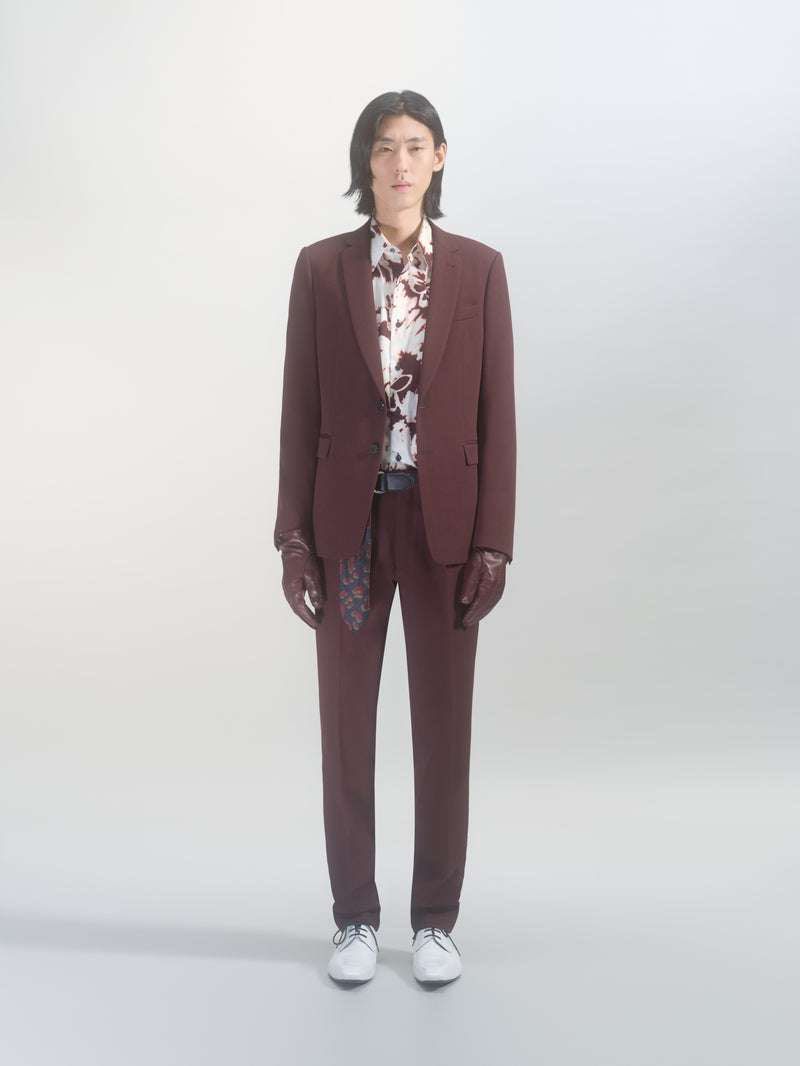 See Also
Brand Recommendations
Alright, I know the premise here is that you're wearing a gift you got, but some people here are going to want recommendations, so here they are.