A Rant about Cheap Poplin
This is a rant about thoughtless design. Wear whatever fabric you like, but if you're designing, Poplin is usually just the wrong fabric for any casual shirt.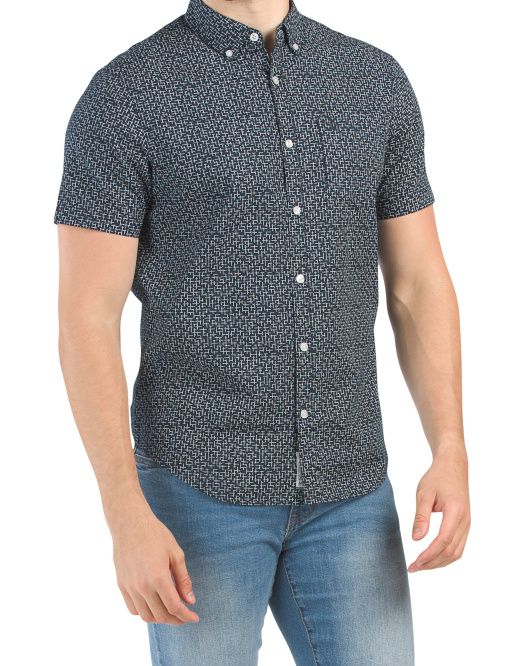 I want you to imagine you're in a low-end store—a TJ Maxx, a Ross, maybe even a J. Crew—looking through shirts. You touch a few, try to get an idea of what you're looking at, and feel one disappointing papery mess after another. You see one that looks slightly different—a micro floral!—and although it doesn't actually look good, it catches your attention through a sea of mediocrity. It feels even worse than the others, and the short spread collar is clearly going to curl up and look awful by the first wash at the latest.
This is a rant about thoughtless design.
There's no shortage of guides out there telling you what to wear. But the challenge of menswear is often knowing what not to wear. From beginners who think they want to wear fedoras and suspenders to experienced menswear enthusiasts who won't wear jackets with poor button-pocket harmony, filtering out all the noise you see that looks good on other people—yes, instagram ads can be pretty—and focusing on what is actually right for you and your style can be difficult.
At many stages in this process, you might be tempted to buy a casual shirt made of cheap poplin. From the dregs of TJ Maxx to some brands that are otherwise respectable, I urge you to avoid cheap poplin like you avoid black dress shirts.
"Poplin" and "Broadcloth"
As you might already know, poplin and broadcloth are technically the same weave. However, while the word "broadcloth" tends to be used to describe a densely-woven material, giving rise to a crisp dress shirt with a stiff collar, "poplin" tends to imply something very light. This lightness can, at an extreme, make poplin cheap and wrinkly. Quality poplin can still be a good thing, retaining some softness or wrinkling a little better. And who doesn't like a breathable shirt? But cheap poplin is the worst of all worlds.
When I refer to cheap poplin, I am referring to the thin, light, papery, wrinkle-prone fabric used for casual shirts. In fact, there may be a few other similar weaves that suffer similar symptoms. Although its lightness is a benefit, and although good poplin might be used well, the fabric is a trap for many brands and many buyers.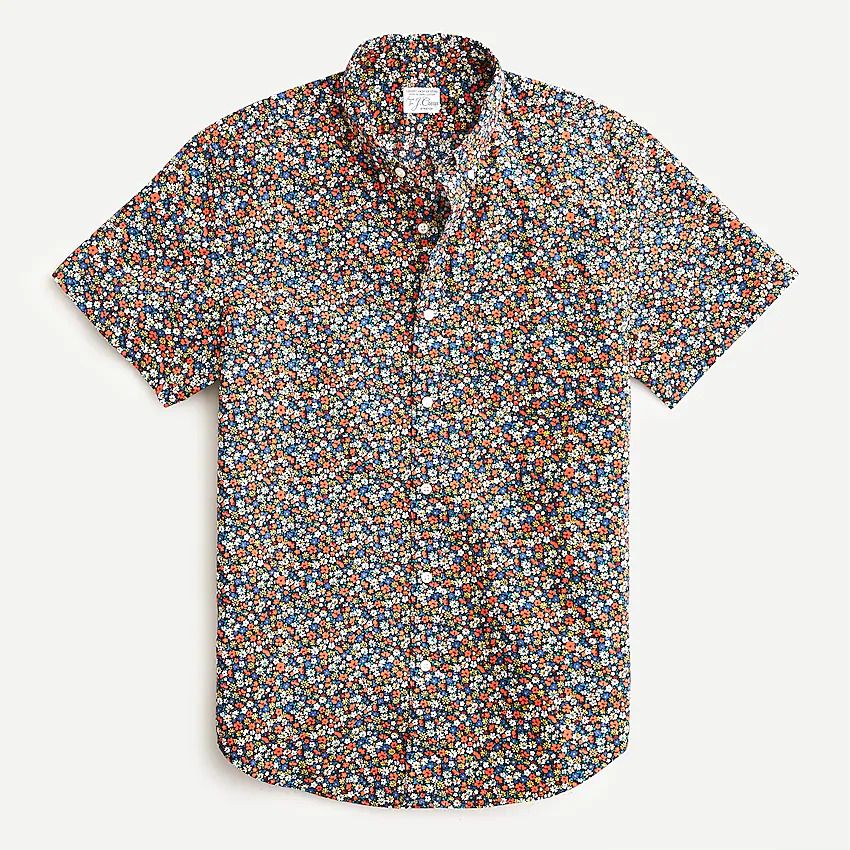 The Prevalence of the Poplin Problem
You see, because broadcloth is an excellent fabric for dress shirts, and because cotton is cheap, many brands just think of cheap poplin as the default. You use a small amount of a thin material to make the same fabric most shirts are made of, what could go wrong?
Well, a lot. Dedicated casual fabrics—oxford cloth, linen, flannel, rayon, tend to be softer, or flow better, or both. Flannel and rayon don't require ironing, and linen and oxford look better when wrinkled. Linen and Seersucker share the same breeziness. Seersucker and oxford retain the same crispness without wrinkling as poorly. And of course, there's an infinite spectrum of blends of cotton, linen, rayon, and silk. But a cheap, wrinkled poplin shirt with a weak collar will show its cheapness.
Poplin is the default for brands that don't want to think about fabric. The vast majority of casual shirts out there could have been designed better with a simple choice of weave.
I'm not even saying it always looks bad—it's just a terrible default. See a perfectly legitimate outfit below.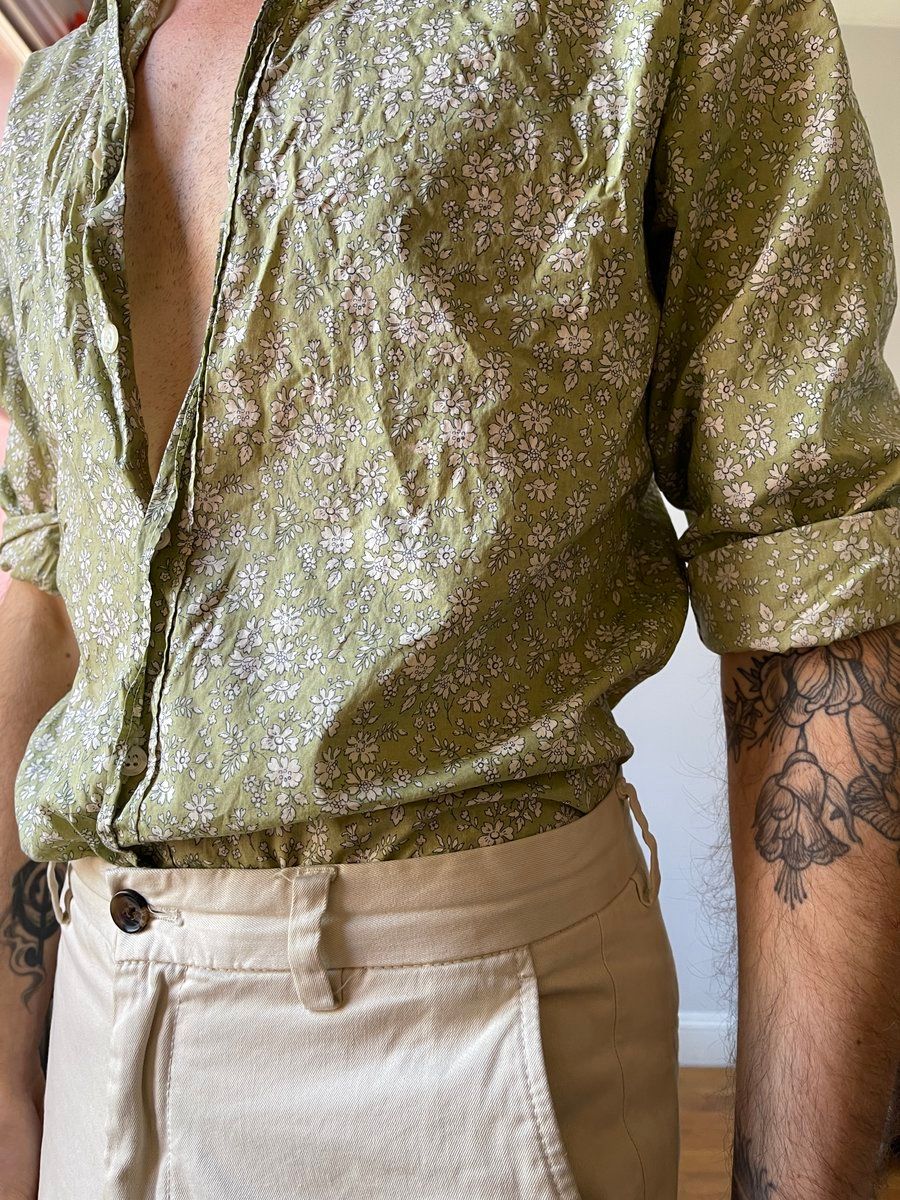 Take it or leave it.
Listen, wear whatever fabric you like. But if you try it on in store, be honest with yourself—does it feel like shit? Does it look like it will age poorly? And if you're designing, give your choices a second guess. Poplin is almost certainly not what you want.
/rant