Eveningwear Part Two: Simple Variations
Ivory and color and a couple of other twists. Should be fun.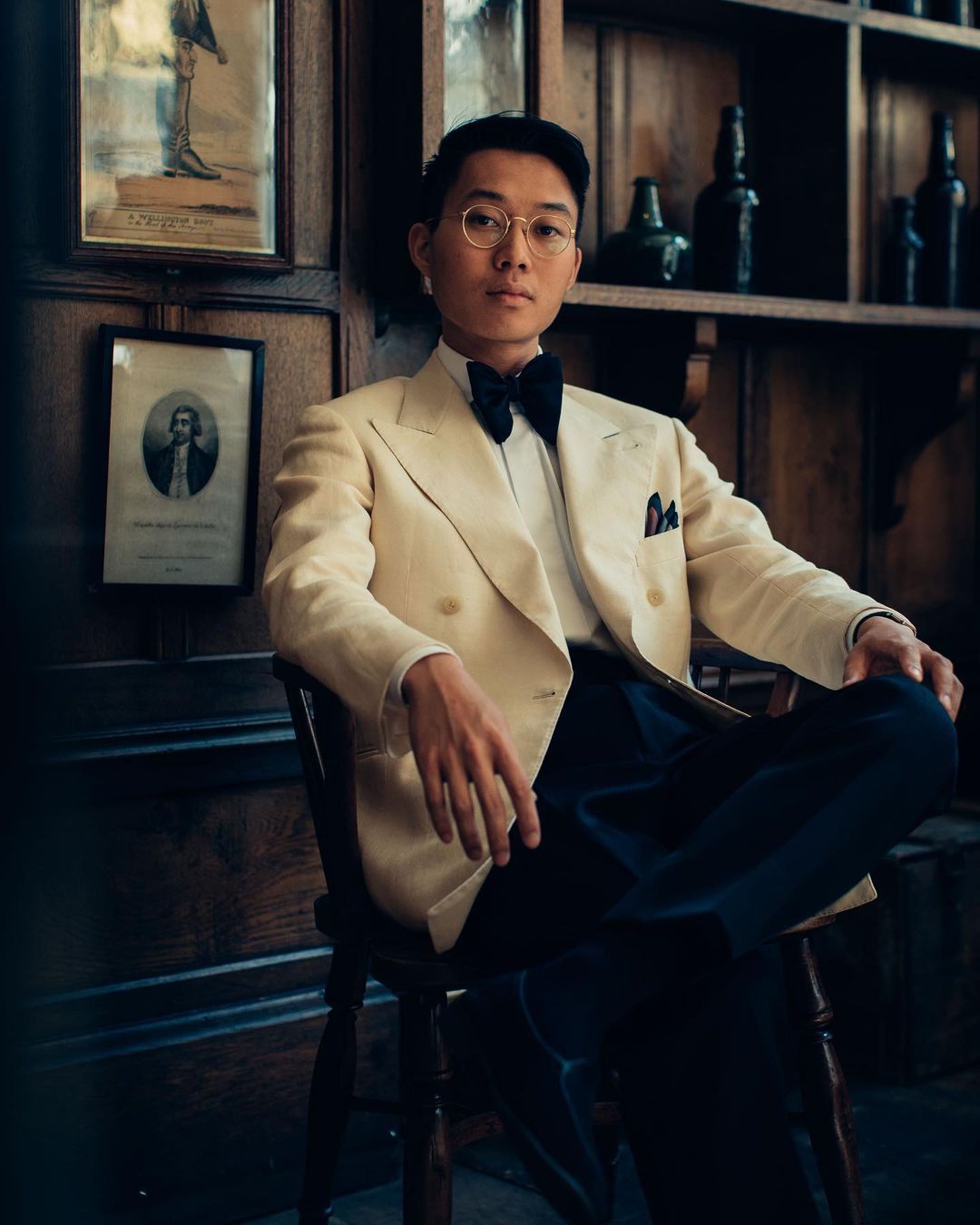 Classic black tie has a lot of benefits. It's time-tested, and proven to work on a wide variety of men. It's a uniform rooted in tradition. That can be a good thing, but it might leave you wanting variety. Luckily, there are a few classic variations that still fit tradition, but also give room for more creativity than classic black tie. I'll have a little more to say this time around, too.
First, I'll go over ivory dinner jackets, sometimes called "warm weather black tie," and trousers, which are a little more unusual, but interesting.
Afterwards, I'll go over colored eveningwear. It might be too late for your office holiday party, but maybe you can use this as inspiration for New Years!
I'll close with a couple of other twists that are still either rooted in tradition or very minor. All in all, take this as your guide to a safe, reserved, but still interesting and tasteful application of creative black tie.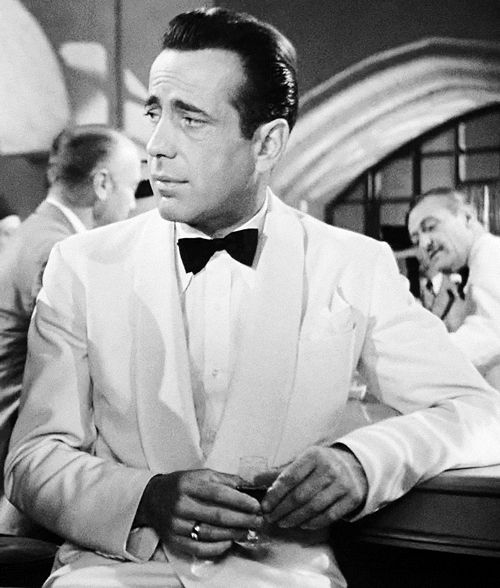 Ivory, White, Cream
White Dinner jackets, while not appropriate for traditional black tie, are sometimes referred to as "warm weather black tie:" traditional eveningwear in a very specific context. Often consdiered proper only in the tropics, men are beginning to realize that there's really no reason you can't wear an ivory dinner jacket in colder climates, as long as you know what you're doing—and don't wear them to a typical black tie event, and beware that light, unlined fabrics in light colors are often somewhat transparent.
Note that "white" eveningwear is extremely rare. It's hard to dye wool white. Off-white—usually called "Ivory" in the context of eveningwear—is more common.
One more thing to notice—ivory dinner jackets do not require silk facings. They're inherently less likely to be confused with lounge suits, if only for their color, so a lot of rules can be relaxed in this context.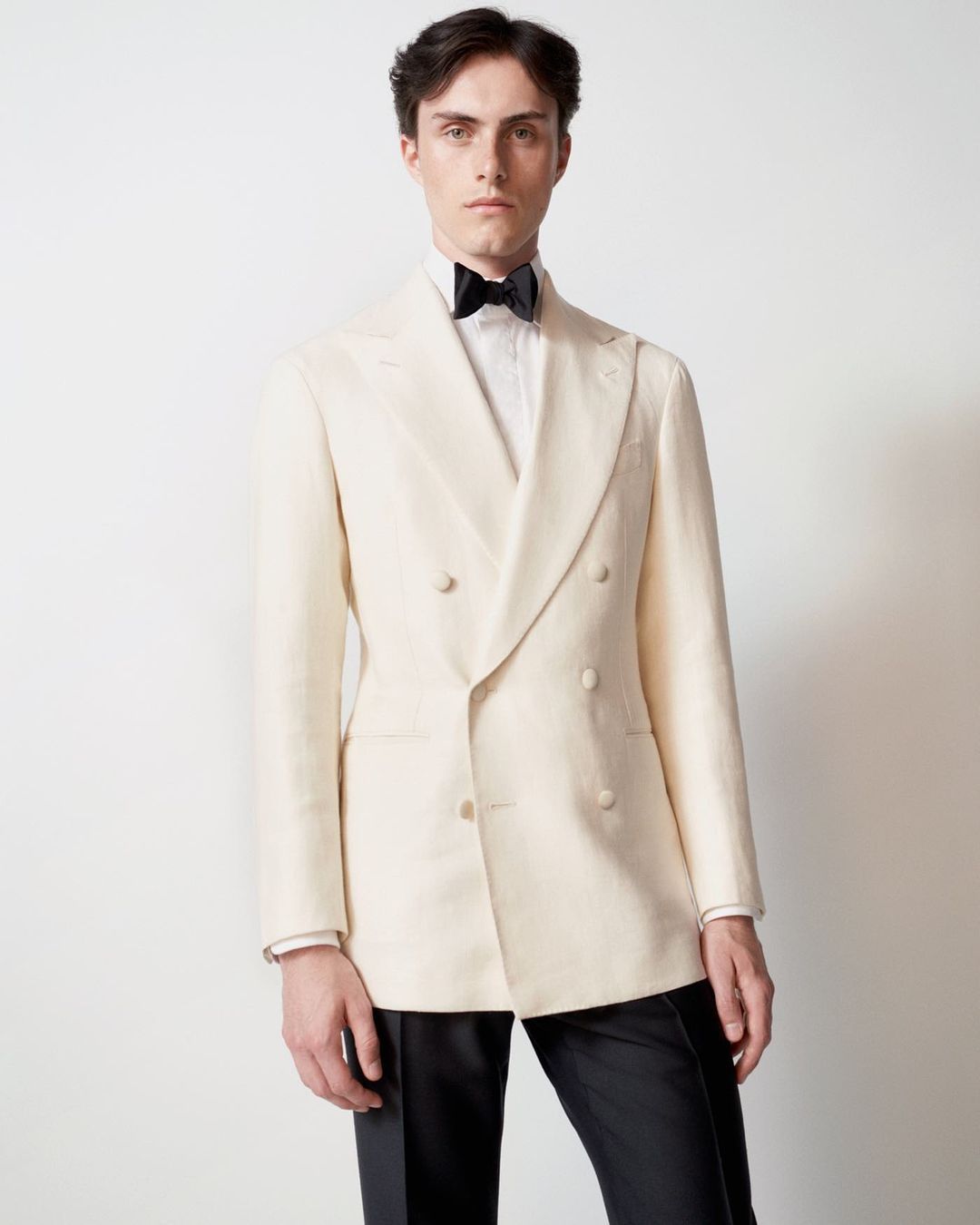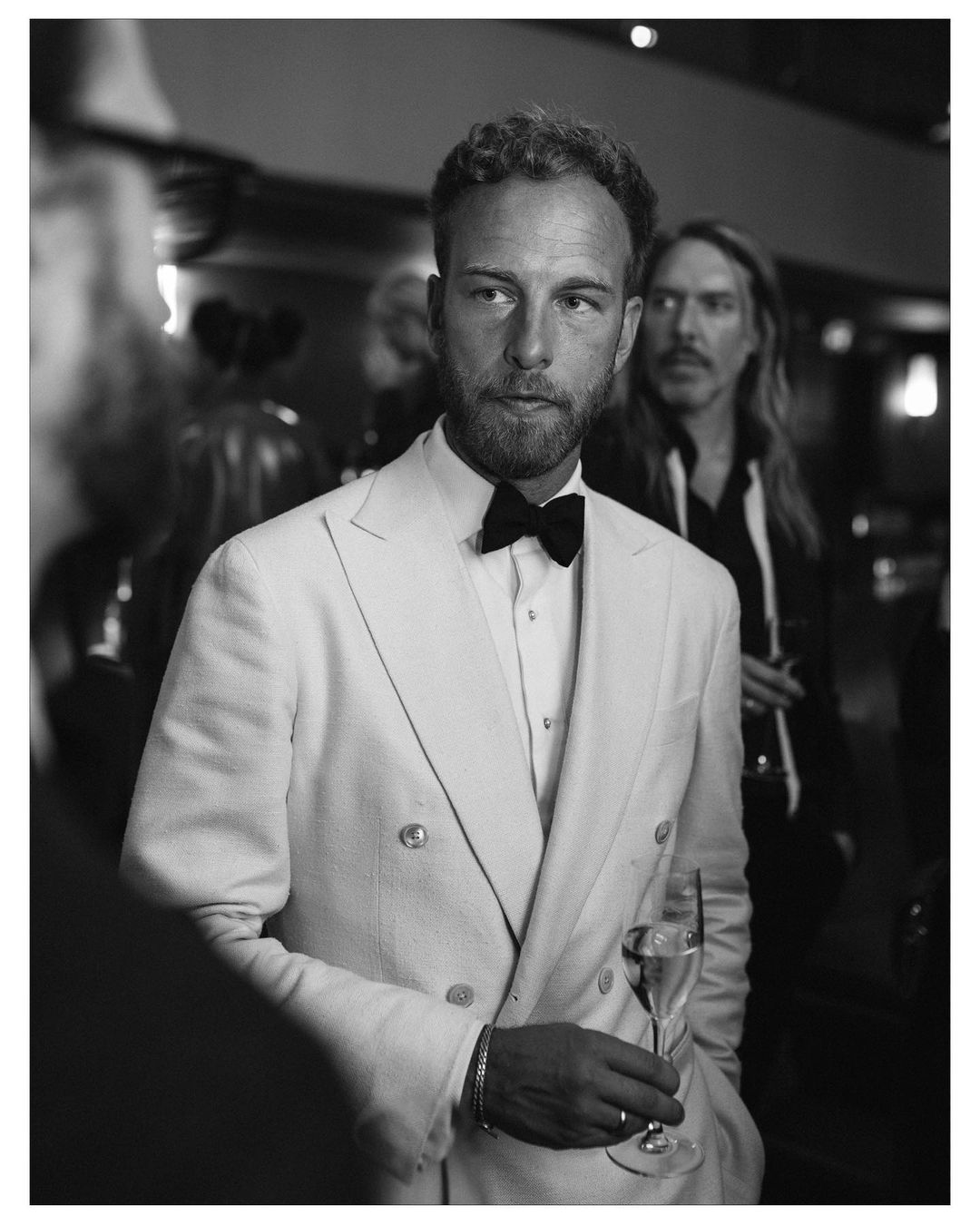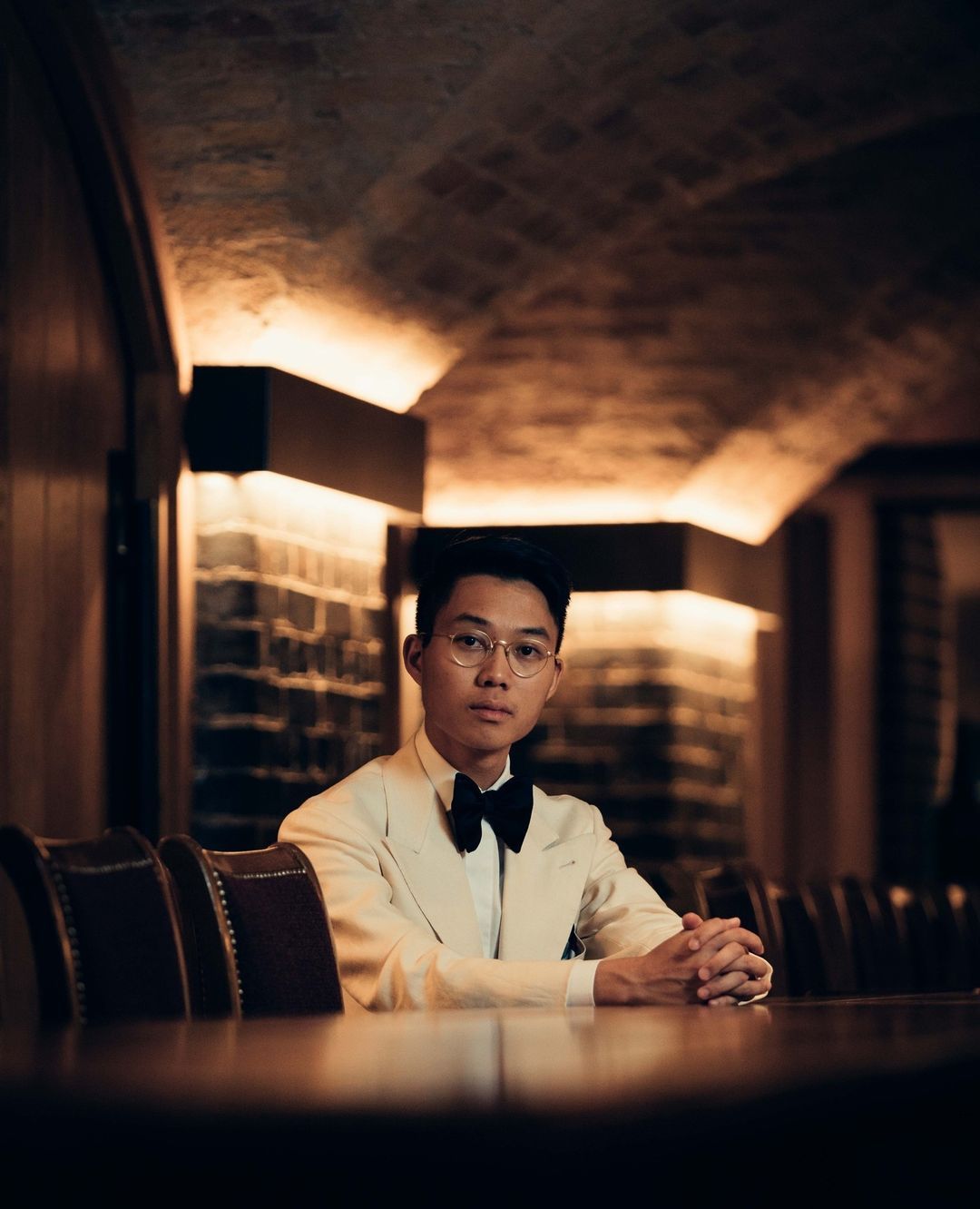 Buzz Tang in a perfect shade of ivory for him, and an amazing dropped butterfly bowtie. Simon Crompton writes about that specific bowtie and how it frames Buzz's face so well here, but essentially: it's the perfect widh, and the top side is a fairly standard height, but the bottom side is extended or "dropped." You'll see more photos from this event (and the La Bowtique bowties you see there) in the next album.
Below, you'll see Buzz in a different bowtie, with his wife Vanessa. Note that Buzz is also wearing belgian loafers. These are not the most traditional choice -- many guides will tell you they're wrong -- but I think they're a very valid twist on black tie.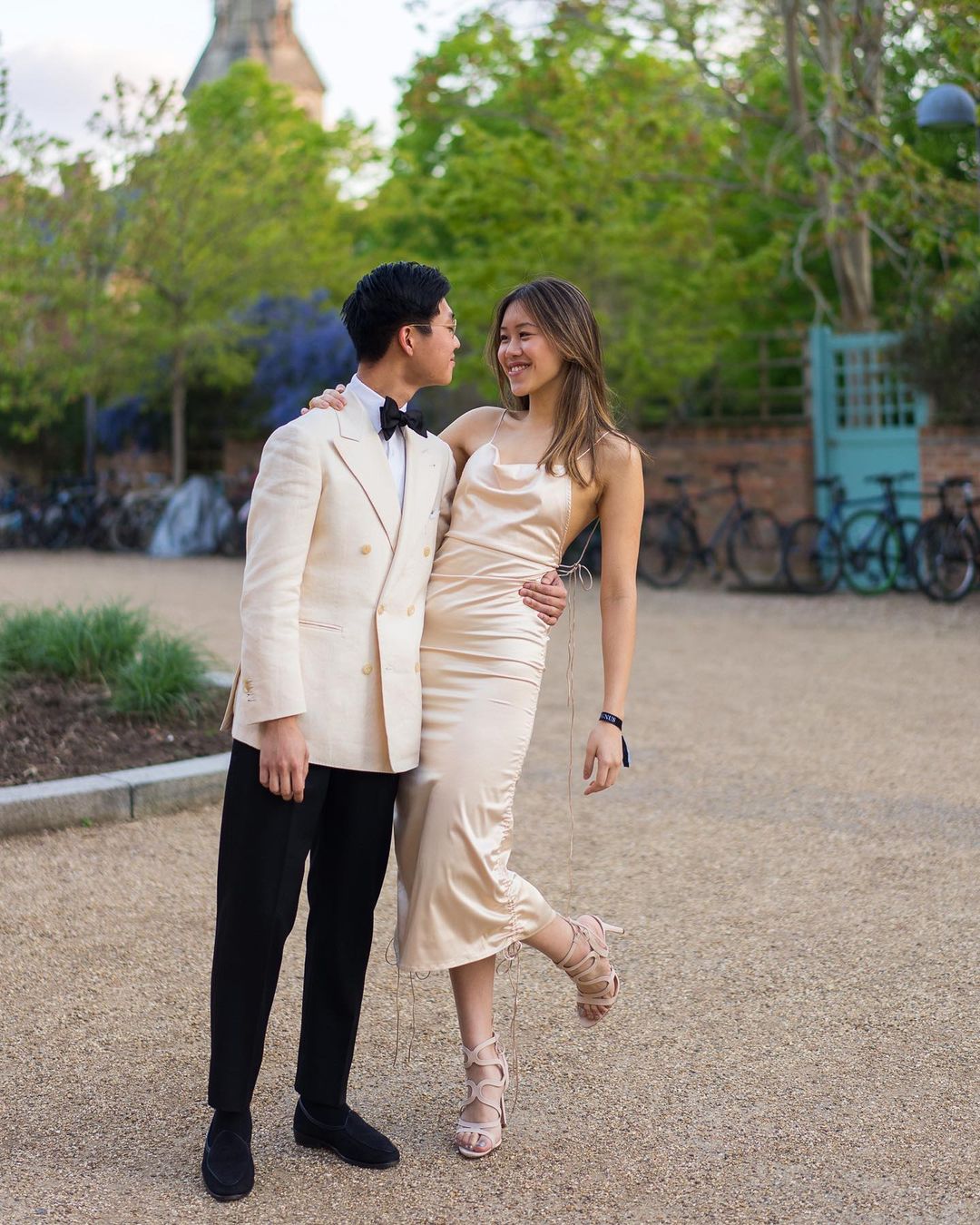 Ralph Lauren's Purple Label collection for Spring/Summer 2021 was, in their words, a tribute to old Hollywood, and gave us an "immersive fashion experience" -- a video -- enttiled All or Nothing at All, featuring Janelle Monae and a nice old jazzy vibe.
These old hollywood vibes -- Casablanca, as shared above -- are important perspective on this style.
I've included the white trousers with a black jacket here, even though it's not quite the same vibe, because it's a similar enough to fit in with this section of the album.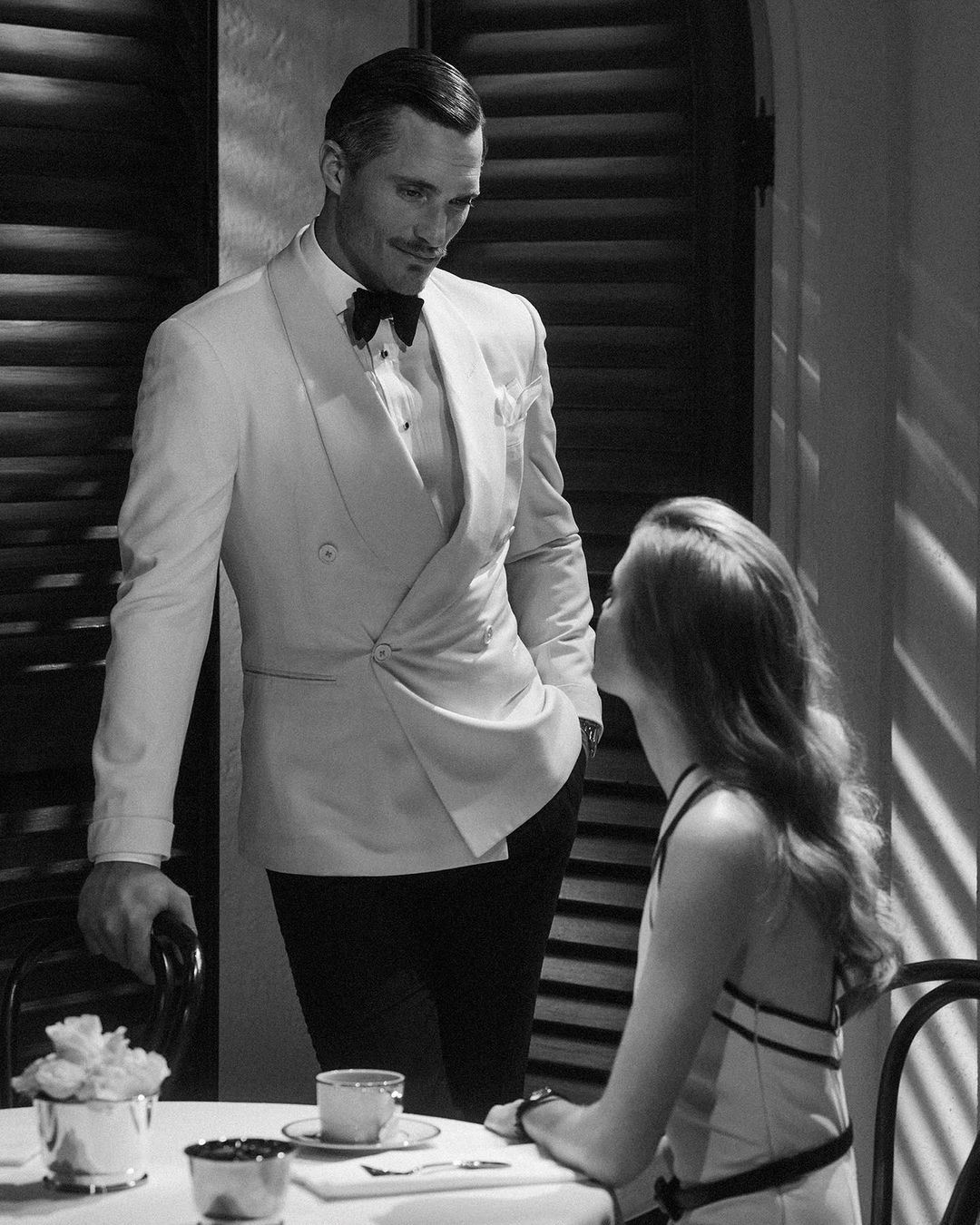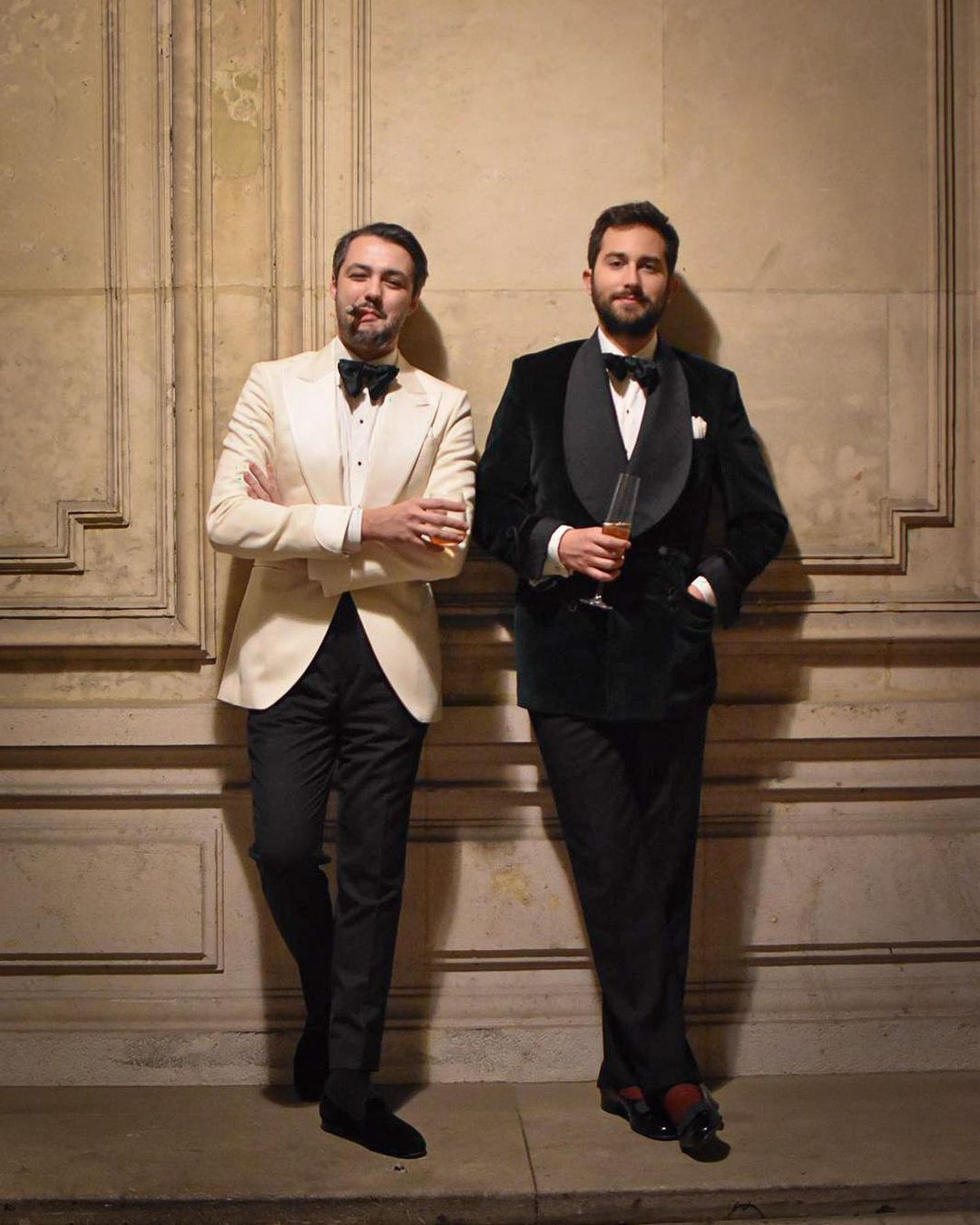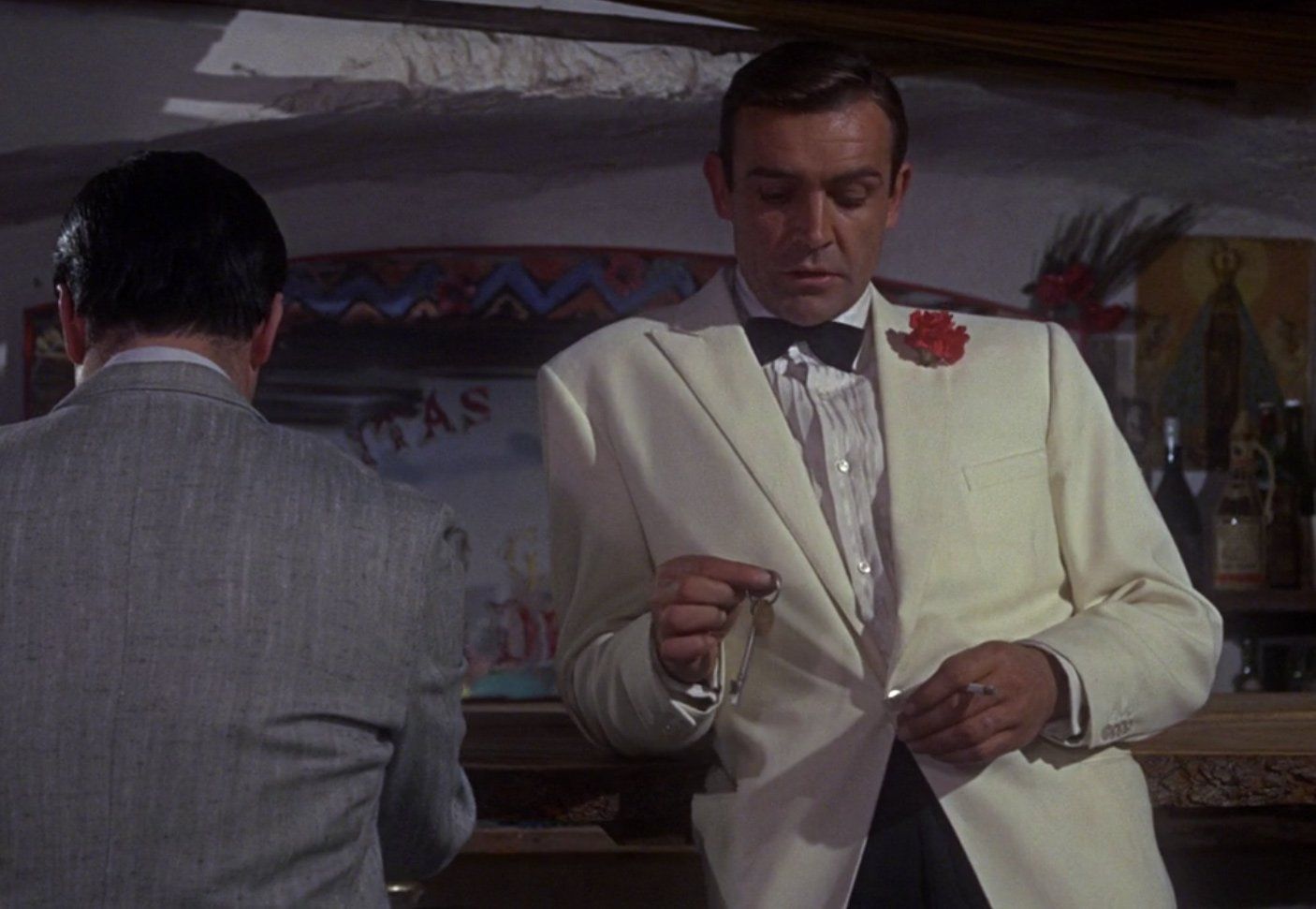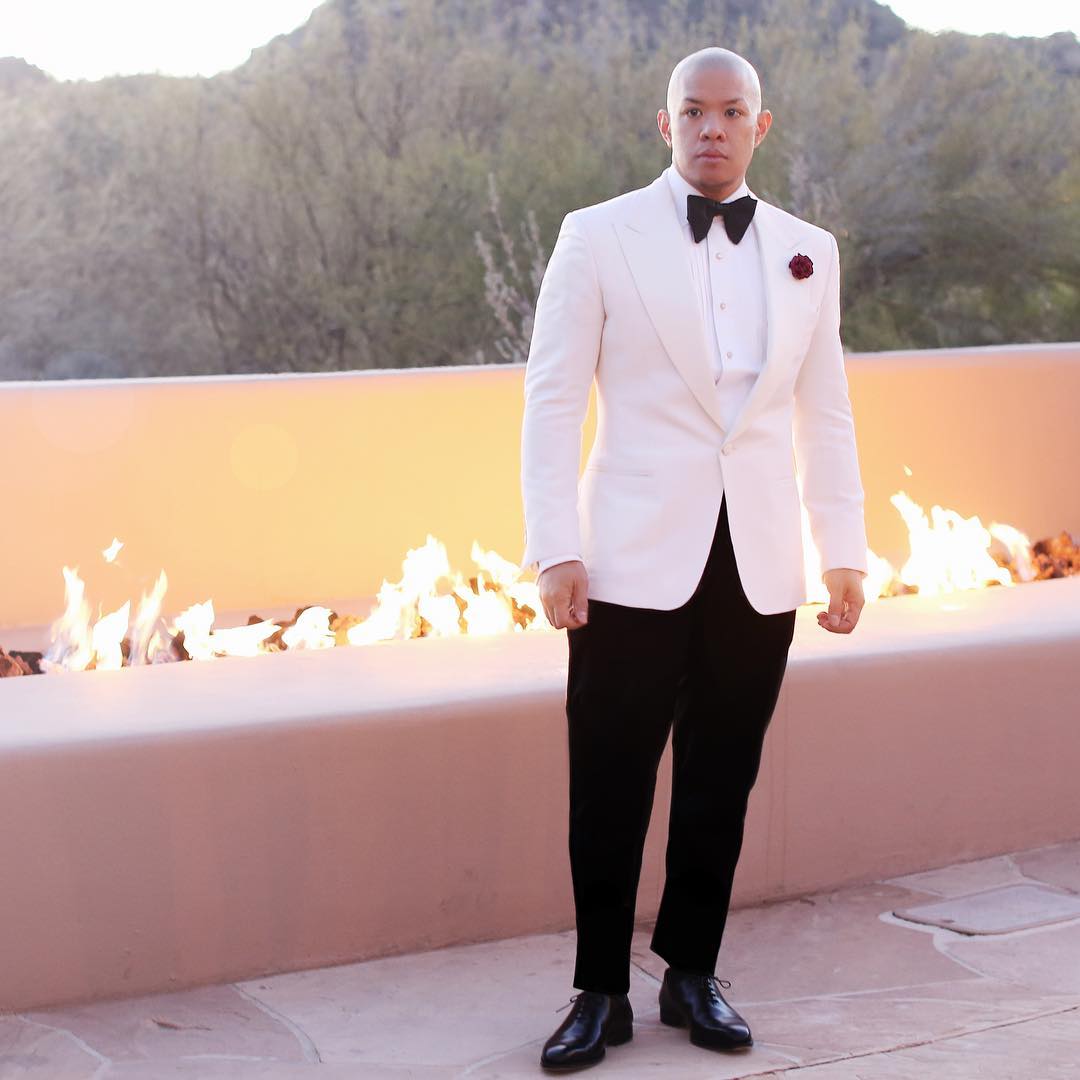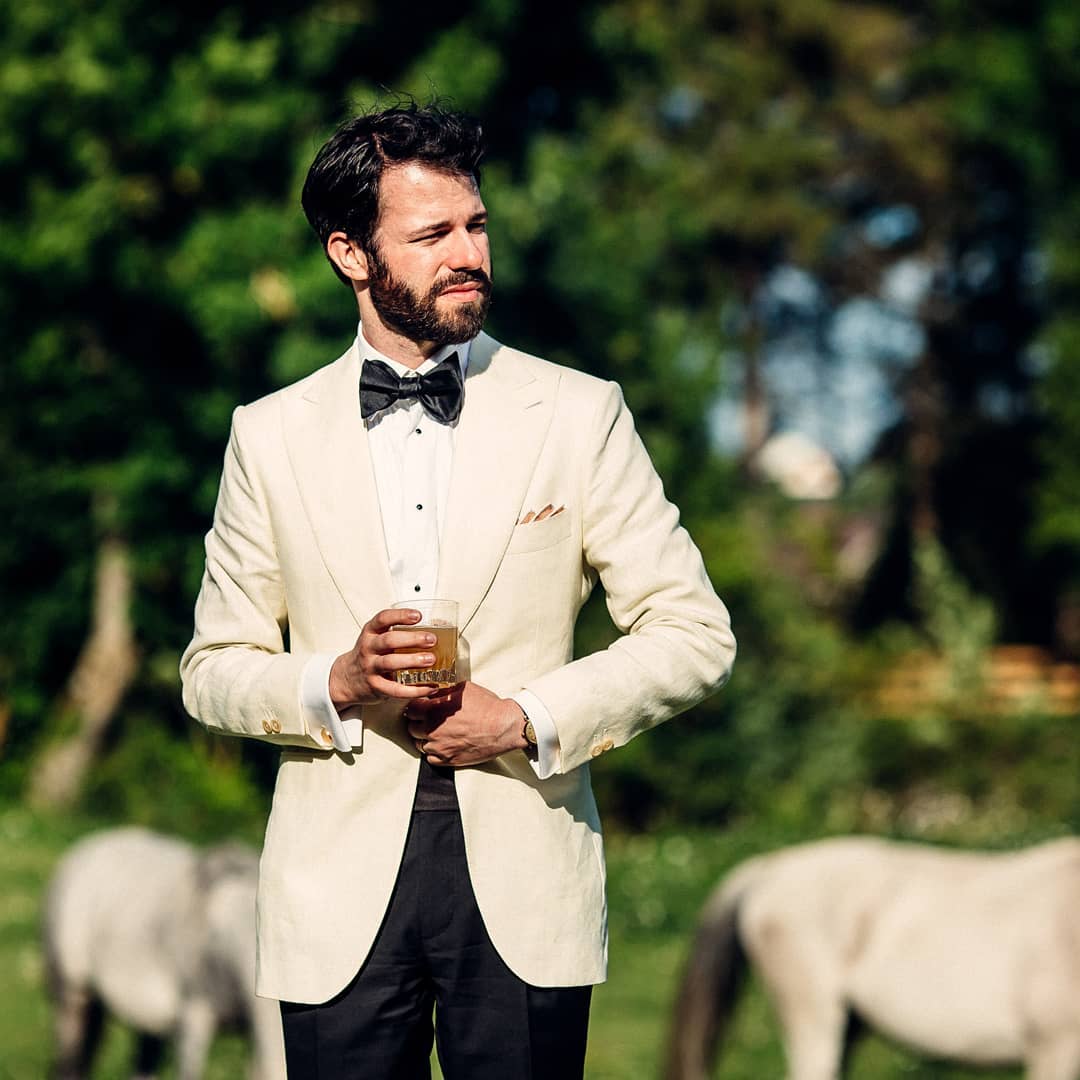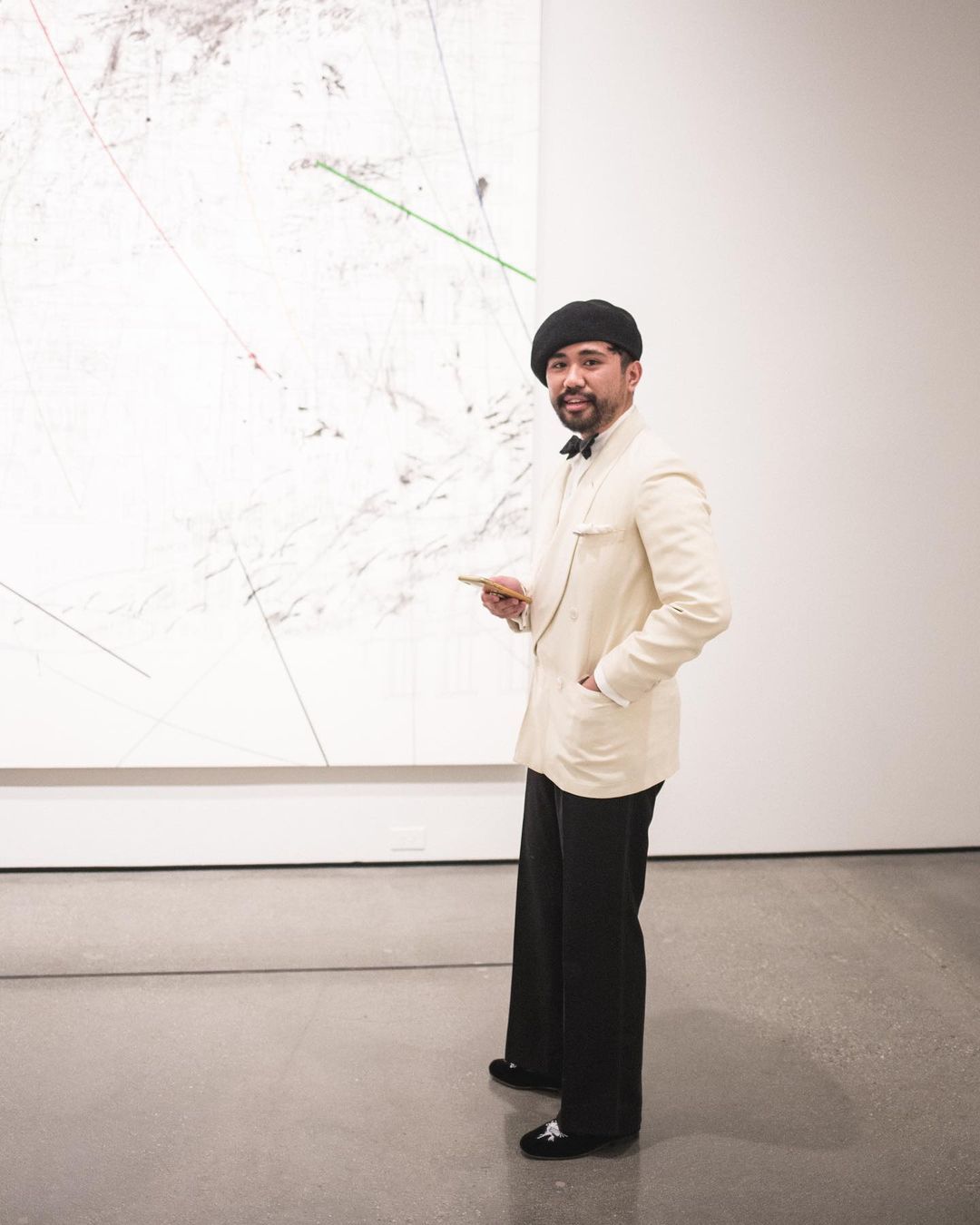 Above, note not only Ethan's Jacket, but his beret and crested velvet slippers. Black Tie demands a plain black vevlet slipper with no crest. The crests, however, reflect something I always found fascinating -- the historical connection between eveningwear and home. In theory, crested slippers were meant to be something you wear in your home, when you have company over, with a smoking jacket (which itself evolved from the dressing gown).
So how do you wear them today? Well, step one is to be relaxed. Realize that there's a gooofy logo on your shoes, and get into your best Frank Sinatra mindset -- like the whole world is your luxurious house party.
Below, see a jacket from Husbands. Ethan recently pointed out to me that the flap pockets are a crucial part of the Husbands vibe. I see it. So while it's a broken rule in the context of a dinner jacket, it works. The jacket is also very close to white, but still distinct from the shirt.
Also interesting: a sloppy bowtie (which I like), a second button (I don't really think that works), and a unique pair of shoes. They call it a buckle loafer. although, assuming the buckle is meant to be more ornamental than practical, I'd argue it's technically not a loafer but a slipper. It's black calfskin, which I don't love, but it's clearly intentional.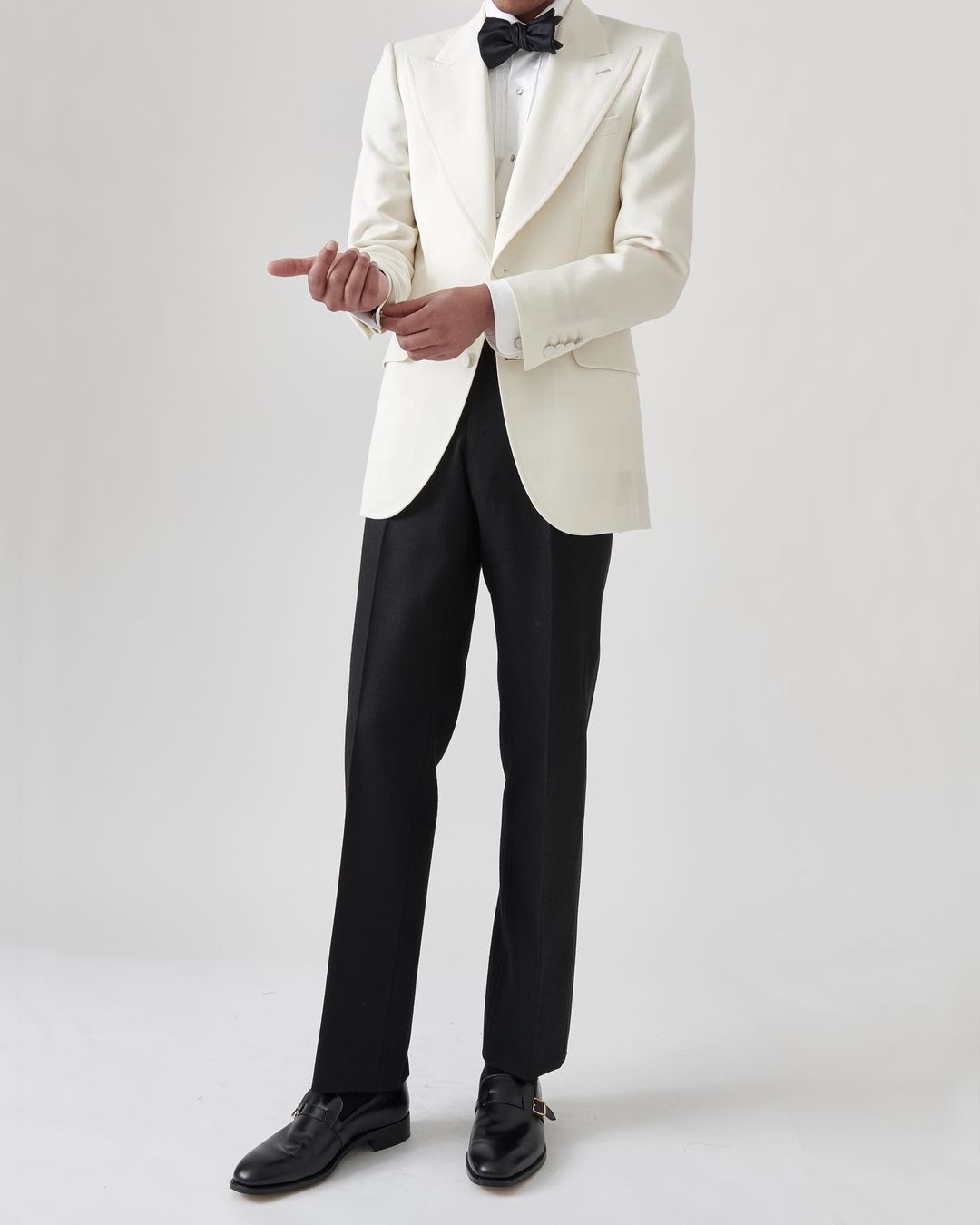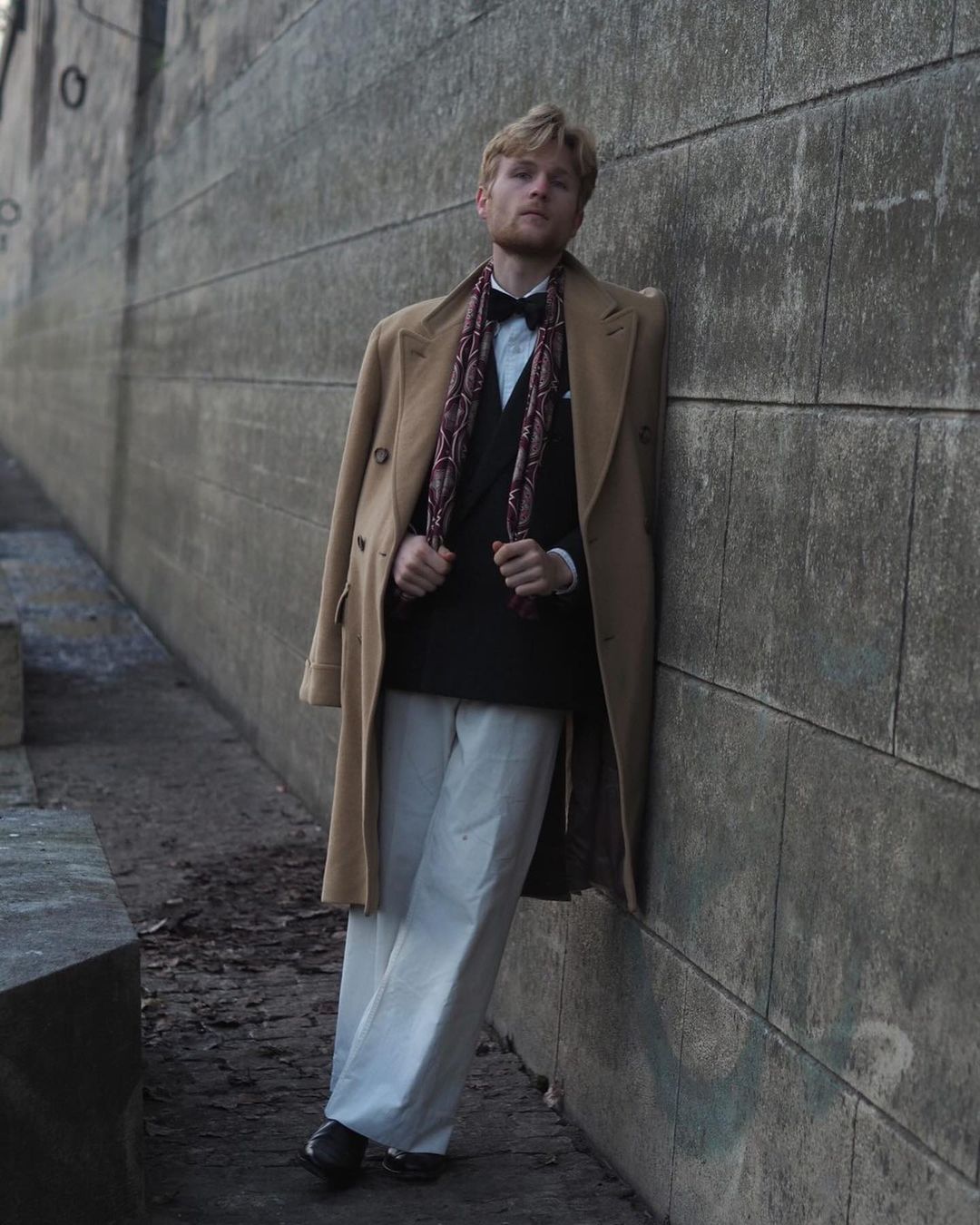 John's painter's pants above and jacket below are wrinkly cotton. I think it works, perhaps as a play on the tpopical vibe.
Camel outerwear might not technically be black tie appropriate, and a colorful patterned scarf is also a stretch... but I think they fit into part two quite nicely.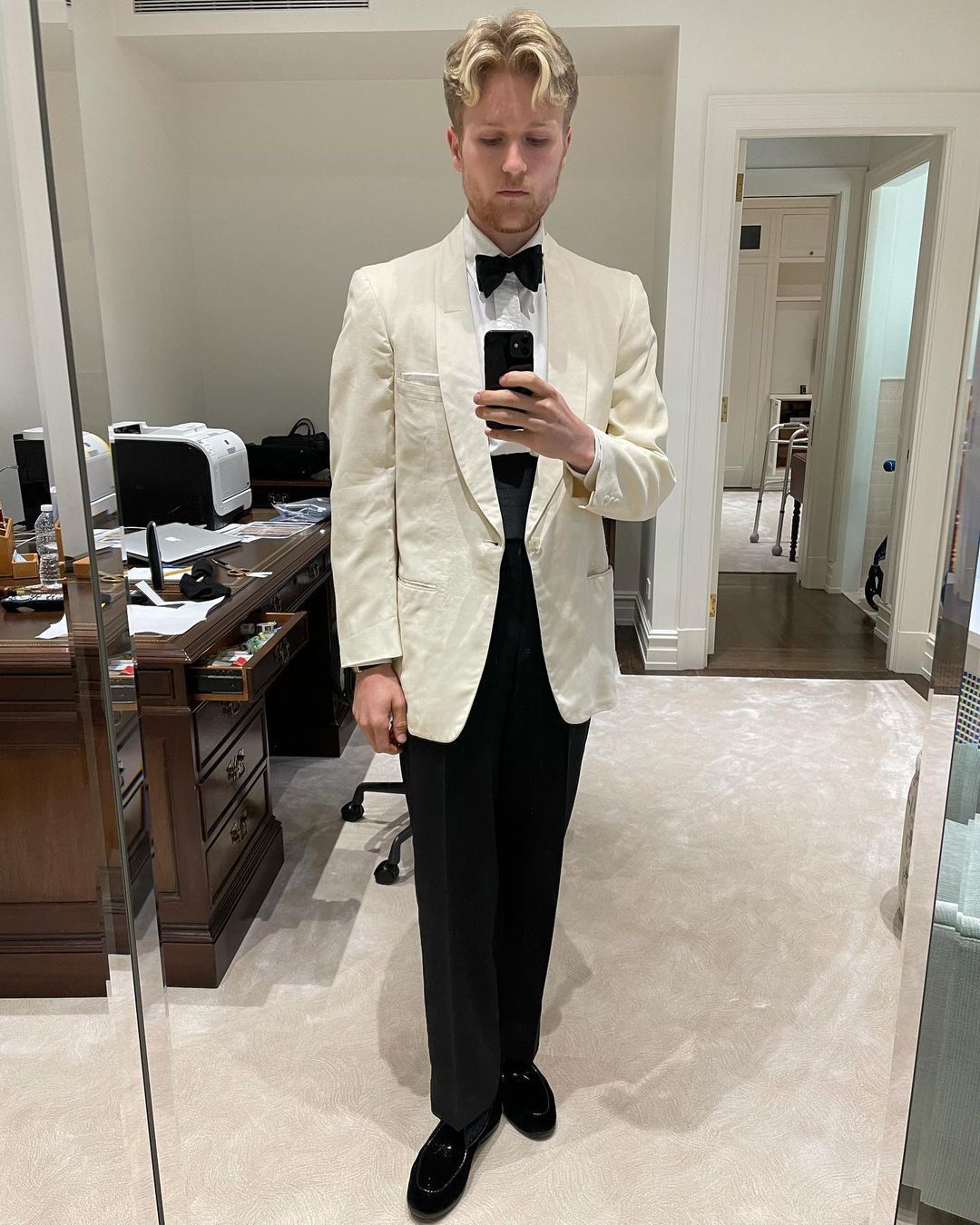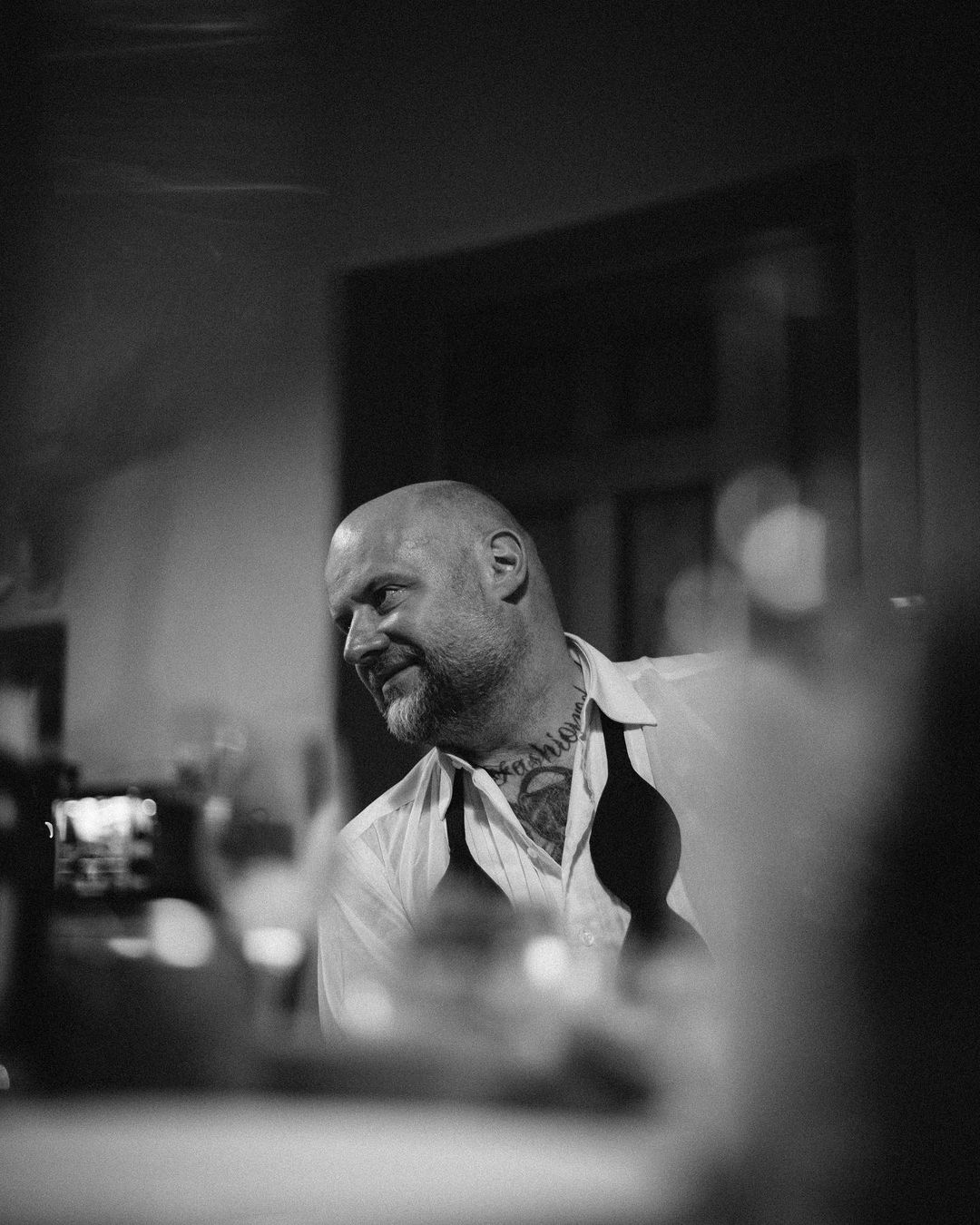 I just love that moment when the bowties are undone, the shirts open, and the rest of the party is pretty much just a victory lap.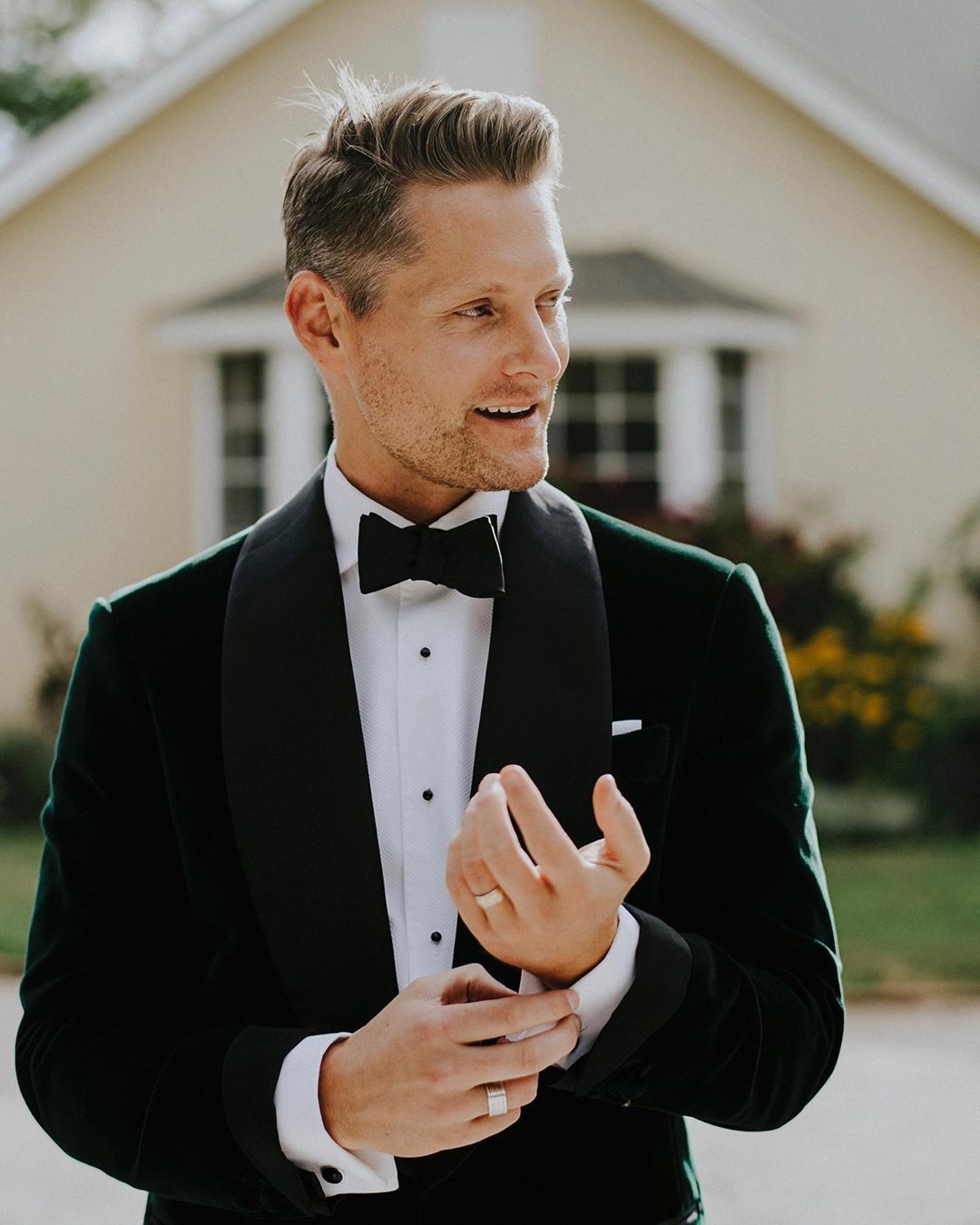 Colored Eveningwear
Now, the first thing you think of when you think "colored eveningwear" is probably velvet. And while I'll explain why that is, I'll definitely include wool as well. You might also be thinking of ivory and midnight blue as colors, but they're really just supposed to be off-white and off-black, respectively. My intent here is to explore other blues, greens, yellows, oranges, reds, and purples.
Why is velvet so closely associated with color in eveningwear? Simply put, it's dye. Velvet—whether silk- or cotton-based—takes on color like no other fabric. A good, deep pile provides a lot of surface area for dyes to absorb, creating extremely deep colors more easily than any other fabric.
Charlie's dark green, above, is evidence of that. You can only really read the jewel tone at the brightly-lit edges of the jacket, but in motion, velvet like that will really shine.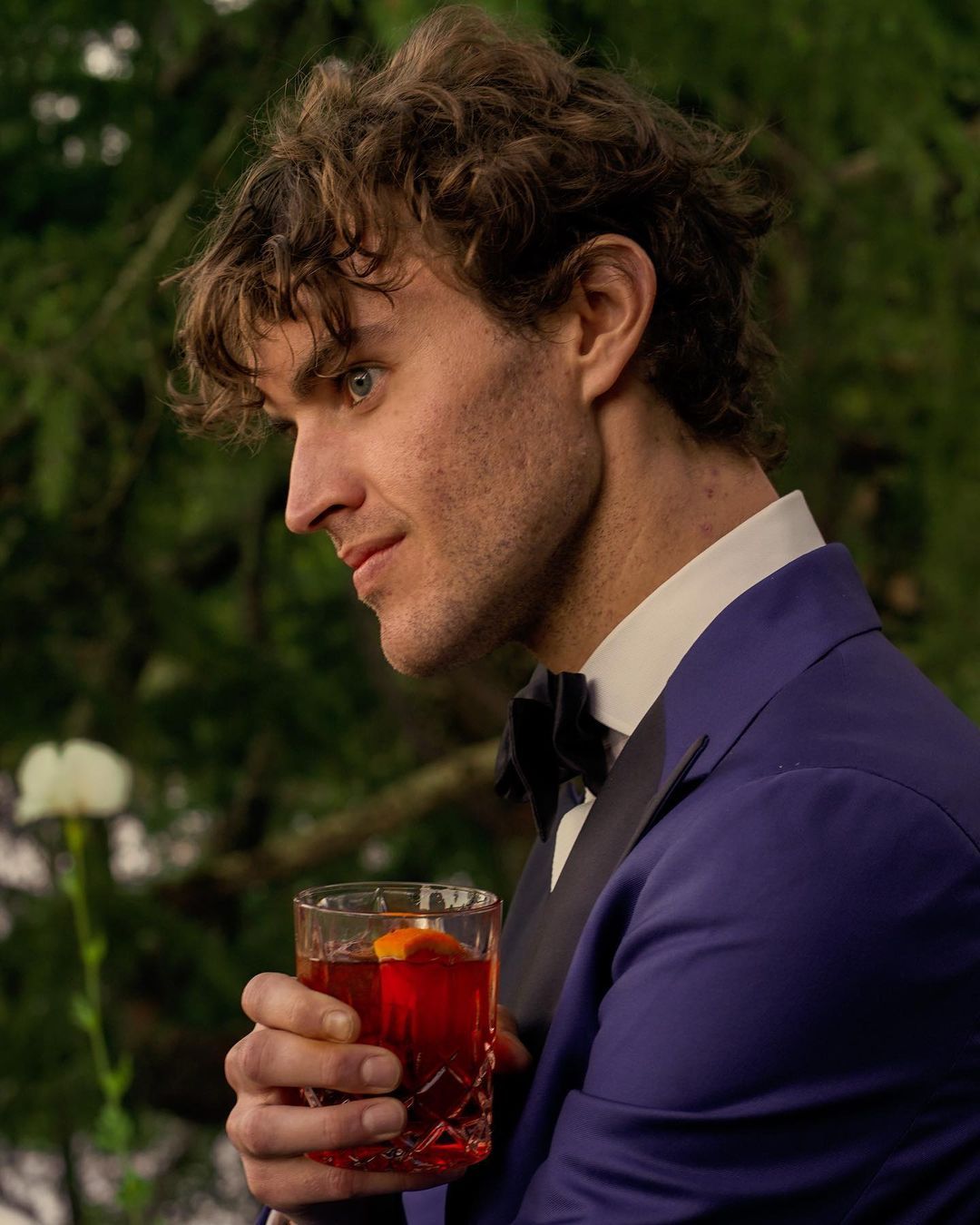 It's hard to say, from this photo, just how much purple there is in this jacket, but let's play conservative and call it a royal blue. This is not black tie appropriate -- only midnight blues, which are intended to simulate blackness.
Brian, Above, compares a golden yellow velvet with a burgundy wool. Which do you prefer, side by side?
Below, you'll see plenty of purple, in its regal beauty. I love purple. It's hard to wear, but when it works...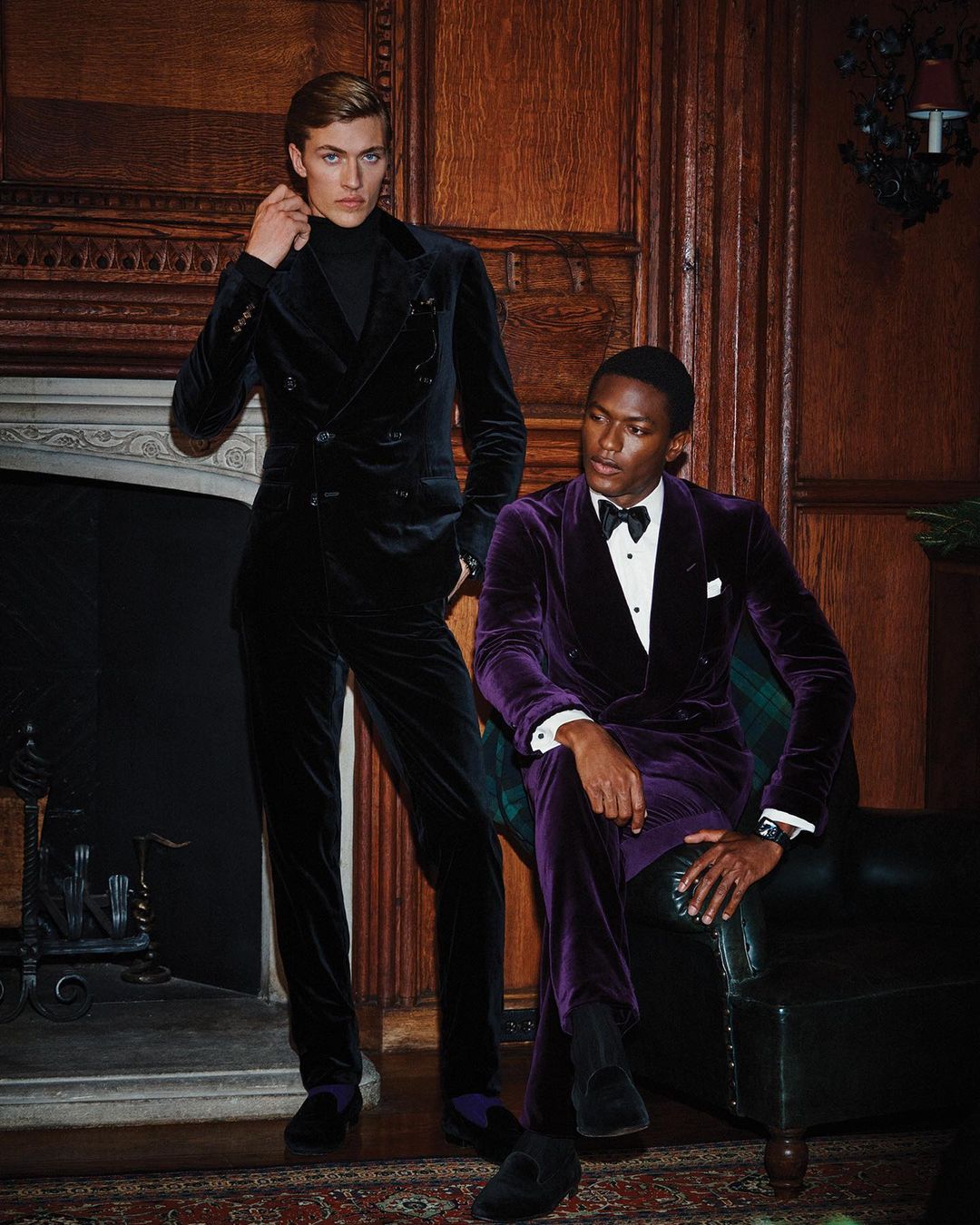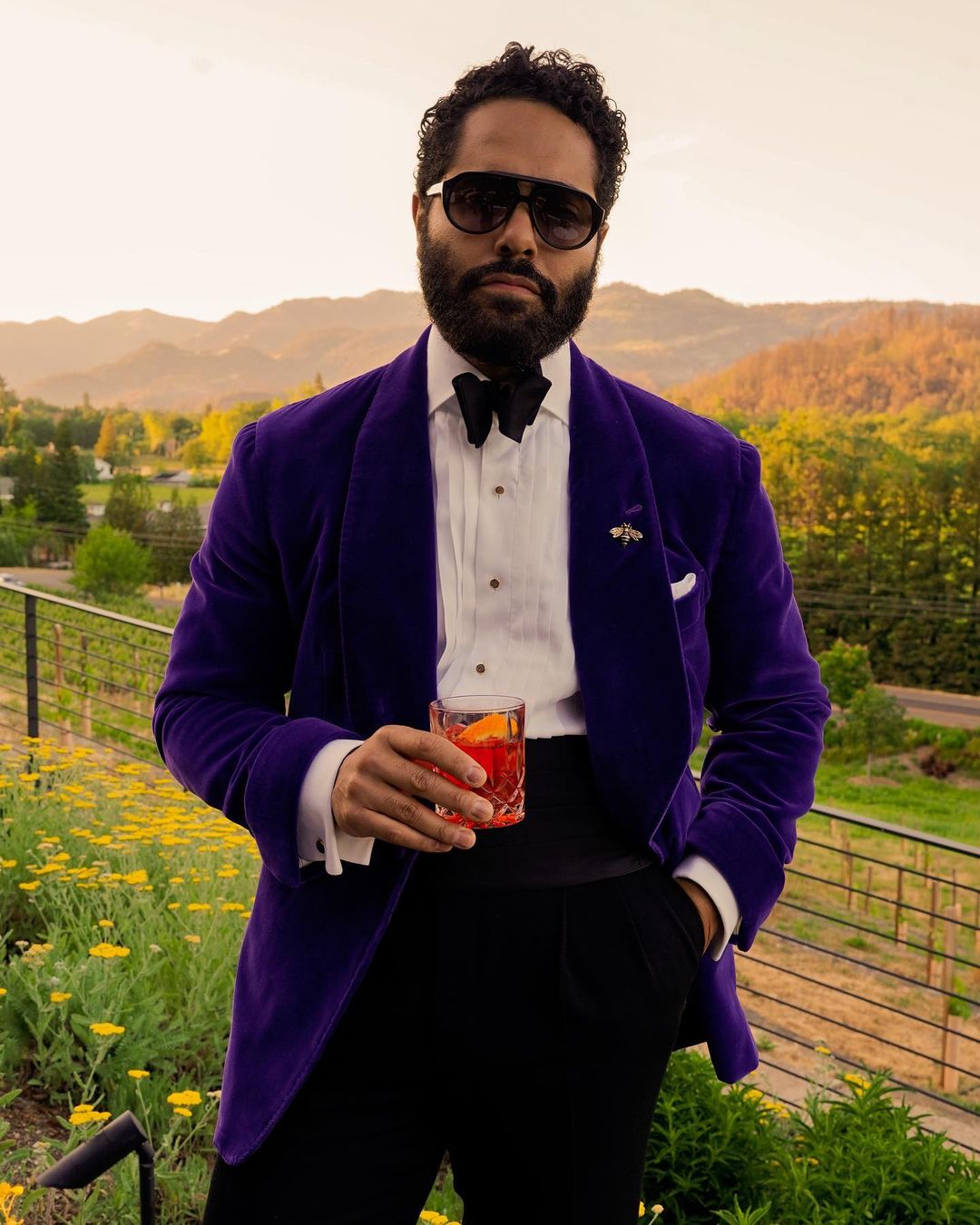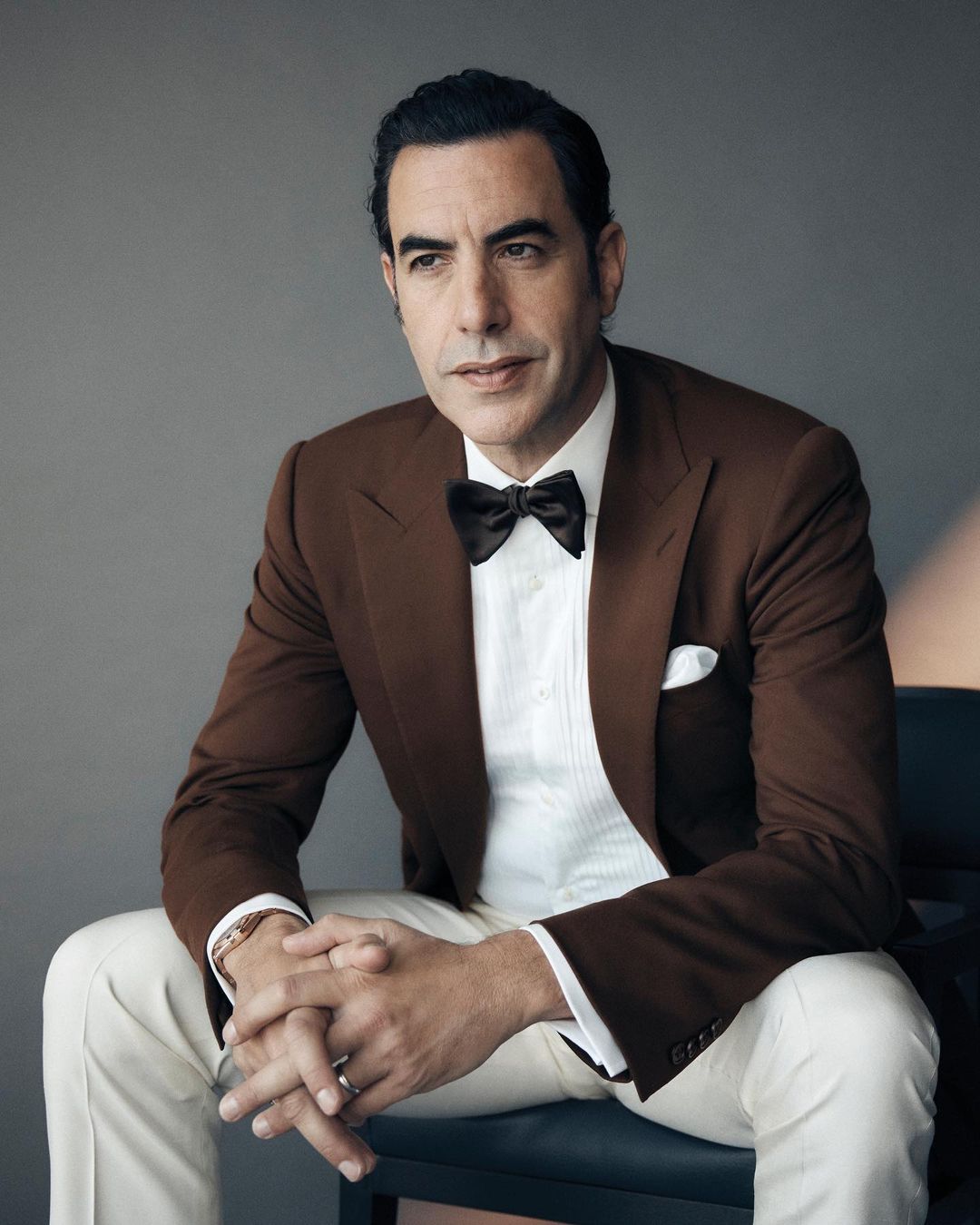 Brown is uncommon in eveningwear. As I've discussed before, brown is seen as inherently casual. This is a shame. It pairs beautifully with both black and white, as Ralph Lauren demonstrates clearly on Sacha Baron Cohen above. A part of me really wants to steal this whole look for myself.
Note, also, that the jacket is self-faced!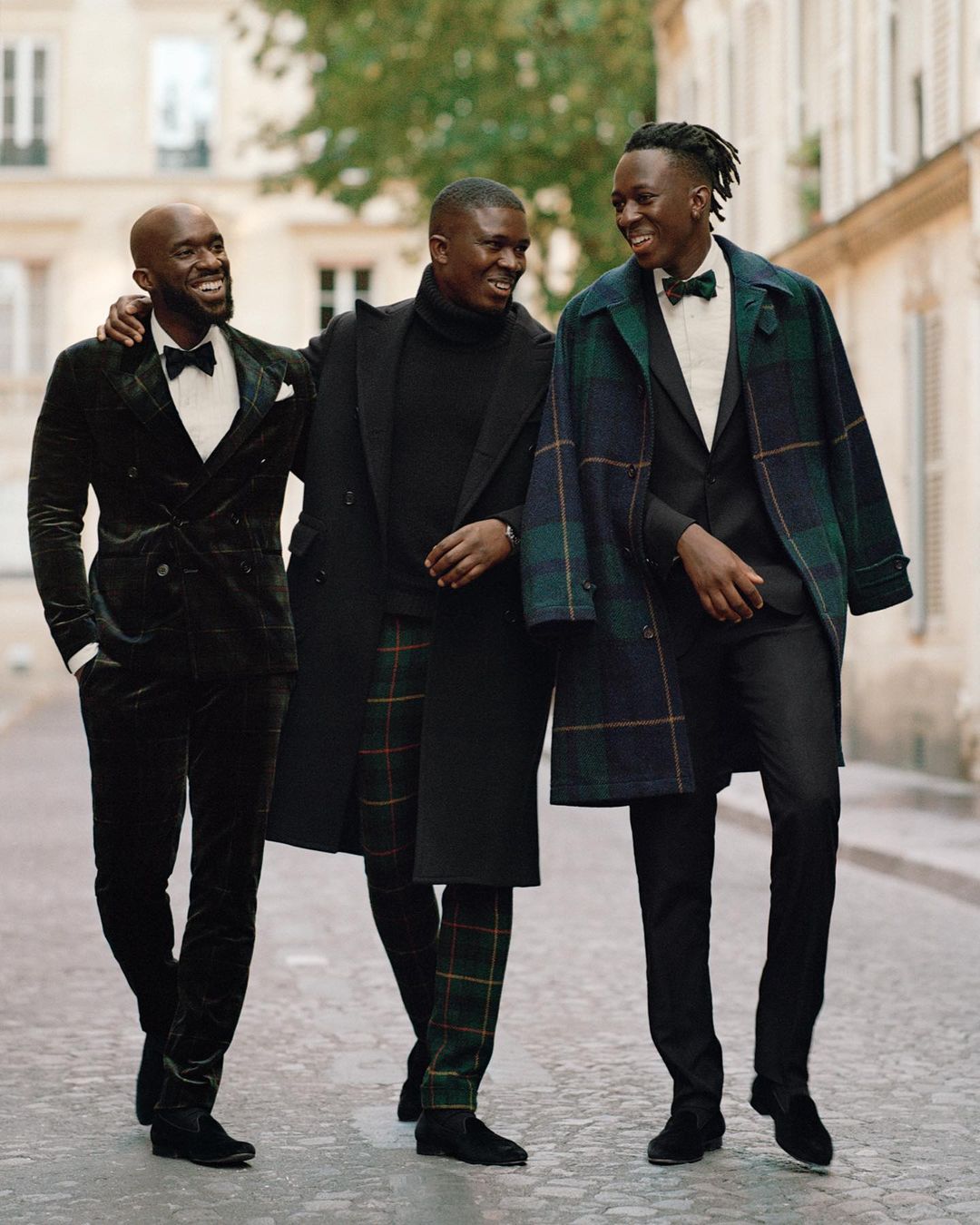 A Couple of Final Twists
Just two more looks I wanted to dicuss in part two. The tartan checks above, and the almost-classic look below.
Ralph Lauren doesn't mind eveningwear in a tartan check. It's not unprecedented, but, as you might expect from Ralph Lauren, it's very unusual. It's simultaneously traditional and unapolagetically loud.
Below, Ethan's friend hector wears black velvet with a watch, a polka dot bowtie, and a watch cap. These are all technically wrong—yes, watches are technically not appropriate in black tie—but they all work fine in practice.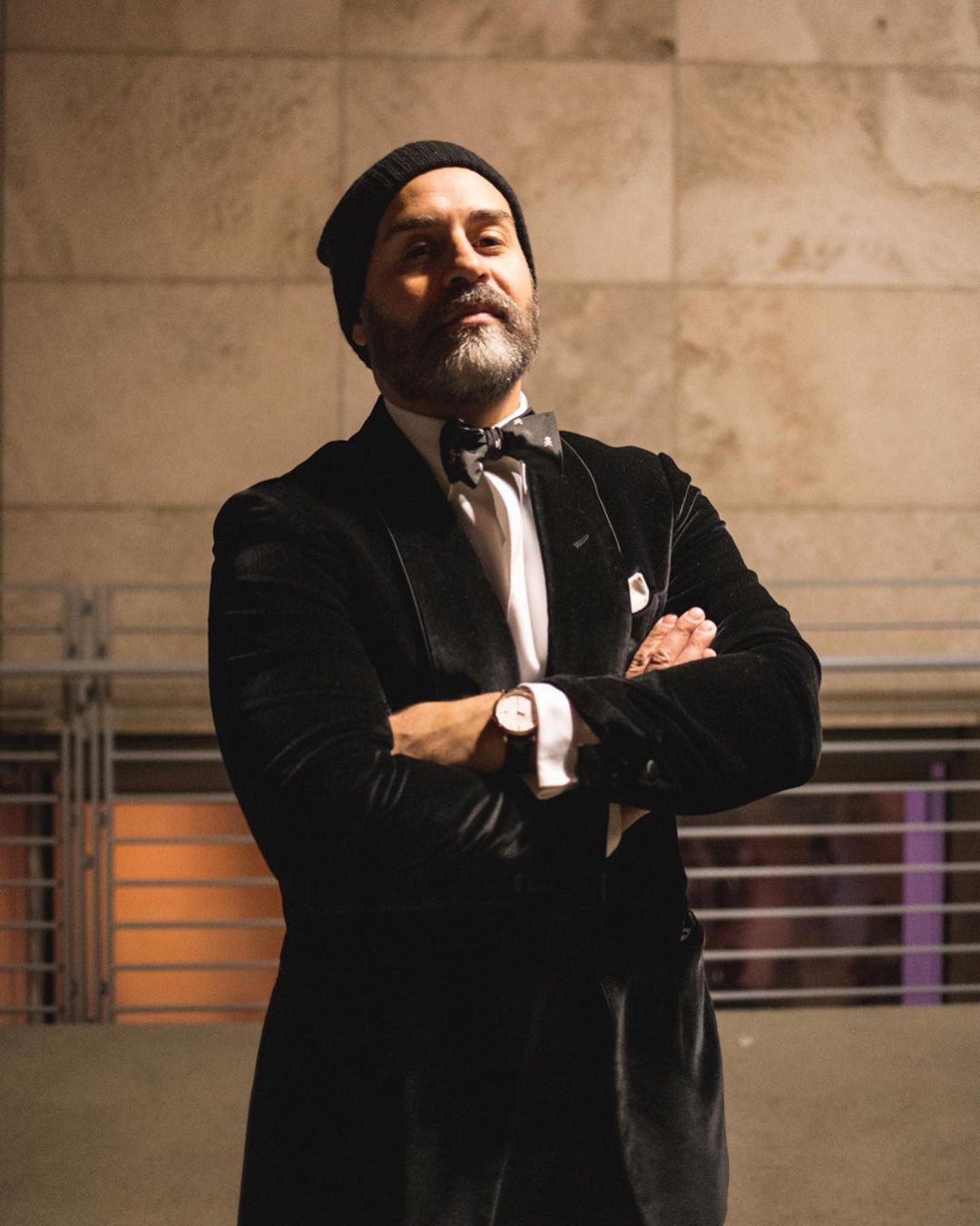 Further Reading