Toasted Almond: Lighter Brown Linens
I'll explore a few different shades of brown linen. The unevenness of linen helps highlight the depth of each color, and actually helps recall the Maillard reaction that makes food look so good.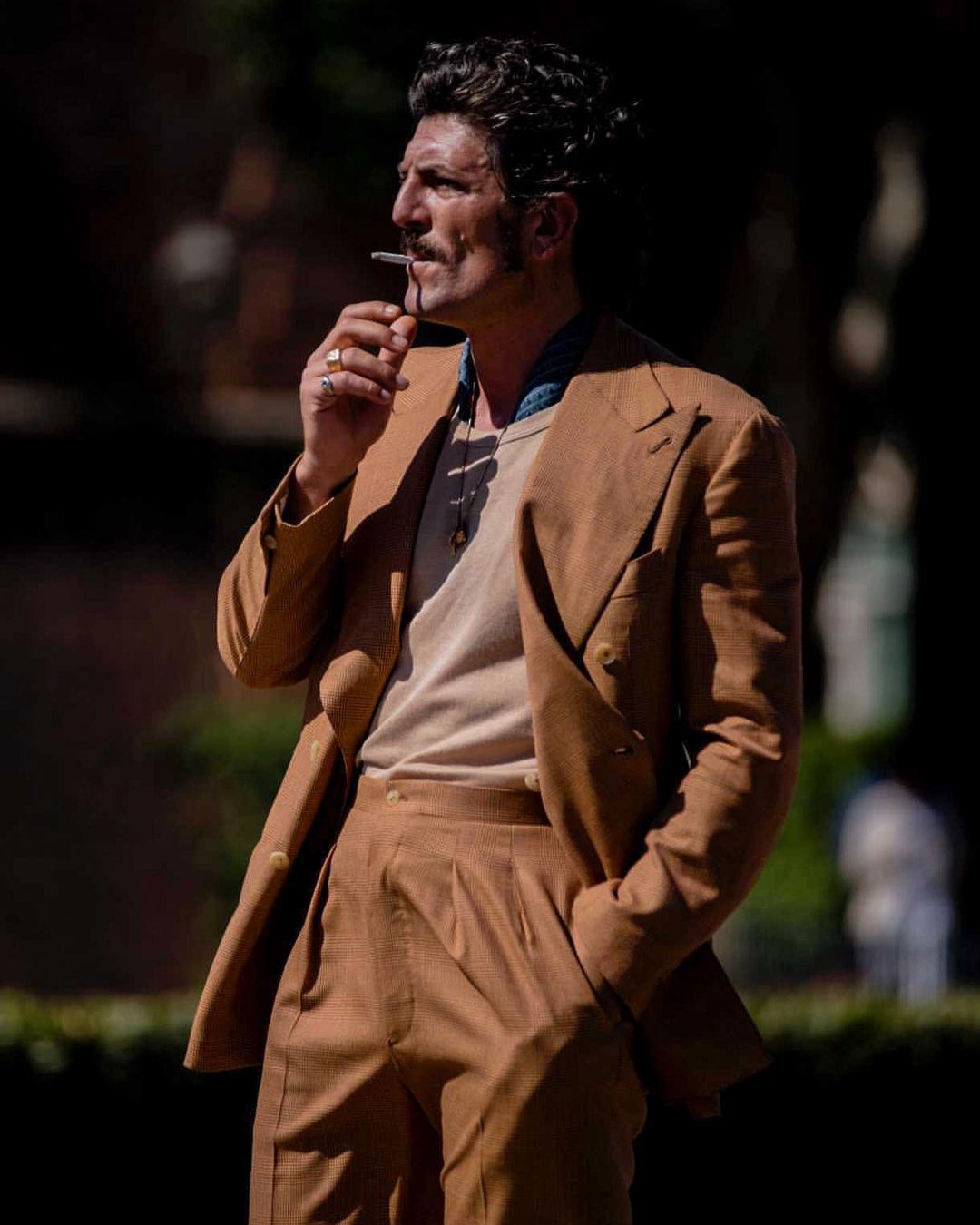 I'll tell you a Persian cooking secret. It's not about rice, or stew, or skewered meats. It's about nuts. Nut-based desserts are, categorically, awesome. And while peanuts and cashews and hazelnuts have their place, the king of dessert nuts is, undoubtedly, the almond.
You might already be familiar with marzipan, biscotti, macarons, and macaroons, but Persian desserts also feature other almond-based treats, including clusters of sliced almonds, and, most importantly to me, noon badoomi. A simple cookie my mom makes every Passover, noon badoomi are soft, chewy, sweet, and flavorful. Similar to Italian amaretti and pignoli, but unique and special.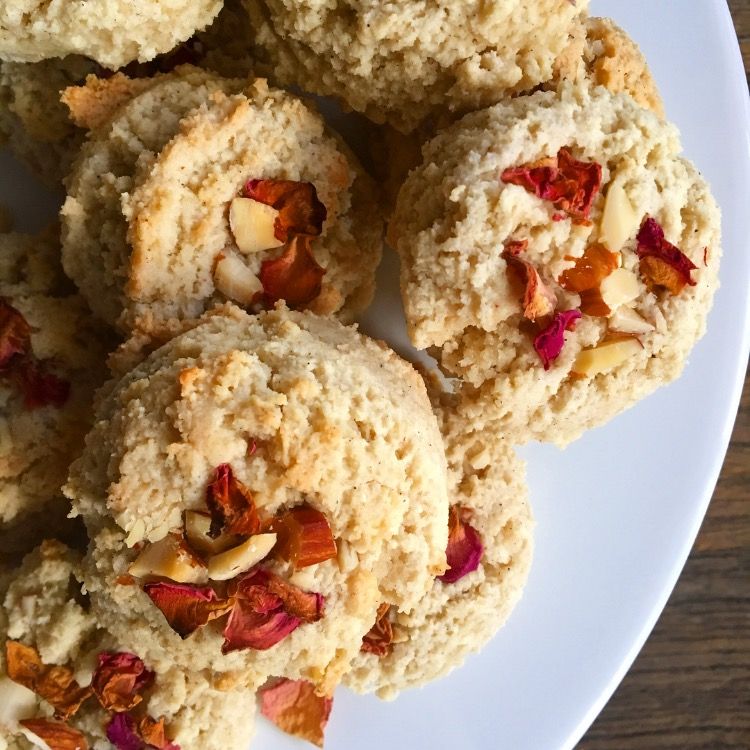 Good Humor, of course, uses almonds in the Toasted Almond bar. I'm not sure if they always had the intensely fake almond flavoring, but there was actually a brief period where I liked this thing, even more than the strawberry shortcake. The color scheme is compelling. Toasted almonds scream caramelization and compliment vanilla ice cream in a way that just makes your mouth water.
In menswear, I still prefer dark brown linen over all of the lighter shades. But I think they're all worth exploring. The unevenness of linen helps highlight the depth of each color, and actually helps recall the Maillard reaction that makes food look so good. There's a wide variety of shades, each with its own charm. I pwarticularly enjoy the lighter shades here, but there's something great in each section, so enjoy!
I make no warranty, express or implied, that the following categories are accurately described or consistently collected. Lighting andd my personal perspective are variables I cannot fully account for. If you think one of these is too dark, or belongs in a different section, too bad.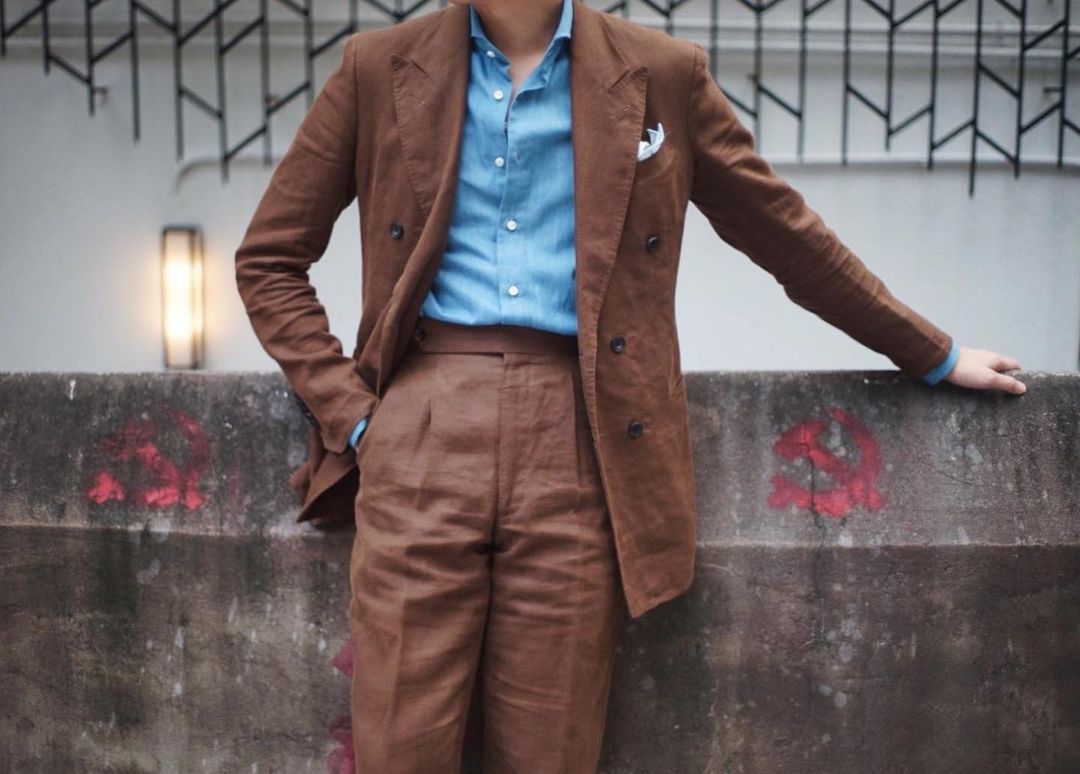 Mid browns
Mid-light brown linens, often referred to as "tobacco" brown, bring some of the rich depth of darker browns with no air of formality. The age shows very differently. You can really see the light and dark spots on, for example, the above jacket from The Gaudery. You might also hear people talk about "cigar," although I hear "cigar" and "whiskey" in the context of shell cordovan and suede a lot more.
They are also certainly easier to work into a bright, summery outfit. They have a mild contrast with summer blues and whites, play nice with other pinks and even pair nicely with navy and black as well. All that, from an earth tone, which you'll still be happy to wear in the fall... especially if next fall is hot, like falls have been lately.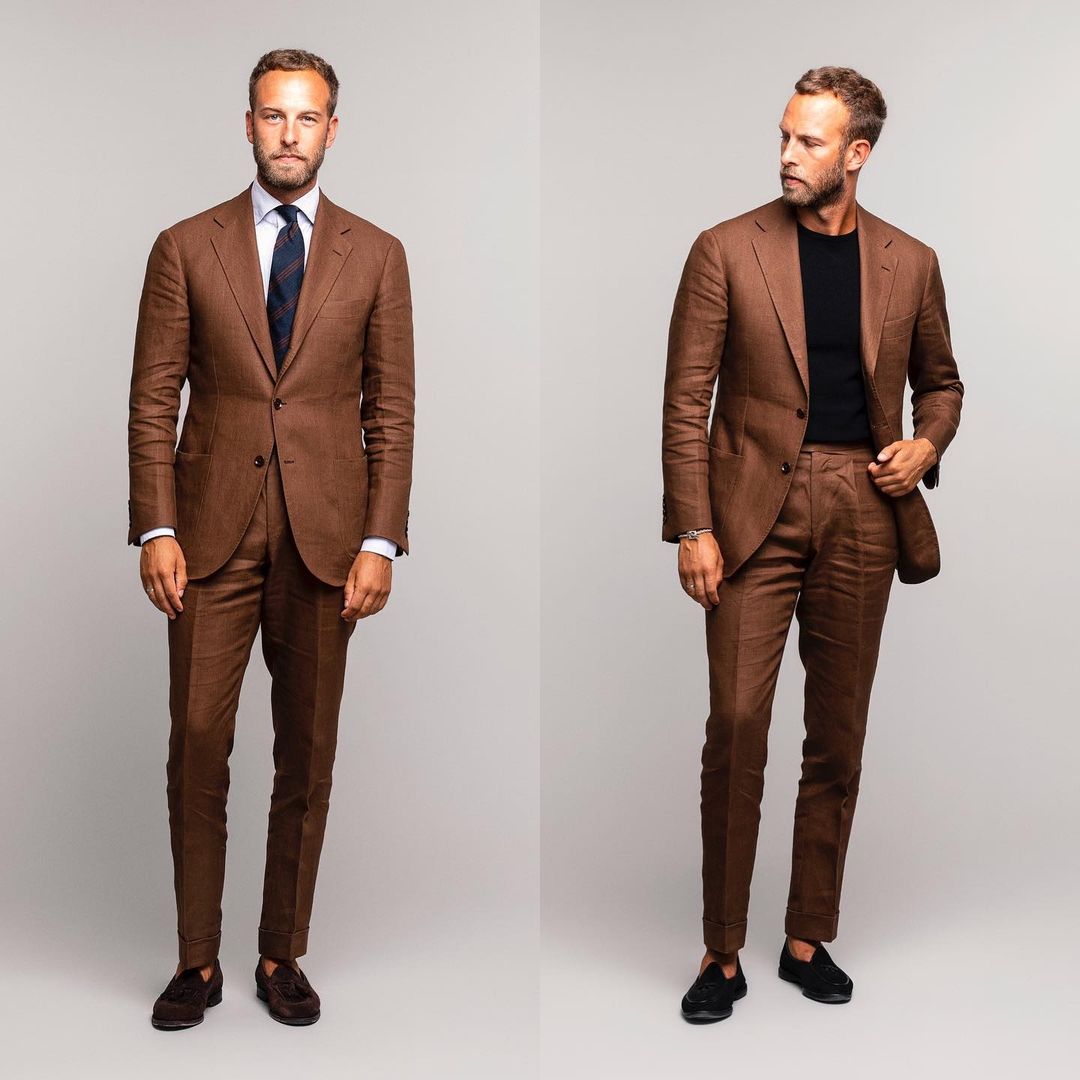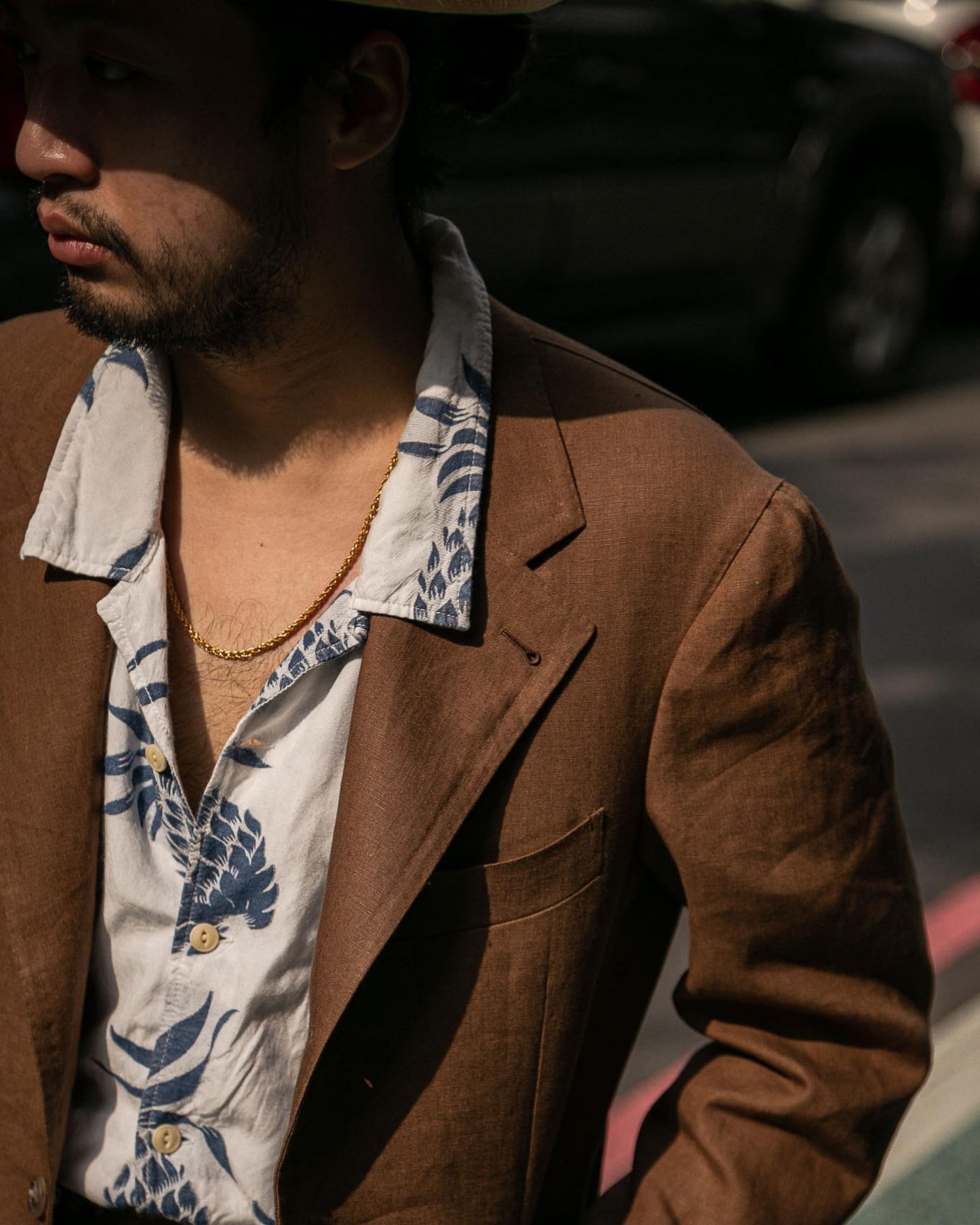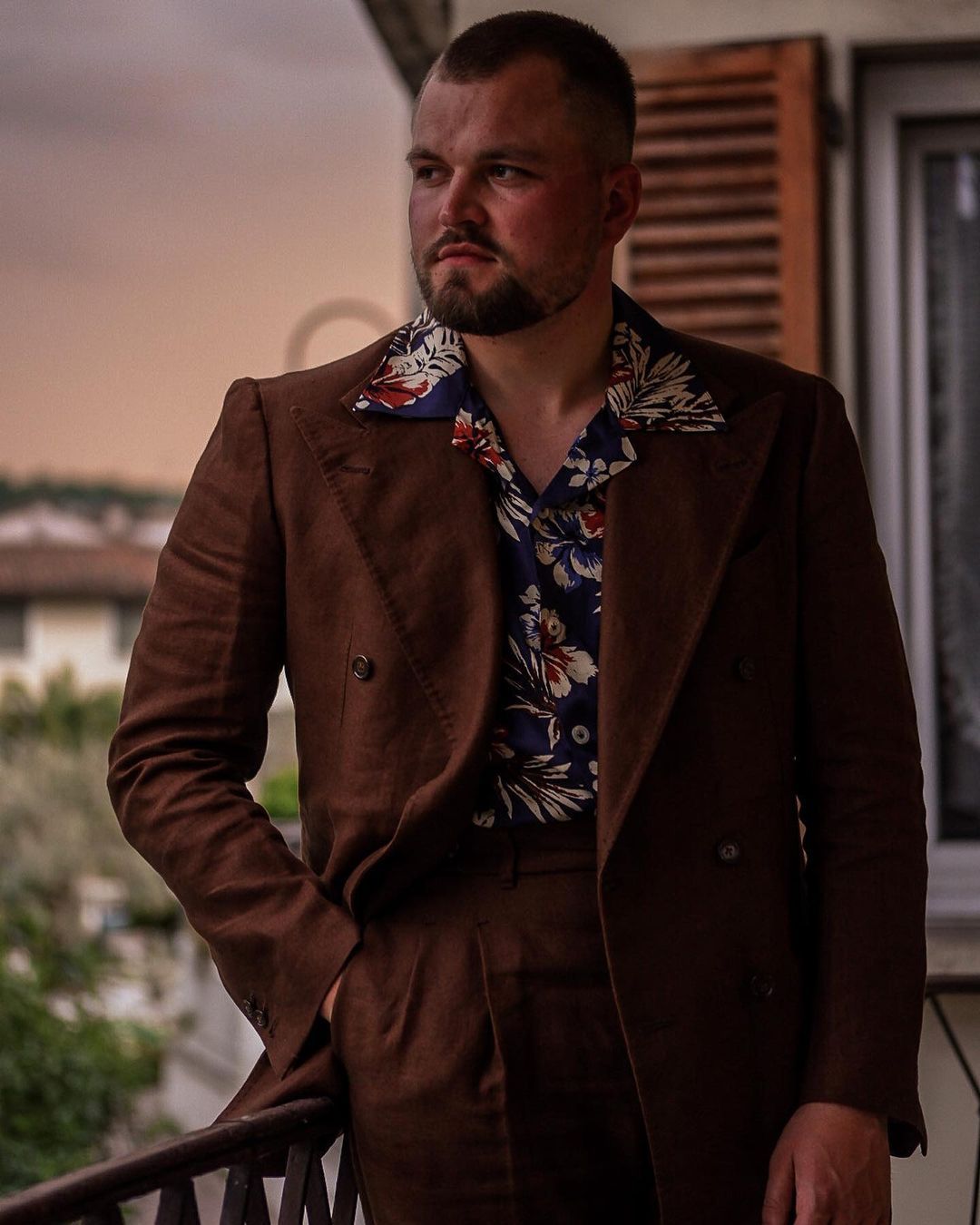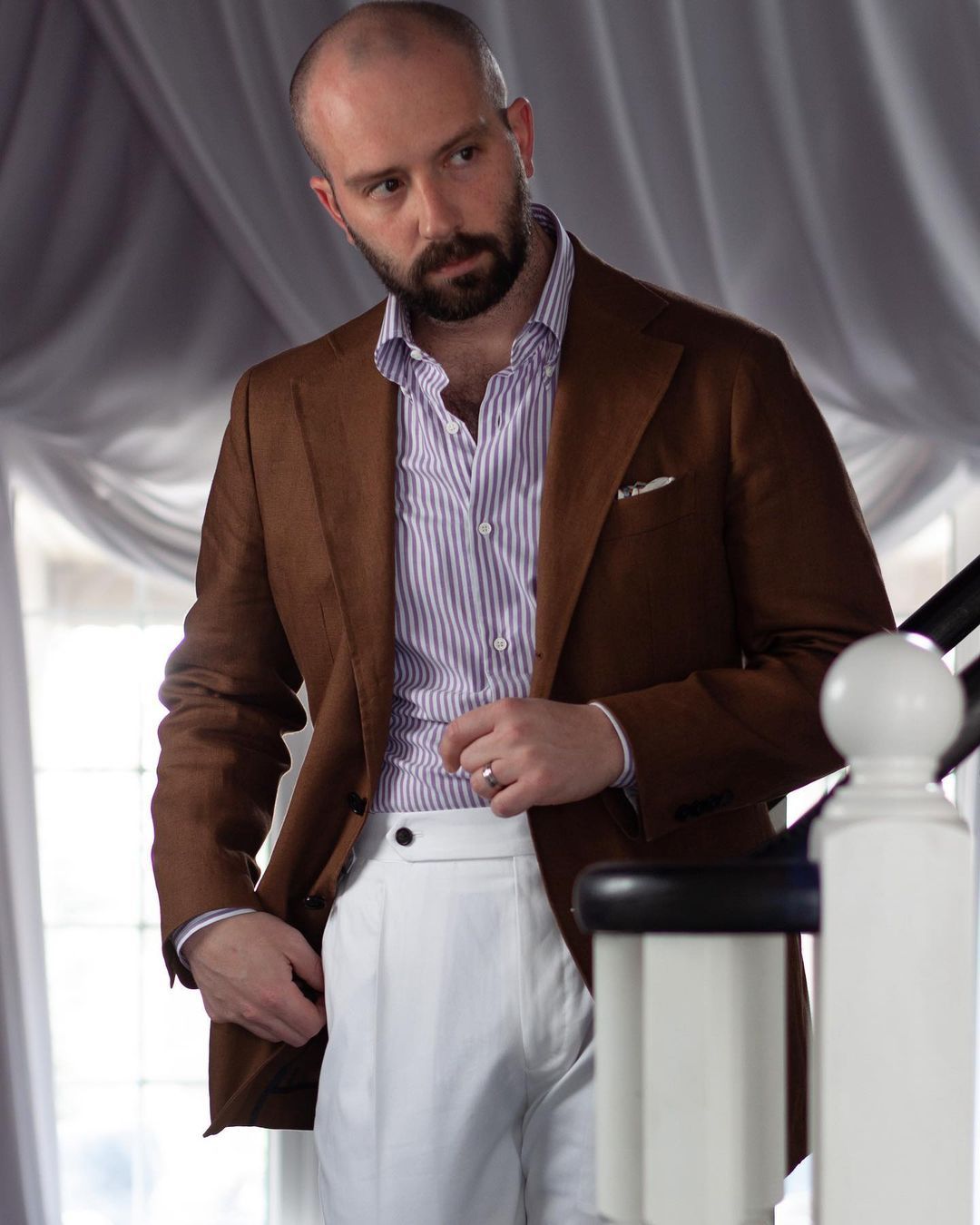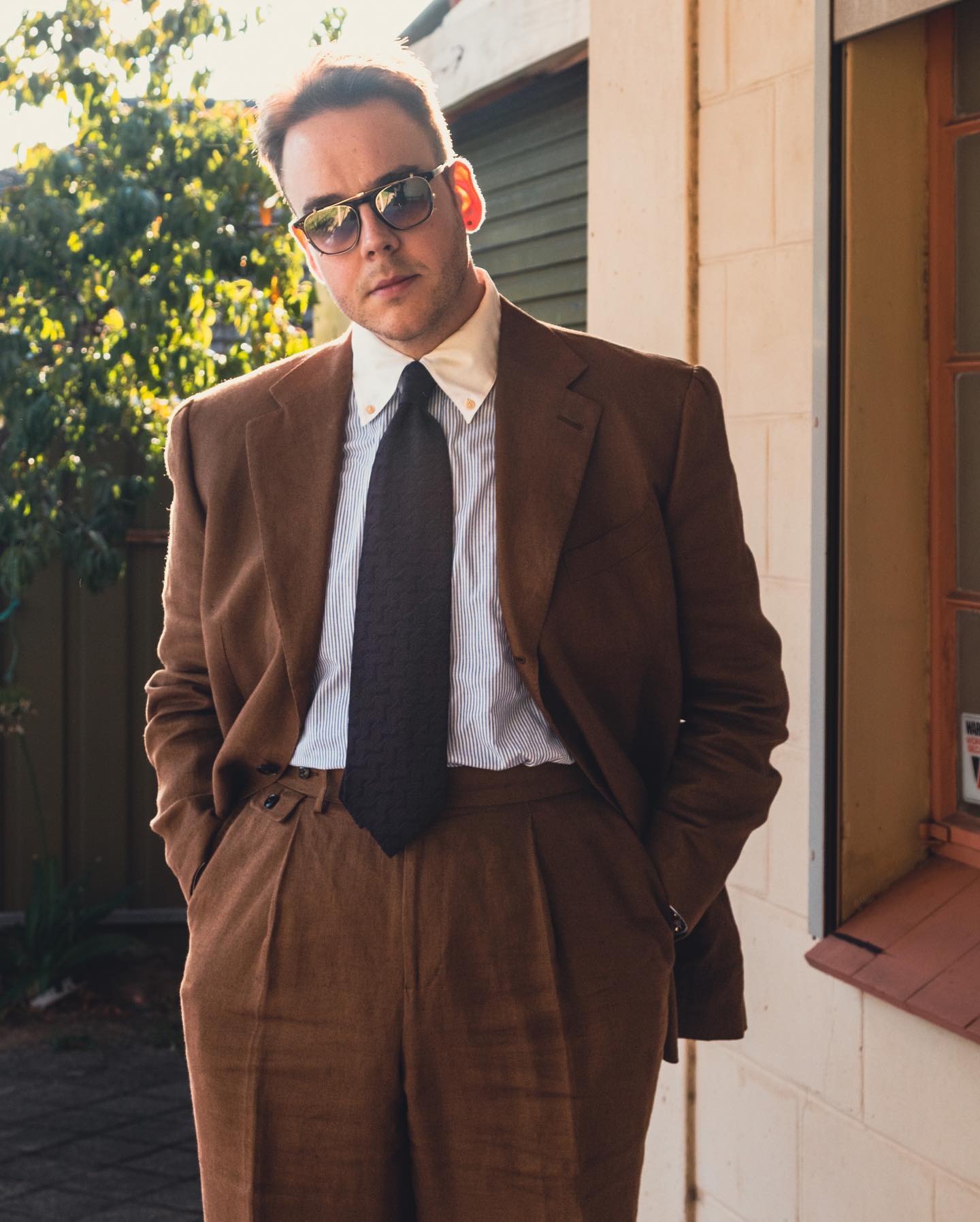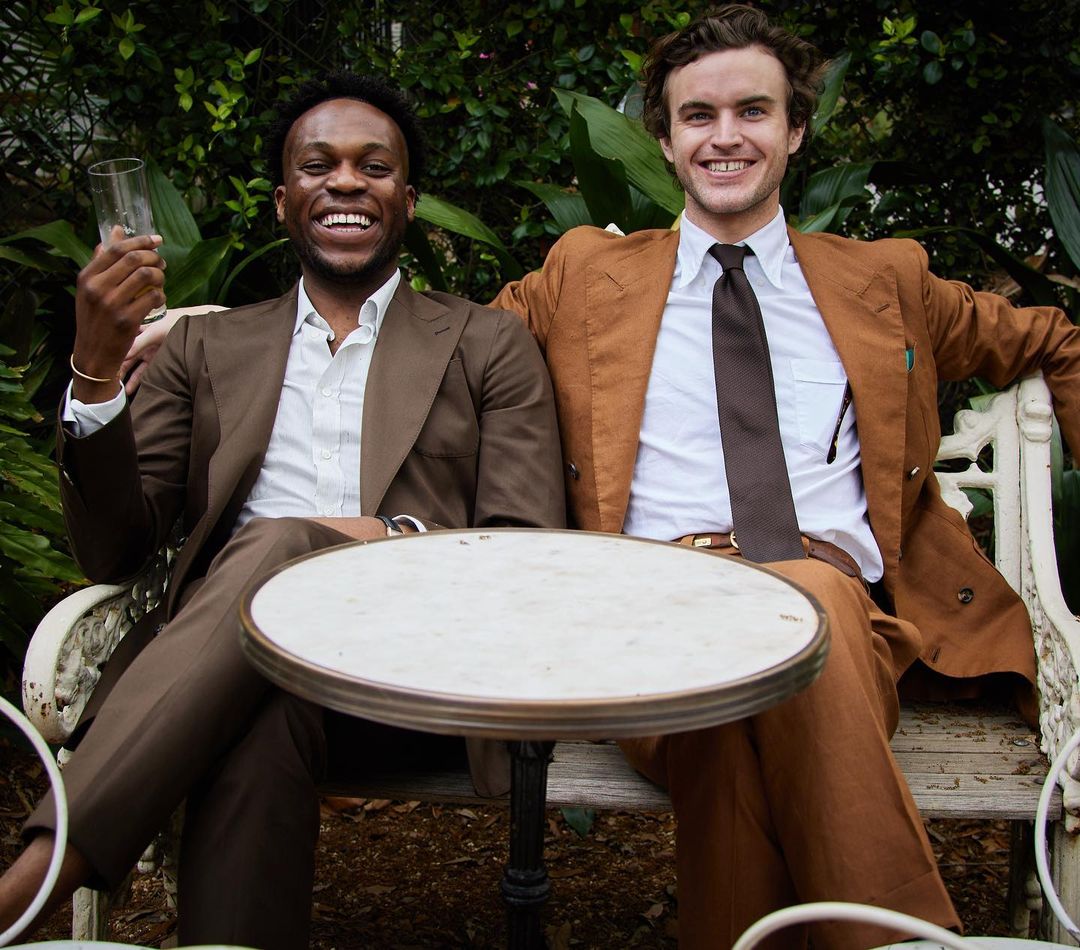 Light Browns
You can go a little lighter, still, without verging on tan. The Anthology 4x2 above hits me as the ultimate "light brown." You might still refer to this as tobacco. Of all the shades in this article, I think this light brown is my favorite. But I still prefer chocolate browns.
I think these light brows work best in a relaxed fit, and, again, as double breasted jackets. There's just something about the way they breathe.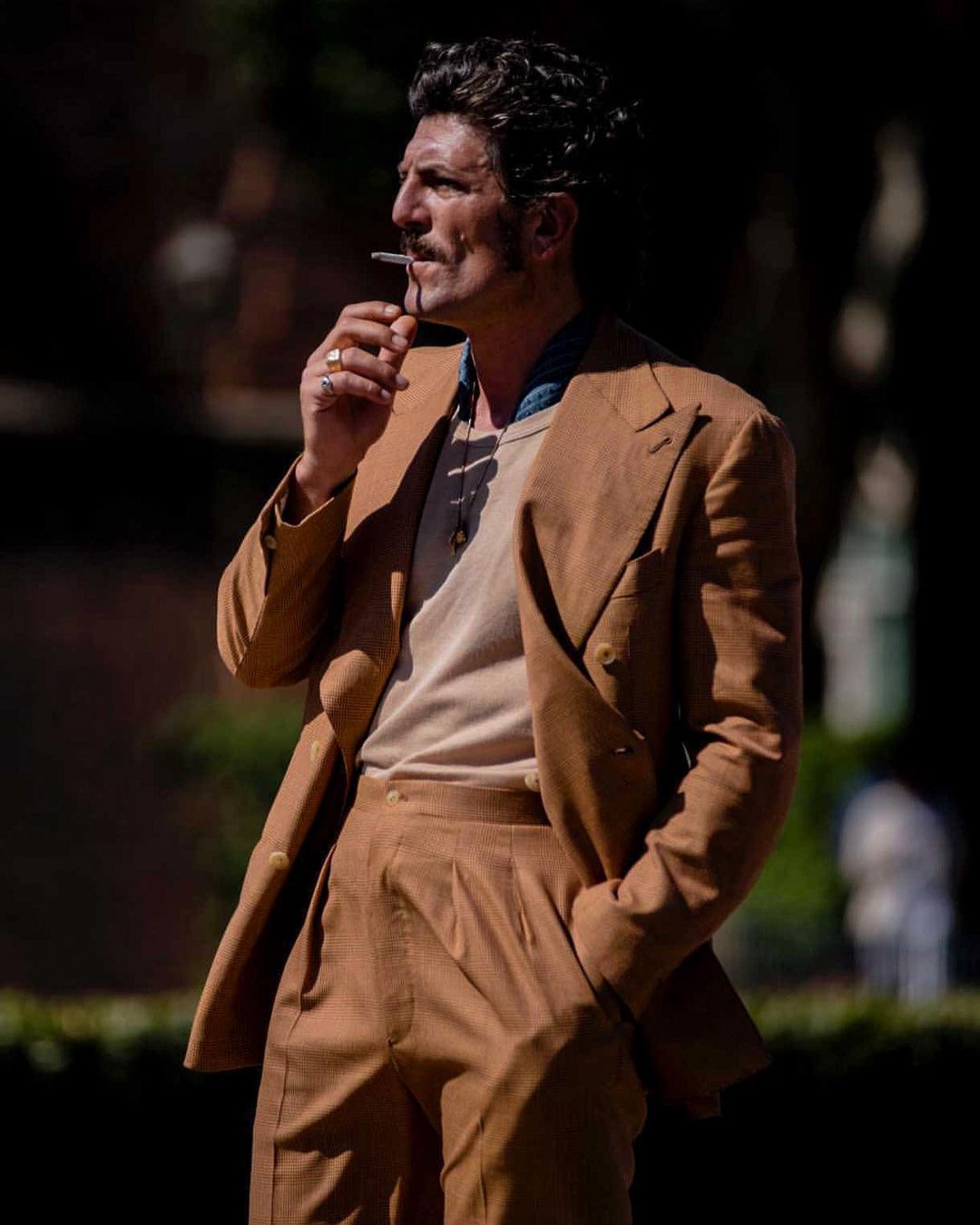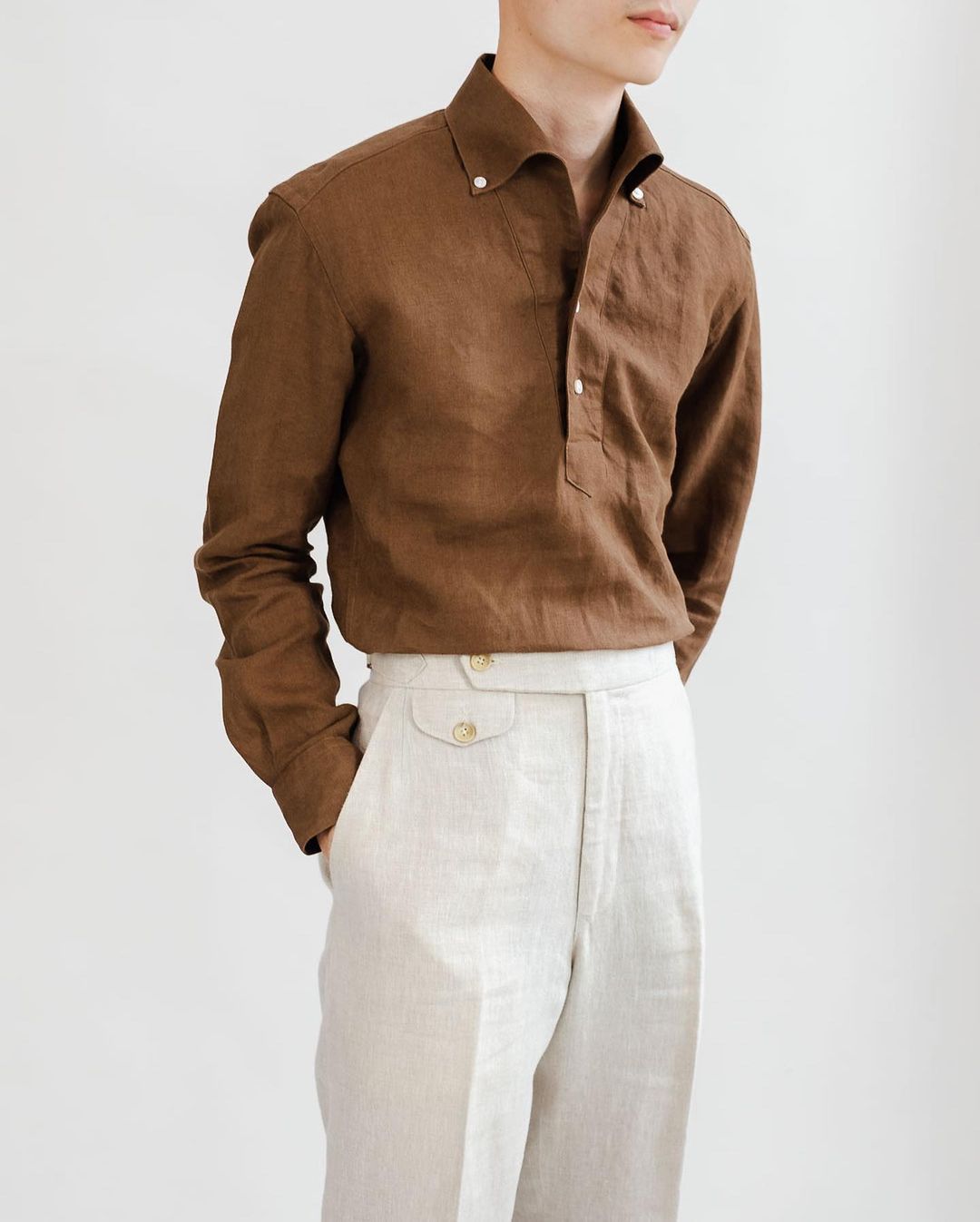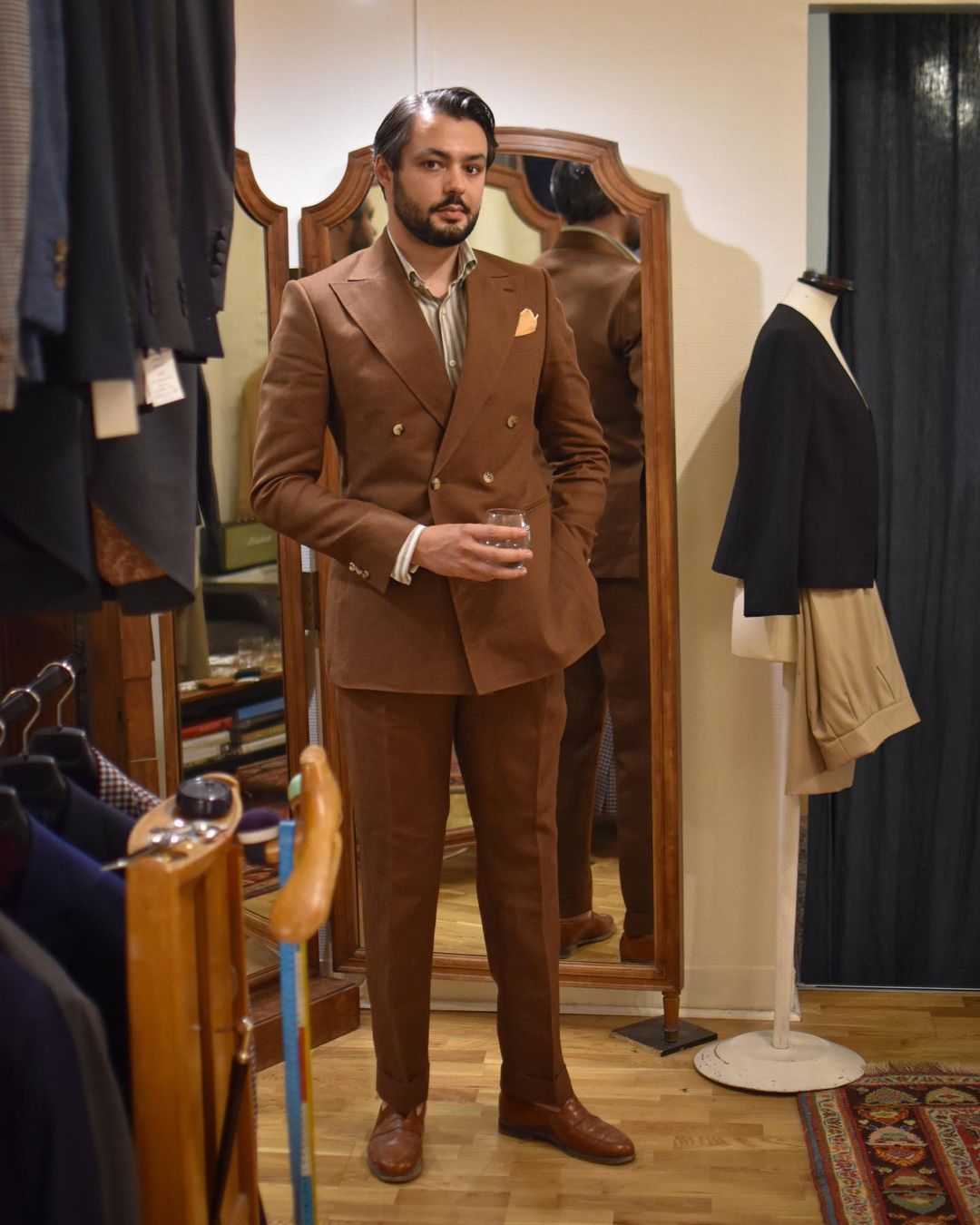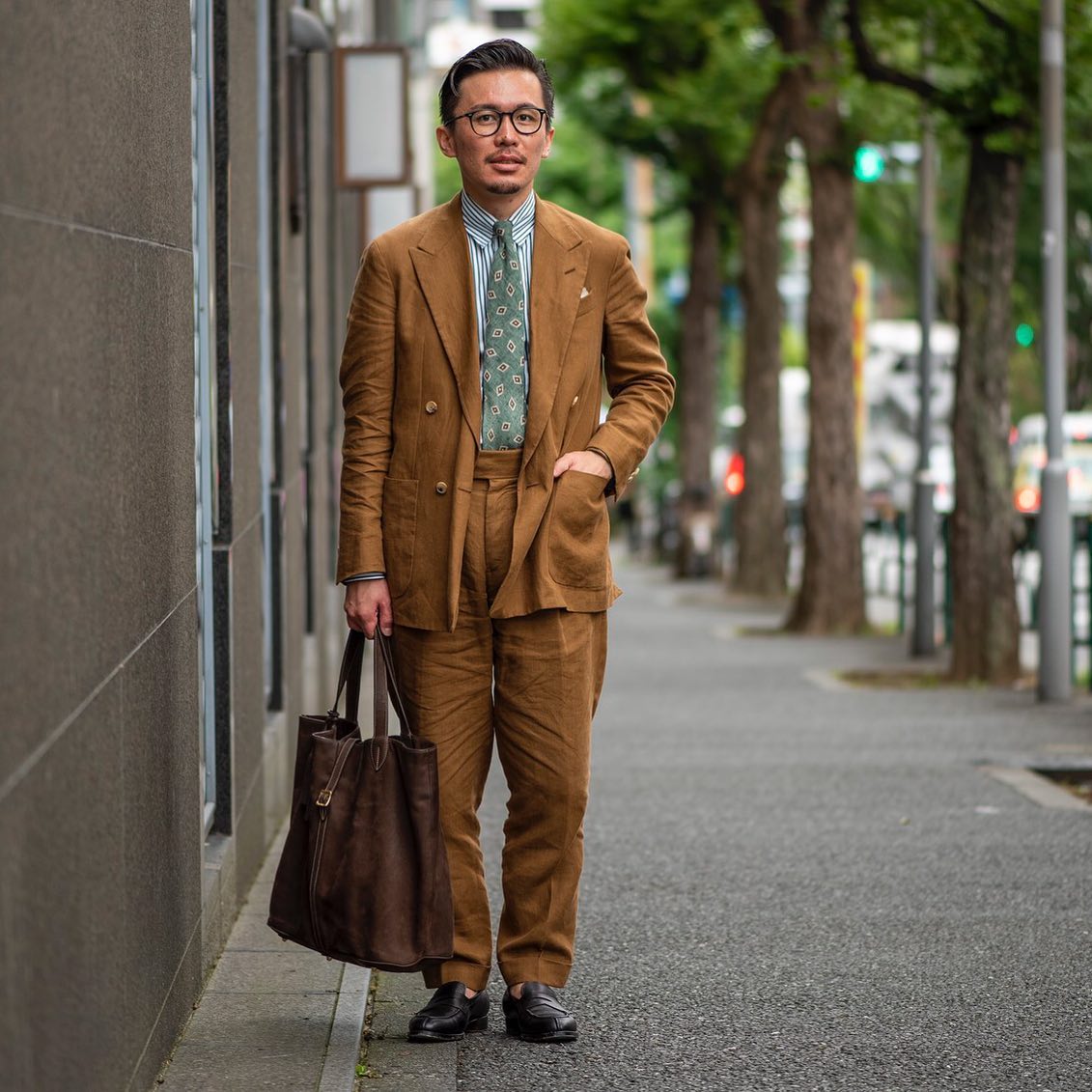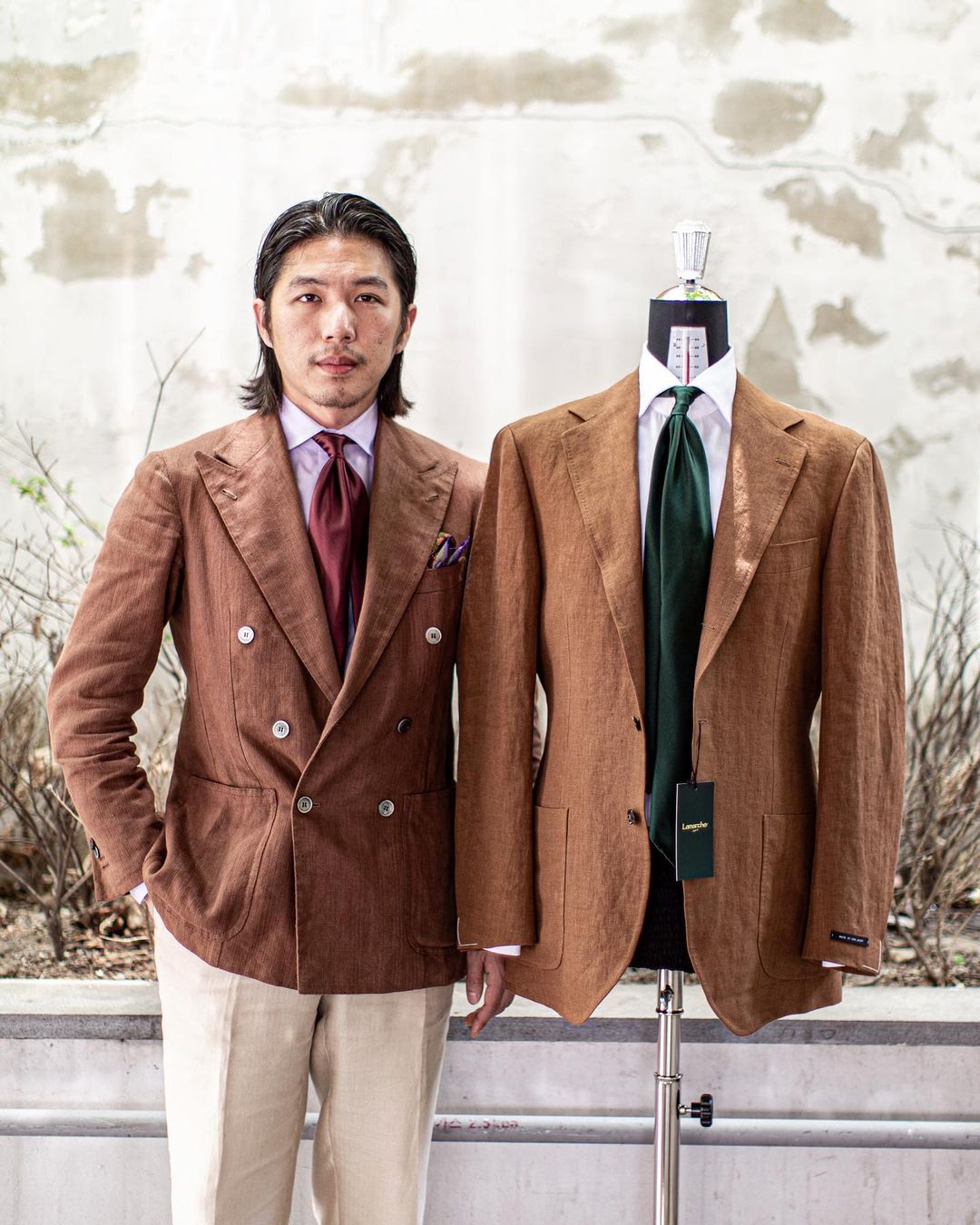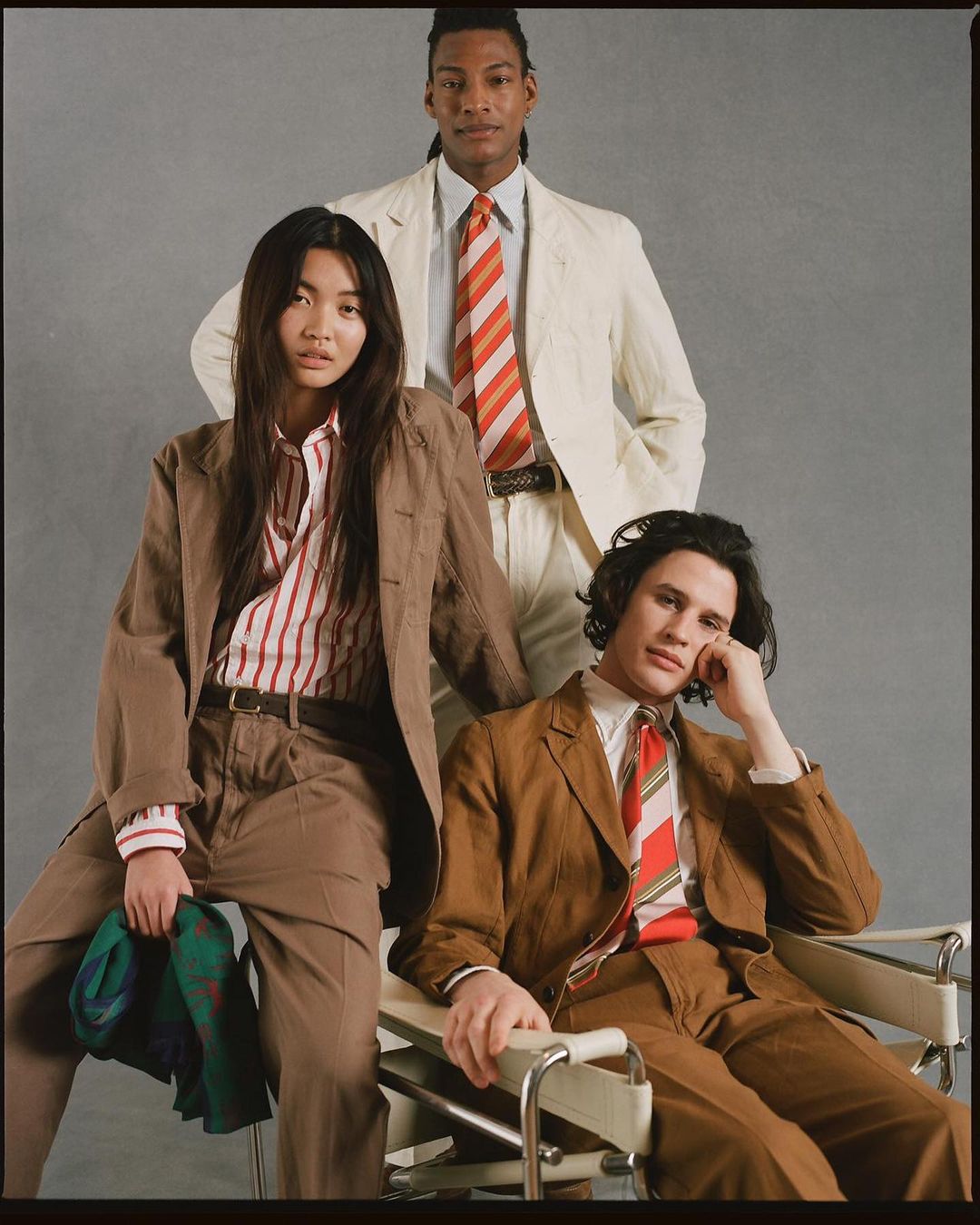 Less Saturated browns
To me, less saturated browns seem best for a very casual context.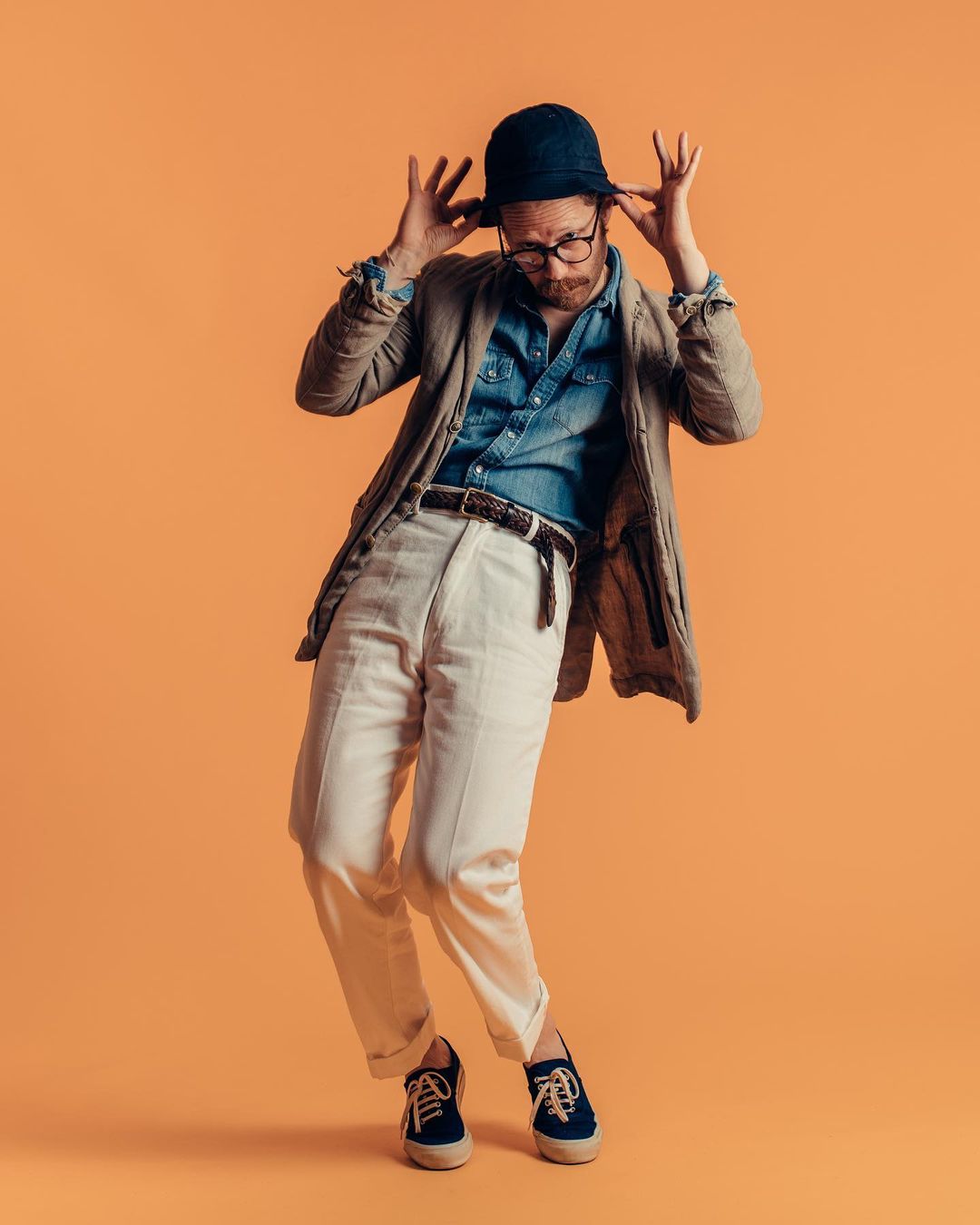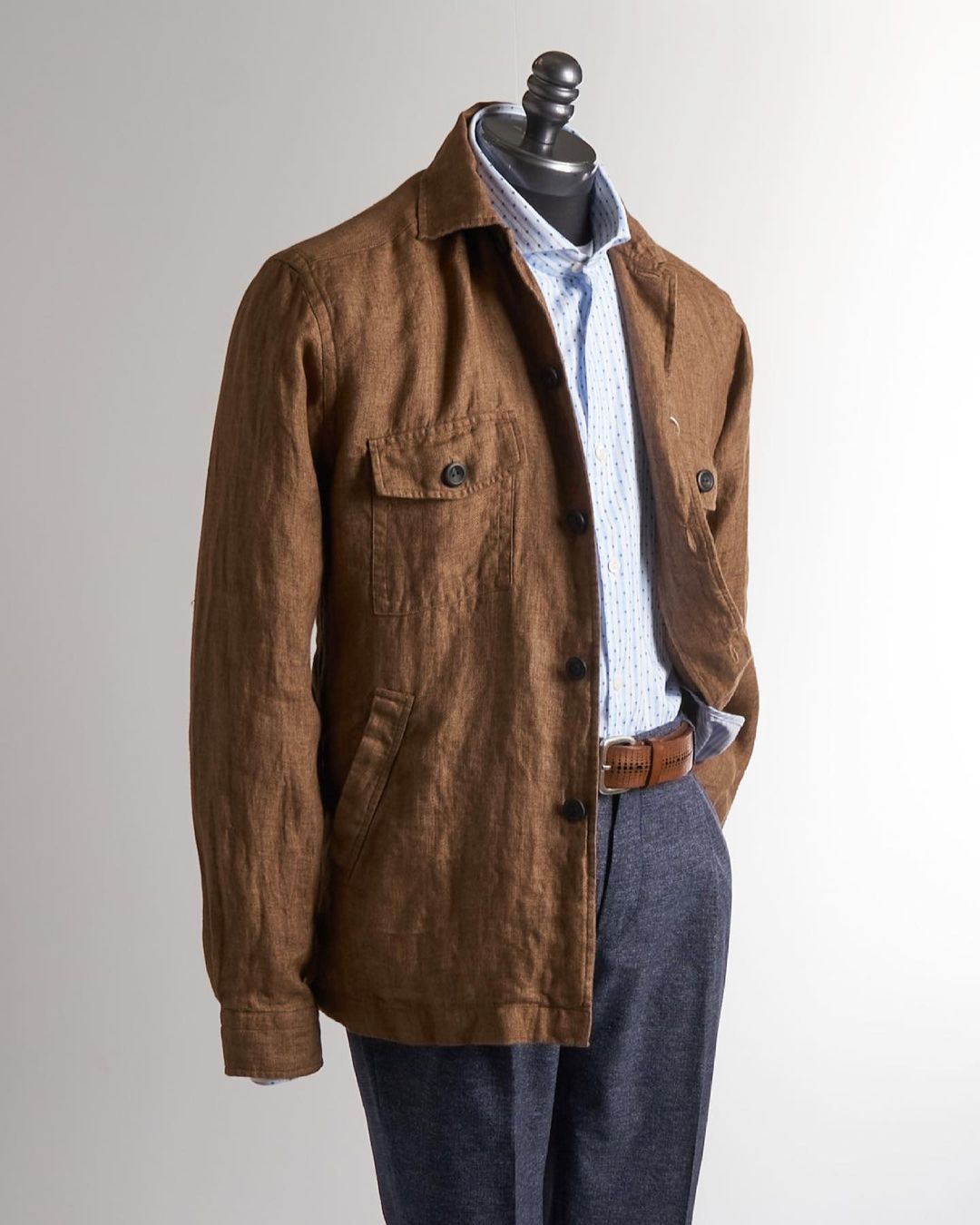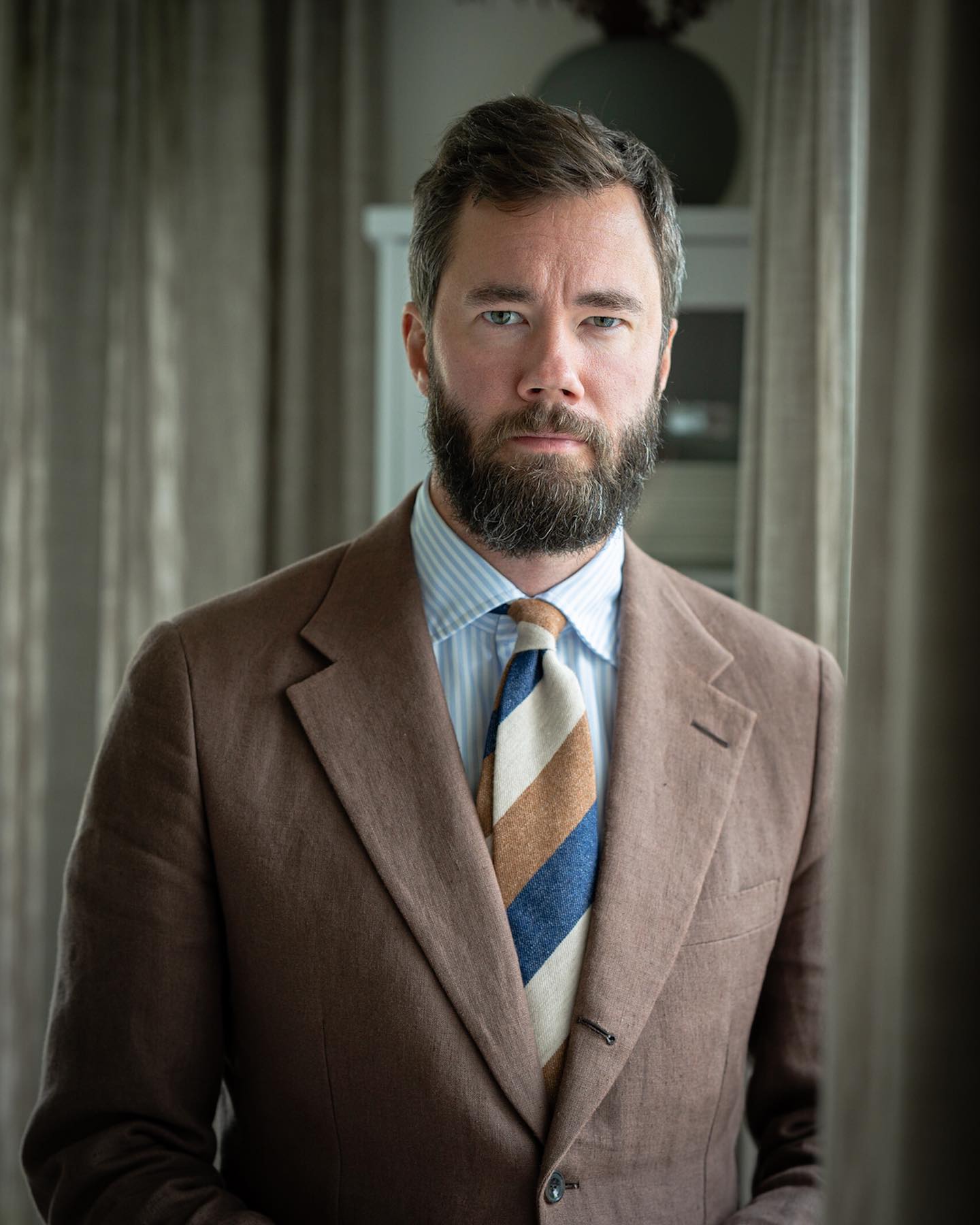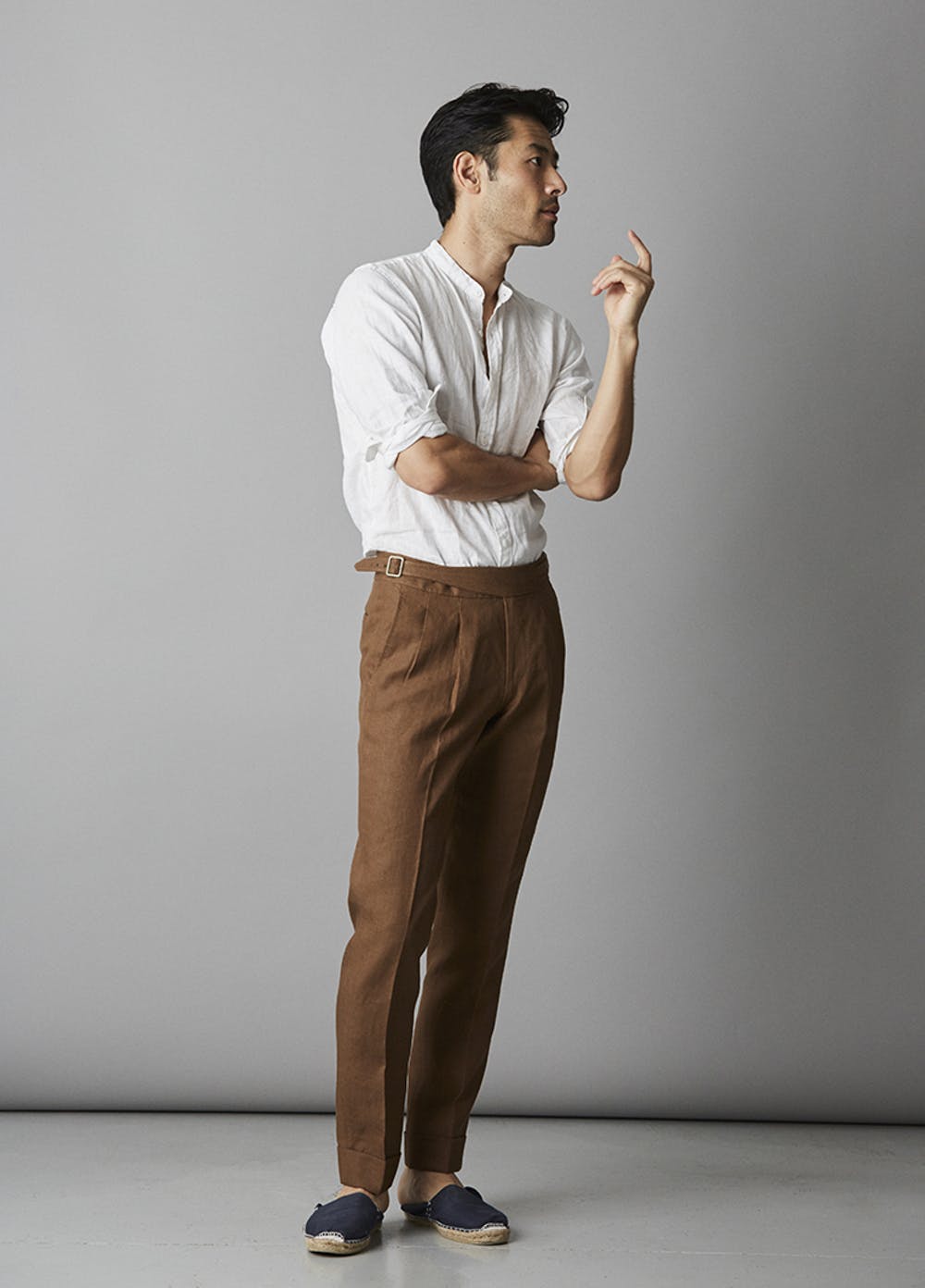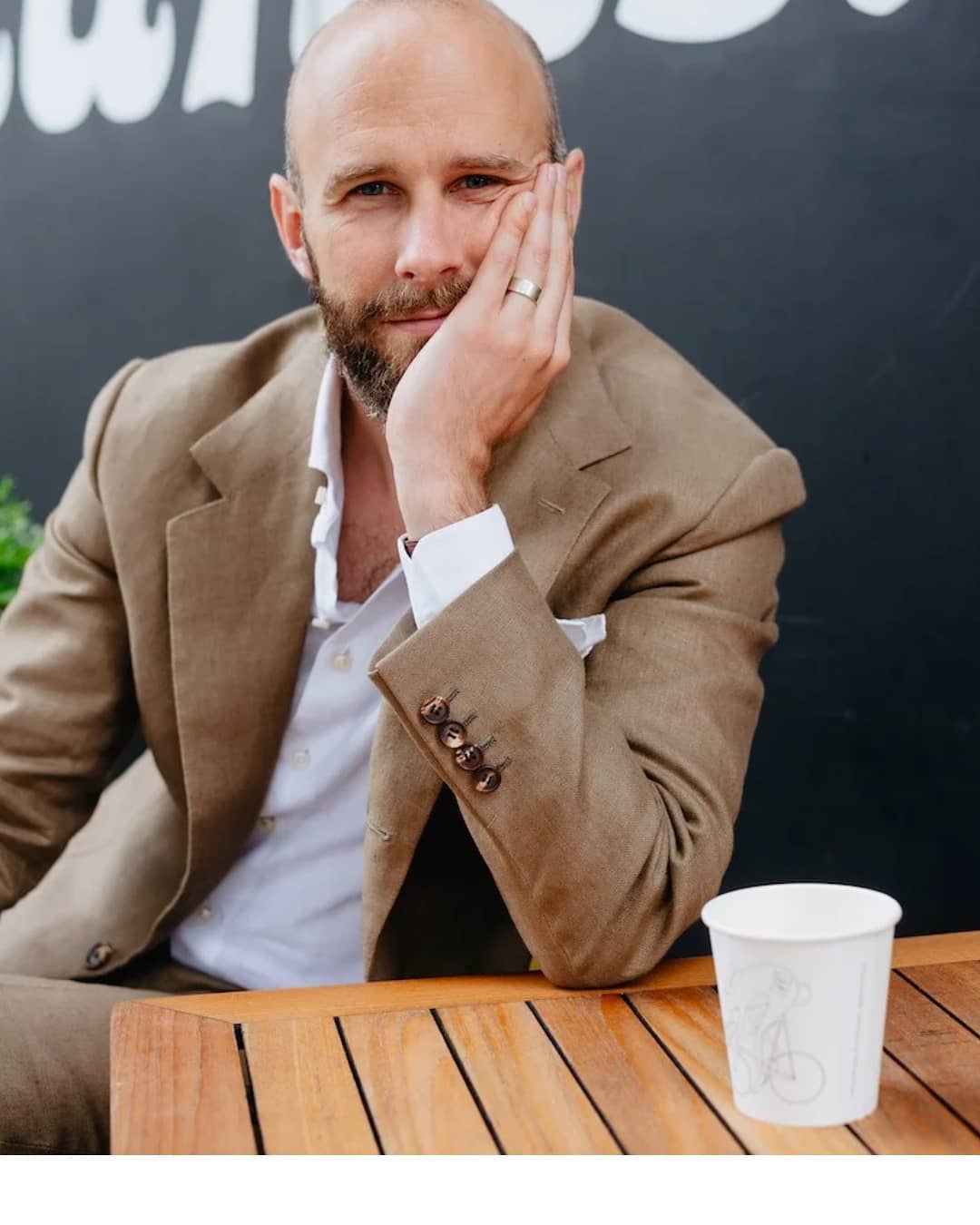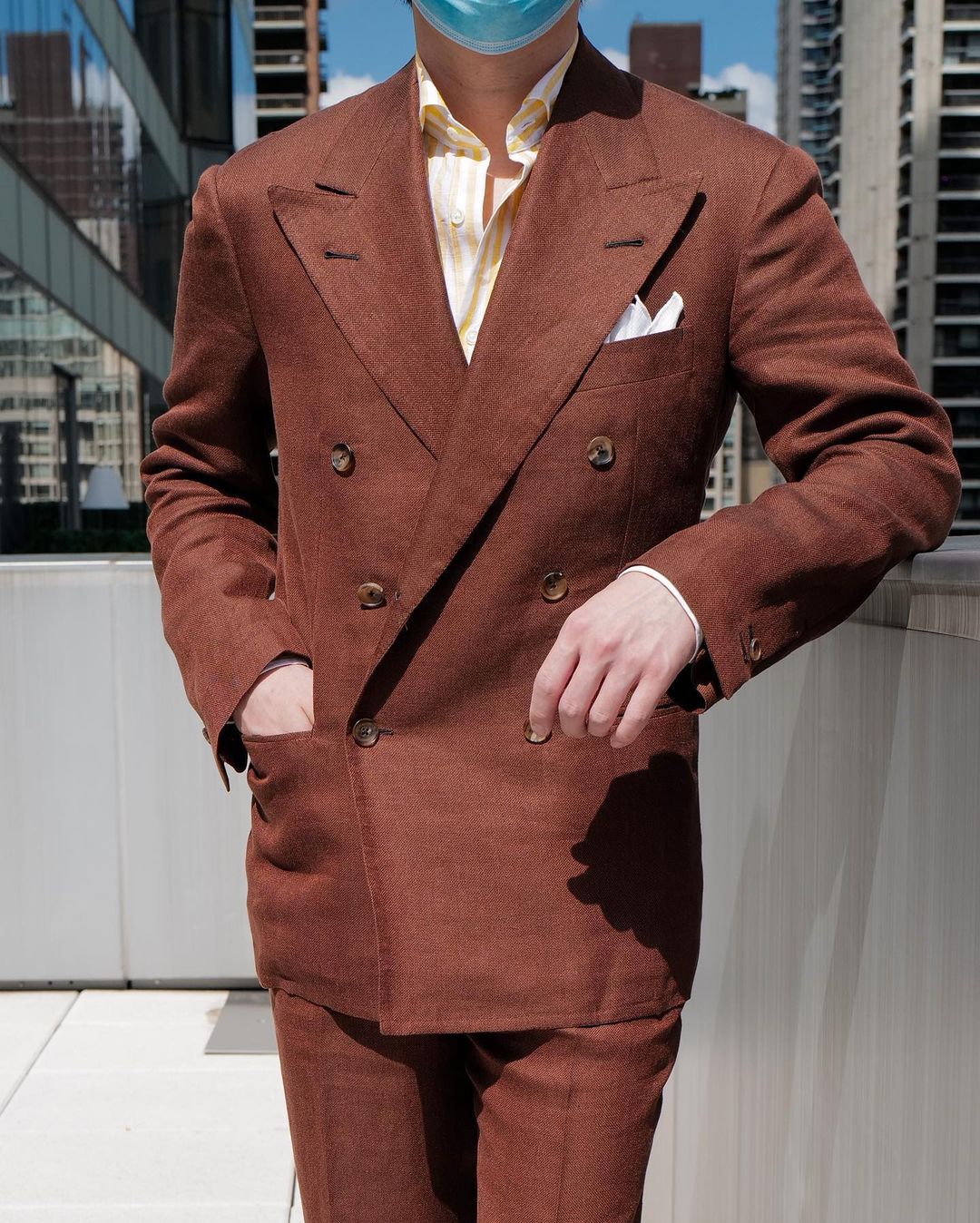 "Rust" or "Terra Cotta" linen
All bets are off now. The mildness of mid browns have now been thrown out the window, and we now take on warmer, more saturated tones. Use of these colors in tailoring is inherently bold, and use in casual outfits will stand out too. There might not be any simple recipes -- try them out, and see if you can make them work! The classic suits above are good, but I think the casual suits and the linen knit below ar more interesting.
This range of shades is usually referred to as "rust," or sometimes "terra cotta," Italian for "cooked earth." The latter sounds fancier, but it's four syllables, so take your pick.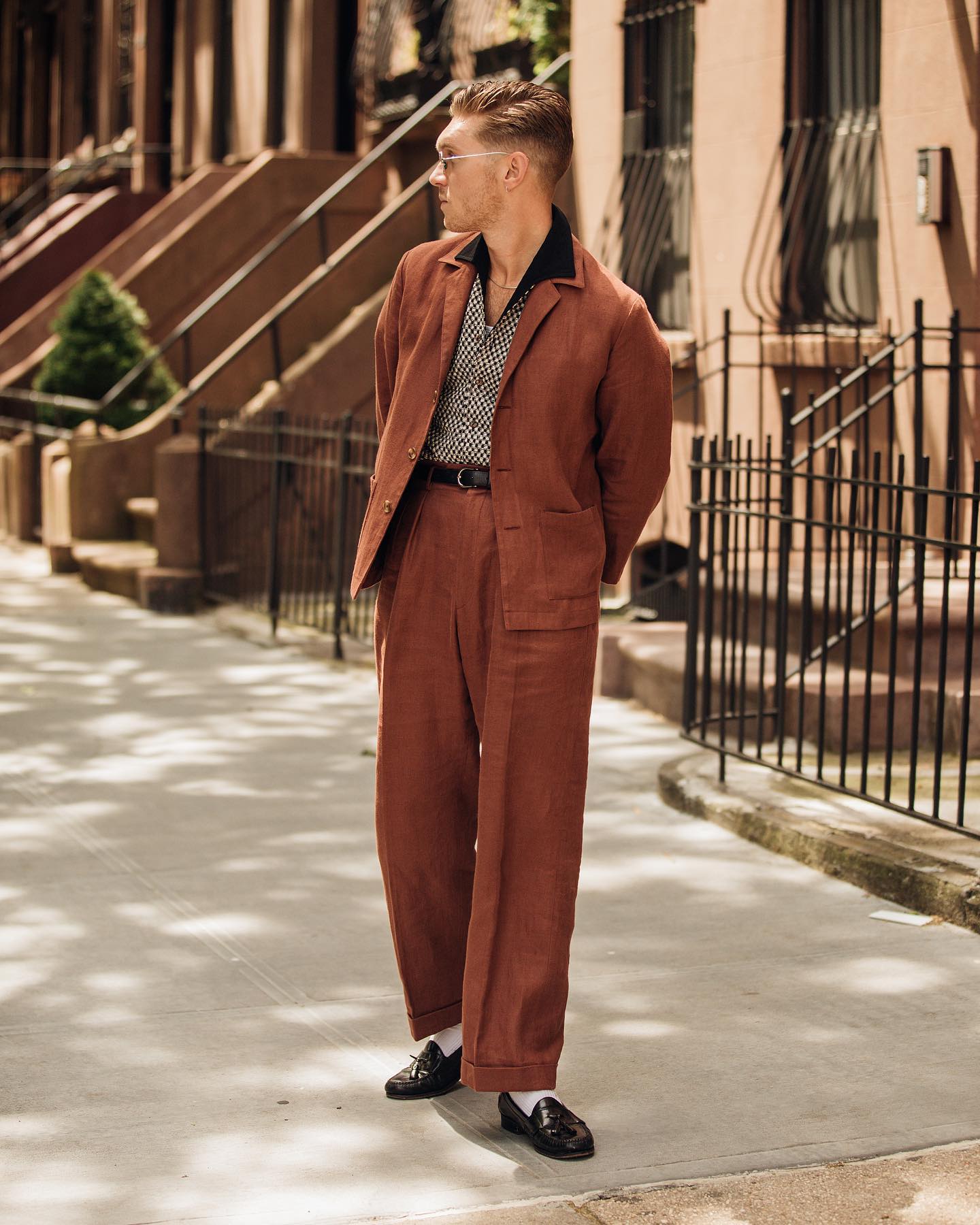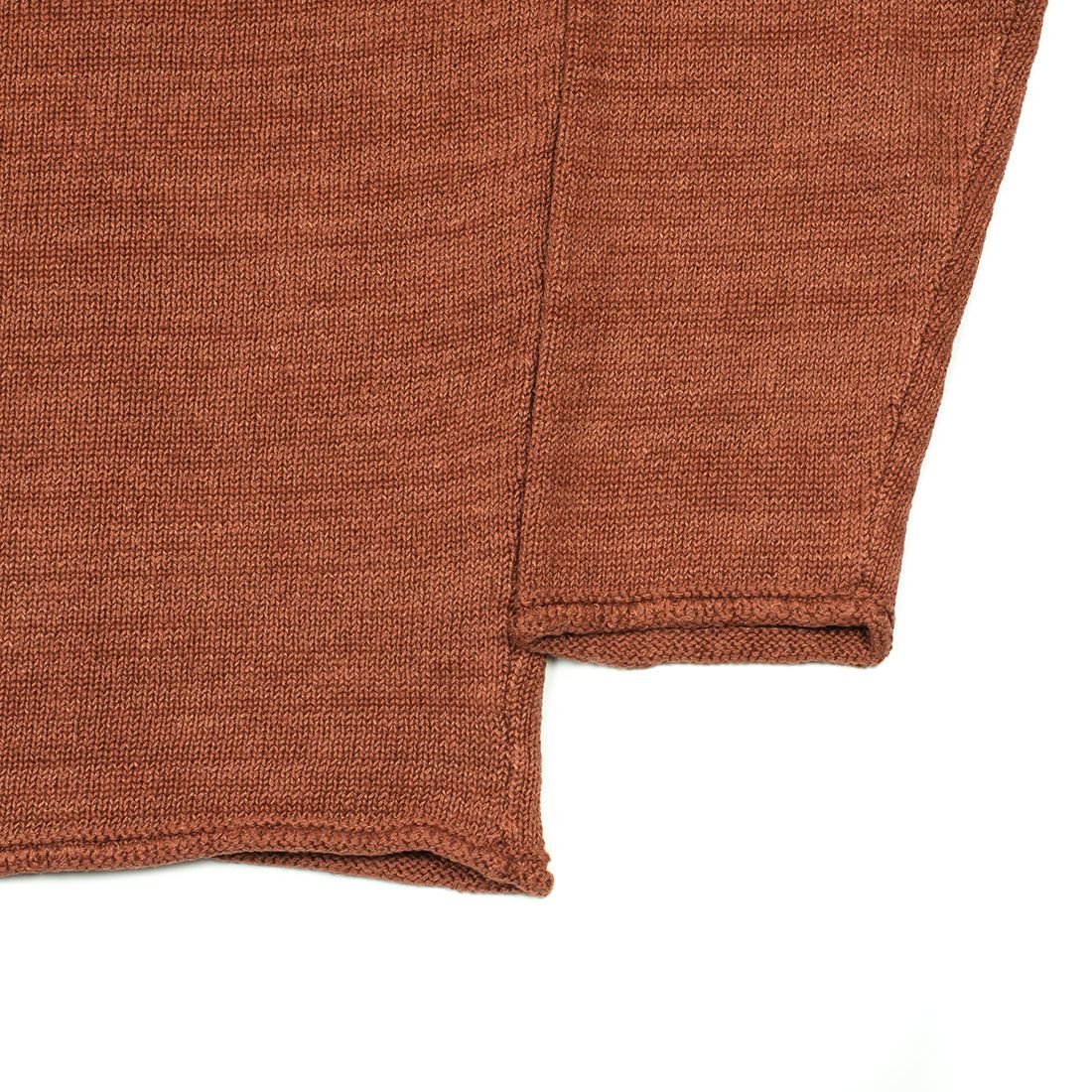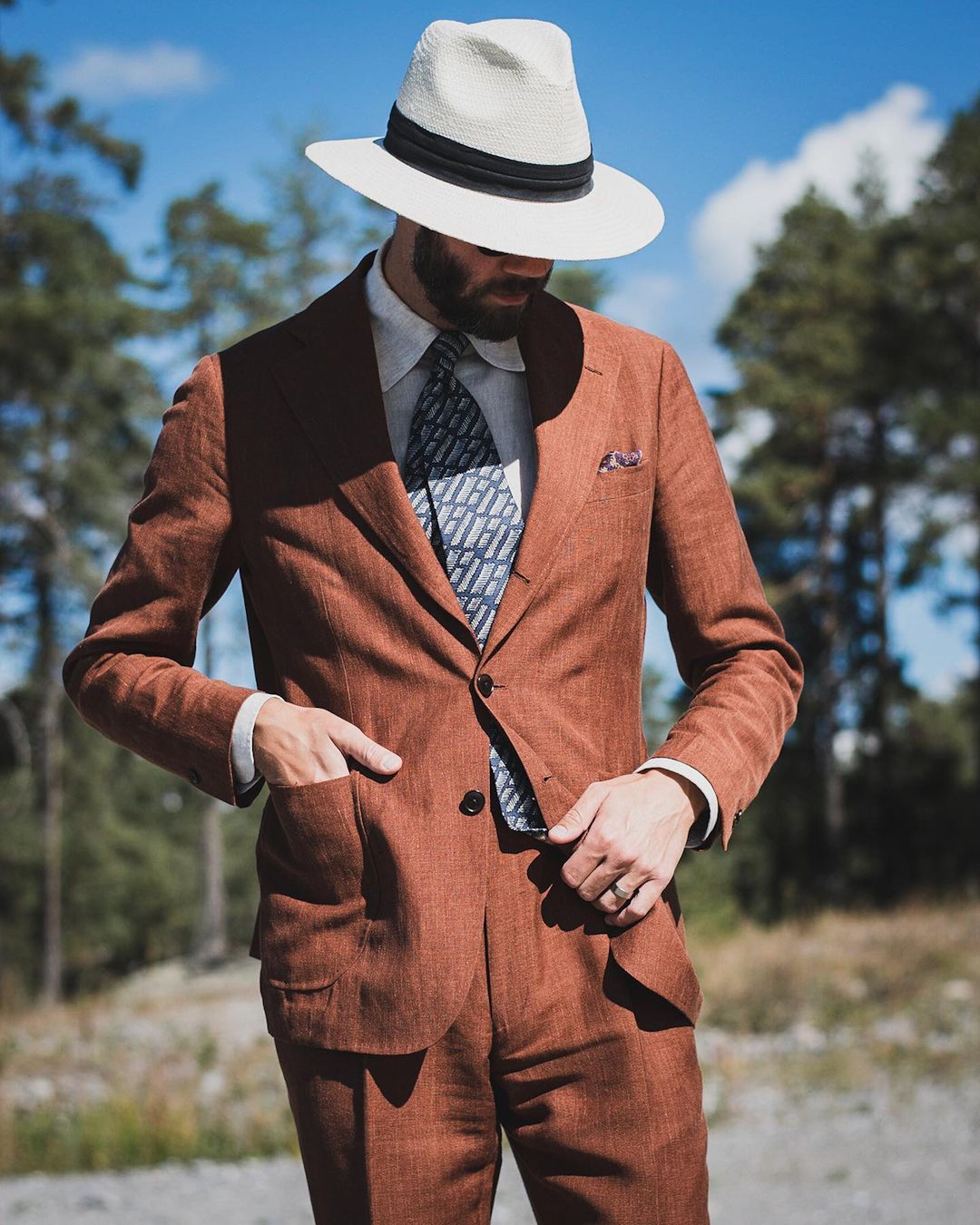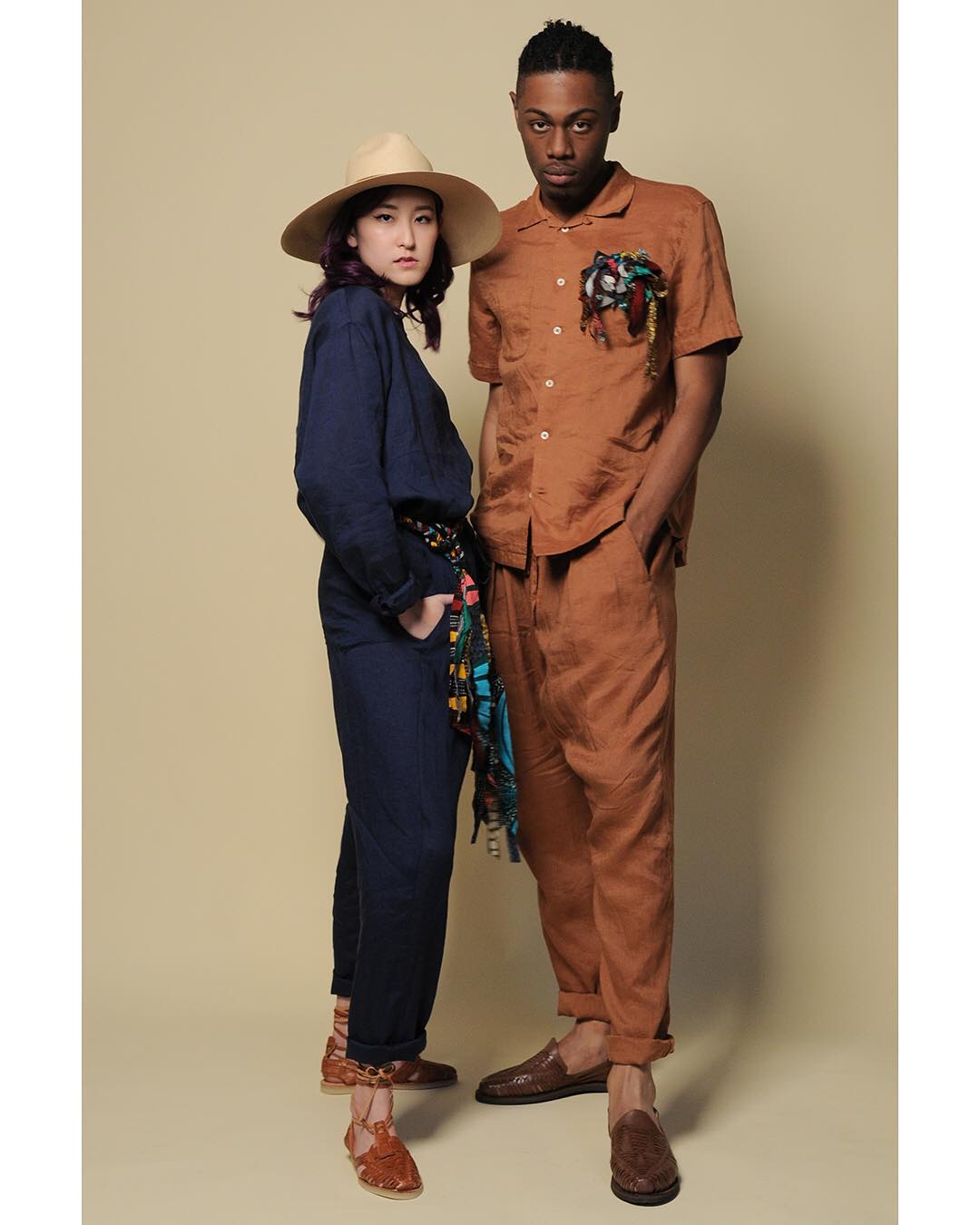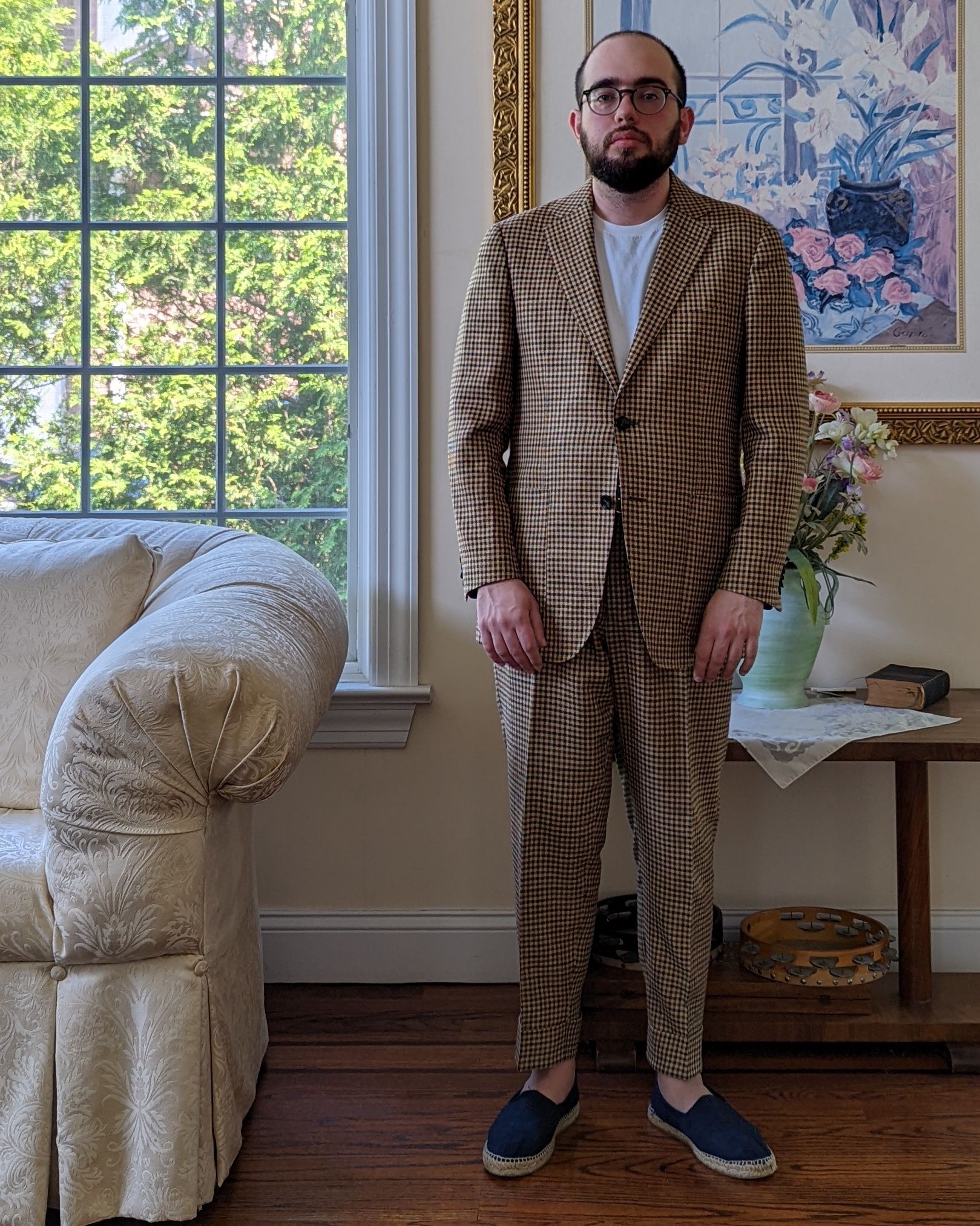 Conclusion
"Brown" is obviously a very broad spectrum of colors. Linen can make each of them shine, wrinkles creating subtle shadows and slubs hilighting subtle variations in tone.
Really, I feel like I'm cheating when I use linen to highlight a color. But maybe I'm using one color at a time to highlight what I love so much about linen.
That's really all. As always, please like, favorite, share, subscribe, follow, retweet, reblog, pin, screenshot, project, rotoscope, and recruit your friends to spread the word of Dress Code. And until next time, have fun!