The Difference Between Linen and Linen
Hope you haven't put all your linen away yet.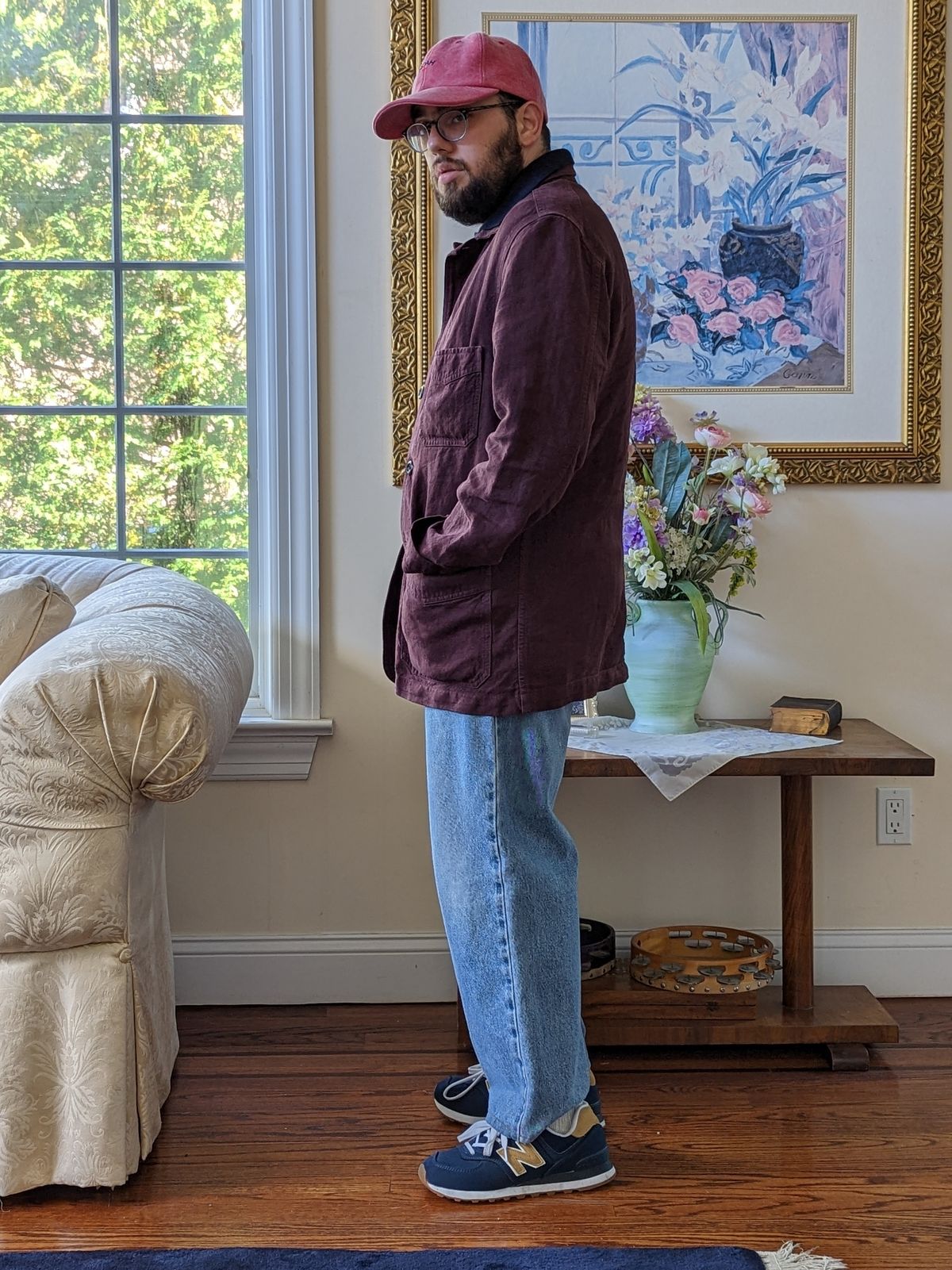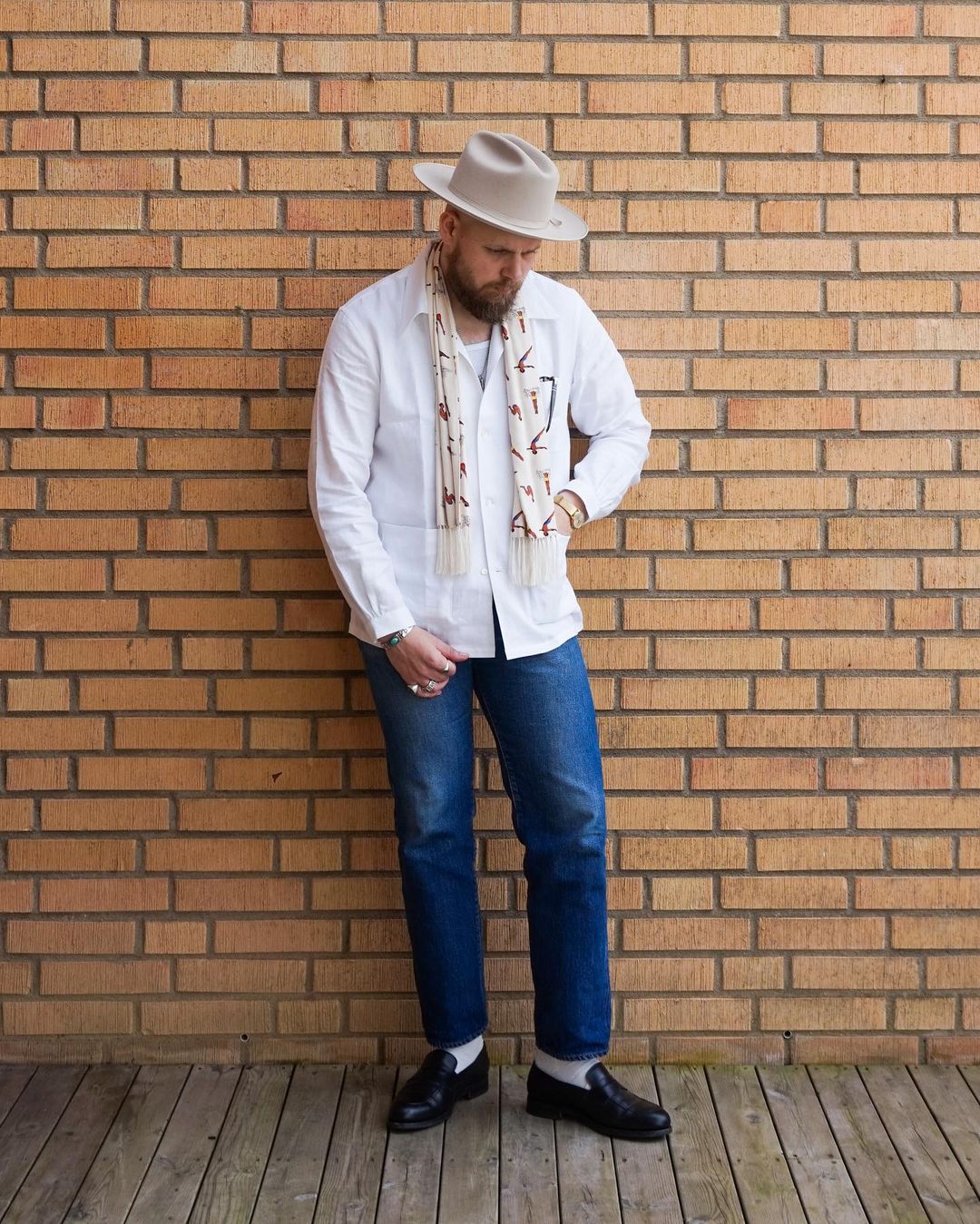 Happy October, all. Hope you haven't put all your linen away yet.
I'd like to start with a quote from Philip Gregard, which he shared on the Style and Direction discord upon sharing this outfit with his Bryceland's Cabana Shirt:
It took me a while to realize that linen works not only during summer but also spring and autumn. Even where I live. This one is very heavy so that helps. I'm glad I've learned that there's a difference between linen and linen.
In this article, I'm going to explain that difference. Linen, and by extension hemp and ramie, aren't just for summertime and bedsheets. In different weaves and weights and blends, linen can fill a lot of different roles in your wardrobe. I'll discuss the common use cases of 100% linen for summer shirting, suiting weight linens, and my heavy linen chore coat from Drake's. I'll also discuss the value linen provides to a blend—not just extra breathability and texture, but strength. Finally, I'll provide more context as to why you might want to wear linen as a transitional piece or even in colder months.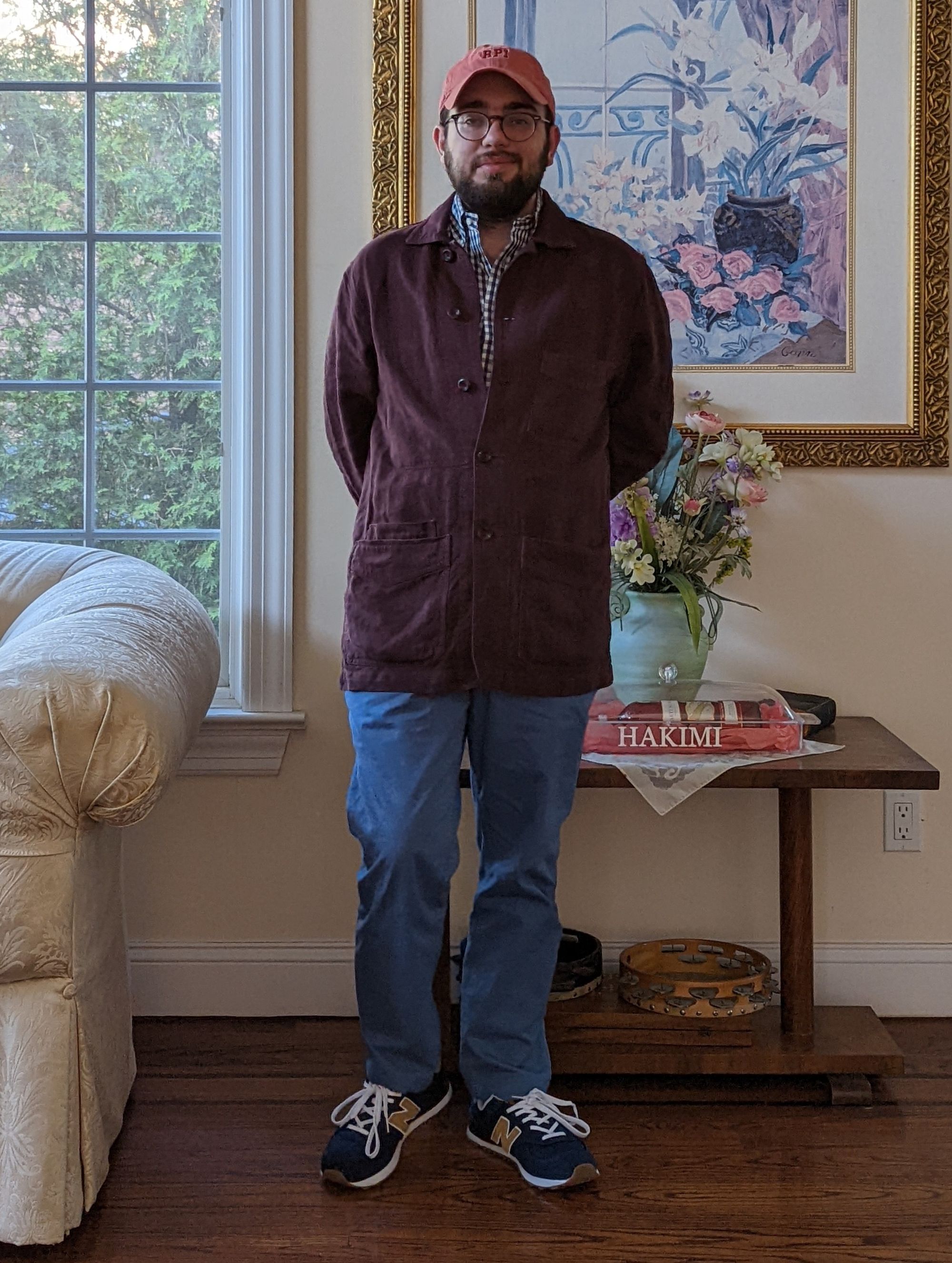 Linen Weaves and Knits
Linen is most traditionally woven in the "linen weave." The "linen weave" is actually just another name for plain weaves, including poplin and basket weaves. Plain weaves are often used for summer fabrics, including cotton chambray.
But there's no reason you can't weave linen into a twill, or satin, or even a heavy plain woven canvas. Linen's crinkles might make it more open and breathable than other fabrics in the same weave, hence why lightweight, plain-woven linen shirts are amazing in the summer, but a heavy, densely-woven linen can still provide a good deal of warmth. For that matter, you can weave linen in a light, gauzy weave. Or you can knit it.
Inis Meáin is known, among other things, for linen knits, including the shirt jacket above. They're meant for summer time, and are a really excellent way to layer in the summer. But some of them are a little thicker—either for a summer breeze on the water, a chilly night, or use as a transitional piece through fall and spring.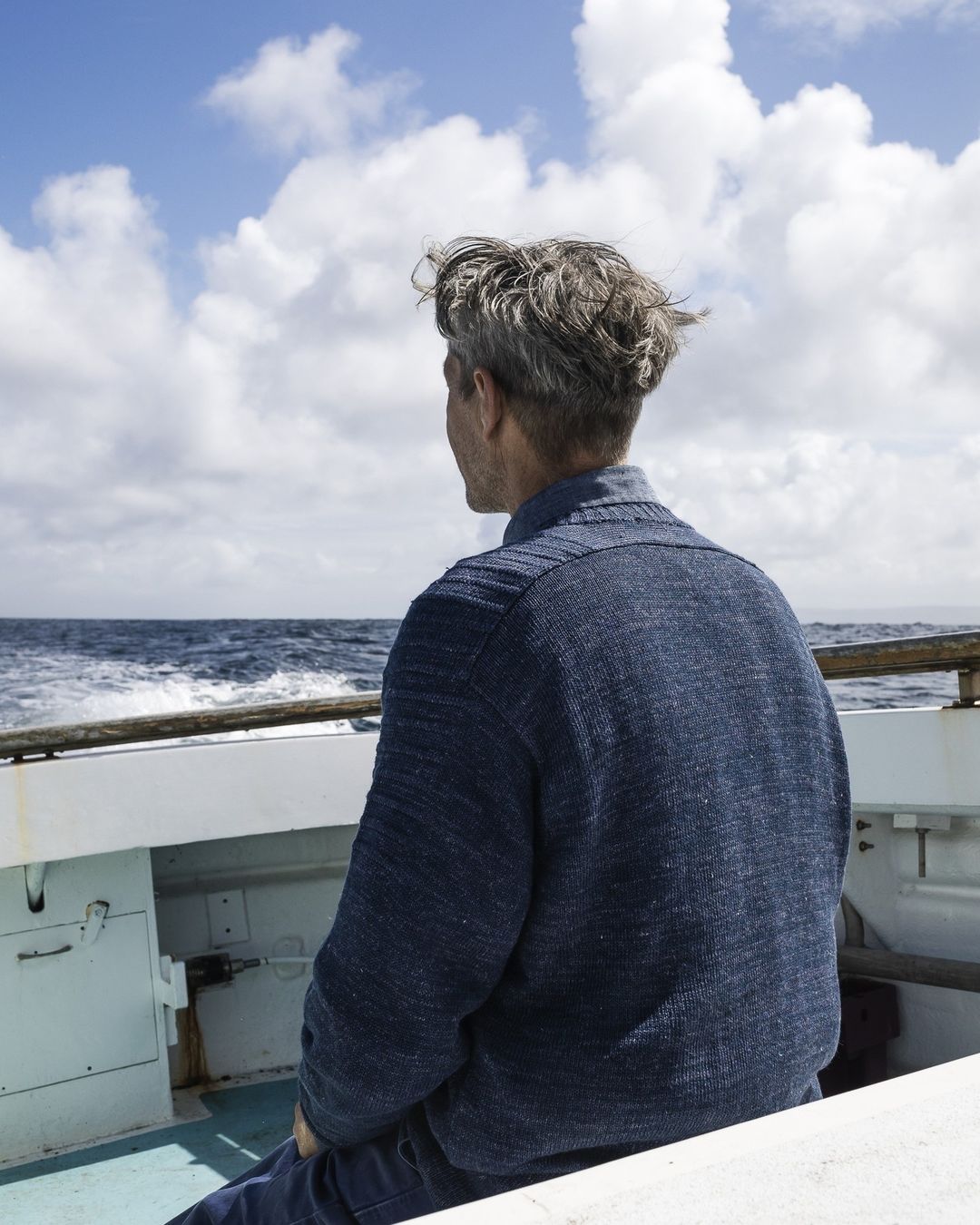 Fabric Weights
Speaking of weights, linen comes in a full spectrum of weights. Shirting-weight linens might be somewhere in the range of 120gsm to 200gsm, and suiting-weght linens might cover an even broader spectrum, realistically from 220gsm to... you'll see some 380gsm suiting below. My heavy linen canvas chore coat from Drake's weighs 430gsm.
Sam, below, of SamTalksStyle, loves his heavy linen shirt made of suiting fabric. It's made of a Sondrio suiting weighing somewhere between 350gsm and 380gsm. He described it as "one of those 'why not' experiments," gone right:
I like it because it has the casual texture and rumpling characteristics of linen cloth but it's warm; so it goes nicely with tweeds and other textured winter garments.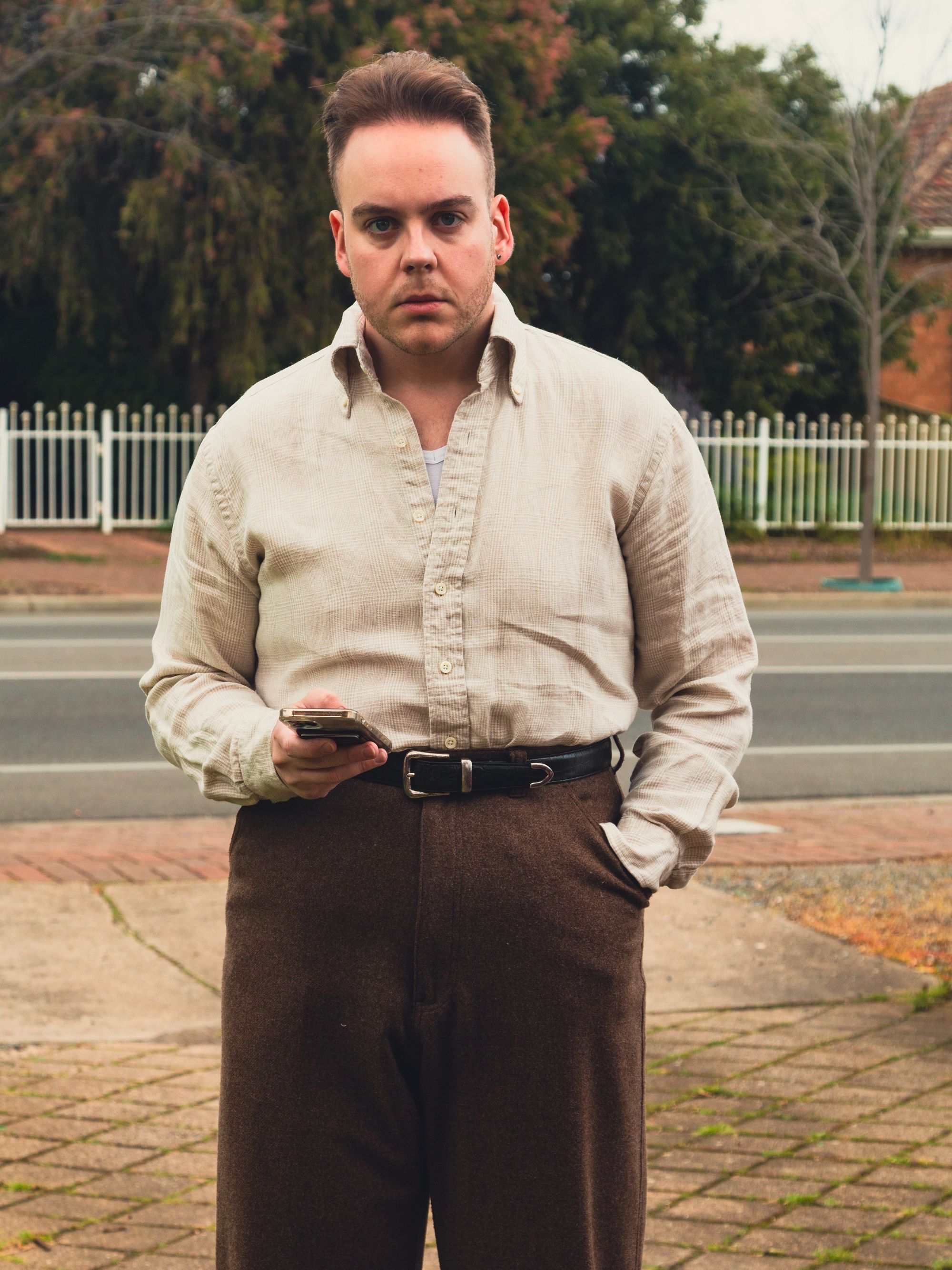 Linen Blends
Linen can be used in blends for a variety of reasons. Crinkled fibers and yarns might help open up a weave, but I want to focus on something else—strength. Linen and especially hemp are very strong, and stronger when wet. This means that you can put together an incredibly light, fine fabric that's mostly wool, but still strong enough to resist tearing and keep its shape. This only matters in light, delicate summer facbris—there's no need for a heavy tweed or heavy denim to blend in linen for strength.
But that's not to say that you can't use linen in heavier fabrics, or fall or winter fabrics. Advantages might include softness, slubbiness, or longevity. Or strength. Maybe you just want to add linen or hemp to make an otherwise strong pair of jeans stronger.
Consider my two linen blend suits below. The former, from CustomMen, uses 230gsm 75-10-15 Wool-Silk-Linen from Dormeuil, whereas the latter, from SuitSupply, uses 38-34-28 Wool-Silk-Linen from E. Thomas. Which do you think is warmer? The answer might surprise you.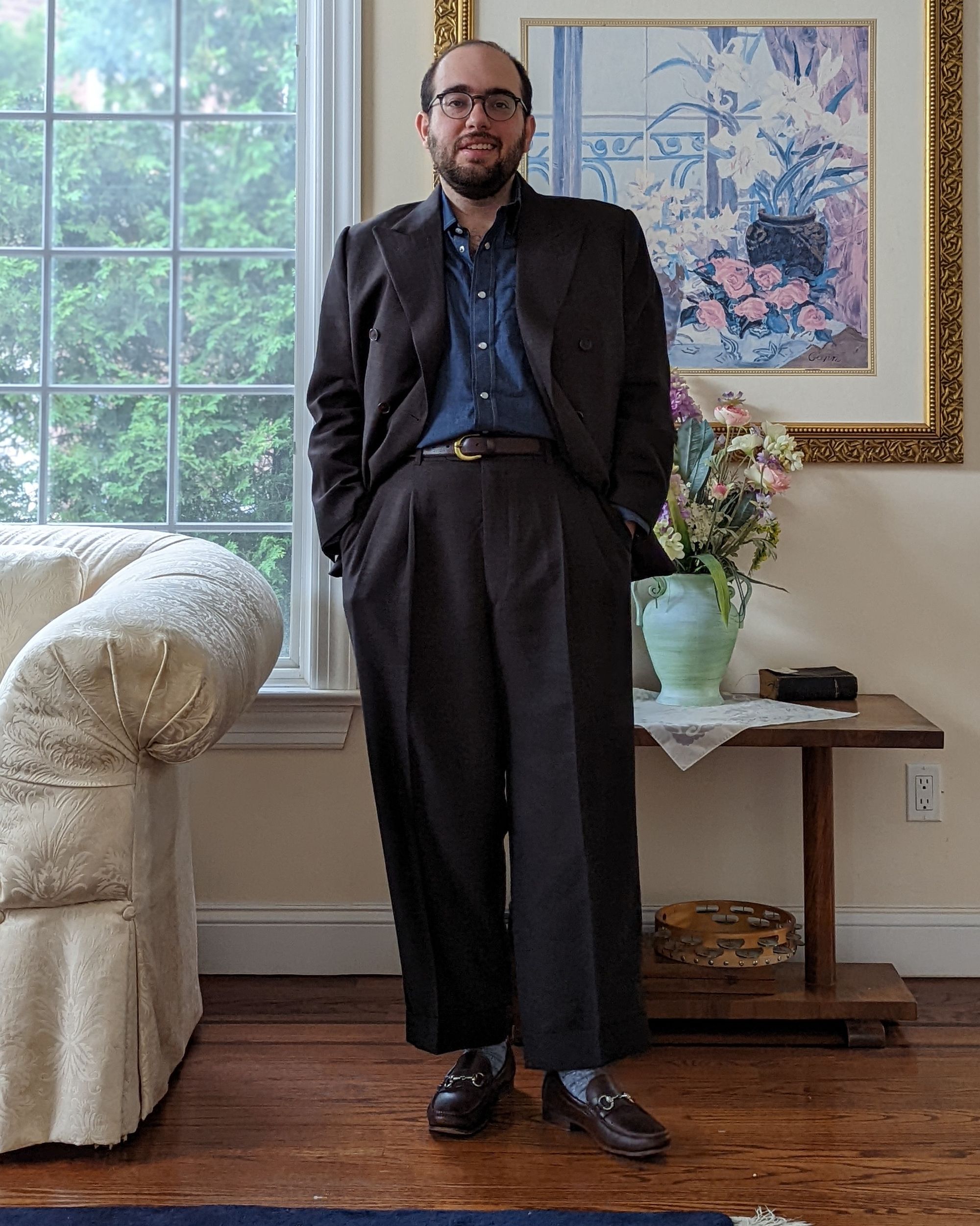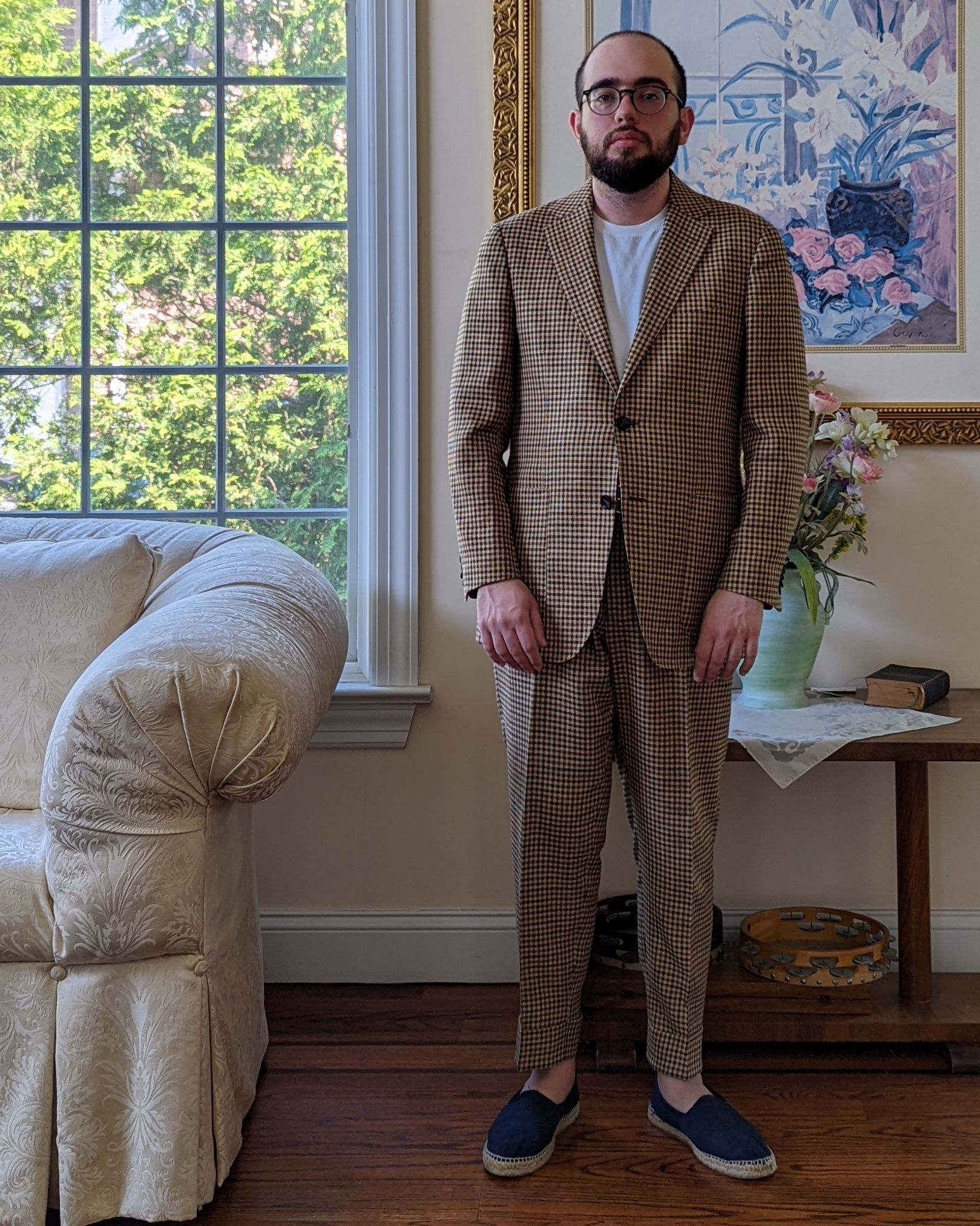 Why I Love Linen
Linen drapes, ages, and generally behaves differently from other fabrics. So if you're asking why you might want to wear linen as a transitional piece, or even in colder weather, there are plenty of practical and aesthetic reasons to do so.
Comfort-wise, the reasoning is clear. Linen is soft, and softens over time. It's also breathable, which might be good for comfort even in cold weather—you can have quite some degree of warmth while still letting your skin breathe, as is the case with wool knitwear. Of course, a loose linen knit can breathe a lot more, and might not be what you want in the dead of winter, but as an extra layer when you're already sufficiently warm, linen won't make you any colder.
Furthermore, linen can add strength and longevity to a garment in the context of a blend. Overcoats and socks tend to prefer nylon for strength, but hemp and linen can offer many of the same benefits without the comfort cost.
Aesthetically, you might like the way linen drapes, or the visual texture linen can provide in terms of slubbiness, wrinkling, or other signs of aging. Good linens, and particularly heavy ones, wrinkle in a particular way: it sort of... rumples up, creating these soft... waves. Not like the crinkles of cheap cotton poplin, something more reminiscent of good oxford cloth, of the whiskers of well-aged denim, or of the folds of a soft sweater as it moves with you. this visual softness is sort of fantastic.
Moreover, each of these textural features can work beautifully when layered with other, perhaps warmer pieces. Imagine a thick, crumply knit lnen polo from Inis Meáin under a wool flannel jacket. Imagine an oxford cloth shirt, a wool sweater, a linen-blend belted overcoat, and soft corduroy trousers. Imagine a sweatshirt, a linen chore coat, and an overcoat, with a pair of flannel trousers. Shoot, don't imagine that last one, I'm going to wear that some time in the next month or two, that's going to be a good fit.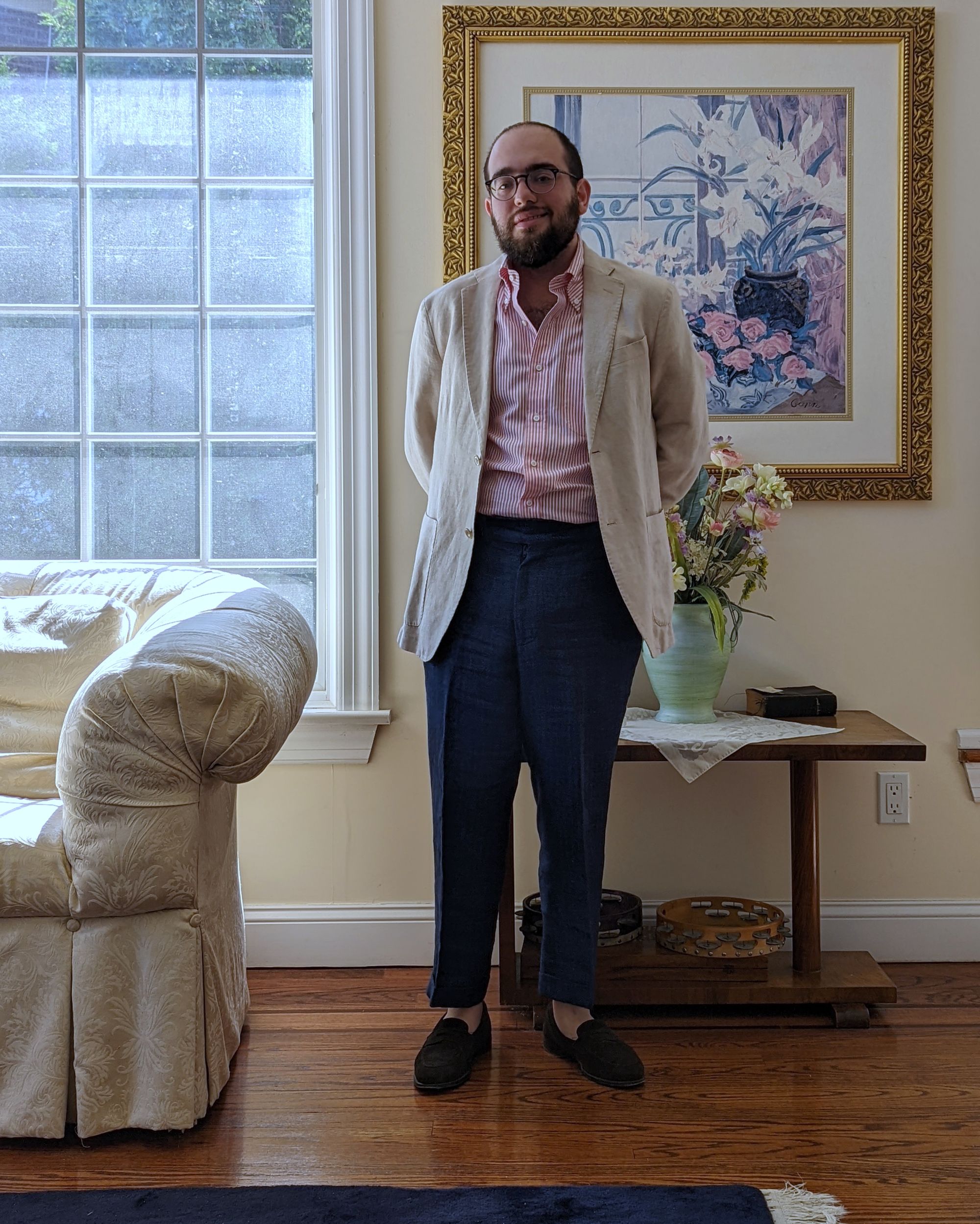 So you can kind of wear linen year-round.
As usual, the lesson here is to keep an open mind. Linen's not just open weaves in lightweight summer fabrics, it's a versatile fiber that can be useful in spring, fall, and even winter. It's not just for shirts, suits, and bedding, but jackets, knits, and anything else your imagination can muster.
Always consider the aesthetics, and the way a piece will age. Consider what you might layer a top with, and why you might want two particular textures next to each other.
Shopping Links
It's fall now, so a lot of brands are lacking in linen selection, but there are still a few good options.