How Harry Styles Wears Tailoring
There are common threads in the ways Harry Styles wears tailoring. These common threads run through different stylists, and seem to indicate a deeply personal style. I'm going to break down that style, that language, and provide you with practical insights.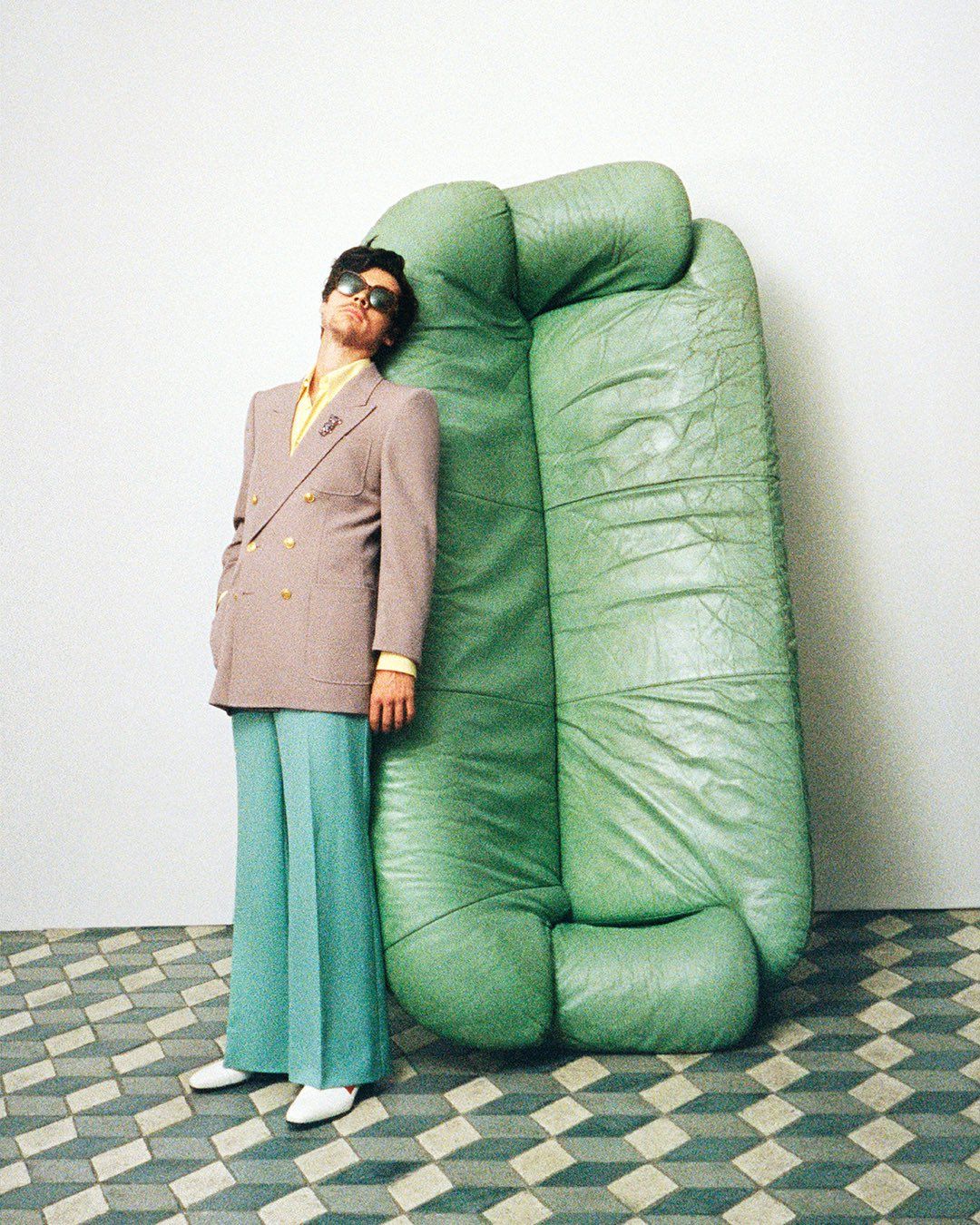 Okay, let's start out by getting the various elephants in the room out of the way. Yes, Harry Styles is very popular. Yes, he has worn a dress, and often wears pearls. Yes, he has a team of stylists working on most of his outfits. Yes, Gucci gives him money.
But at the end of the day, Harry is a well-dressed man who speaks a complex language with his personal style. I want to show you that language.
I'm not here to, specifically, focus on the way he plays with gender—aside from pointing out that he's not beholden to traditional concepts of masculinity—or with sexuality, although this NY Times piece wrongly assumes his yellow suit is a women's suit, and I'll mention that.
I'm here to describe the common threads in the ways Harry wears tailoring. Although they are consistent with, and heavily influenced by, the approaches of Alessandro Michele, friend of Styles and Creative Director of Gucci from 2015-2022, and Harry Lambert, Styles' main stylist since 2015, these common threads are consistent across brands and stylists, and seem to indicate a deeply personal style proper to Harry himself. I'll also share some photos I like of him in more casual attire, which I think are contextually relevant to his language.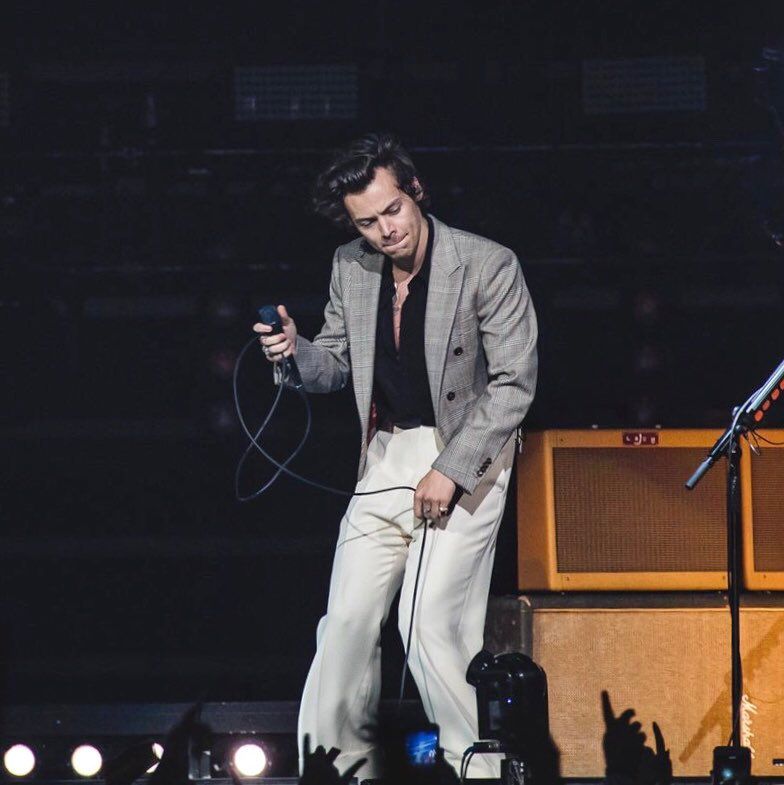 You'll notice obvious features like bright colors and bold, feminine accessories. Some of his suits are embroidered. But I'll invite you to consider the silhouettes. His trousers are often flared or wide. His jackets often have bellied peak lapels. Like most men with taste, he loves a double breasted jacket. He often wears sleek white boots. His suits come from not only Alessandro Michele's Gucci, but Alexander McQueen, Calvin Klein, Marc Jacobs, and Edward Sexton. Focus on the commonalities in all of these cuts, and you'll see that there's more to his style than initially meets the eye.
Through reading this, I hope that you'll learn to read tailoring, and what different pieces and elements might represent. I hope that this process will help you refine your own personal style, even if it's nothing like his. I hope you gain practical insight from seeing the spirit of his style.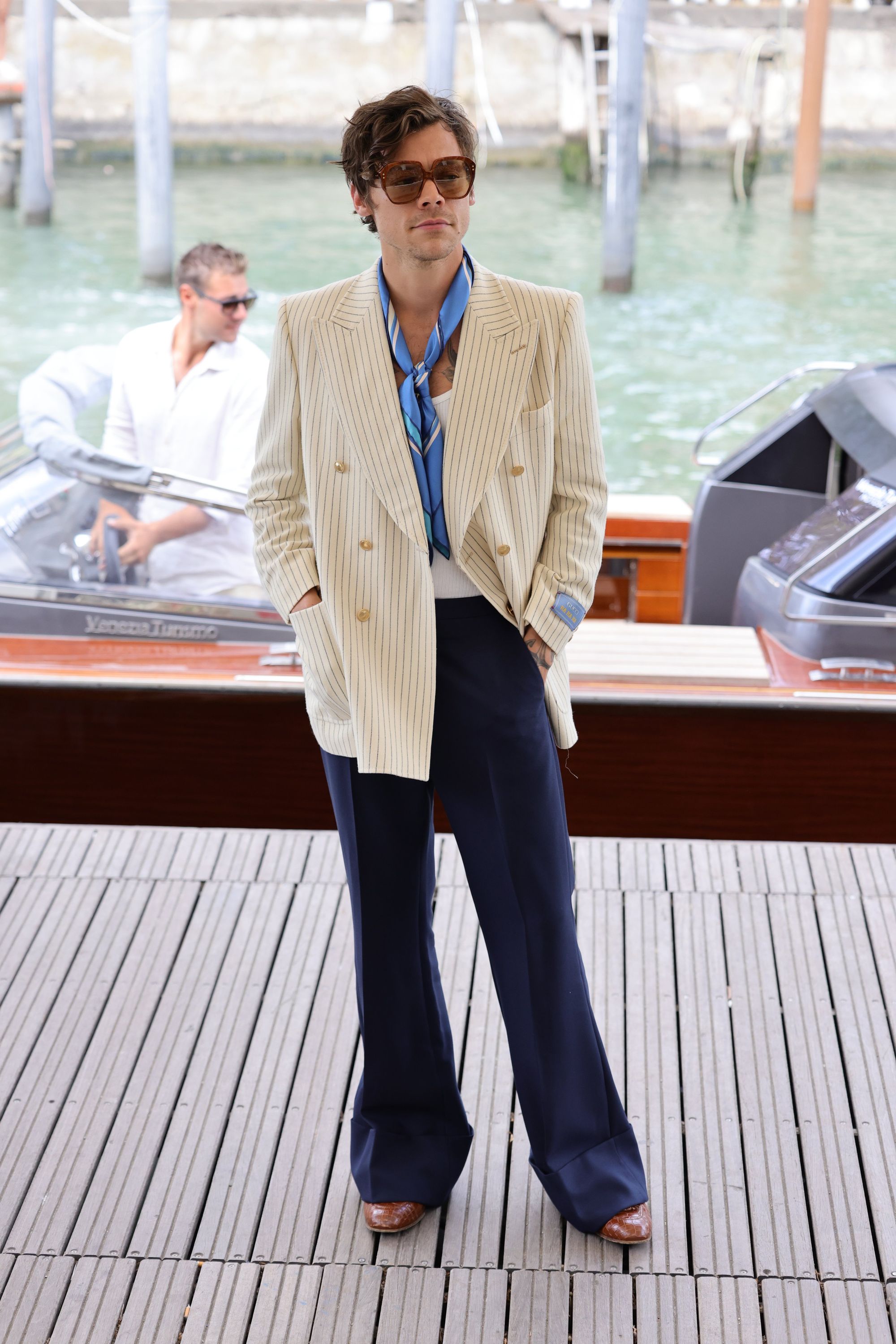 Bellied Lapels
In case you don't read a lot about tailoring, it's now important to explain what a bellied lapel is.
The edge of a lapel is usually either cut straight, or curved slightly so that, when folded over a chest in three dimensions, it appears straight. Some lapels are curved upwards (concave up), like a smile, so that it has a fat little "belly" underneath. The relatively rare "reverse belly" is a strong downward (concave down) curve—it sort of sprouts outward like a flower.
For context, shawl lapels are always cut concave up, so a "bellied" shawl is a shawl that is more bellied than usual. But you won't see many shawls here, really a different ball game.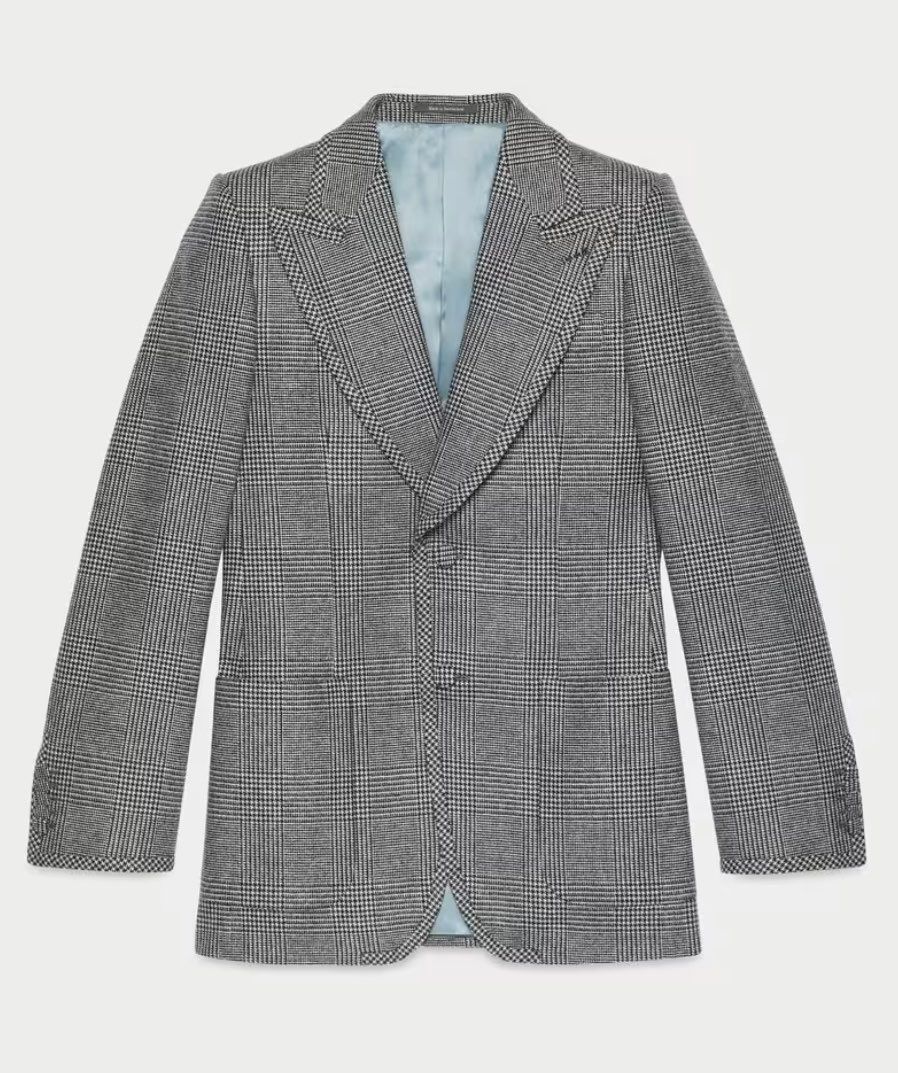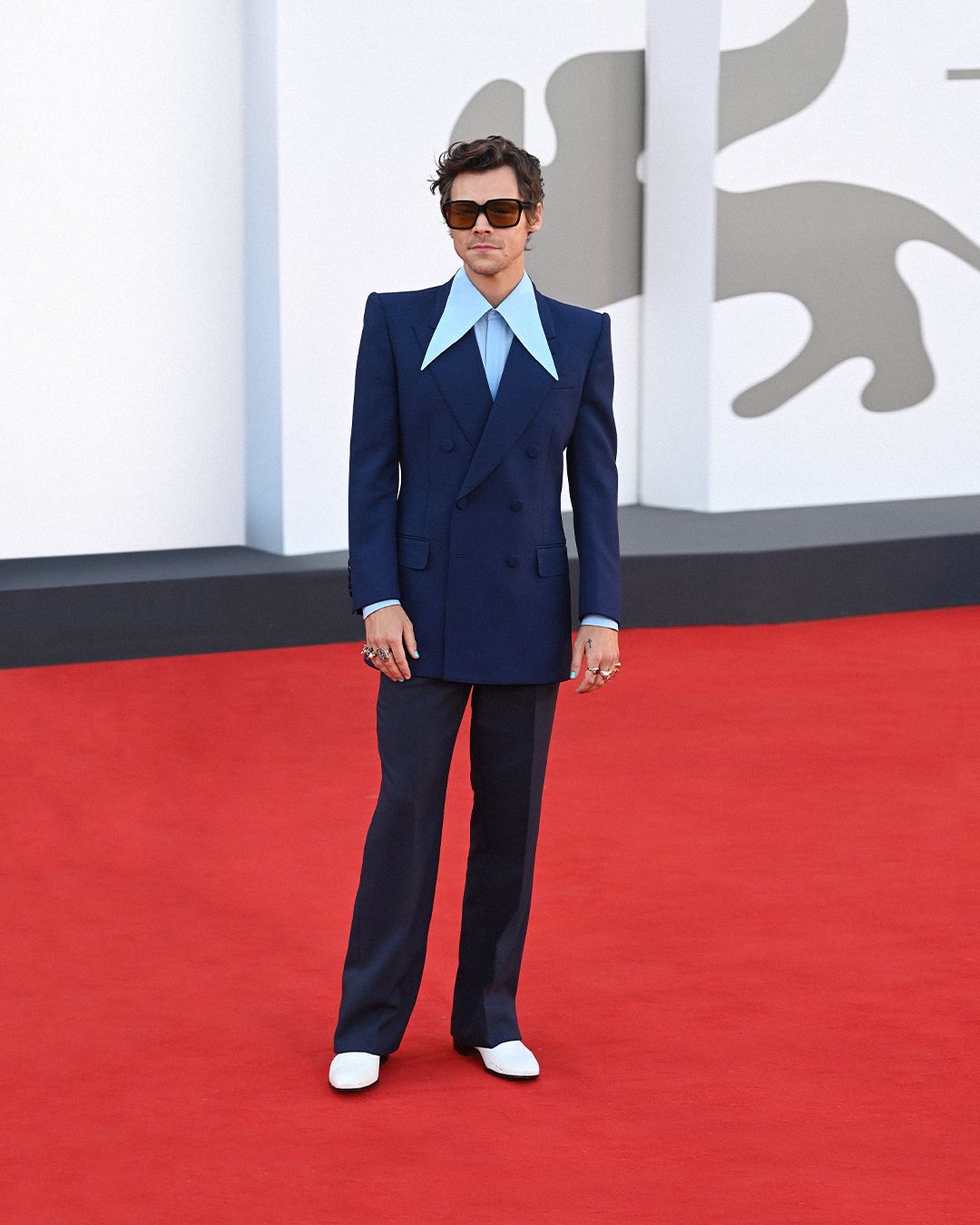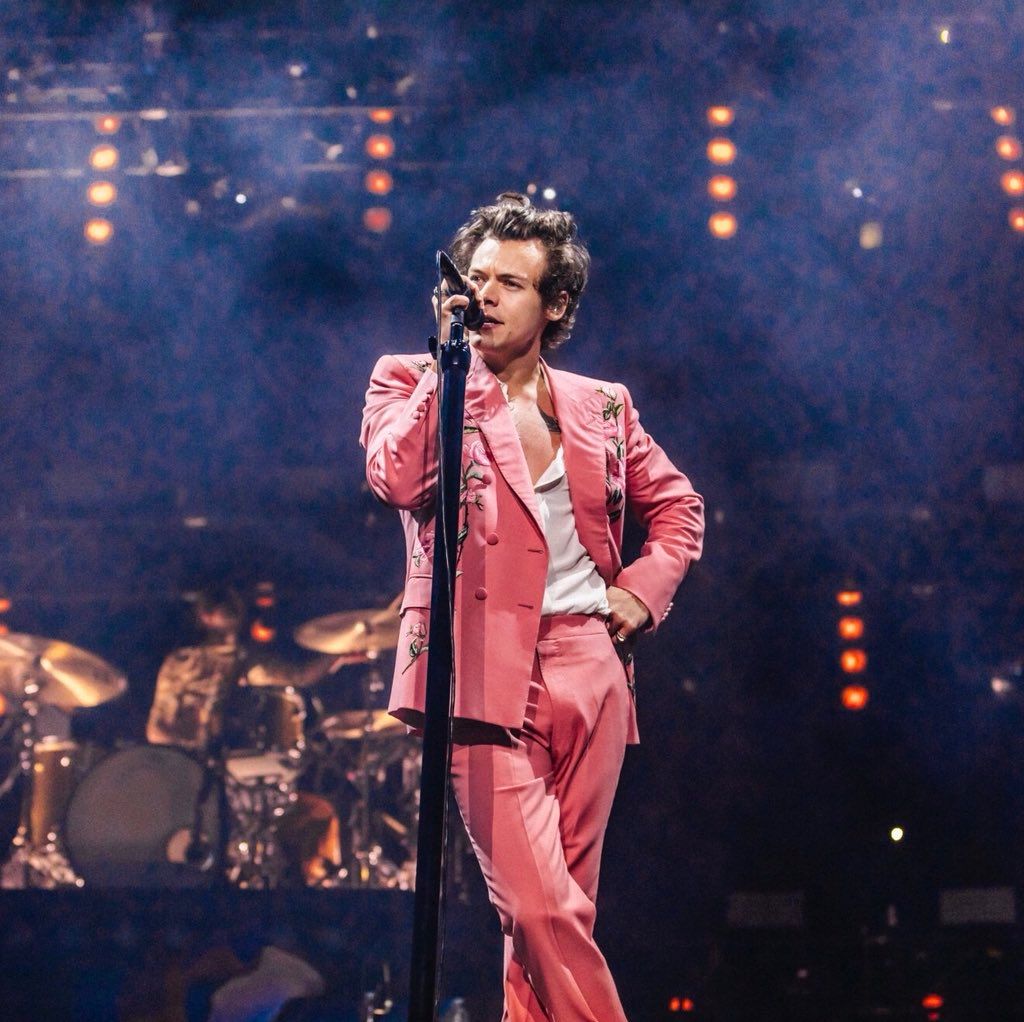 The New York Times wrongly assumed the suit below is a women's suit. Putting aside the femininity or queerness embodied in the outfit, the suit is objectively a men's suit, as it was made custom for Harry by Marc Jacobs, albeit based on a women's runway style from Spring 2020. This is clear enough not only from the fact that it fits him well, but from the fact that the buttons are on the right—come on, NYT, you should know that women's suits button on the left, that's basic.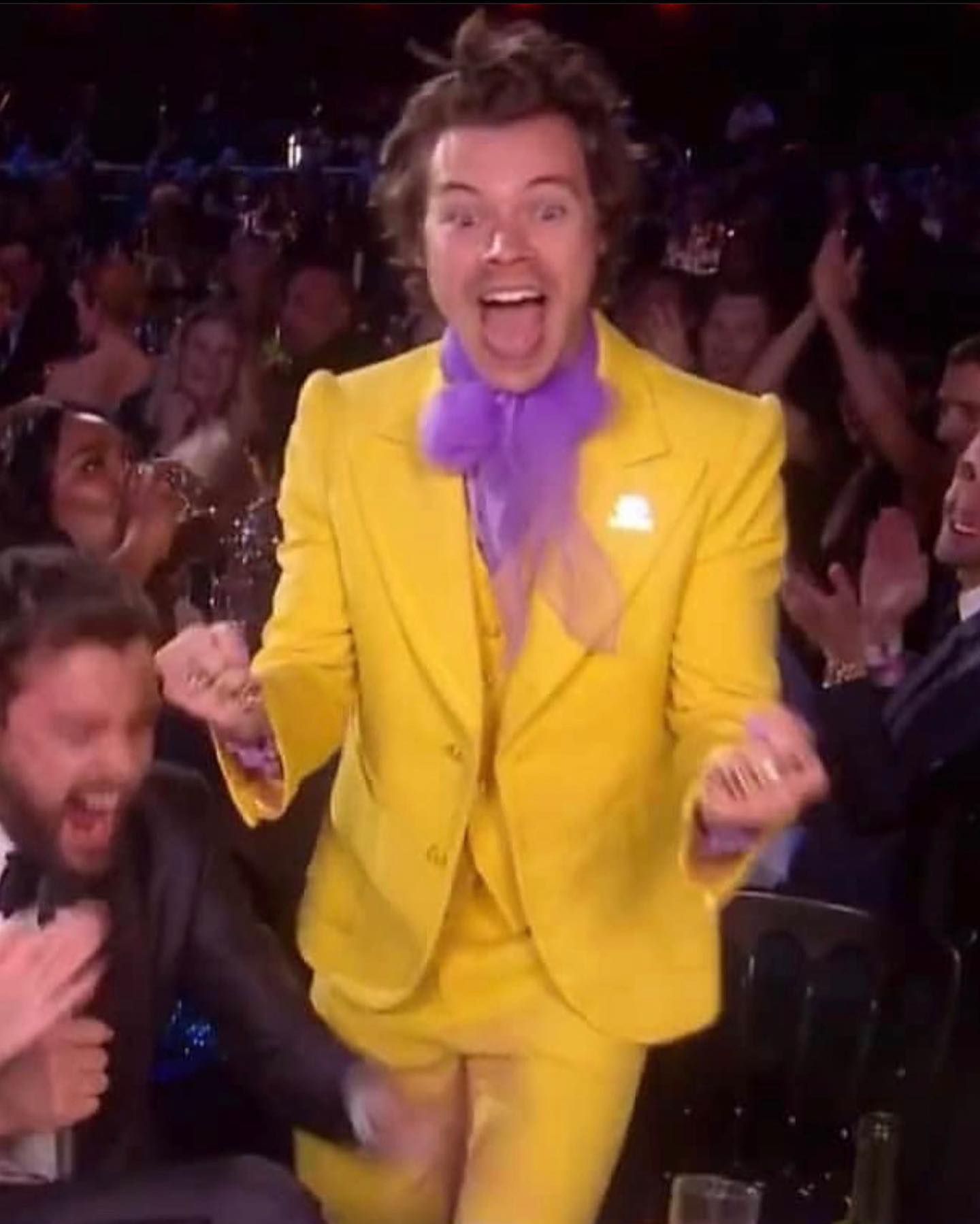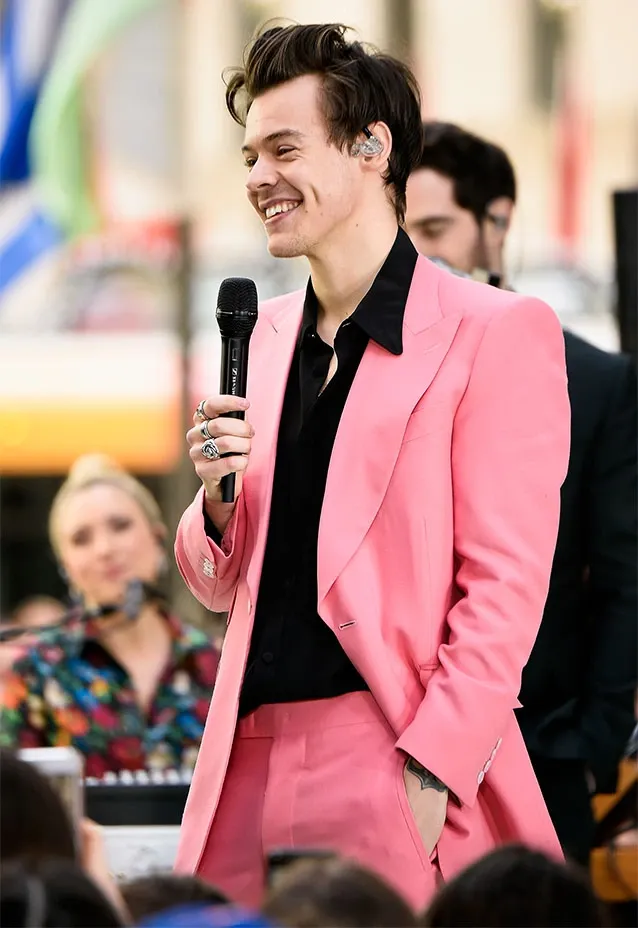 Tommy Nutter and Edward Sexton
Many of these design details are rooted in the tradition of Nutters of Saville Row. Founded in 1969 by Tommy Nutter and Edward Sexton, two trained bespoke cutters in the British tradition, Nutters is known for developing a truly unique cut that excited rock stars. Their suits have been worn by the Beatles, Mick Jagger, and Elton John. It is carried through to modern times, after Nutter's retirement, by, and under the name, Edward Sexton.
Their signature cut includes bellied lapels, flared legs, and a structured shoulders. They are known for loud colors and bold patterns. Is any of this sounding familiar? While other tailors employ some of these elements, it's clear that Harry's tailoring is specifically referencing the Nutter style. You'll see, as we continue, bias cut pockets, unique edge taping, and other features taken directly from the Nutter style.
For more on the brand, I'd recommend reading House of Nutter. Thank you to John Reuter, friend of the blog, for teaching me about the brand and constantly raving about the book.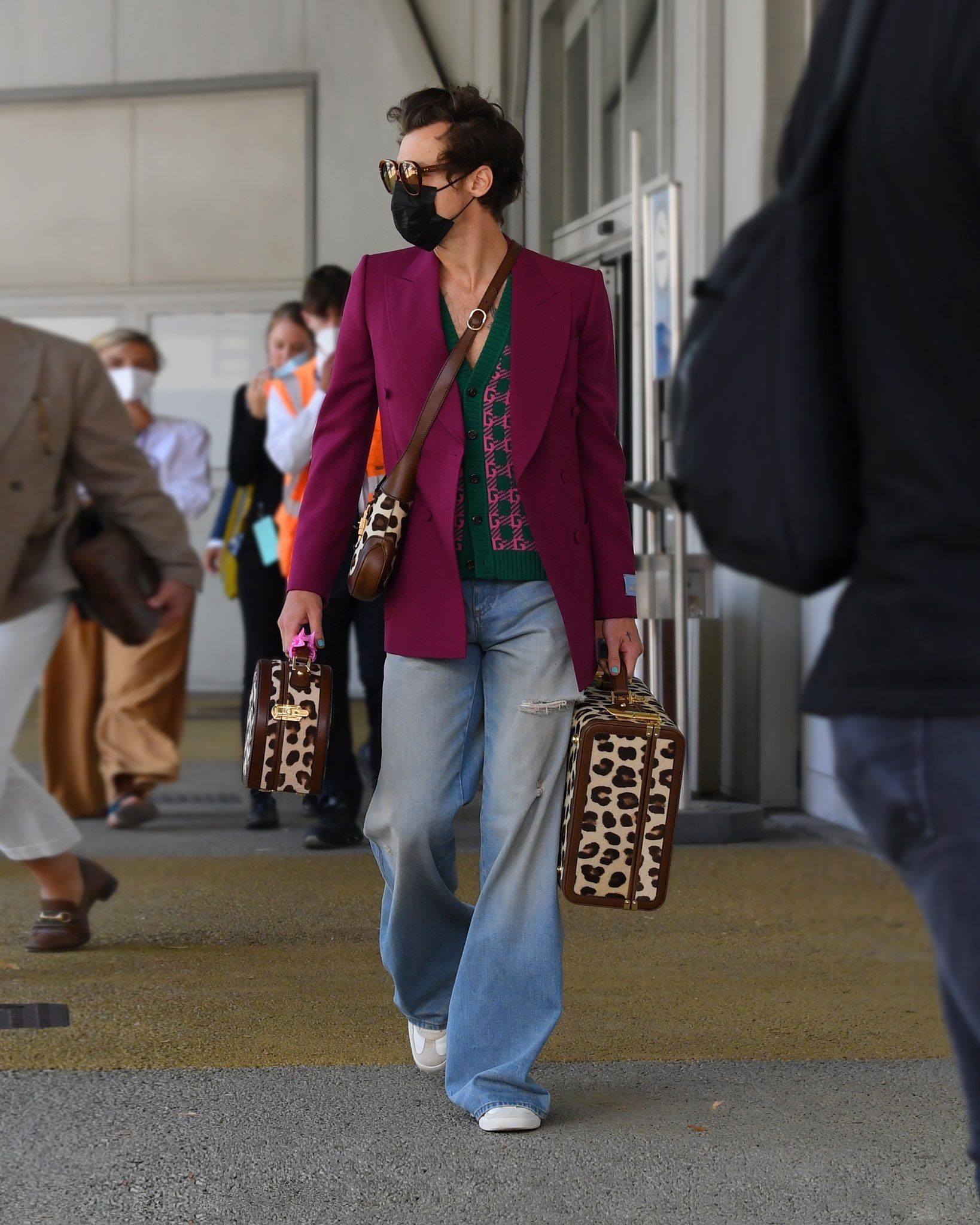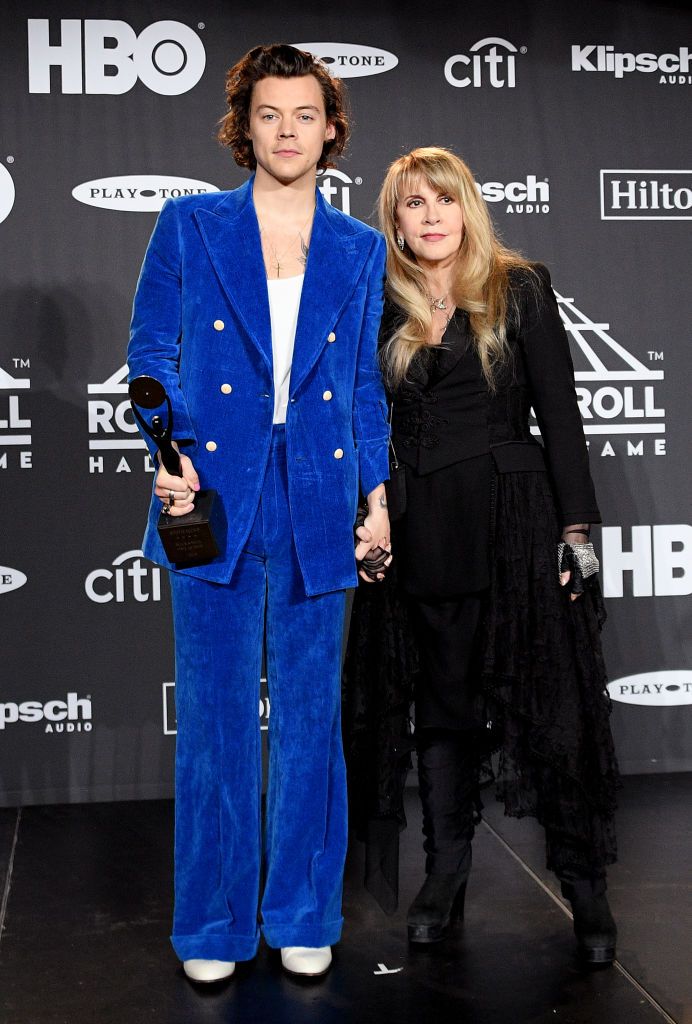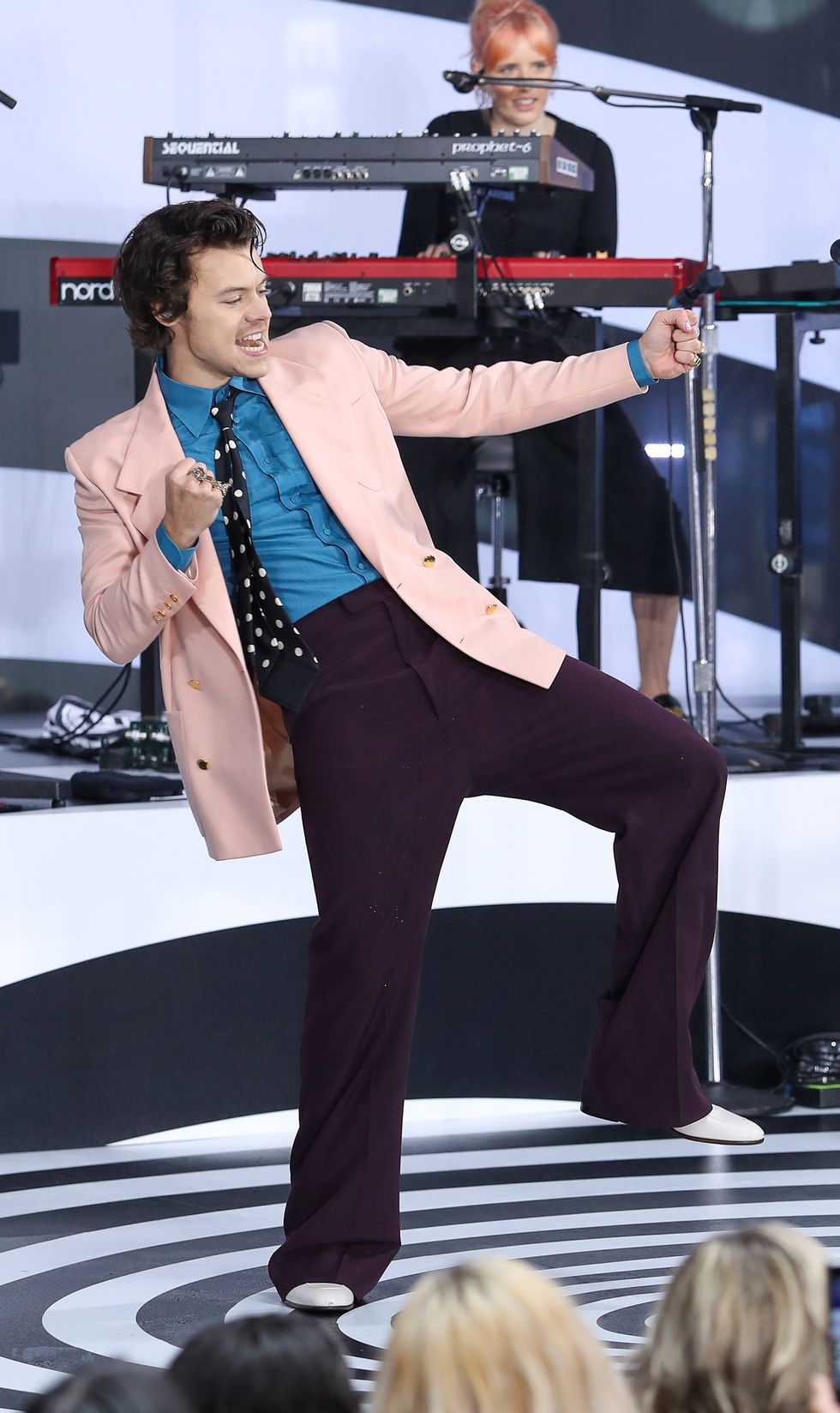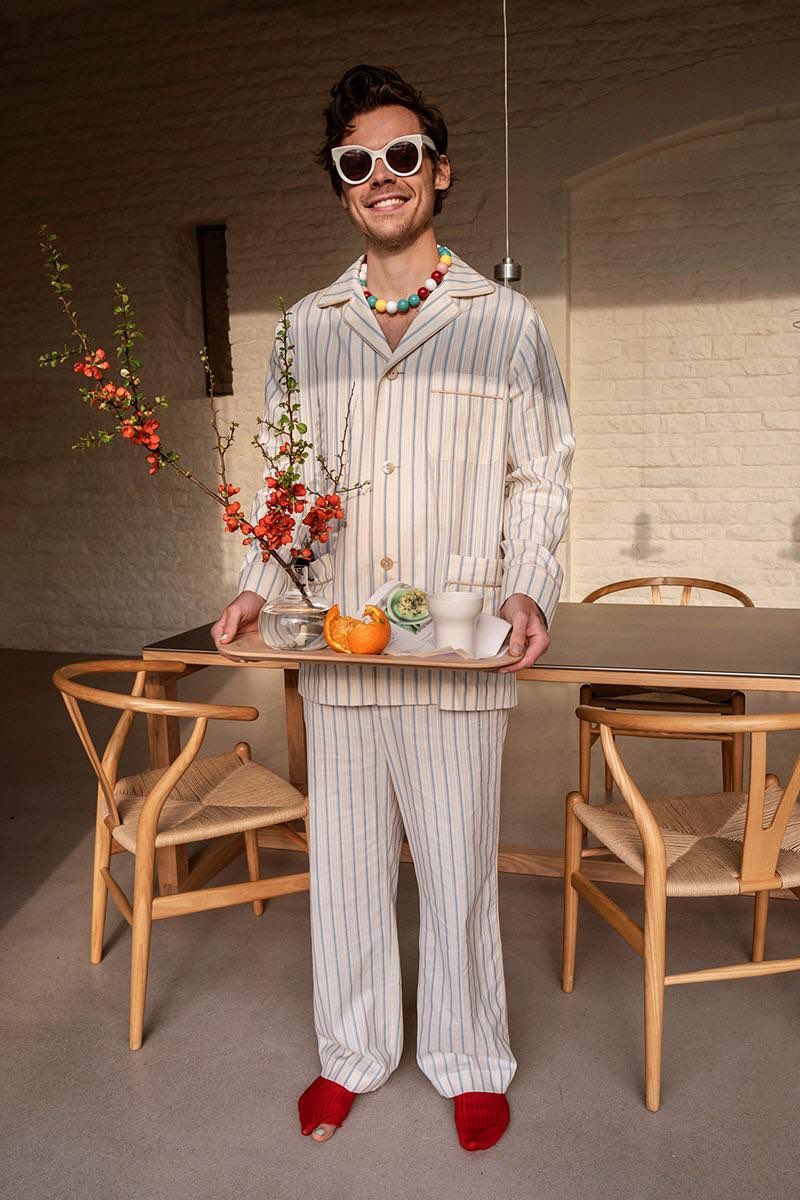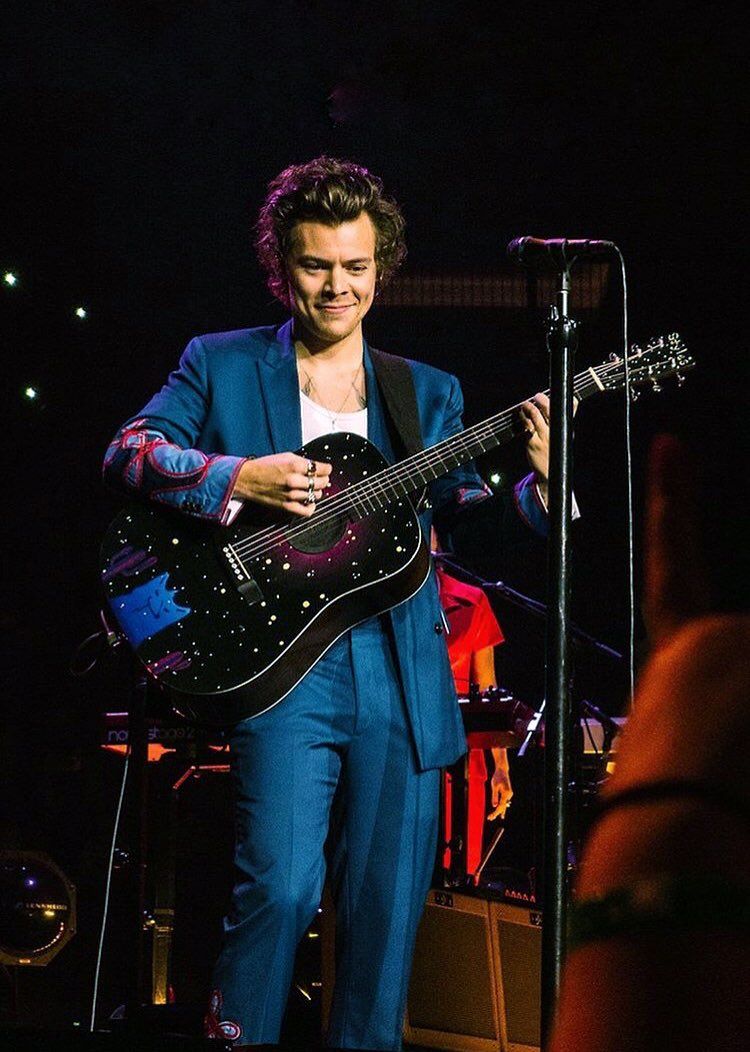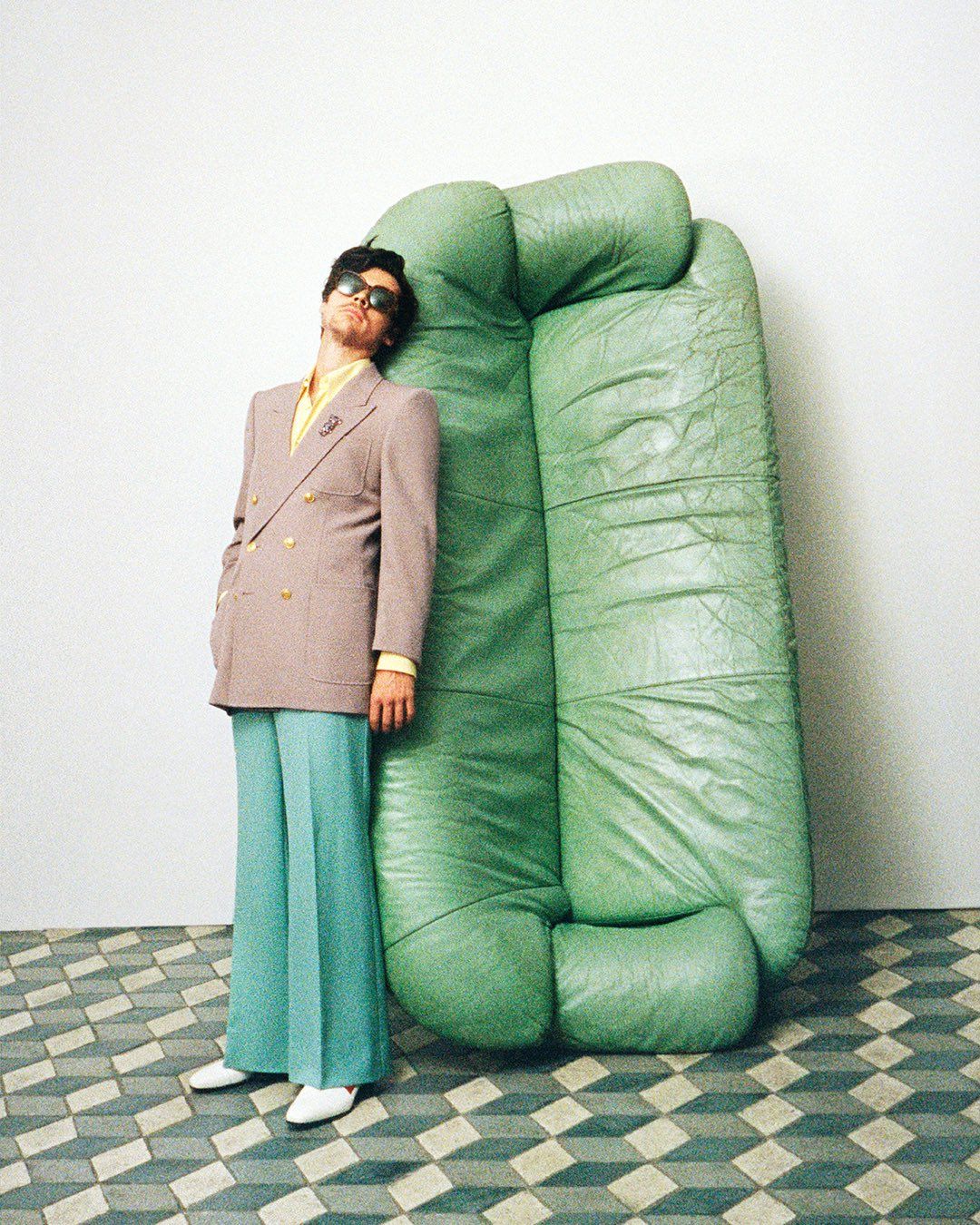 Gucci HA HA HA
So, let's dig into the HA HA HA campaign (alt link). The video reflects a few themes that reflect Harry's friendship with Alessandro Michele. Boyhood; play; vintage inspiration; sleep; whimsy. This is his dream wardrobe, so it fits that the video feels somewhat like a dream.
The collection includes certain old-school elements like tweed and flat caps; graphic tees; DBs; bow ties; flared trousers. It makes specific references to famous pieces, like a Tommy Nutter blazer made for Ringo Starr. The outfits combine pieces in an eclectic way, and piles of clothing are strewn all over the place. Though this be madness, there is method in't.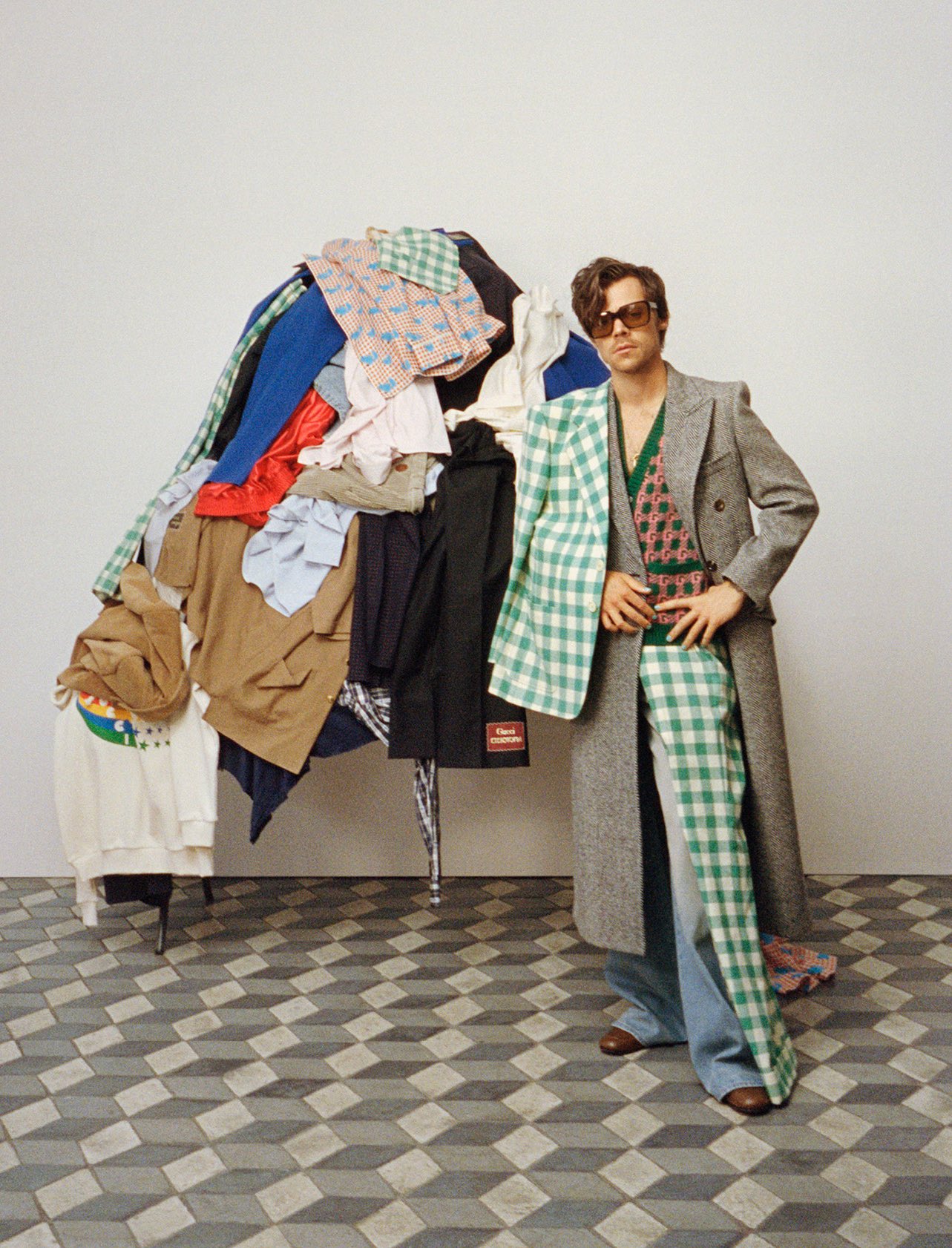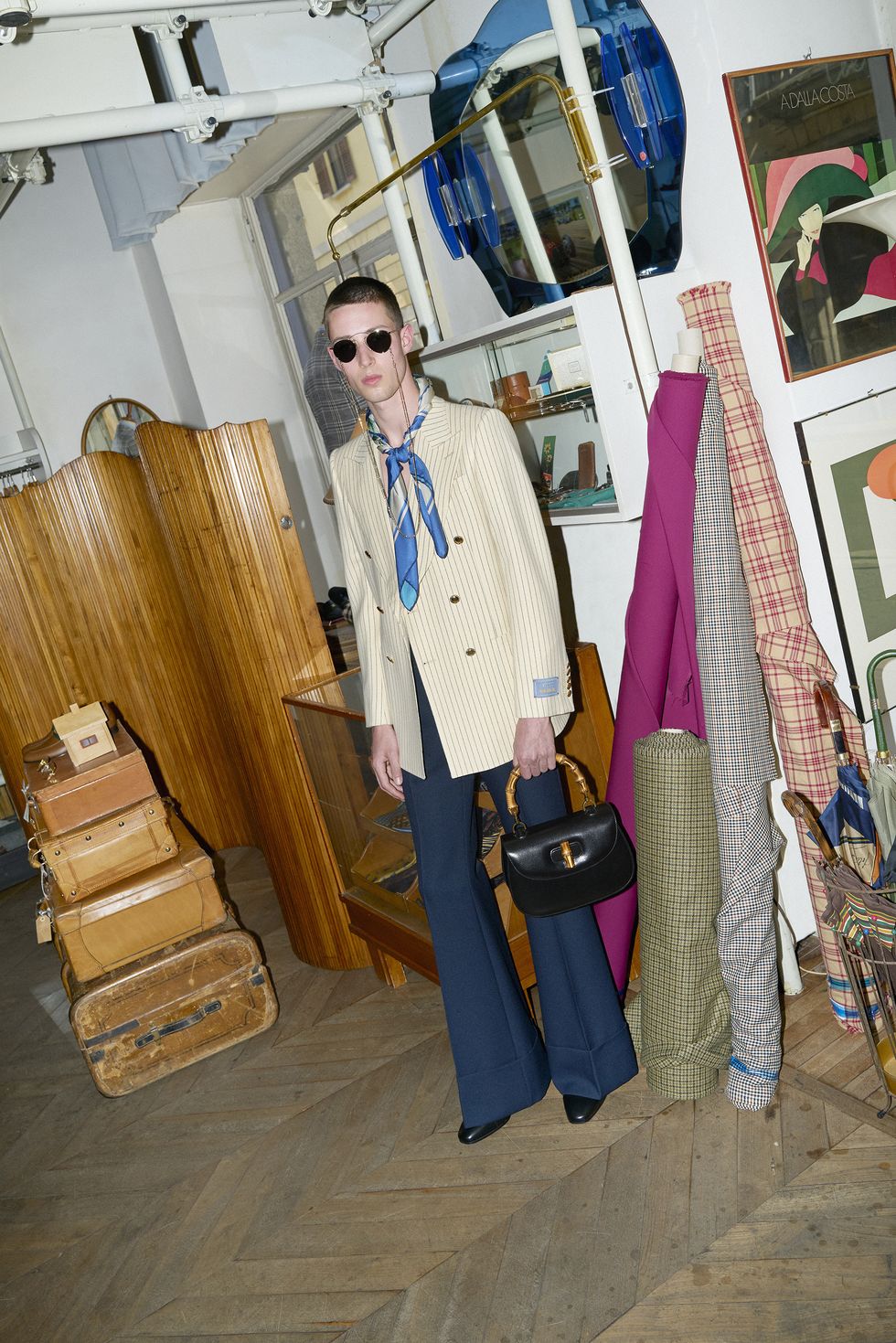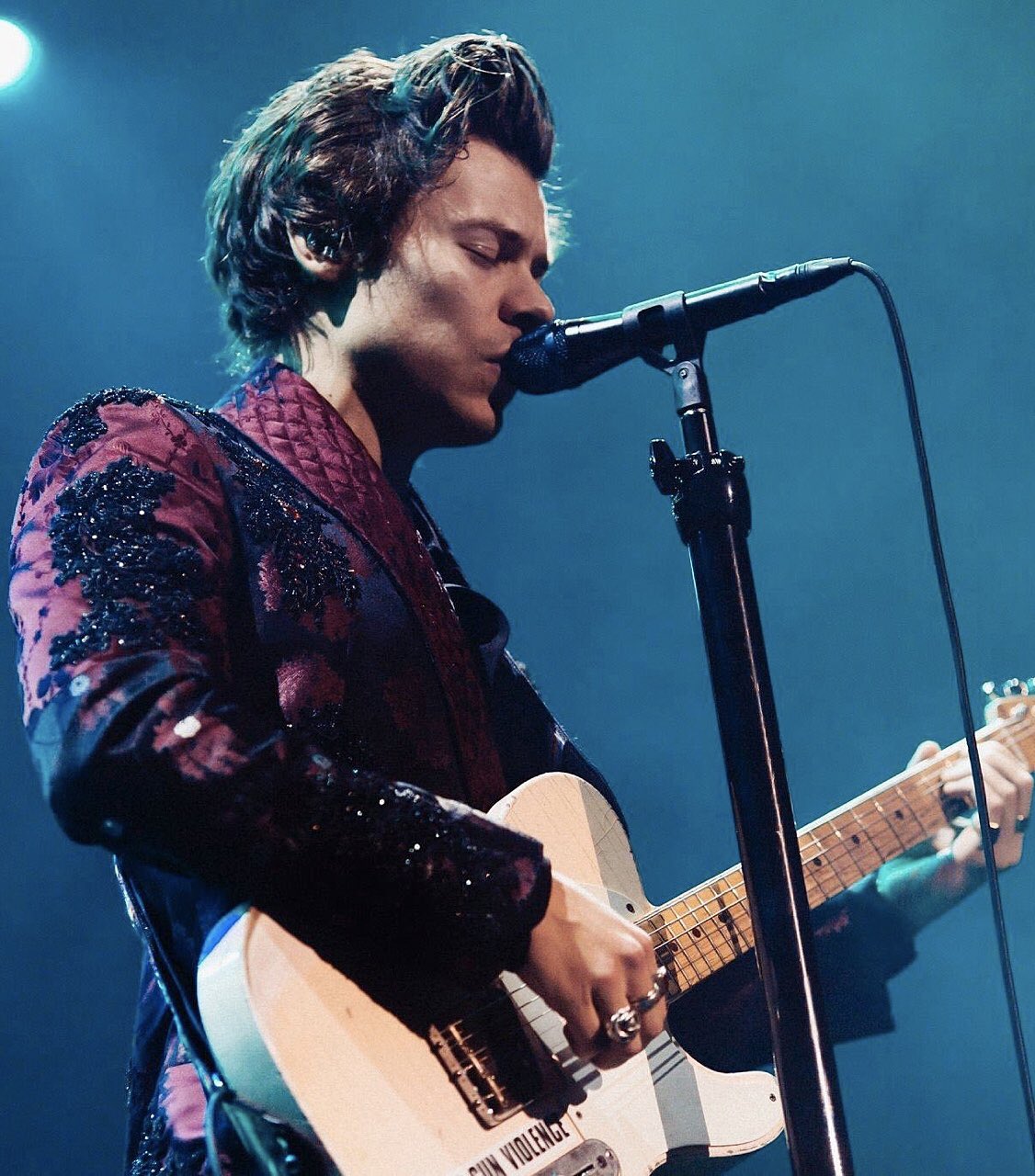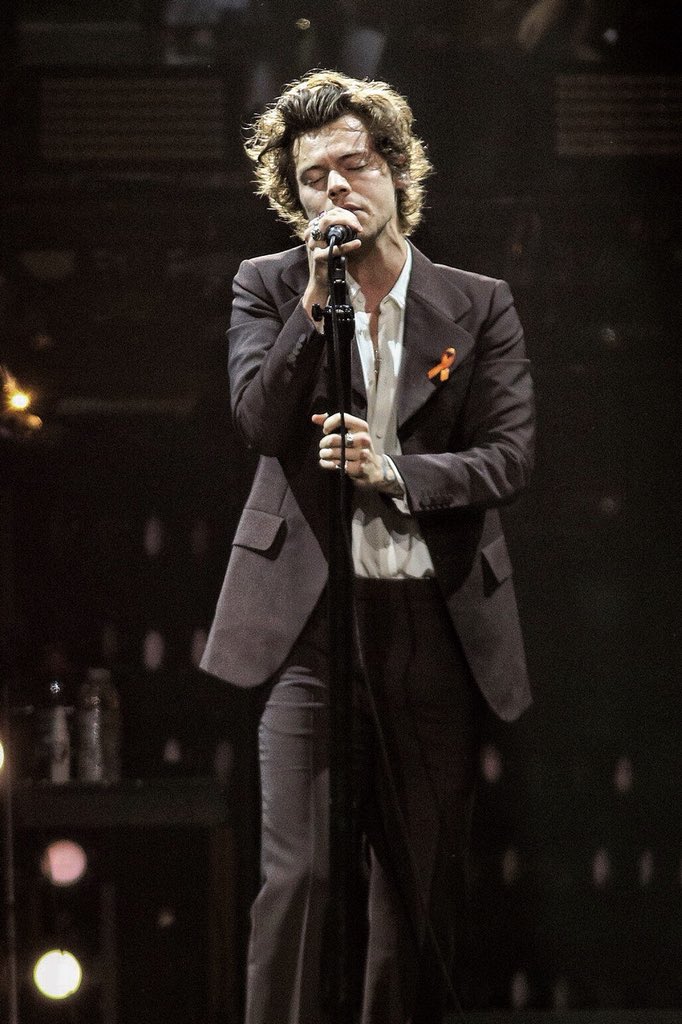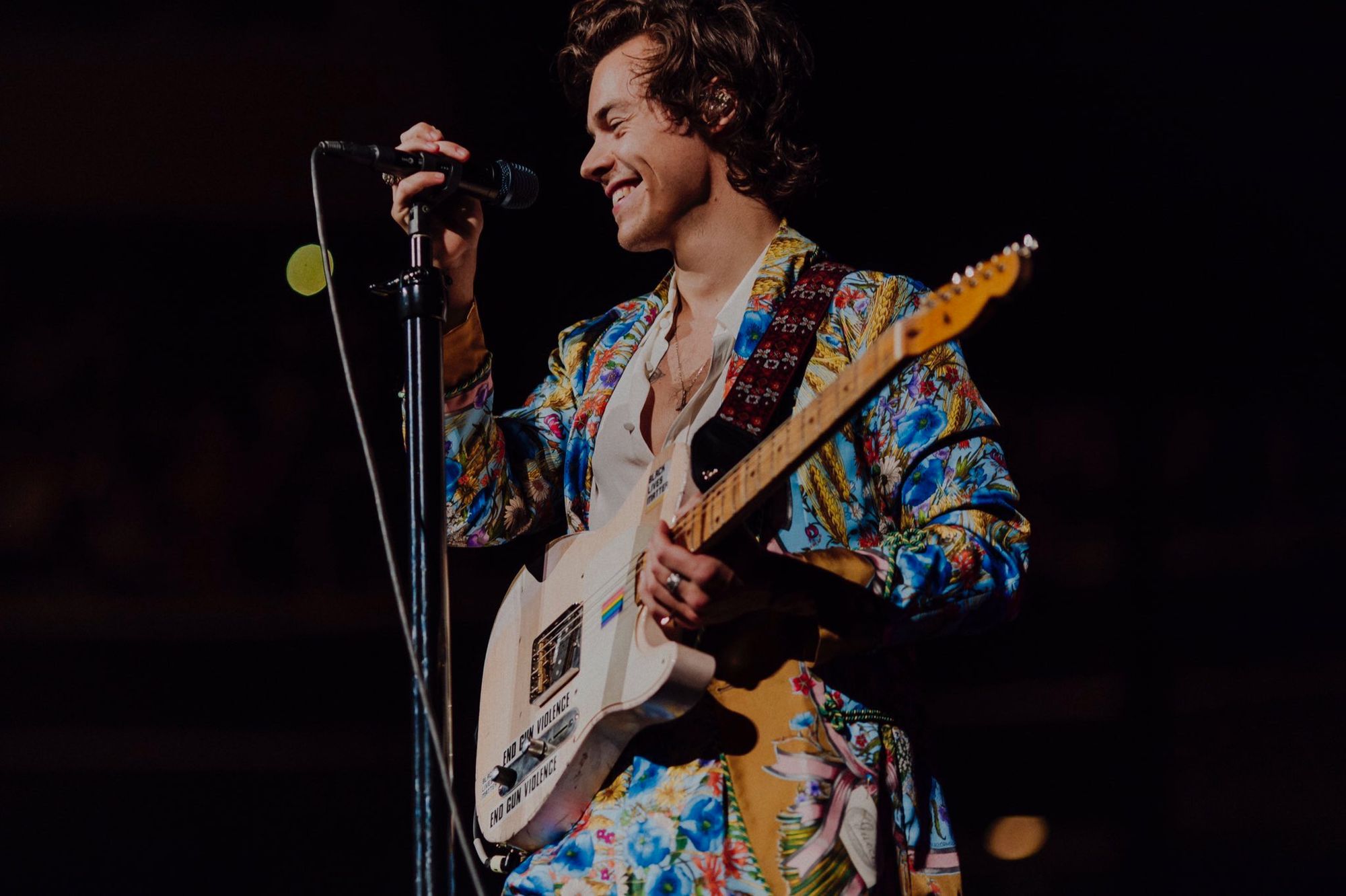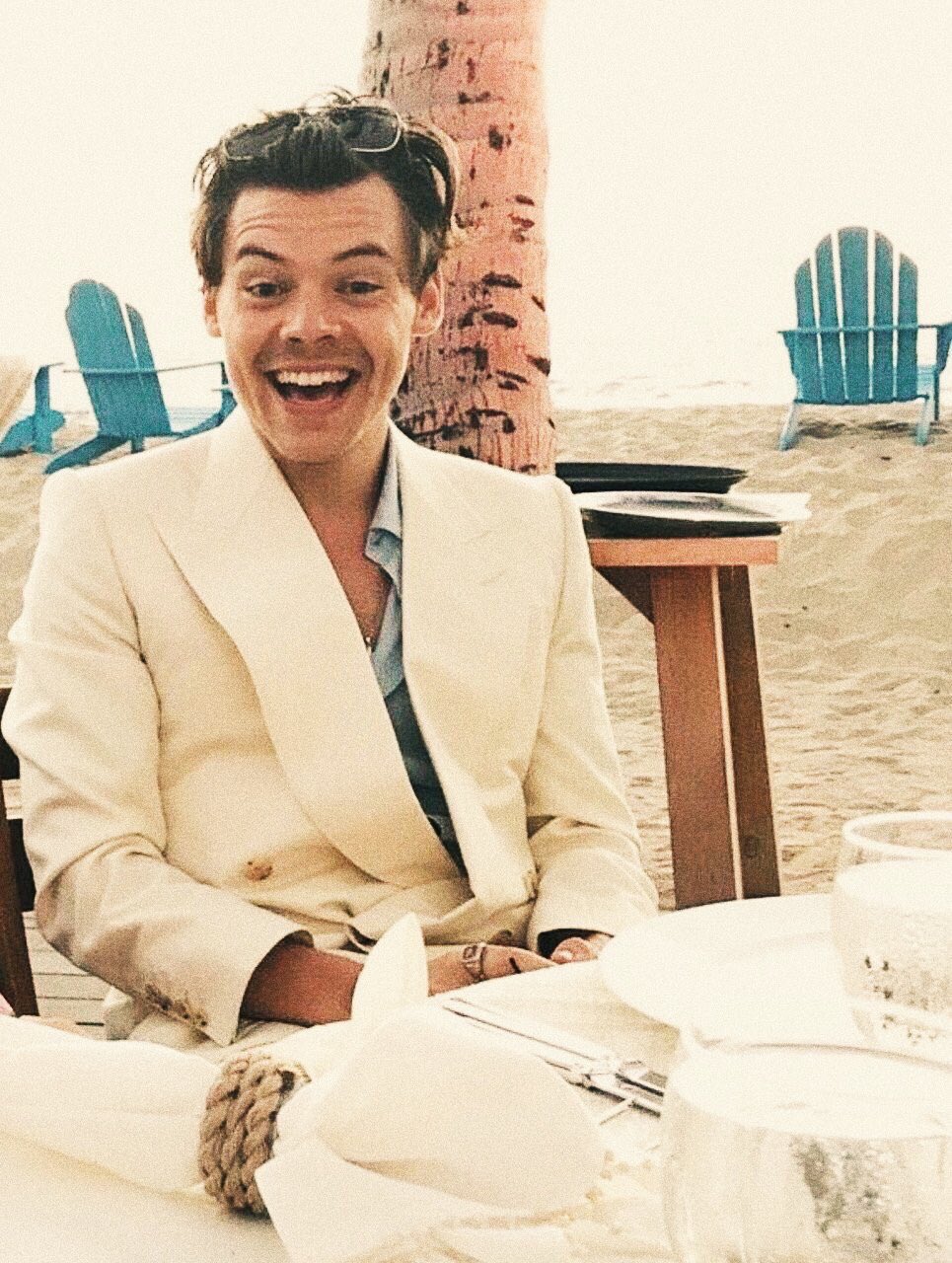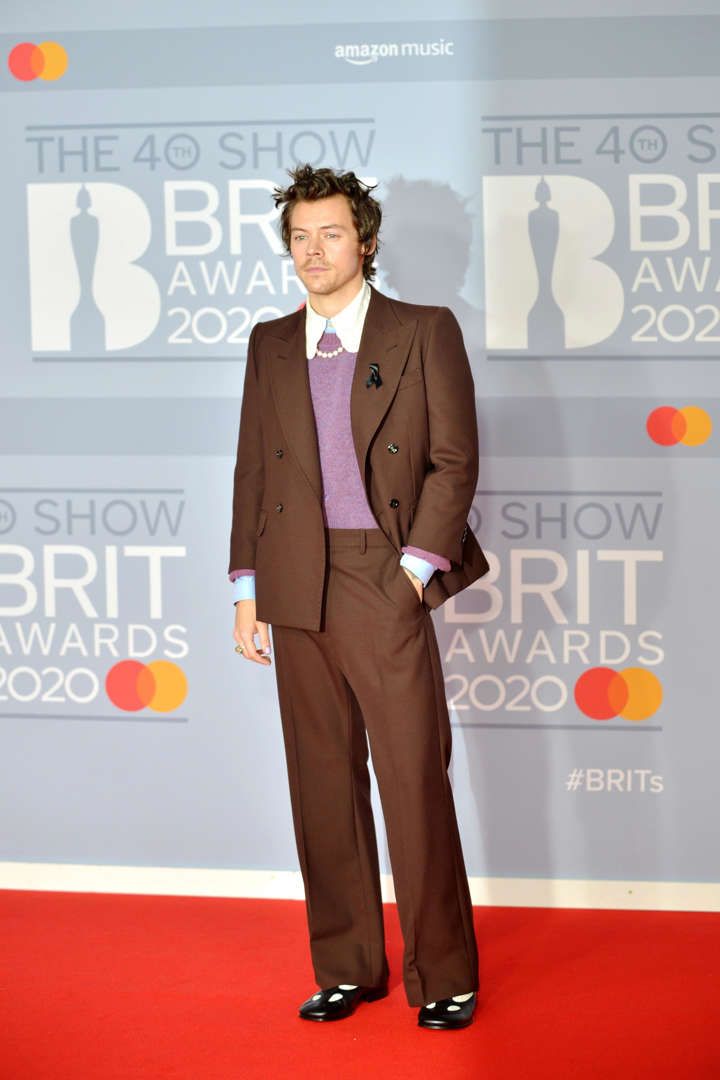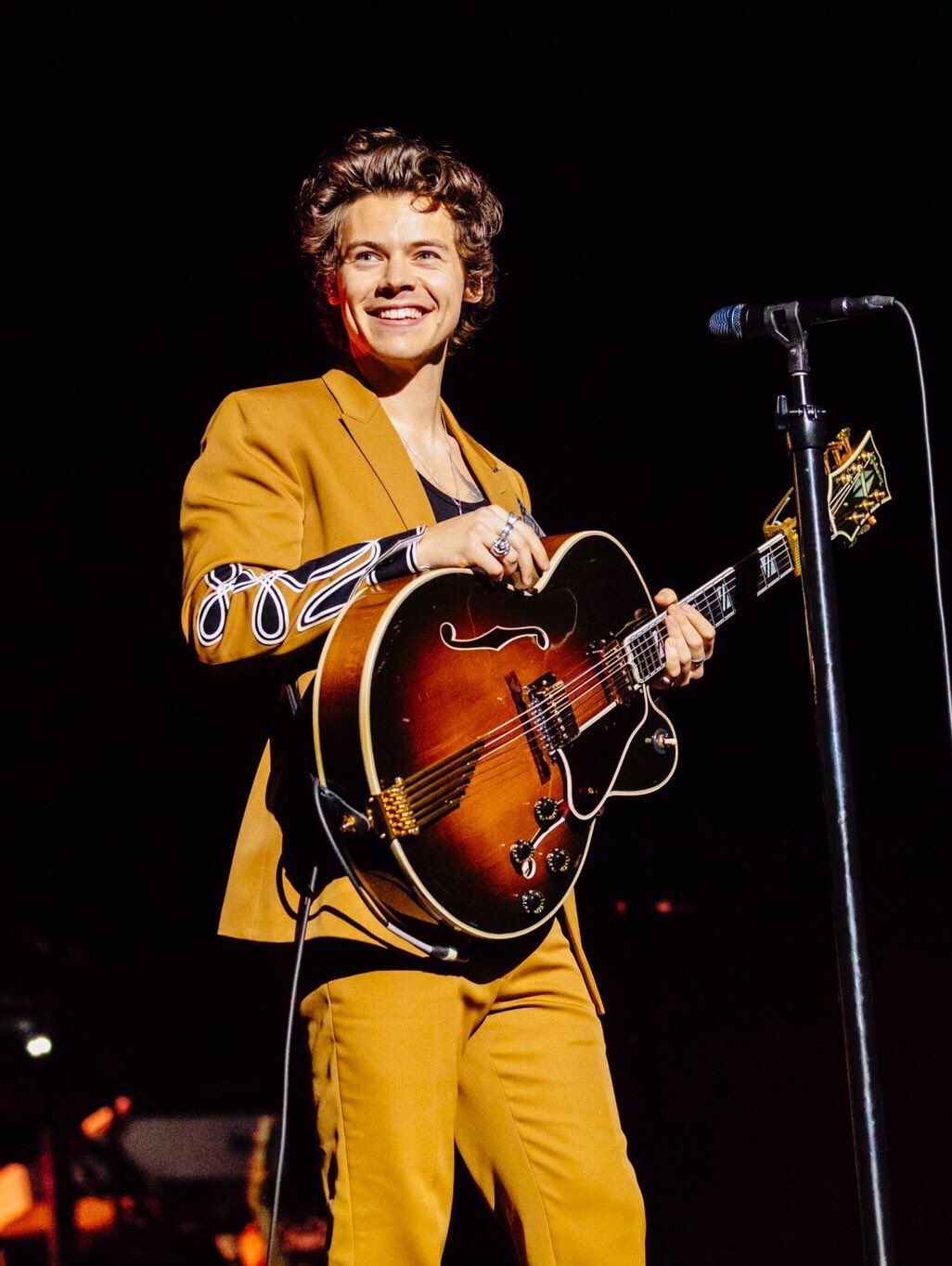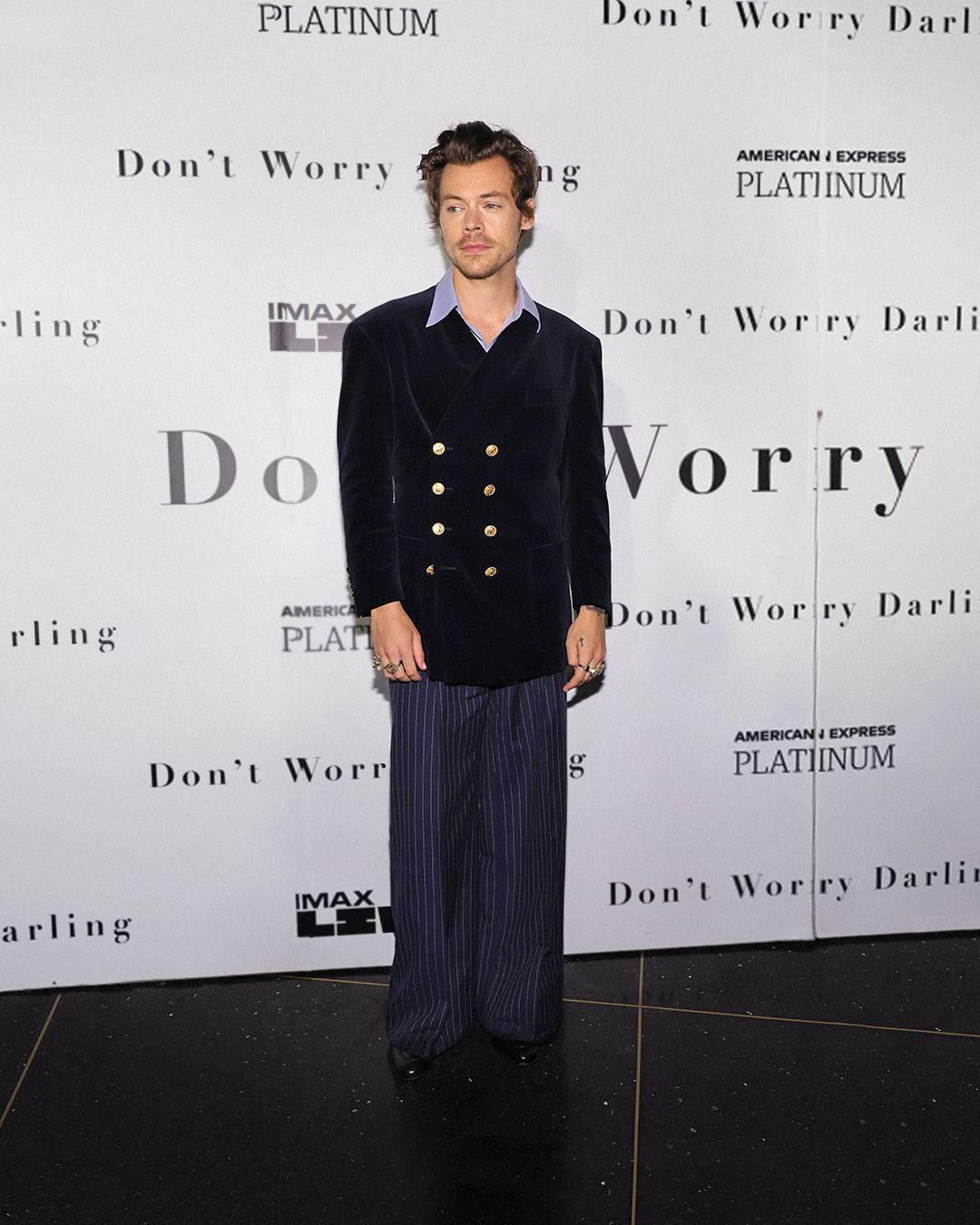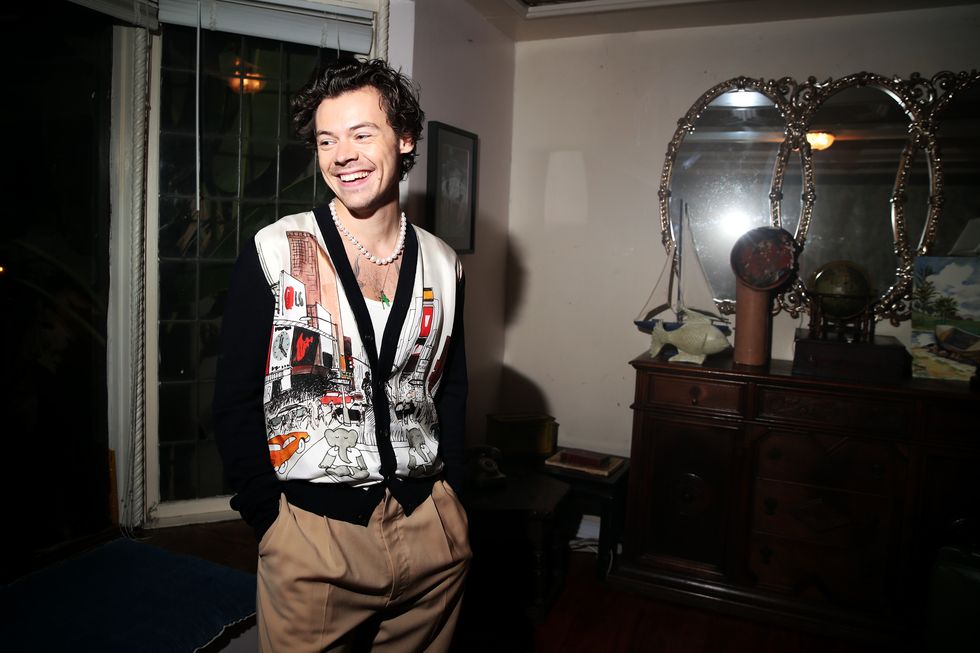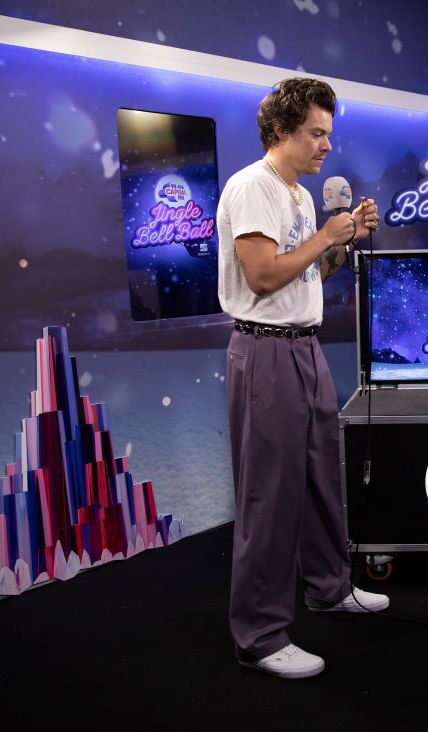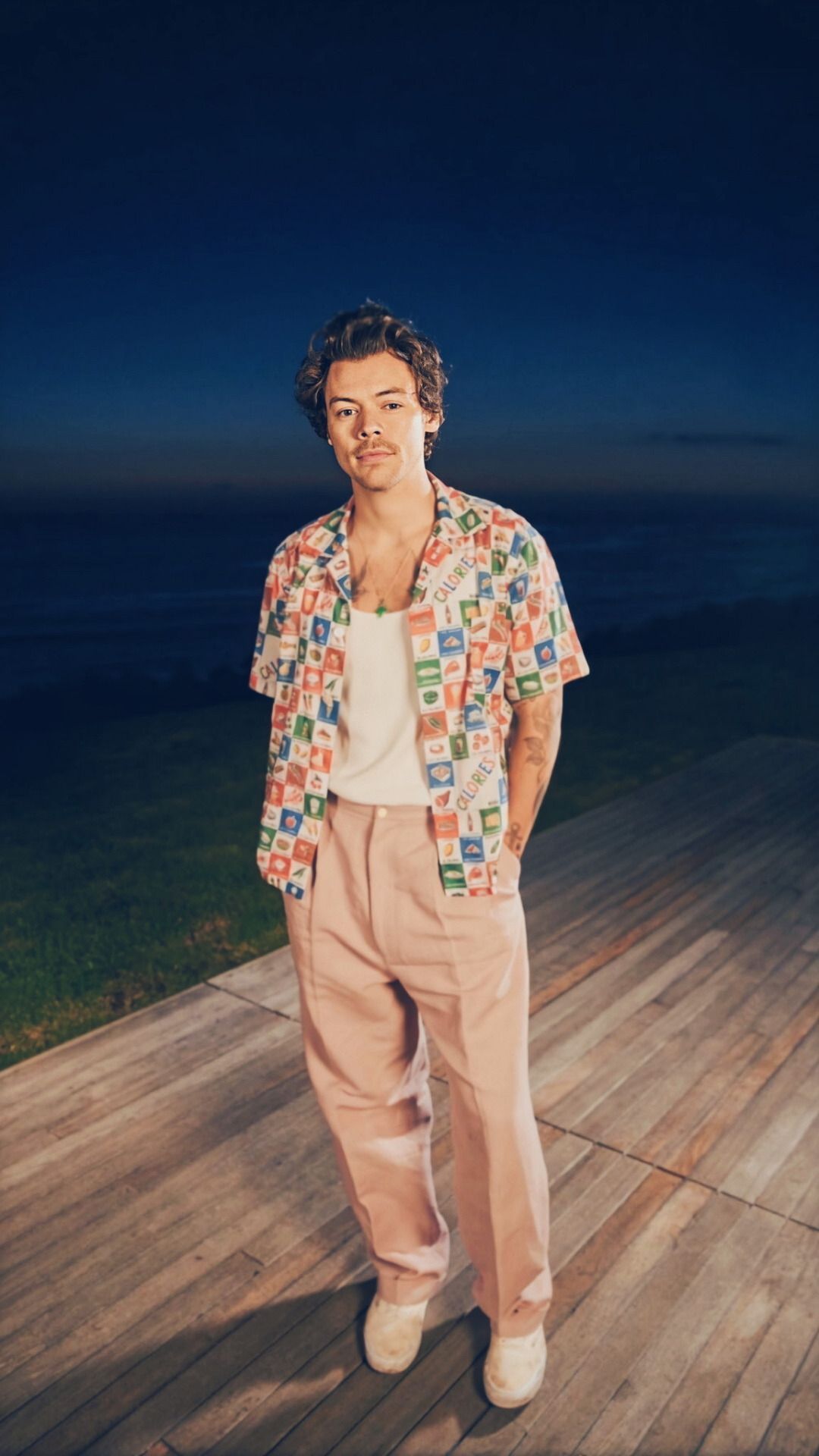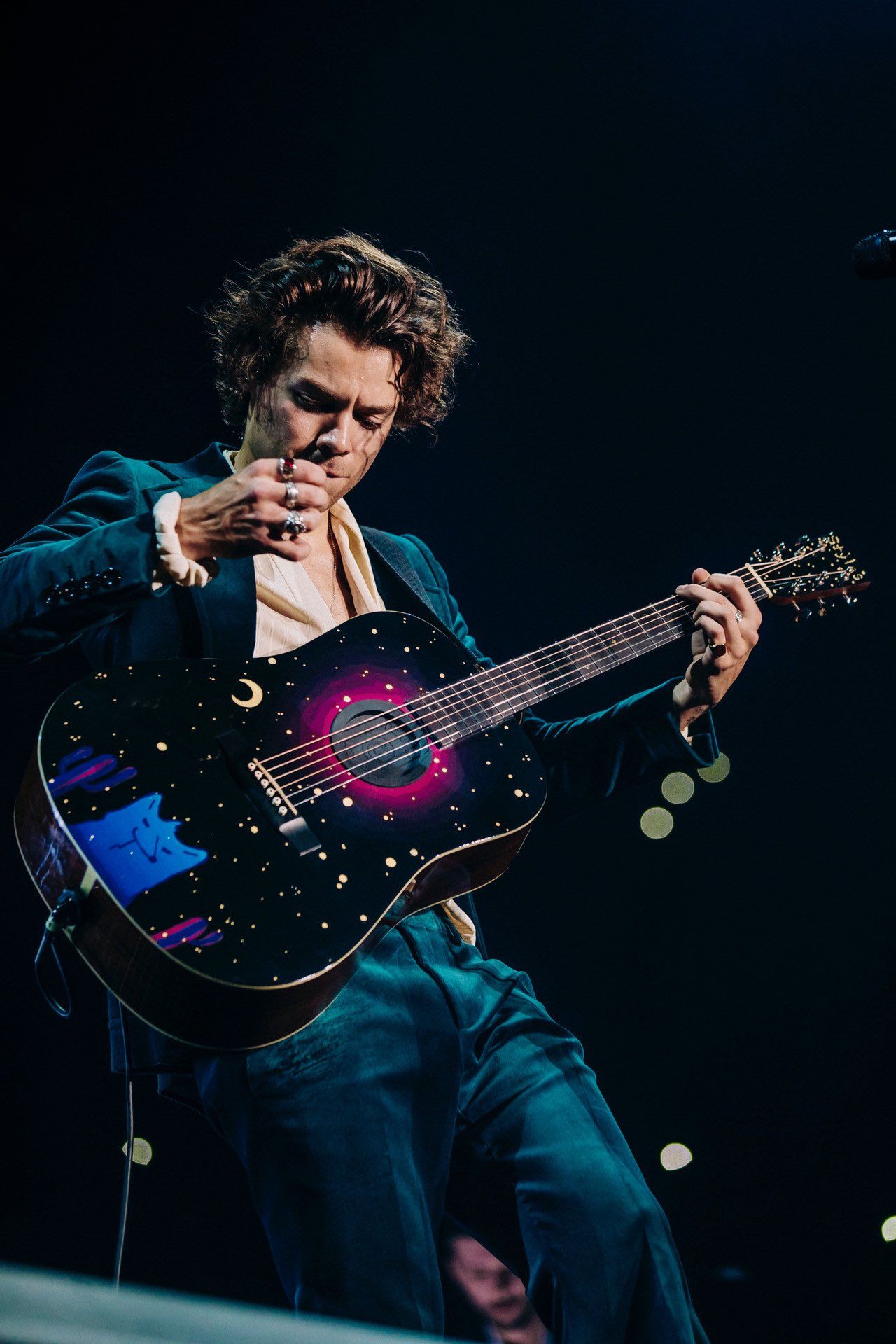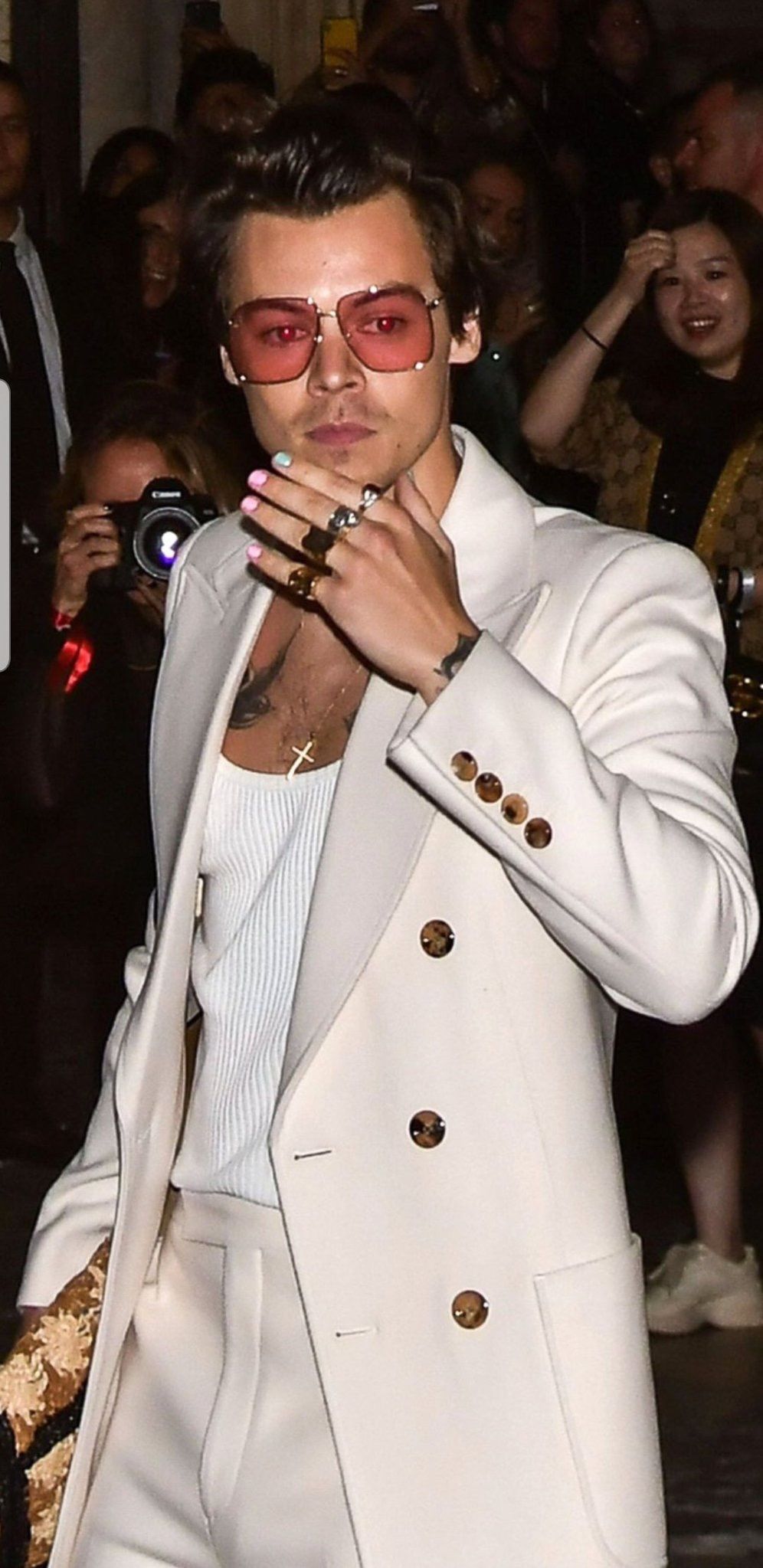 Bringing Harry's Language Together
So we've established that Harry is more than a pop star with nail polish and good hair. There's substance to his style. There's a consistent, coherent language. It's not just flare, but playfulness. It's not just reappropriating queer and feminine elements, but reimagining masculinity through those lenses as something more bold, more fun, more relaxed, happier. But he's not reinventing masculinity from scratch: he's repurposing the rock stars' cuts and exciting fabrics with real heritage, and using a new lens to make them fun, cool, and appealing in a modern way.
Is he advertising products? Sure. Is there a performative element? Sure, but you could say the same of anybody. Is it overtly sexual? He's a pop star, let him have some fun.
You can levy a dozen criticisms against them man based on your own personal taste or how you interpret his language. But style is personal, and he clearly has a consistent, pointed perspective of his own. He speaks his own language, consistently, and it comes through. Can you read it, now?